Duke Scholarships—Learn How To Access Generous Funding Options ASAP
Duke University (DU) is one of the foremost private educational institutes in the U.S. This North Carolina-based university uses a need-blind approach when accepting students—which means their admission decisions are not influenced by an applicant's ability to pay.
Duke offers dozens of scholarships and grants that can help you fund your studies at the university. These funds are awarded based on need or merit.
In this article, we will help you evaluate the various Duke scholarship options that can make education super affordable for you!
Need-Based Financial Aid at Duke University
If you are a freshman starting your undergraduate term at Duke University, you can be eligible for both need-based and merit-based financial aid options.
The Duke University need-based financial structure can be a bit tricky—but we'll help you navigate.
You can apply for need-based financial aid as a:
To apply for need-based financial aid, you need to submit the following to the university administration:
Your Free Application for Federal Student Aid (FAFSA) and College Scholarship Service (CSS) profiles
Your family's income or tax certificates (submit both of your parents' details if they are divorced or separated)
The administration will calculate the need-based awards you qualify for by considering your:
Cost of tuition
Estimated family contribution (determined by your family's assets and liabilities and the number of your dependent siblings attending college)
Personal contribution (determined by your estimated work-study income over the semesters or any student loan you've taken)
If the need-based award doesn't cover your tuition and living expenses, you should look into the university's merit scholarships and other benefit schemes.
Merit-Based Scholarships at Duke University
Duke University awards several merit scholarships to outstanding students each year. You can apply for these scholarships by reaching out to the Office of Undergraduate Scholars and Fellows (OUSF).
The merit scholarships may benefit all DU students or cater to a specific demographic category.
Duke Merit Scholarships Open to All Undergraduate Students
This table summarizes the most sought-after merit scholarships offered annually to every undergraduate enrolled at Duke:
Merit Scholarship
Details
A. B. Duke Memorial Scholars Program
The A. B. Duke Memorial Scholarship is awarded to selected undergraduate students who:

Display extraordinary intellectual skills
Use their voice to offer original perspectives on multiple issues

The amount offered may vary after considering the need-based grant issued to the student

Robertson Scholars Leadership Program

If you are a high school senior who enrolls at Duke University, you will be automatically considered for the Robertson Scholars Leadership Program
The program provides a financial award of up to $50,000 and also supports you financially if you want to:

Study abroad for two semesters
Apply for a national scholarship
Duke Merit Scholarships for Specific Student Groups
The table below displays some examples of Duke merit scholarships that focus on a certain demographic:
Merit Scholarship
Details
Karsh International Scholars Program (KISP)
Yellow Ribbon Program

Duke University's Yellow Ribbon Program gives tuition fee assistance to qualifying meritorious veterans or their dependents
The university offers 18 Yellow Ribbon awards each year, with three of them being awarded to engineering students

Gertrude B. Elion Mentored Medical Student Research Award
This is a grad-school level scholarship available to female students who:

Have studied medicine
Are conducting health-related research at Duke University

This scholarship entails a monetary prize of $10,000

B.N. Duke Scholars Program

This scholarship is open to all residents of North and South Carolina who are accepted for any undergraduate program at Duke University
It is only awarded to students who show exemplary civic engagement
How To Know Which Duke Scholarship Is for You
Duke University's financial aid programs can help you graduate without having to worry about paying off your student loans. The only issue with scholarships is that you may fail to find them in due time—many students get caught up in their busy lives and miss out on applying for substantial scholarships.
You don't have to live in fear of missing out on golden opportunities—DoNotPay's scholarship product can help you scan all scholarships you are eligible for in under five minutes!
Our app possesses a database of all active scholarships in the U.S. All you need to do is provide your student details to our chatbot—we will use your student data to match you with all scholarships that you qualify for!
Sign up for our services to access your personalized list today!
Duke Scholarships—Deadline Requirements
To be considered for the annual Duke University scholarships, you need to apply for the course you want to study within the deadline. Once you enroll in the course, you can seek the university's scholarships throughout the year.
Every year, the university authorities provide two deadlines for incoming students:
The first deadline for Early Decision applicants—usually in November
The second deadline for Regular Decision applicants—usually in February
As Early Decision applicants get accepted early, they have a higher chance of winning scholarships.
Keep in mind that the pandemic has impacted the uniformity of the deadline dates. You can use our app to check the relevant scholarship deadlines for the current academic year.
Are Transfer Students Considered for Duke Scholarships?
A transfer student who enrolls at Duke University as a sophomore may be considered for scholarships if they:
In any case, transfer students cannot win the full amount of any scholarship. International transfer students are not eligible for any scholarship—be it need- or merit-based.
Don't Limit Yourself—Use DoNotPay To Apply for More Scholarships
Being hung up on a single scholarship limits your chances of getting sufficient financial assistance. No wonder Duke University's Financial Aid Office advises students to apply for external scholarships to boost their student portfolios. At any time, you can find hundreds of open financial aid programs that offer you:
Rather than focusing on one scholarship, it's always better to apply for multiple ones to maximize your education funding opportunities. If you're worried the application process will take up too much of your time, use DoNotPay to apply for scholarships productively.
DoNotPay's Apply for Scholarships feature gives you a list of all no-essay scholarships that you qualify for. You can select the ones that appeal to you, and we will simultaneously apply for those scholarships in your name!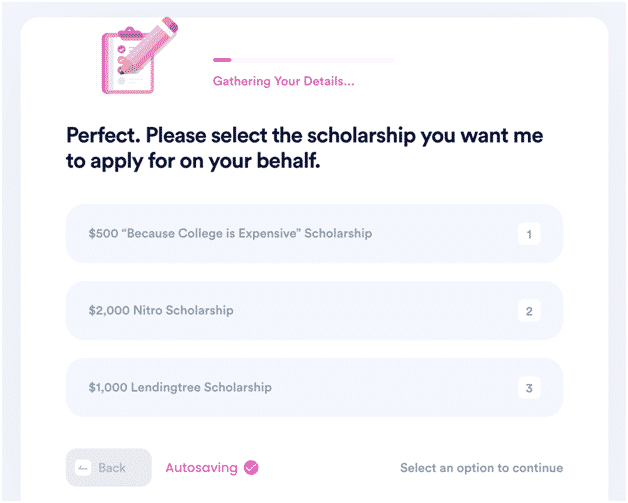 Follow these steps to use our services:
Log in to DoNotPay and click on Apply for Scholarships
Fill out our questionnaire
Select whether you want to view scholarships or apply directly
If you're using our app to apply for scholarships, make sure to check your inbox for confirmation emails. That's a good practice to keep track of all the scholarships we've applied for on your behalf.
Use DoNotPay To Deal With a Plethora of Bureaucratic Tasks!
Tired of dealing with bureaucracy? We understand the struggle, and that is why our app makes handling administrative tasks a breeze!
Regardless of whether you need to compose a legal document, such as a power of attorney or a child travel consent form, appeal property taxes or your parking tickets, file a financial aid appeal and a FOIA request, or get a document notarized, DoNotPay has got you covered!
In case you also need to submit anonymous HR complaints, our app will provide you with the easiest way to do so!
Go on a Stress-Free Shopping Spree With DoNotPay
Do you like to shop until you drop? With DoNotPay, you won't have to worry about dropping! We'll make sure you can:
If you need more money to continue your shopping spree, let our app help you find any unclaimed funds under your name and enter numerous giveaways and sweepstakes!