Can I Return Nordstrom Items to Nordstrom Rack—An Easy-to-Follow Guide
Have you ever bought something from a retailer only to find that the article is stained or otherwise damaged? What if you found out that the nearest store is not that company's department but a subsidiary? If this happened to you at Nordstrom, then you've probably asked yourself—can I return Nordstrom items to Nordstrom Rack?
We'll answer your questions and explain the details of the Nordstrom return policy in this article. , and we will take all the hassle out of returning any product!
Everything You Should Know About the Nordstrom Rack Returns Policy
Unlike Nordstrom, Nordstrom Rack follows the Hautelook return policy, which imposes a 45-day deadline for returning unwanted items. If you're late, don't despair since their employees have the right to accept a return after the deadline (at their own discretion). In such cases, they can refund only 50% of the original sales price.
You can return most articles bought at Nordstrom at Nordstrom Rack, except for the following:
Worn or damaged apparel
Beauty items
Articles that are:

Not in their original casing
Marked as Final Sale or Non-Returnable
How To Begin a Nordstrom Rack Returns Process
Nordstrom Rack doesn't provide an exchange option, but you can still get a refund for your items. After you've determined that your articles are returnable, you can demand a refund in one of the following ways:
Take your purchase to the nearest Nordstrom Rack store
Submit an online request
Returning Your Article in Person
If you're inclined to pick the first option, follow these steps:
Find the nearest store using the Nordstrom Rack store locator
Take the receipt (with the original form of payment) with you
Visit their department store and ask for a refund
Initiating the Return Process Online
If you choose the second option, do the following:
Go to the blank returns section of the Nordstrom Rack website
Enter your order number and ZIP or postal code
Submit a return request once your order has been found
Print the prepaid shipping label the store will send you via email
Ship your items (with the prepaid return label)
Check out the summary of viable and non-viable ways to return Nordstrom items to Nordstrom Rack:
| Return Request Via | Yes/No |
| --- | --- |
| DoNotPay | Yes |
| Mail | Yes |
| Personal visit to their store | Yes |
| Fax/Mobile | No |
| Email | No |
How Long Does Nordstrom Rack Take To Process Your Return Request?
The time needed for Nordstrom Rack to process your request can vary depending on the return method you choose. If you choose to return the item in person, you can expect a refund in 5–7 business days. If you opt for the digital return request, you'll wait about 10–14 days for it to be processed.
The refund will take 5–7 days to arrive and will be issued:
As an eCard (if you bought the item with a Nordstrom Rack Gift Card)
To your PayPal account or credit card (if you used them to purchase the item)
Speed Up the Returns Process With DoNotPay
If you want to speed up the Nordstrom Rack return process, DoNotPay is here to save the day. We will use the information you provide to create a personalized return request and send it to the company on your behalf. The letter will include a deadline during which your request should be processed.
That's not all—we'll also provide you with a free shipping label so that you can return the item free of charge!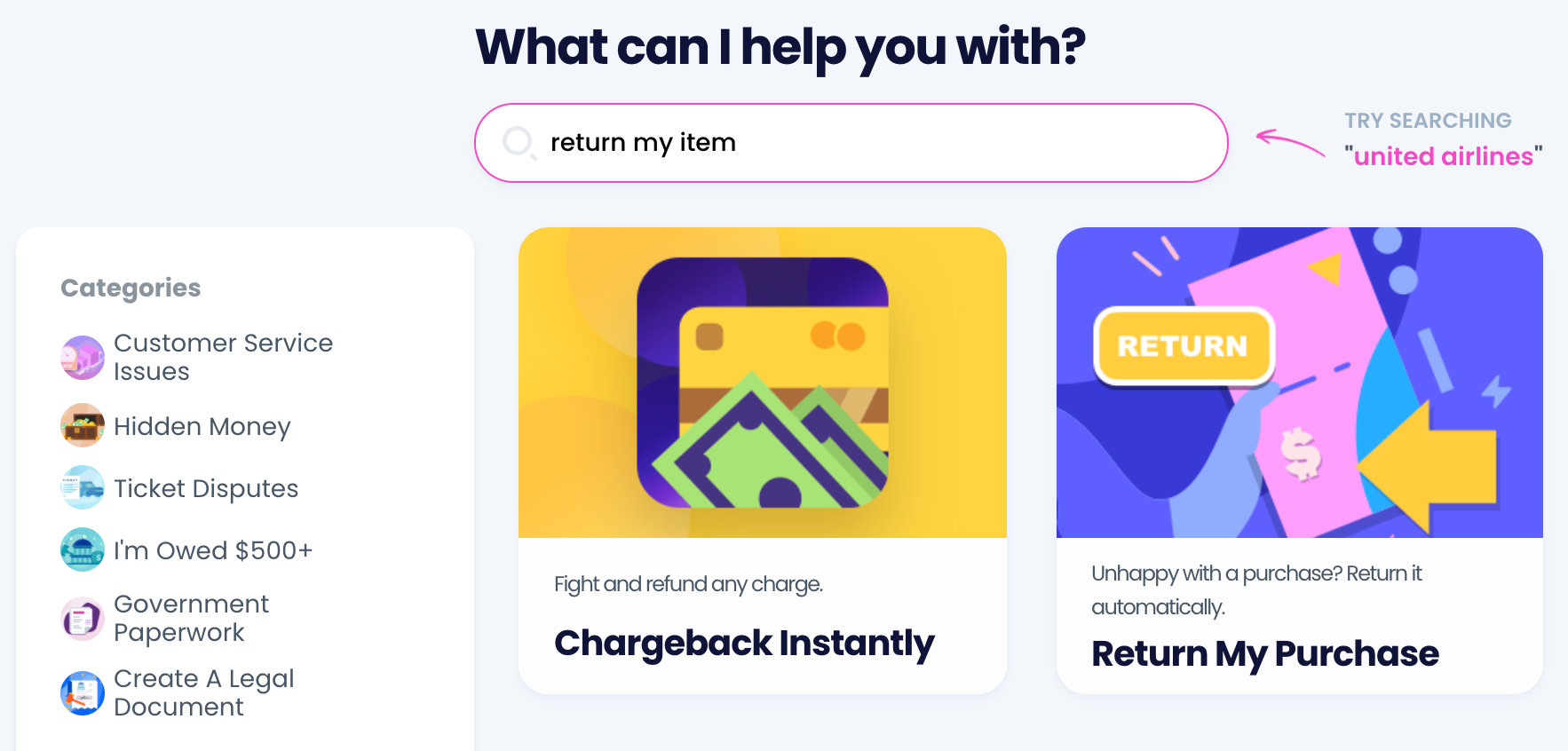 All you need to do to use our services is follow these easy guidelines:
Choose the Return My Purchase product
Specify why you want to return the item (include photos, if applicable)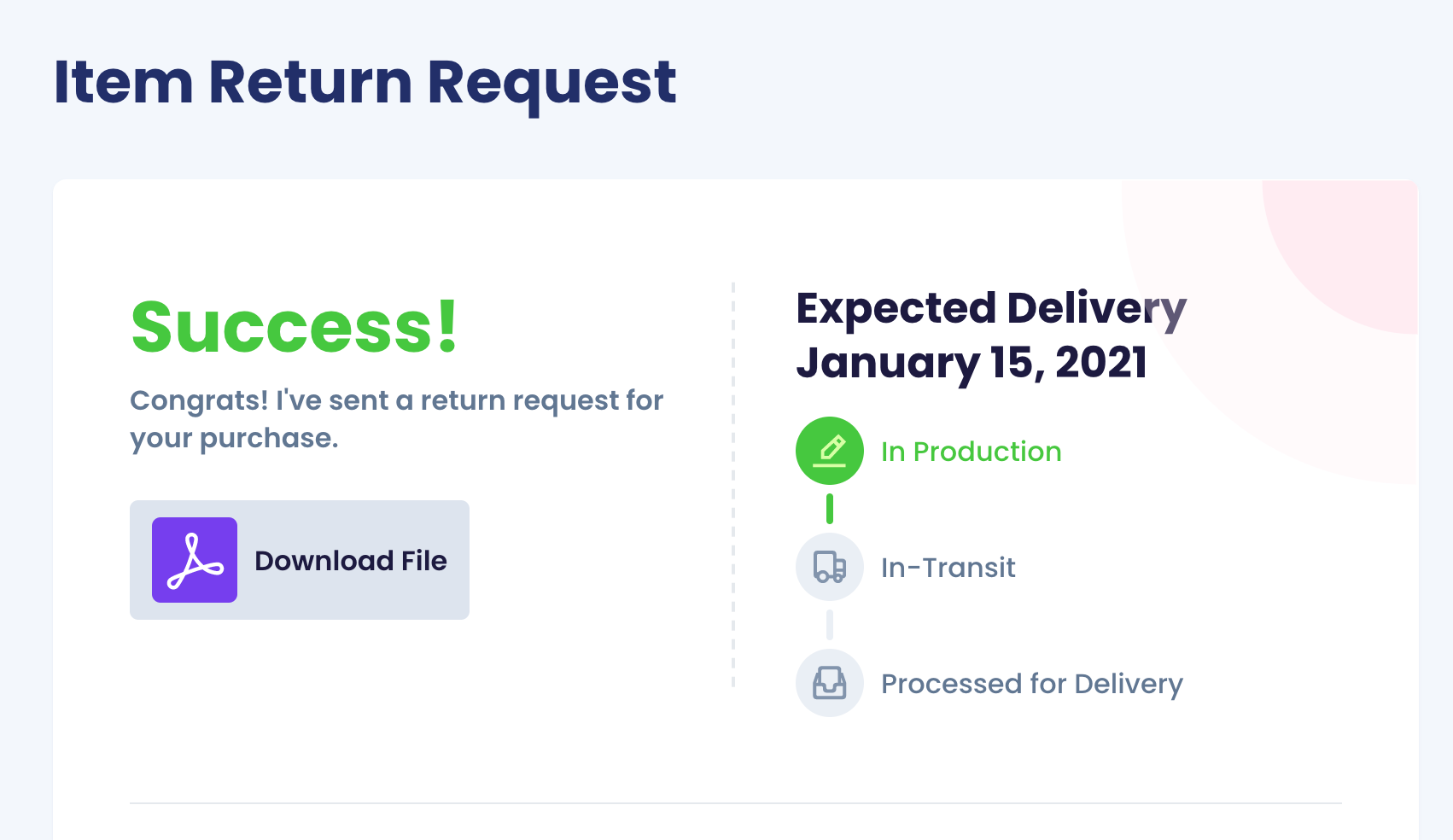 If you need any help returning faulty products to other stores, here is a fraction of companies DoNotPay can help you with:
Wasted Your Money on a Non-Returnable Purchase? There Are Other Methods To Earn It!
Don't feel down if the item you got isn't returnable—DoNotPay has many more tricks up its sleeve that will help you earn some money!
From helping you enter sweepstakes, decrease your property taxes, and lower your utility bills to assisting you in earning off email or text spammers and robocalls, waiving your college application fees, submitting a college financial aid appeal letter, and getting a refund from any company or airline, we can do it all!
DoNotPay Is Always at Your Disposal
Our app's mission is to take everyday admin and legal tasks off your plate so you don't have to waste any of your precious time. If you want to appeal your parking tickets, draw up a legal document, get any agreement notarized, get a tourist visa, keep a sex offender at bay, mail anything without waiting in line, or get in touch with a loved one in prison, DoNotPay will resolve any of these with ease.
Too busy to track your memberships? You don't need to worry about canceling your free trial on time before it turns into a paid subscription if you use our virtual credit card.
With DoNotPay, you can tackle any otherwise annoying chore stress-free.