Where Do Robocalls Come From—the Origins of Harassment
Robocalls are the most complained about issue in the States. They are getting more prevalent, and their number increases by the year. According to YouMail, the citizens were hit by 5.2 billion robocalls in January 2019—a whopping increase compared to January 2018, when they received 1.9 billion calls.
Robocalls haven't shown up overnight. U.S. officials and phone carriers have been trying to fight against spam calls for decades while focusing mostly on robocall scams. The battle has been successful to some extent, but robocalls still pose a threat to safety. To fully understand why robocalls are so hard to stop, we need to go back to their origin.
What Are Robocalls and How Do They Work?
If you pick up the phone and hear a pre-recorded message on the other end, you have just received a robocall. Advanced automatic dialing systems have enabled robocallers to reach a significant number of people at the same time.
The reason we're dealing with so many robocalls today is because almost anyone can become a robocaller. A person who decides to run the operation needs to have:
An auto-dialing software with a server to run it

A lead list

A voice-over for message recording
The auto-dialing software is used to dial customer telephone numbers automatically and eliminate the dreary task of manually dialing individual phone numbers. Lots of people associate annoying robocalls with scams, but they can be used for many practical purposes. For instance, schools can use robocalls to inform parents about changed schedules while pharmacies can set up the system to remind their customers about prescription pickups.
Obtaining calling lists is not challenging for robocallers-to-be. They can turn to legitimate brokers who sell lists to legal telemarketers, or they can acquire the lists from shady operators. Robocall platform is fed with a list of phone numbers that need to be dialed, and it makes calls to multiple recipients at the same time.
Before making the calls, robocallers need to record their message. Legitimate robocallers are obliged to tell their customers how they can stop these calls at the beginning of the message. Be careful, scam calls may use this as a trick to confirm that the number is real, but they will not allow the recipient to remove themselves from the list.
Robocalls are efficient and cost-effective. Lots of telemarketers and sales teams opt for this method to reach out to their customers, but they are not the only ones. Scammers also use advanced technology for fraudulent yet lucrative activities.
Who is Behind Robocalls?
There is no common thread or a culprit behind robocalls. A robocaller can become anyone who wants to push their product to a broader audience. Some robocallers undertake the venture only to scam people for money.
Cybercriminals abuse robocall technology to conduct lots of illegal activities. FTC has filed lawsuits against more than 600 organizations and individuals who made illegal robocalls.
How Can You Tell the Difference Between Legal and Illegal Robocalls?
A growing number of citizens are worried about their safety due to robocall scams. A lot of robocalls come from fraudsters, who are trying to get a hold of sensitive information.
If you want to protect yourself from scammers, you need to learn how to differentiate legal from illegal robocalls. Legal robocalls will stick to the following rules:
Calling between 8 a.m. and 9 p.m.

If you receive a robocall outside this time span, you are probably dealing with an illegal robocall.

Revealing their identity.

Hiding the actual phone number or concealing the identity is considered illegal. If you notice that the scammer is using the spoofing technology, hang up immediately.

Respecting the Do Not Call Registry.

If you put your number on the National

Do Not Call List

, and a company still calls you, it will be subject to huge fines. A few organizations are allowed to reach out to the numbers in the database, and you can find

all the exceptions

here.

Once you put your number on the list,

the registration never expires

.
Legal Robocalls
The IRS and debt collectors are legally allowed to reach out to you if you owe taxes or have an unsettled debt. They will usually send you an email prior to calling.
Some companies, agencies, or organizations will use robocalls to pass information that can be useful to you. You can receive a legal phone call from:
Airlines that send you messages informing you about delayed flights

Pharmacies that call to let you know that your prescription is ready

Schools that use robocalls to inform you about changed schedules
Political candidates who are running for office are legally allowed to call you.
Companies, organizations, and agencies must have your written consent to make a legal phone call. They must provide you with a "way out," or information on how you can stop receiving their calls, in case you want to.
Robocalls from charities are legal, and they can be made without your written consent.
Illegal Robocalls
If you receive a call from an alleged IRS representative or a debt collector who asks for your personal or financial details, hang up the phone immediately. Extortion of sensitive information over the phone is strictly forbidden, and it's a clear sign of a scam!
Bank representatives who report some suspicious activity on your credit card and ask for your credit card number to run a check are scammers. In some instances, robocallers might offer to:
Reduce the interest rates

Lower your bills

Help with

paying bills
Organizations that call out of the blue to inform you that you have won a prize in a competition are mostly illegal. If the promoter asks for your sensitive information over the phone, to get the "process started," you should know you are dealing with a scammer.
If some unknown companies call to push you into buying their products, you are dealing with scammers. Selling products and asking for credit card numbers over the phone is forbidden by law, unless they have a written consent from you that allows them to make the call.
Alleged Apple or Google representatives who ask you to purchase gift cards by providing your credit card information are illegal.
History of Robocalls
Robocalls have been around for a while, but they've never been this massive. It seems that the robocall pest is getting out of hand. While the Federal Trade Commission (FTC) and the Federal Communications Commission (FCC) are doing their best to block robocalls, we can't help but wonder how we got here.
The '80s brought innovations in technology, which made computers cheaper and more accessible to a broader population. Creating robocall computer programs became relatively easy, and robocalls were suddenly more frequent than ever before.
In January 1983, the first political robocall started the ball rolling. The man behind it was Tony Inocentes, a business owner who used a telemarketing machine from his collection agency to announce his candidacy. In 2001, Inocentes initiated political robo polling, and it was all downhill from there—robocallers were on their way to take over the world.
In the past, it was more expensive to make robocalls, but today, investing in the whole operation is affordable due to IP networks and robocall software.
What Is the Government Doing to Stop Robocalls?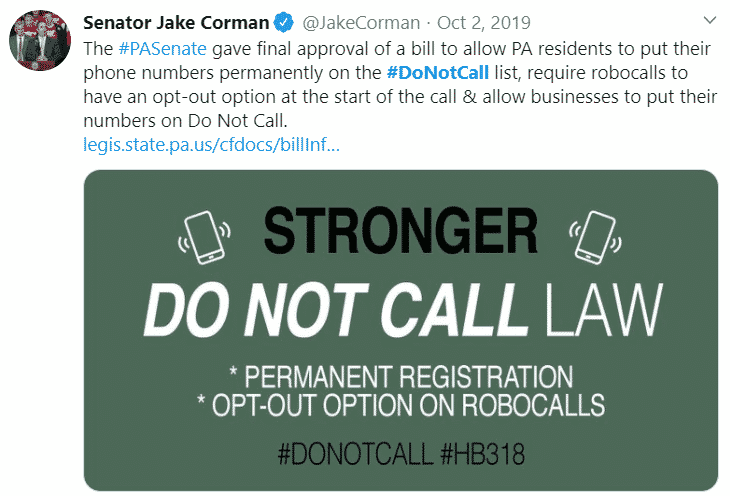 Since robocalls are a nuisance for many Americans, the Government has taken an active role in fighting them. In the table below, you will see some of the most effective laws and acts that were introduced to reduce the number of robocalls.
Laws and Acts
How It Helped in Robocall Reduction

Caller ID

In 1968, Caller ID technology was established. This is an automatic feature that identifies a calling party to the recipient. The technology had made it easy to discover the

identity of robocallers

until they started using spoofing to mask their phone numbers.

Telephone Consumer Protection Act (TCPA)

The Act was passed in 1991 and signed by President George H. W. Bush. The TCPA has put numerous

restrictions on automatic dialing systems

. The problem with this law is that it requires a citation in the first instance (a robocaller receives a warning for the first offense), which gives the opportunity and time to fraudsters to change their numbers.

The Truth in Caller ID Act

The Act was passed in 2009. It prohibited caller ID service from passing on fake identification information to defraud the target. Violating this Act leads to fines of up to $10,000. Unlike the TCPA, this law

enabled punishing scammers

without giving them a warning.

Spoofing Prevention Act of 2017

This robocall bill helped prosecute criminals who use

spoofing

to defraud and deceive their targets.

Telephone Robocall Abuse Criminal Enforcement and Deterrence (TRACED) Act

The greatest achievement in the battle against robocalls was constituted in 2019 when President

Donald Trump

introduced a

robocall bill

into the law. This Act

is perhaps the greatest step in protecting citizens from illicit robocalls.

The TRACED Act puts phone companies at the forefront of the battle against robocalls. Large phone carriers, such as

,

, and

, are now required to implement new technologies, which will prevent the robocalls from reaching the target's phone in the first place. Even though this new Act can't eradicate robocalls, it reduces their number and provides citizens with some relief.
The FCC guide to robocalls suggests you should put your number on the Do Not Call Registry, as it can reduce the number of telemarketing calls that you receive. Once you have your number in the database, any sales call you receive from robocallers is considered illegal. If you want to check whether you have registered successfully, you can do it by:
Dialing 1-888-382-1222

Calling via TeleTypewriter at 1-866-290-4236

Verifying your registration online

Checking if you are on

the Do Not Call List

here
Where Do Most Robocalls Come From?
Robocall Index shows that certain parts of the country receive more robocalls than the others. Tracking down robocallers and trying to reveal their identity is a challenging task because fraudsters use advanced technology called spoofing, which helps them mask their real numbers when they make a call.
Thanks to advances in technology, robocallers can get through to you from any part of the world. According to YouMail, most robocalls originate from the following five countries:
Costa Rica

Guatemala

India

Mexico

Philippines
Lots of fraudsters will opt for making robocalls from abroad because it makes potential prosecution more difficult. Law enforcement agencies can't track down fraudsters easily if they are in a different country. Even if they manage to do it, extradition procedures are complicated and inefficient.
Which Cities in the U.S. Are Hit by Robocalls the Most?
Robocallers tend to target certain cities in the U.S. more. In the table below, you will find the most affected areas in June 2020.
| | |
| --- | --- |
| Cities | Number of Calls Received |
| Atlanta | 135,499,300 |
| Dallas | 124,816,000 |
| New York | 99,914,300 |
| Houston | 99,472,400 |
| Chicago | 98,091,100 |
How Can You Get Your Robocall Revenge With DoNotPay?

If you feel like you can't put up with the robocalls anymore, we offer a unique solution to get back at them. With our help, you can get your hoped-for robocall revenge and make money off robocalls!
DoNotPay offers you a feature called Robo Revenge, which is tailored to help you get some money from fraudsters. This feature uses virtual credit cards to lure scammers into making a mistake! Here's how you can use Robo Revenge:
Access DoNotPay website

via the

Tap on Robo Revenge option

Click on

Create Your Card

option, which will generate a

free virtual credit card

When the scammer asks for your credit card number, provide them with the 16-digit virtual credit card number instead

Once the fraudster tries to steal your money, Robo Revenge will catch them in the act
Our feature uses virtual credit cards to extract fraudster's information, such as their name and location. Robo Revenge can help you issue a robocall lawsuit against the fraudsters, who will most likely offer an out-of-court robocall settlement.
How Can You Recognize Robocall Scammers?
Although fraudsters come up with creative ways to gain your trust, some red flags will give away any scammer. Here's how you can recognize them:
Some fraudsters can be impolite.

They will threaten to sue you or call the police if you don't agree to provide them with your personal or financial information. Their aggressive behavior is intentional—scammers count on your impaired judgment, which stems out of fear

Scammers will usually refuse to reveal their identities.

Hiding real info or providing you with false details is what these robocallers do when they make illegal phone calls. Make sure to write down everything they say so that you can check it later

Scammers often use words now, today, immediately.

If you don't have enough time to think about the legitimacy of the call, the scammers have better chances to trick you
What Can You Do If Robocallers Managed to Steal Your Sensitive Information?
If you ended up being a victim of robocall scammers, do not panic. There are still some things you can do to repair the damage.
Act fast.

Scammers will try to steal your money as soon as you hang up the phone. The key is to outrun them. Call your bank immediately. Ask them to cancel your credit card and issue you a new one

Report identity theft.

Visit

identitytheft.gov

website where you will find an option to make a personal recovery plan

Report the fraudster.

FTC is there to protect your rights—all you need to do is file a complaint and

report robocalls

. To report scammers to FTC, you need to provide the fraudster's phone number
What Else Can DoNotPay Assist You With?

As you can see, Do Not Pay prefers justice over anything, and we want to help you resolve any issues that are hovering over your head. Our app is available on any . Put your trust in DoNotPay and expect our assistance with:
Fighting speeding tickets

Disputing your traffic tickets