Robocall lawsuits—get your compensation with DoNotPay
You can get up to $3,000 in settlements by suing robocall scammers with DoNotPay! Over the years, Americans have been losing hundreds of dollars through robocall frauds each year. Because of this, the United States has become the eight most spam-called country in the world! To help mitigate this issue, the United States Congress passed the Telephone Robocall Abuse Criminal Enforcement and Deterrence Act in 2019, allowing robocall victims to claim up to $10,000 in settlements for each spam call they received.
Understanding robocalls and how they work

Each call that is made by using an autodialer is considered to be a robocall, even if you end up talking to a real person instead of receiving a pre-recorded message.
Robocalling technology has become extremely advanced in recent years, and it allows telemarketers and scammers to autodial up to one million numbers in a single hour!
Though robocalls are a nuisance in every imaginable scenario, it is worth knowing that not all of them are illegal. For example, politicians have been utilizing robocalls for their campaigns for years.
To protect your right to privacy, the FTC (Federal Communications Commission) prevents companies from autodialing their customers unless they meet certain requirements. In most cases, you would have to express consent in writing for the company to be able to legally autodial you.
How robocall scams operate
One of the reasons why robocalls have become a serious issue in America has to do with the fact that fraudsters do not need to put too much effort into setting up a robocall operation. Here are the five essential steps of a robocall scam:
Getting a leads list
Acquiring a phone provider
Setting up an autodialer software
Operating a phone bank
Masking the income
No leads—no robocall scheme
The first thing that a robocall scammer needs to secure is an exhaustive leads list. Many legitimate companies sell these lists to telemarketers, and fraudsters can also acquire them for a few thousands of dollars. Note that we are talking about millions of phone numbers per purchase!
Finding a small phone provider
Over the years, the FTC did not want to interfere in small phone companies' operations, though they knew that they were putting scammers' phone numbers into America's phone network. With the passing of the new Telephone Robocall Abuse Criminal Enforcement and Deterrence Act, all of this will change.
Setting up the autodialer software
Modern technology allows robocall scammers to dial up to one million numbers in an hour. The autodialing software attaches a spoofed number to each call, mimicking the area code of the victim's state of residency. Robocallers need to mask their number to increase the likelihood of someone picking up the call in the first place.
Managing a phone bank
Usually, robocalls are followed by pre-recorded messages that tell you that you can press a certain number to get in contact with the company's representative. On average, between three to five percent of people who receive robocalls, proceed with this step. When they do, they get in touch with a real person that tries to get a hold of their personal information or money.
Covering the trace of their income
To ensure that no one can track them down, the scammers convert their income into various forms of money—mostly gift cards.
How to get a settlement for robocalls?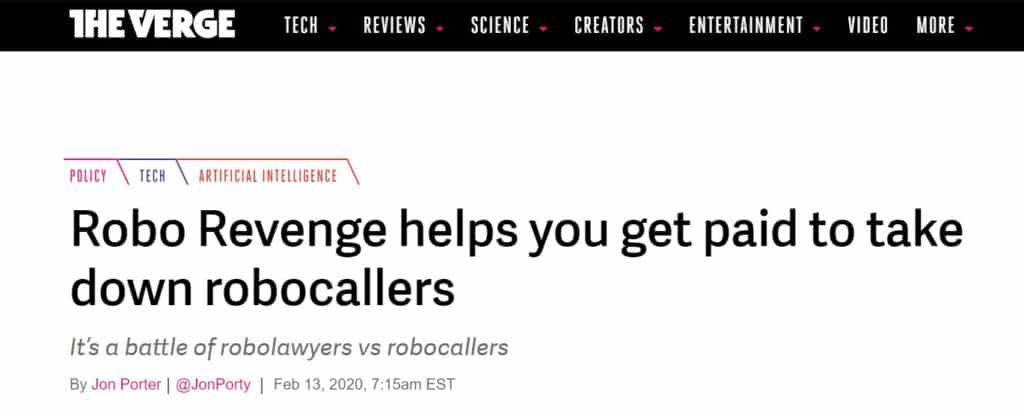 The easiest way is to use DoNotPay's Robo Revenge feature and claim up to $3,000 in settlements!
Robocall lawsuits are a byproduct of companies failing to follow TCPA's strict requirements. Apart from the telemarketers, you should also inform yourself about these rules to better understand when your rights are being violated.
You should be provided with a way to opt-out
You need to provide the company with the express written consent
The caller must provide proper identification
The caller cannot call you before 8 am or after 9 pm
If your number is on the National Do Not Call Registry, companies are not allowed to call you
The opt-out option is a must
When you receive a pre-recorded message, the telemarketer must provide you with a way to opt-out of these calls at the very beginning. If a real person gives you a call and leaves a voice message, her or she has to leave you with a toll-free call-back number so that you can put yourself on the company's do-not-call list.
If these conditions are not met, the telemarketer has violated the TCPA, and you have the right to sue them.
Express written consent
Probably the biggest violation of the TCPA is when the telemarketer continues to make robocalls without express written consent.
Before the company thinks of using an autodialer, they must receive their customers' written or electronic signatures. These signatures are defined by the E-SIGN Act and can be provided in various forms, such as checking a box on an online form.
Keep in mind that companies are not allowed to force you to provide written consent to be able to purchase products and services from them!
This type of conditioning is a direct violation of the TCPA and can result in a robocall lawsuit.
Proper identification is required by law
The TCPA clearly states that the company making a robocall has to provide its customers with proper identification! At the beginning of the call, the caller must:
Reveal his or her identity
Reveal the identity of the company on whose behalf they are making the call
At the end of the conversation, the caller must leave you with the following information:
The address of the company
Their phone number
If the caller does not properly identify himself or herself, know that the TCPA is being violated and that you have the right to sue them!
How to sue for robocalls with DoNotPay

DoNotPay has been helping people sue companies in small claims court for years now. Legal equality is something we are highly devoted to, and that is why we have introduced yet another feature to our app that is called Robo Revenge.
With Robo Revenge, you can put a stop to illegal robocalls once and for all, by suing telemarketers and getting up to $3,000 in compensation!
To start using our services, you can access DoNotPay through a .
Here is how robocall lawsuits work with DoNotPay:
You get a call from a telemarketer or a scammer
The caller asks you for your personal information or money
You access DoNotPay and select Robo Revenge
We provide you with a fake virtual credit card
You use the fake credit card information and share it with the scammer
DoNotPay tracks the caller down by using the transaction details
Based on the information we gather about the caller, we write a demand letter on your behalf and file a claim
How to file robocall lawsuit with DoNotPay
DoNotPay takes your robocall situation seriously. We do not just block the telemarketer's number and prevent them from bothering you. We make them pay for their wrongdoings.
Our first step includes putting your phone number in the National Do Not Call Registry. As long as your number is on this registry, telemarketers do not have a legal right to call you as they would be violating the TCPA (Telephone Consumer Phone Act). If you're not sure whether your number is already on the Do Not Call list, you can check that fairly easily.
To prevent scammers from drawing money out of you, we will provide you with a virtual credit card that's not connected to your account, and use it to track down the fraudster based on the transaction details.
When we get a hold of the robocaller's information, we will use it to write a demand letter and generate court filing documents for you. Then, you can use this documentation to file a lawsuit against the robocaller.
We are certain that the best way to mitigate the impact of robocall scams is to make them pay for each call they make!
Keep in mind that we can only assist you with domestic robocall scammers. To help you sue them for violating your rights, we need to know where they are located, and with overseas fraudsters, getting that information is impossible.
Famous lawsuits for robocalls
Over the past few years, there have been a lot of robocall lawsuits that reached millions of dollars in compensations and settlements. In most cases, these companies were sued for violating the TCPA (Telephone Consumer Protection Act). The most popular robocall lawsuits are:
| | |
| --- | --- |
| Robocall lawsuits | The story |
| | Back in 2013, Bank of America agreed to a $32 million robocall settlement. The lawsuit included 7.7 million unsatisfied customers. Though Bank of America never admitted their misconduct, they allegedly agreed to a settlement to avoid additional legal costs. |
| | Ocwen Loan Servicing teamed up with three major banking institutions to collect mortgage payments. During this process, Ocwen violated the TCPA, and in 2019, they had to pay their customers between $7.41 and $8.42 for each illegal call they made. In total, Ocwen paid $21.5 million in settlements. |
| | Monitronics International is a subsidiary of Brinks Home Security. The company agreed to settle mass litigation back in 2017 for calling people whose numbers were on the National Do Not Call Registry. The litigation included 38 independent lawsuits! Monitronics had to pay $28 million in settlements. |
| | Sirius XM Radio paid $35 million in settlements for violating the TCPA by robocalling people. The company offered customers two payment options to choose from. They could either get access to Sirius XM's All Access Subscription Package for three months or receive a payment of $12. |
Common robocall scams to watch out for
Robocall scammers are extremely hefty. A lot of the time, it is hard to even recognize that you are dealing with a fraudster because of how convincing their ploys can be.
To help you prepare for these scammers, we have compiled a list of the most common robocall scams that have been plaguing America over the past couple of years.
| | |
| --- | --- |
| Robocall scam | How to recognize it |
| Google SEO scam | Google issued a statement regarding this particular robocall scam. They have claimed that they do not use autodialers and robocalls to contact their customers. Therefore, if you ever receive a call from "Google," you will know that you are dealing with a fraudster. Typically, the pre-recorded message will demand that you return the call or risk your business' Google listings being deleted. If you do return the call, the fraudster will try to charge you with additional SEO fees. It is worth mentioning that small business owners are the most common targets of these scammers. |
| IRS scam | The government always contacts its taxpayers via U.S. mail! If you ever receive a phone call from an IRS inspector, there is a solid chance that you are dealing with a scammer. The biggest issue with this fraud is that it is hard to tell that it is fake. The alleged IRS inspector will even provide you with his or her badge number to make the ploy more convincing. They usually tell their victims that they have unpaid tax bills to settle, and more often than not, they even threaten to issue an arrest warning if you fail to do so! |
| Neighborhood spoofing | A general rule of thumb when dealing with robocall scams says that you should avoid answering calls from unknown numbers. This especially holds true if the number is similar to yours. Fraudsters know that it is highly unlikely that you will pick up a call coming from a different state. That is why they have started spoofing their phone number to cover up their traces and increase their chances of reaching out to you. Worst of all, they can even use your number to harass other people, which can lead to you receiving calls from outraged victims of these scams. |
How to avoid getting robocalled

Robocall scammers are all over the place. While DoNotPay's Robo Revenge does an incredible job of protecting you from domestic fraudsters, there are a few simple steps you can take to avoid getting bothered in the first place:
Put your number on the National Do Not Call Registry
Do not pick up the phone just to mess with the scammer
Do not reveal your personal information
Do not answer the phone
FTC's National Do Not Call Registry
Telemarketers are strictly prohibited from calling people whose numbers are found on the National Do Not Call Registry.
Putting your number on this registry is fairly easy. All you have to do is visit FTC's website and click on Report Unwanted calls. FTC will ask you to provide some information regarding the unwanted call, and after you do that, you have to click submit, and that is it! If you're concerned about expiration details or exceptions to the Do Not Call list, worry not—DoNotPay has all the answers!
You should know that, while domestic telemarketers will abide by this rule, foreign ones will probably not, so the Do Not Call list will protect you only partially.
Never mess with the scammer
We know that picking up a robocall may seem like fun to some people, but it is strongly advised not to mess with unknown callers.
In some cases, scammers will not ask you for personal information or money. They will just ask you a few questions so that they can record your voice and use it as an electronic signature for authorizing charges via the phone.
Also, picking up the scammer's calls lets them know that you are willing to talk, and they can use that fact for new robocall scams later on.
Your personal information should stay hidden
More often than not, robocall scammers are interested in your personal information that they can use for identity and credit card frauds.
That is why it is advised not to provide your personal information to unknown callers, regardless of how persuasive they are, or who they claim to be.
The government and the IRS will send you a notice by email instead of calling you, or they will even show up at your front door.
Just do not pick up the call
The easiest solution to deal with annoying robocalls is to simply not answer them. You can block certain numbers on your mobile phone, but this method did not prove to be as effective, mostly because robocall scammers change their numbers all the time.
Our advice is to keep an eye out for numbers very similar to yours, as they are often a sign of a popular robocall scam called Neighborhood spoofing.
DoNotPay can change your life
If you are on the lookout for a top-notch digital assistant, DoNotPay is the way to go. Our app packs a number of super-useful features that can make your day-to-day life more hassle-free. Apart from helping you with robocall lawsuits, our app can also assist you with:
Disputing traffic tickets
Fighting speeding tickets
DoNotPay is easily accessible through a , so waste no time in getting rid of the complicated bureaucracy and banishing the red tape from your life!