What Is a Virtual Credit Card and How Does It Work?
A virtual credit card is a temporary card number that protects your real card number when shopping online.
When you want to sign up for something that is supposed to be free, it's always a little unnerving to be asked for a credit card. You're offered a free service and think, "yes, please.". You like the brand for offering it to you. You relax, smile, and expect to enjoy the free trial, free drink, or free downloadable content. You sign up, you give your email, you're ready to start. Then they ask you for your credit card information.
Wait, what?
Why do they need your credit card for a free trial or guide? The fact is that they don't. Unlike a hotel room, it's not even for a security deposit. You can't damage the free trial by enjoying it. You can't break a lamp in your downloadable content. A credit card is a chance to charge you for something else. Later.
A virtual credit card is the best way to protect your information and your finances. DoNotPay is here to make it easy.
What Is a Virtual Credit Card?

A virtual credit card is a generated string of numbers that sits in the place of a credit card. It doesn't have your real card number, and you never hold a piece of plastic. Instead, you can simply enter the generated number any time you are asked for a credit card when shopping online.
Many people are uncomfortable with the idea of storing their personal payment information with random websites and businesses. Plus, the idea of your card staying in online storage waiting to be hacked and stolen isn't a pretty picture. A virtual credit card provides a temporary card number that permits a limited number or amount of payments for a limited amount of time.
This virtual number will work after being generated, but if scraped from a company's database months later, your personal financial information and your real card number will be safe. Your data can't be stolen if a company stores the card number, and your financial information is stolen if a hacker intercepts or steals the stored card data.
How Does a Virtual Card Work?
The virtual credit card number is generated on-demand
You enter the card number instead of your payment card
The payment or placeholder is completed
You enjoy the service
When the card deactivates, it cannot be used for any other purchases
Limited time cards
Limited funds cards
One-time use cards
You continue your life with safe data and easy online purchases
A virtual credit card is a generated number you can enter into any online form. Any time you are asked for your credit card number online, you can use a virtual credit card instead.
Drawbacks of Using a Virtual Card

Doesn't work for credit card number confirmations
Not useful for recurring expenses like subscriptions
Temporary card numbers should never be used for ongoing charges, like subscriptions, unless you want to use the expired number to indirectly cancel your subscription. However, the only real downside of a virtual card is confirmation. Picking up movie tickets or renting a car sometimes means showing your credit card to confirm the numbers match. With a virtual card, the numbers used to book will not match the numbers on your card.
Benefits of Virtual Credit Cards

Protect your real card number, and financial data
Prevent after-the-fact charges when the number expires
Protect your personal data from being stored and then stolen
The primary benefit of a virtual credit card is data privacy. You are protected from exposing your personal card information, and any stored payment information won't lead back to your finances. You are also, as a bonus, protected from after-the-fact charges using your stored card number.
What Is the DoNotPay Free Trial Card?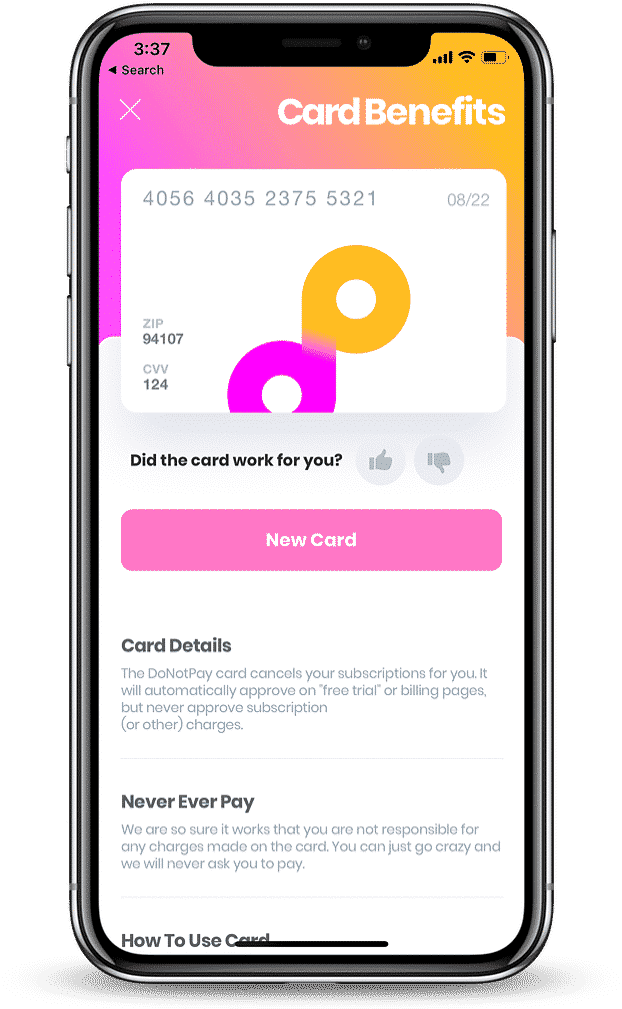 The DoNotPay free trial card is unique because it doesn't connect to any payment account at all. The card won't authorize a payment therefore, it can be used when you are asked for a "placeholder" card for supposedly free services. We call it the free trial card because you can use this card to sign up for free trials - without committing to a subscription fee at the end. The card simply doesn't authorize payment, and your account is smoothly canceled with a scramble to cancel the trial in time.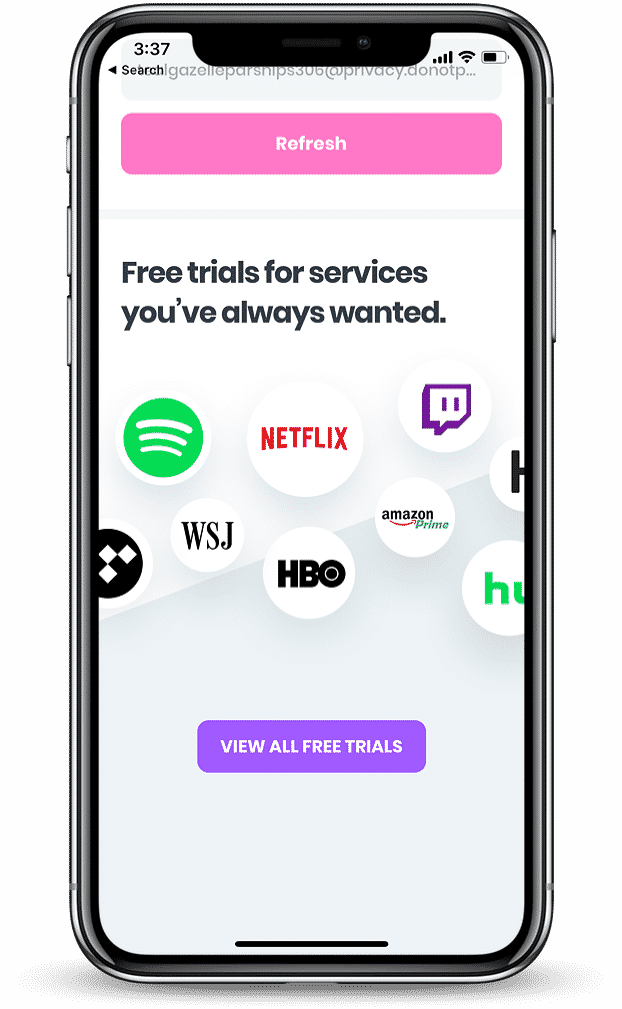 You can generate as many free virtual credit cards as you want, exploring the full extent of free trials and bait-type free content all over the internet. If there is a virtual sign-up that asks for your credit card when offering something free. There's no need to worry anymore - or to pass on a nice free experience.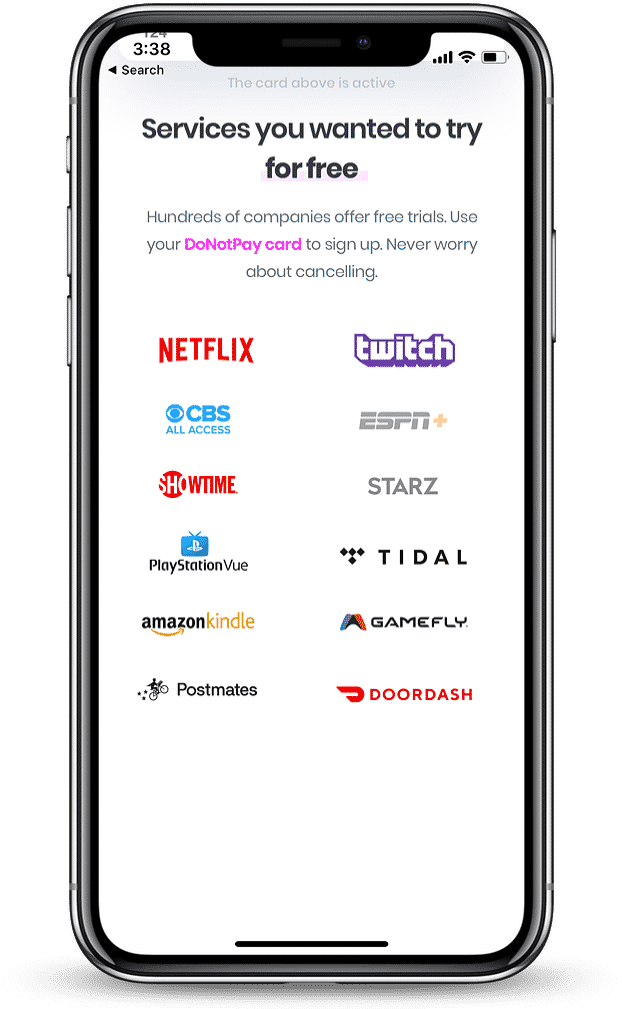 The DoNotPay virtual credit card service is simple. It really is a "set it and forget it" opportunity. Use the card for any free trial and stop worrying about it. Enjoy your trial, and don't get charged for the subscription afterward. Enjoy your restaurant reservation, and don't worry if your schedule changes at the last minute. Enjoy your downloadable content without being charged later on. Here's how it works:
Log into DoNotPay
Choose Virtual Card as your option
Generate a new virtual credit card number
Enjoy your free content without worry
Where Can I Use DoNotPay's Free Trial Card?
Here are some of the services for which you can sign up with DoNotPay's virtual credit card for a free trial.
ESPN Go
Doordash
Postmates
Jira
PlayStation Vue
Difference Between a Credit Card and a DoNotPay Virtual Credit Card
| | |
| --- | --- |
| A Real Credit Card | DoNotPay Free Trial Card |
| Connects to your finances | Has no impact on your finances |
| Charges can be made | Charges cannot be made |
| Reveals your personal information | Does not store personal information |
| You can find it in the physical form | You can only use it online |
| Your personal card information is exposed | Your real card information is never used |
| Possible to lose money if something goes wrong | Never lose money, no charges are processed |
| Card information is stored on websites and can be stolen | Stored card data is completely useless |
| If you forget to cancel, you can be charged | You can forget to cancel with no consequences |
What Else Can DoNotPay Do?
Virtual credit cards aren't the only thing that DoNotPay can do to make your life easier.  We've built a large selection of useful services to help you cut the red tape, save money, and save time.
Do you have a free trial you want to try without worry? Want to start saving money and shortening your to-do list every month? Get started with DoNotPay and generate as many virtual credit cards as you find ways to use them.