All You Have Ever Wanted To Know About Seattle Paid Sick Leave
In 2012, the city of Seattle established a sick leave law called Paid Sick and Safe Time (PSST). While this act is beneficial for almost all employees, calling in sick may require lengthy back-and-forth communication with your boss, which can be stressful.
If you want to find out how to demand Seattle paid sick leave with zero trouble, we're here to assist! to avoid sending call-in-sick emails and making uncomfortable calls. Request sick days easily and take advantage of your legal rights without complications with our help!
To Whom Does the Seattle Paid Sick Leave Law Apply?
The PSST requires all companies in Seattle to give a specific amount of sick time to all:
Full-time employees
Part-time employees
Seasonal workers
Temporary workers
Independent contractors
Gig workers employed by Seattle companies with 250+ workers
In What Situations Can You Use the Seattle Paid Sick and Safe Time?
Eligible employees in Seattle are allowed to use sick time and safe time. The first refers to medical conditions, while the latter applies to other situations where your health or life may be endangered.
You can find more details in the following table:
Sick Time
Safe Time

Your own:

Medical issues
Illnesses
Injuries
Medical diagnosis
Preventive medical care

Mental or physical health condition of a family member

Closing the place of business because of the exposure to an infectious agent or other toxins
Caring for a child whose school or daycare was closed due to public health issues
Suffering domestic violence (if the victim is you or your family member)
Stalking (if the victim is you or your family member)
Enduring a sexual assault (if the victim is you or your family member)
How Many Paid Sick Leave Days Can You Earn in Seattle?
Here's the table explaining how much sick leave hours you can earn as a Seattle employee:
| Number of Employees in the Company | Earned Hours | Unused PSST Hours Employees Can Carry Over to the Following Year |
| --- | --- | --- |
| Up to 49 | 1 PSST hour per 40 working hours | 40 |
| 50–249 | 1 PSST hour per 40 working hours | 56 |
| 250+ | 1 PSST hour per 30 working hours | 72 (108 for the companies that offer paid time off) |
During the coronavirus pandemic, most private companies with less than 500 employees are also eligible for paid sick leave under the Emergency Paid Sick Leave Act. The Act can grant more sick hours/days off to eligible employees.
When Can You Start Using the Accrued Sick and Safe Time?
You begin earning your sick days from the first day of employment but can start using them only after completing three months of work at the company.
Ask for Sick Leave With DoNotPay and Avoid Hassle
If you get sick at work or want to use paid time off to care for your family member, you usually have to go through the following procedure:
Review the city- or state-specific paid sick leave laws
Check if the local rules allow you to request paid time off
Get in touch with your manager or company via phone or email
Spend time explaining the reason for requesting paid leave and your legal rights
Subscribing to DoNotPay can help you get rid of all these dull tasks and solve the matter within minutes! Our app performs the entire procedure on your behalf by checking the relevant laws and creating a personalized sick leave request letter for you!
Here's how to demand sick days with DoNotPay:
and select Request Sick Leave
Choose the state where your company is located
Disclose more employment and sick leave info
Choose if you want us to forward the request to the company or send it yourself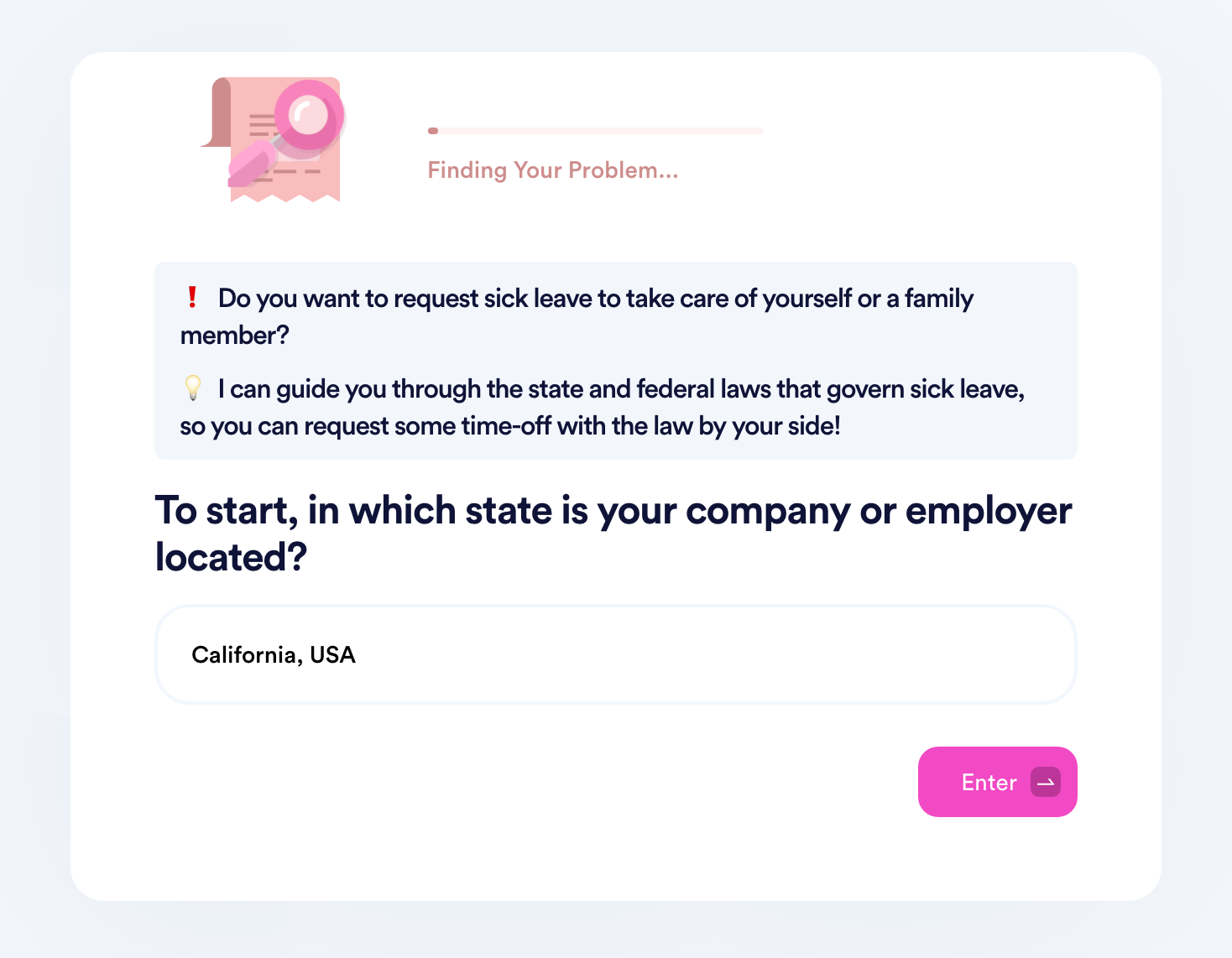 DoNotPay can also assist you with suing the company that forced you to work while being sick, fired you for taking sick leave, or wronged you in any way. Sign up to our platform, and we will help you prepare for the court proceeding in no time!
DoNotPay Handles Lengthy and Challenging Tasks on Your Behalf
No time to dedicate yourself to drawn-out procedures or solve administrative issues yourself? Keep calm—that's why DoNotPay is here! By creating an account on our platform, you will be able to:
Convert various files into different formats
Keep the Cash in Your Pockets With Our App
DoNotPay doesn't bring you money-saving hacks—it actually assists you in cutting out expenses and living more economically. The tools we provide are made to help you pay less for utilities, end unwanted paid memberships, have college fees waived, or get lower tax bills. You can also save more on education-related costs by applying for scholarships and other financial aid via our app!
If you have a few forgotten gift cards lying around, don't let them go to waste. DoNotPay can cash them out and send the remaining funds to your home address!