Your VW TDI Settlement Extended Warranty From A to Z
Volkswagen Group or VW is a famous German vehicle manufacturer, selling well-known cars such as Audi, Porsche, Bugatti, and other brands.
The company has faced a lot of backlash since the diesel-emissions scandal in 2015. The Environmental Protection Agency (EPA) confirmed that the 2009–2015 2.0L TDI vehicles do not comply with federal emissions standards. Volkswagen has made a settlement with the EPA to rectify this issue. The agreement includes an emissions modification plan and extended warranty.
You can visit VW's Volkswagen/Audi/Porsche Diesel Emissions Settlement Program page if you want to know more about it and check whether your vehicle is eligible.
We'll focus on answering your questions about your VW TDI vehicle's extended warranty and helping you file your car warranty claim.
What Does a VW TDI Extended Warranty Cover?
All VW vehicles come with a manufacturer warranty, but you also have the option to obtain an extended warranty.
VW's extended emissions warranty does not void or supersede any existing warranty your VW vehicle may have. This warranty covers parts, labor, and applicable taxes. Check out the complete coverage in the table below:
VW TDI Extended Warranty Coverage
VW TDI Extended Warranty Period

Glow plug

Fuel system

EGR system

Turbocharger

Exhaust system

Charge air temperature sensor and air-mass sensor

Ten years and three months or 123,000 miles from the vehicle's original in-service date

Four years and three months or 51,000 miles from the date and mileage of the emissions modification
How To Claim Your TDI Extended Emissions Warranty
Filing a warranty with VW depends on your dealership. Typically, you have to call and schedule an appointment. Some dealerships also accept coming unannounced or scheduling online.
Here's how to find the closest VW dealership in your area:
Visit the VW

Dealer Search page

Enter your city and state or ZIP code

Click on the dealership of your choice on the map to see the info
Claiming VW TDI Extended Emissions Warranty With DoNotPay
If you don't want to dig through multiple websites to submit a claim and schedule warranty service, turn to DoNotPay. All it takes is a few clicks! Once you open DoNotPay in a , do the following:
Choose our

Claim Warranty

feature

Tap on

Car Warranty

Answer a few questions about your VW vehicle

Click on

Submit My Claim
We will submit your TDI settlement extended warranty claim. You can expect VW to contact you regarding your warranty service in no time.
DoNotPay can be your go-to solution for claiming home warranties or even used-car extended warranties.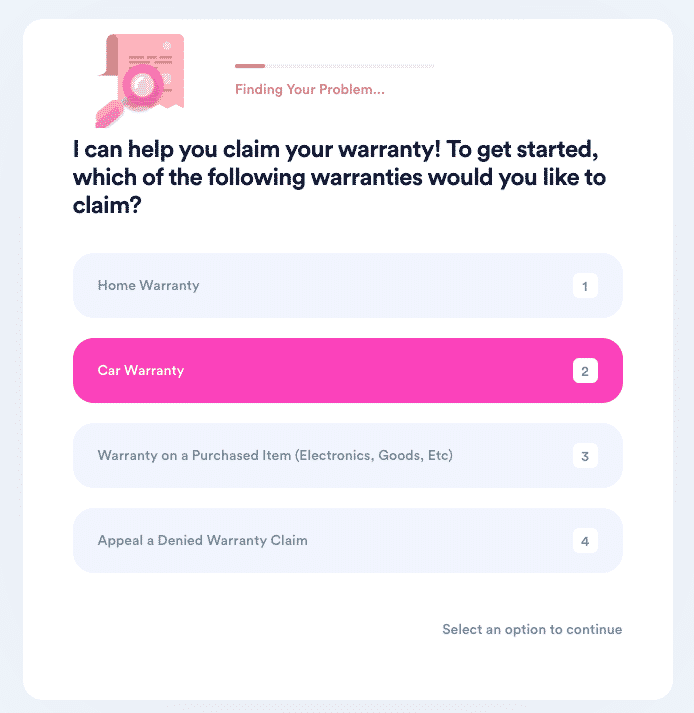 Use DoNotPay To Appeal Your Rejected Warranty Claim
In case VW denies your warranty claim, DoNotPay can help you! Use our app to appeal your original claim with ease. Here's how to do it:
Access DoNotPay from your

Navigate to the

Claim Warranty

feature

Tap on

Appeal a Denied Warranty Claim

Answer a few questions about VW and your warranty claim

Hi

Submit
We will draft an appeal letter and send it to VW. Once the company reaches a decision, a VW rep will reach out to you to inform you and give you further instructions.
DoNotPay also comes to the rescue if a dealer refuses to cancel your extended warranty.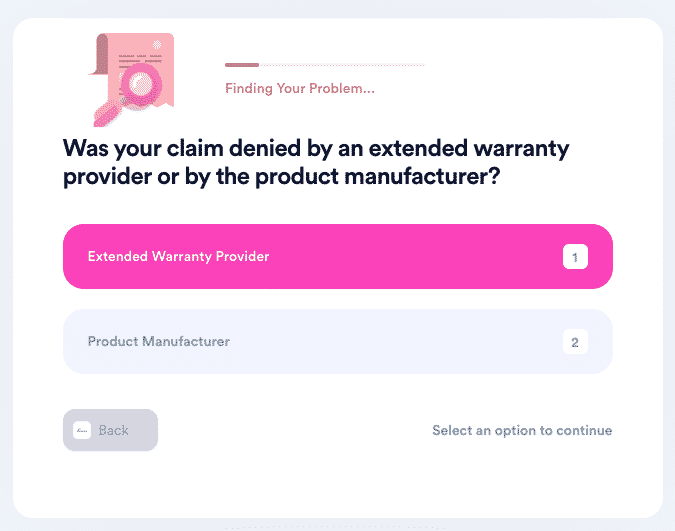 Manage Different Tasks Easily With DoNotPay in the Driver's Seat
Aside from helping you with your car warranty problems, you can count on us if you're looking for a home warranty. Check out our home warranty reviews and a guide on home warranties in the U.S. to fast-track your search for a perfect provider!
DoNotPay is a multifaceted app, providing assistance in numerous areas. With our assistance, you can get rid of car warranty robocalls, snatch a SiriusXM free trial, and dispute parking tickets anywhere in the States.
For more useful features, open DoNotPay in your . You can rest assured that we'll make the following tasks easier:
Overturning your speeding tickets

Contesting your traffic tickets