How to Easily Get a Virtual V-Bucks Gift Card

If you're an avid player of Fornite, you may be interested in an easier way to make game purchases for things like outfits, battle passes and emotes. One of the best ways to make purchases on Fortnite is through a virtual v bucks gift card. Ultimately, a virtual v bucks gift card is a better option if you would prefer not to use your debit or credit card directly.
Here at DoNotPay, we're here to make it easier for you to make online purchases for games like Fortnite. If you're interested in a virtual v bucks gift card for Fortnite, read on to learn what Fortnite's gift card is, how a, and the amazing benefits of DoNotPay's Free Trial virtual credit card.
What Is Fortnite's Virtual V Bucks Gift Card?
A gift card is an exclusive gift card for Fortnite users. Essentially, it is a prepaid virtual currency debit card that can be used to make a variety of purchases in the Fortnite game. With that said, gift cards typically range from the following:
1000 v bucks
5000 v bucks
2800 v bucks
13500 v bucks
| | | | |
| --- | --- | --- | --- |
| Fortnite V Bucks | Spent In | Can Purchase | Save the World co-op PvE mode |
| 1000 V Bucks | Fortnite Battle Royale, Creative, and Save the World modes. | Pickaxes, Emotes, Outfits, Gliders, and the latest season's Battle Pass. | You can use V-Bucks to purchase X-Ray Llamas with weapons and trap schematics, plus new Heroes. |
Where Can I Purchase a Virtual V Bucks Gift Card?
Various online retailers offer virtual v buck gift cards. Some retailers include:
How to Redeem a Virtual V Bucks Gift Card
If you need to redeem a virtual v bucks gift card, there are a few steps that you will need to follow. These steps include:
Go to the epic games website found here. Log into your account.
Hover over your name and select the option that says "v-bucks card".
Select "Get started" to initiate the redemption process.
Scratch the back of your card and enter the provided PIN code with no dashes.
Select which platform you would like to redeem your gift card and then hit "Next".
Review and confirm.
How Does a Virtual V Bucks Gift Card Work?

Ultimately, virtual v bucks are the in-game currency used in Fortnite. This allows players to make purchases of a variety of items within the game. It's important to note that v-bucks are not transferrable between accounts. With that said, if you add v-bucks to one account, you will need to spend it on that same account. Additionally, there are no refunds available for v-bucks. Though you cannot transfer v-bucks or get a refund, you can gift them to friends if you decide you do not want them anymore.
Are There Any Fees Associated With a Virtual V Bucks Gift Card?
There are no fees associated with Fortnite's virtual v bucks gift card. Additionally, there is no expiration date to use the gift card.
Can V-Bucks Be Used With Other Devices?
Unfortunately, no, content that you purchase with your v-bucks will be available on any platform where you play Fortnite, but you will not be able to transfer v-bucks from one device to another. For instance, if you purchase a v-bucks gift card via Playstation or Switch, you will not be able to use it for other devices. However, any content you purchase will be available on devices to which your Fortnite account is linked.
Sign Up for DoNotPay's Free Trial Card
If you're looking for more opportunities to make online game purchases with ease, consider DoNotPay's Free Trial card. Some online games offer free trials for some of their products and subscriptions for a limited time, but if you don't want to use your real debit or credit card, a hassle-free virtual trial card is the best option.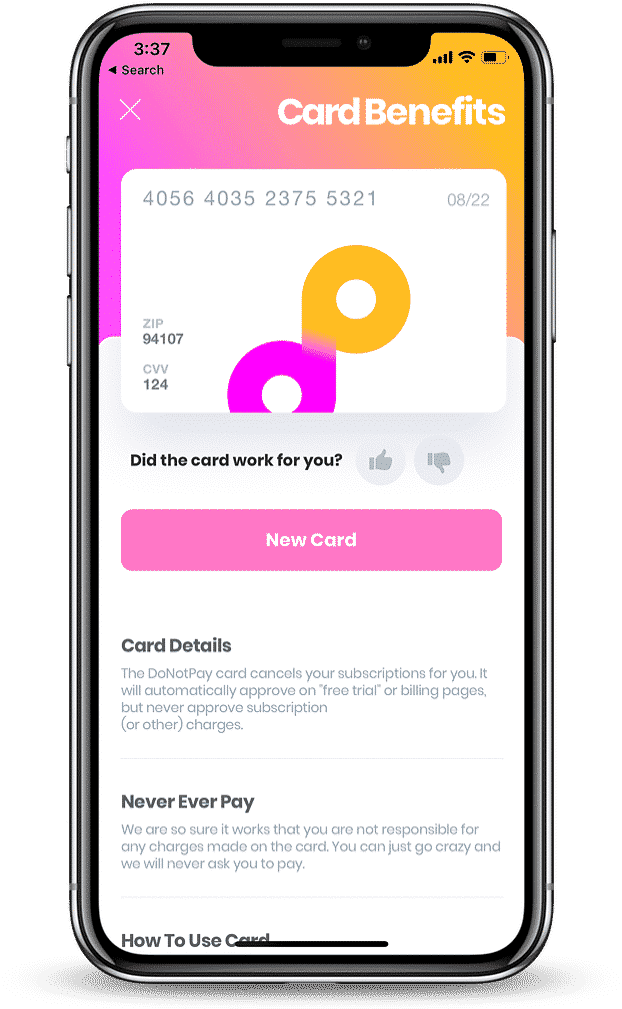 DoNotPay's free trial card allows you to make a transaction online without revealing your bank information. With our free trial card, you will be able to use any address or name and expiration date provided right in the DoNotPay app. Ultimately, DoNotPay's free trial card is the simple solution to getting a free virtual credit card you can use to sign up for free trials without feeling like you're putting your personal information on the internet. Here's how our free trial card will help you save time and money.
DoNotPay will generate a random credit card number on your behalf.
You can receive automatic approval on a "free trial" or billing page.
You can choose not to approve any further subscriptions or other charges.
DoNotPay's free trial can cancel subscriptions for you so that you don't have to.
With cybercrime on the rise, we know how important it is for you to be able to protect your information now more than ever before. With our free trial card, you not only get to take advantage of free trials for a variety of companies, but you'll also benefit from the fact that no money is loaded on the card, meaning there's no risk for you.
What Else Can DoNotPay Do?
Are you looking to take advantage of other free trials across the internet for things besides gaming? DoNotPay has you covered. With our free trial card, the opportunities are endless when it comes to successfully signing up for free trials and preventing your sensitive information from being compromised in the process. In fact, some other companies we can help you get free trials for include:
Are you ready to get started with DoNotPay's free trial card? Sign up today to get started!