What Is Virtual Terminal Credit Card Processing? a Quick Rundown of Use and Benefits
Are you trying to grow your small business and are looking for ways to accept remote payments from your customers, such as over the phone or the Internet? A virtual terminal software will fit your bill perfectly. Keep on reading to learn what a virtual terminal is, how to implement it in your business, and what are some of the best providers currently out in the market.
What Is a Virtual Terminal, and How Does It Process Payments?
Think of a time when you called customer service to, say, get a change made on your flight booking and had to pay the difference in airfare prices, or ordered some flowers over the phone, or made a catering booking for your office's Christmas party.
Each time you gave the call center agent/florist/caterer your credit card details, and they were able to take your payment immediately. You didn't have to show them your credit card, which would anyway be impossible over the phone. Have you ever wondered how your payment went through?
What these vendors did is enter your card information into a virtual terminal on their computer. That terminal then sends the data to a payment processor that manages the remote payment for them. The principle is the same with all online purchases—you can pay for whichever products and services you want without having to pull out your credit card from your wallet. This is all thanks to a kind of software called a virtual terminal payment processor.
Why Is a Virtual Terminal Key for Your Small Online Business
In short, a virtual terminal is a software application that allows vendors to accept remote payments from buyers. It doesn't require the physical presence of buyers' cards. The average fee is usually 2.9% plus an additional $0.15 to $0.3 surcharge per transaction, with some providers also charging a flat monthly fee.
If you own a small business, a virtual terminal is a key enabler for selling your products and services online. With online shopping skyrocketing in popularity due to the COVID-19 pandemic, now is the best time to take your business online and select the right payment processor.
You don't need to install any additional hardware—this type of software essentially turns your device (computer, smartphone, or tablet) into a secure point-of-sale (POS) credit card reader.
How Do You Use a Virtual Terminal for Credit Card Processing?
Using a virtual terminal as a vendor is as simple as ABC. Follow these short steps to use your virtual terminal for payment processing:
Log in to your virtual terminal software page

Access the secure payment page

Enter the customer's credit card details

Confirm that you would like to process the payment
How To Choose the Best Virtual Terminal for Your Business
When deciding which virtual terminal provider to go with, take the following points into consideration:
Is customer service available at all times?

Are you paying a fair fee?

Which web browsers support this virtual terminal?

Can it accept payments from credit and debit cards, as well as recurring payments?

Does it offer analytics and generate usage reports?

Does it guarantee you won't have to buy or upgrade any additional hardware equipment (apart from your own device)?
Consider These Virtual Terminal Providers for Your Small Business
We have pulled together an overview of some of the most popular virtual terminal service providers available on the market today:
Company
Pros
Cons

PayPal Payments Pro

Fully customizable

Allows customers to add a PayPal payment option on their website

Easy to use for manually entered payments

High cost of use (includes a flat monthly fee of $30 and a flat-rate fee of 3.1% plus $0.30 per transaction)

Dharma

Best for high-volume merchants that process more than $10,000 worth of business monthly

Significantly cheaper for high-volume businesses compared to competitors

No contract required

No inventory function available

Square

Best for small businesses

Bonus inventory management included

No monthly or cancelation fees

Slightly more expensive than competitors (includes a flat-rate fee of 3.5% plus $0.15 per transaction)

Shopify POS

Integrated POS solution that serves as a payment processor

Allows the unification of online and in-store sales

Offers strong reporting features

Expensive pricing (involves a flat fee of $29 a month, and a flat-rate fee of 2.9% plus $0.30 per transaction)
What Is a Virtual Credit Card, and How Does It Differ From a Virtual Terminal?
A is another type of tool that allows you to generate a random, temporary credit card number. It is connected to your chip credit card, but it adds another layer of security when shopping online because the merchant will not see or have access to your actual banking information. Instead, what they'll see during the transaction is the VCC card number. This way, you'll stay protected from data breaches and cyber theft.
If you're feeling uneasy about giving your actual credit card details to the merchant over the phone or online, use a one-off number that was generated by your virtual credit card. This number will be accepted by the vendor's virtual payment processing terminal in the same manner as if you gave your real credit number.
How Does a Virtual Credit Card Work?
The importance of safeguarding your financial information has never been more crucial.
Did you know that in the first quarter of 2020, more than 1.6 billion consumer records in the U.S. were impacted by data breaches? According to Data Economy, the number of cases is likely to hit at least 5 billion by the end of the year.
Your virtual credit card has the ability to create a single-use controlled payment number consisting of 16 digits every time you want to pay for something online or over the phone. So if the vendor's website gets hacked and customers' payment information stolen, you will be protected from having your personal and financial details exposed. That's because you never revealed them to the merchant in the first place.
By using a single-use virtual credit number that is limited to one merchant or transaction, your information is kept secure. It seems that you can never be too cautious, as cyber credit card theft seems to be on the rise—Sixgill reports that more than 15 million stolen debit or credit cards issued in the U.S. were on sale on the dark web in 2019.
What Is DoNotPay's Virtual Credit Card, and How Does It Work?
We are proud to introduce our Free Trial Card, DoNotPay's version of a virtual credit card that allows you to sign up for free trials completely risk-free. Much like any other virtual credit card, it creates a temporary pseudo credit card number, which appears as a regular credit card to the service provider. By relying on DoNotPay's Free Trial Card, you no longer have to worry about canceling your free trial before the auto-renewed subscription charge kicks in—or fending off companies that keep adding charges to your account, ignoring your attempts to cancel the subscription. DoNotPay's card isn't tied to your bank account, so you're preventing any unwelcome charges from occurring in the first place.
Our Free Trial card is based on a handful of simple principles:
Generating unique credit card information

Getting approved on "free trial" pages

Not getting approved on "subscription" pages
One added value with signing up for our Free Trial Card is an included and random email address that we generate on your behalf. Instead of receiving tedious marketing emails from the subscription provider and allowing them to track your location, you can dodge these pesky practices by a temporary email address provided and monitored by DoNotPay. Don't worry—all important messages from the provider will get forwarded to your real email.
Give These Services a Try With Donotpay's Free Trial Card
How many times have you signed up for a free trial online, forgot to cancel it before it expired, and ended up wasting money on auto-renewed subscriptions? While $10 a month might not seem like a big deal, a half a dozen "free" trials later, and you may be flushing over $50 down the drain since you're not even using the services.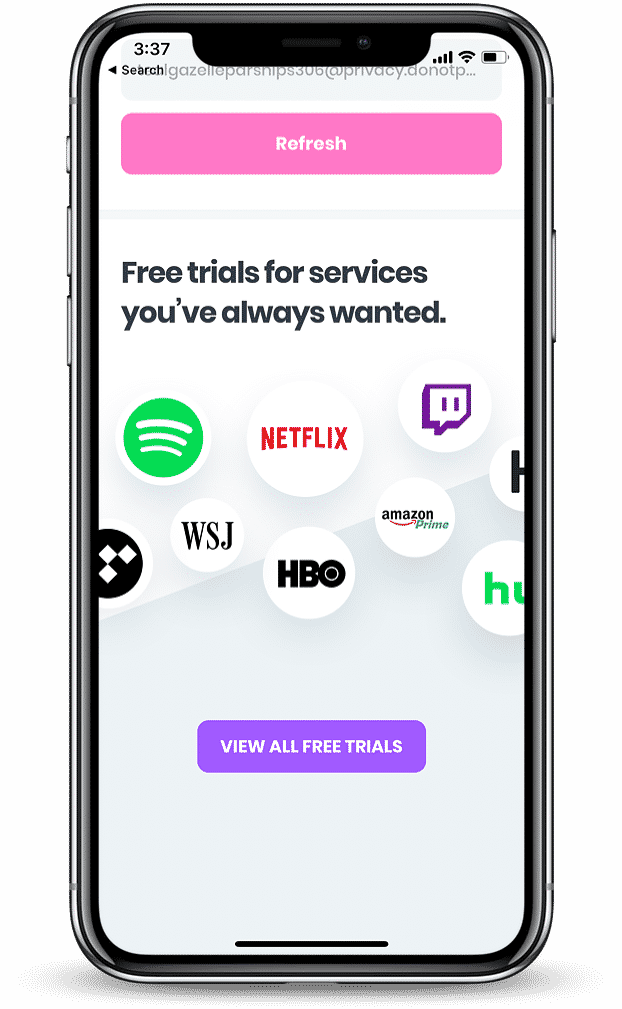 With DoNotPay's virtual credit card, you can enjoy a myriad of online services below for a limited time at zero cost:
ESPN Go

Postmates

Doordash

Disney+

HBO
, get your Free Trial Card in minutes, and try out these services without fear of unwanted charges!
Why You Need a Virtual Credit Card in Your Life
If you shop online or over the phone, it's simple—you want to get a virtual credit card. That's because a virtual credit card:
Safeguards your finances against cyber theft

Keeps your privacy protected

Is easy to cancel

Is the best option for free trial sign-ups

Allows you to cap your spending
Safeguards Your Finances Against Cyber Theft
Credit card fraud is real, and it is becoming more common as people are increasingly shopping online—in fact, over 270,000 cases were reported in the U.S. just last year, making credit card fraud the most widespread form of identity theft. The vendor could either be after stealing your credit card information herself/himself or fall victim to a hacker attack breaching their customers' financial information. A virtual credit card provides a degree of separation between your actual and permanent credit card number and the vendor.
Keeps Your Privacy Protected
Your financial information is considered an integral element of your personal information and thus crucial to your privacy. You could be buying from a webshop that doesn't have a robust online security system in place. By using your real credit card details in such instances, you could make yourself vulnerable to a data breach and identity theft. Did you know that hackers can unlock access to a number of your other personal information from stealing your credit card information, such as your passwords, phone numbers, home and work addresses, etc.? A virtual credit card dramatically reduces the risk of having your identity and personal information stolen online.
It Is Easy To Cancel
Canceling a virtual credit card is easy and doesn't involve any red tape. Often the process of canceling a conventional debit or credit card requires you to shut down the bank account the said card is linked to, which is something you don't have to worry about with its virtual counterpart.
It Is the Best Option for Free Trial Signups
For a lot of people, free trials for online subscriptions and services often result in an unwanted subscription fee. Results from a survey by CreditCards.com revealed that 48% of participants were charged for a subscription after a free trial period ended without their knowledge. With a virtual credit card, these unwelcome charges are no longer a concern. By the time your free trial is supposed to automatically renew into a paid subscription, the temporary credit card number you used for the sign-up will have already expired.
Allows You To Cap Your Spending
With a virtual credit card, you have the ability to set limits on the number of transactions you make with it, as well as set the maximum spend amount per each transaction.
Pros and Cons of Getting a Virtual Credit Card
Have a look at the main advantages and drawbacks of owning a virtual credit card.
| | |
| --- | --- |
| Pros | Cons |
| Safeguarding you from financial fraud | Inability to receive refunds |
| Hiding your personal information from the merchant | Failure to provide proof for verification purposes |
| Ability to cap the number of transactions | Inability to set up recurring payments |
| Option for easy cancelation | Inability to withdraw cash from ATMs |
To summarize, we recommend that you combine the use of your conventional debit or credit card and your virtual credit card. Each has its unique merits and serves different purposes; both should have a rightful place in how you manage your finances.
Let's Compare Donotpay's Virtual Credit Card With Your Physical Credit Card
Think of DoNotPay's Free Trial Card as a supplement to your debit or credit card, as well as your generic virtual credit card. DoNotPay's specialty lies in comprehensive support every time you sign up for a free online trial. Have a look at how our card compares to your bank's debit or credit card:
| | |
| --- | --- |
| Your bank's credit card | DoNotPay's Free Trial Card |
| Carries with it a slight risk of cyber theft and fraud | Shields you and your money from all forms of cyber theft and fraud |
| Reveals your personal and credit card information | Doesn't reveal any of your personal and credit card information |
| Allows charges | Prevents all charges |
| Doesn't come with an associated email address | Offers a free email address to use for free trials |
What Else Can DoNotPay Do For You?
Our strongest point is making your life simpler. On your behalf, we can:
Appeal speeding tickets

Fight traffic tickets
If you want to save time and money, s and let's start ticking things off your to-do list together now.