Virtual Cash Card — What is it, and how does it work?

With several businesses going digital nowadays, Virtual Cash cards are becoming the ideal payment solution option for most online and offline corporations.
Let's say you stumble on a good deal at a website you never knew before. People say it's reliable and reputable, but you're still doubting a bit. The website can only allow you to pay using a credit card.
At this point, what do you do? After all, deals are a good opportunity, but you want to avoid fraud or scams at all costs and protect your credit card details. One excellent option is to use a Virtual Cash card.
We live in a fast-paced society without much time to waste on setting reminders for each signup trial. As such, DoNotPay has come up with a new and more convenient way of avoiding unwanted charges saving money and time through its Free Virtual Cash Card.
What Is a Virtual Cash Card?

Virtual cash cards, otherwise known as virtual credit cards, are unique, arbitrary generated credit card numbers that enable you to transact without revealing your actual credit card details. You can use it to sign up for a free trial service with a company or make purchases online.
Virtual Cash cards are connected to your actual credit card, but they have their "fabricated" credit card details, an arbitrary generated virtual credit card number, CVV, and expiration date. VCCs can be tied to a particular merchant, and you can set a maximum charge limit to prevent any unwanted charges for services you don't intend to use.
You can sign up for any free trial you desire without worrying about any ridiculous charges when it expires. The company won't access your accurate banking information, so they cannot charge you automatically.
How Does a Virtual Cash Card Work?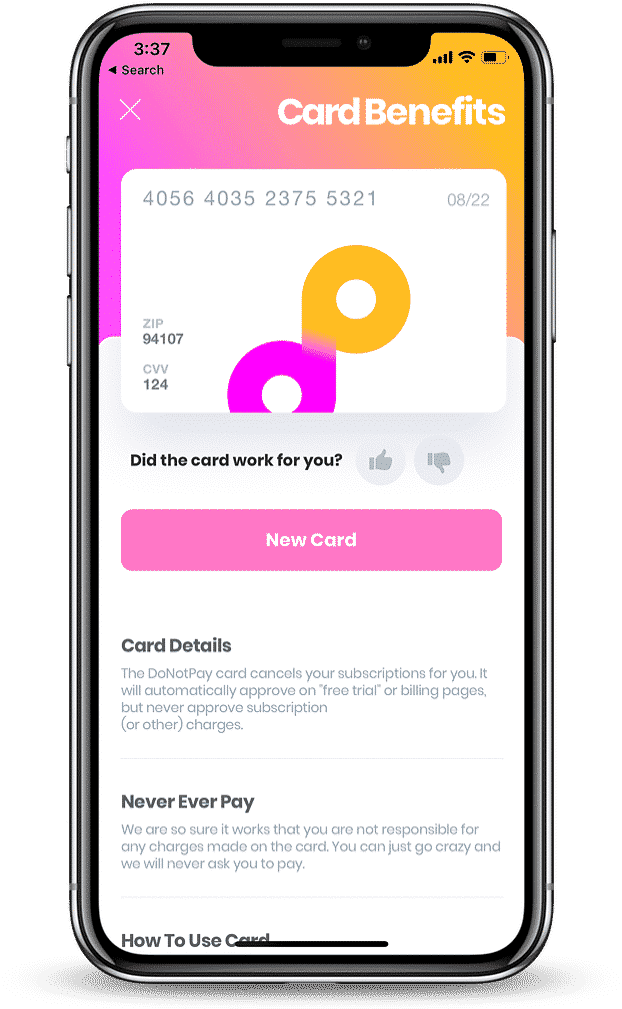 Virtual Cash cards work similarly to chip credit cards. While using a chip credit card, the vendor receives a one-time used token that is usually changed whenever you use the card. That implies that if you're dealing with a deceitful vendor, they won't be able to misuse your card. That is because they have only a one-time use token that is valid for that one single purchase you made with them.
You can use any address or name on the DoNotPay's Free Trial Card, including the virtual credit card number and expiration date the DoNotPay app provides. Like your chip credit card, you can use the Virtual Cash card to sign up for any free trial service.
When using DoNotPay to generate a virtual credit card, the app's algorithm will do all the necessary things for you. On clicking the "purchase" button, DoNotPay's system receives the ping and checks the code request to see if it's for a free trial. Otherwise, the DoNotPay app will decline the transaction, implying that there won't be any debt on your account.
Note that you can only use the VCC once because it will be deactivated immediately you use it. Secondly, you can't use the cards to make actual purchases as it's meant to help you avoid unauthorized debits.
Benefits of Virtual Cash Cards
Virtual cash cards offer numerous benefits to users such as:
Protected privacy. You don't have to link it to your bank account or have your details on it.
Protection when dealing with potentially mischievous vendors.
Use it for a free trial without getting charged when it's over.
Convenient for E-commerce.
Offers zero costs.
Can help you monitor cash flow anytime and anywhere.
Offers more control and flexibility.
Drawbacks of Using a Virtual Cash Card
Besides the benefits that virtual cash cards offer, they also have drawbacks. These include:
Not usually ideal for intermittent payments.
Limited availability
Where Can You Get VCCs?
Are you worried about becoming a victim of credit or debit card fraud? Maybe you want a means of purchasing items online without using your actual credit card. Some financial providers and chief U.S banks such as Bank of America, Capital One, Citi Bank also offer VCCs.
DoNotPay has the best Virtual Cash card that you can imagine. You can access the DoNotPay free instant approval virtual credit card through any web browser.
How to Use the DoNotPay Free Trial Card
The process of getting the Free Trial Card is fast and straightforward. First, you need to log on to DoNotPay through your web browser and choose the Virtual Card option. DoNotPay will generate a card number to meet all the demands of an actual credit card but will not jeopardize your funds or data because you will not link it to any natural money source.
Where Can I Use the DoNotPay Free Trial Cards?
One common use of DoNotPay's free trial cards is to help you sign up for free trials and make online purchases. Besides, you can use DoNotPay's VCC for the following free trial services:
Comparison of Actual Credit Cards vs DoNotPay Free Trial Cards
| | |
| --- | --- |
| Real Credit Card | DoNotPay's Free Trial Card |
| If anything goes wrong, you can waste a substantial amount of money. | There's no risk of losing any money since your actual credit card has no connection with the virtual card, so there won't be any stolen funds. |
| You can find it in physical form. | You can only use it online. |
| If, for instance, you forget to cancel the services, the provider will charge you a regular monthly fee. | Even if you don't remember to cancel a subscription, they can't charge you a penny. |
| Your sensitive credit card information is exposed, so it can be easily misused if someone wants to wrong you. | With your actual credit card information safely ''hidden'', you don't have to worry about any misuse. |
| Lest they hack the website where you left your actual credit card info, they can easily access your sensitive information. | A hacked website shouldn't disturb you because your actual credit card information is safe. |
What Else Can DoNotPay Do?
Besides helping you get the best and instantly-approved virtual cash card with no deposit, DoNotPay can assist you with many other things. Even if you need to dispute traffic tickets or sue someone or a company in small claims court, DoNotPay can help you handle it fast. Handle credit cards and virtual credit card issues or cancel any subscription or membership through DoNotPay in minutes.
Other ways DoNotPay can assist you include:
DoNotPay can quickly help you get a virtual cash card to prevent unwanted debits and save you money.