Save Your Money—Obtain the UW Madison Application Fee Waiver
The University of Wisconsin-Madison is a prestigious and highly ranked research center in Madison, Wisconsin. The facility offers more than 9,000 courses and over 200 master's, doctoral, and professional programs.
Like many others, the University of Wisconsin requests its prospective students to pay the application fee during the application process. Considering other college-related expenses that students and their families have to handle, paying solely to apply to university seems over the top. Luckily, most universities accept or offer fee waivers to students experiencing financial setbacks.
Getting a fee waiver can sometimes be a demanding process, depending on the college's policy. With DoNotPay, asking universities to waive college fees is simple and stress-free, regardless of where you're applying.
Everything You Should Know About College Application Fees
Before applying to colleges, students and their families usually take into consideration expenses such as:
College tuition

Dorm or rent

Books and supplies

Personal expenses

Transportation
All of these costs come after enrollment. Before that, you have to pay a decent amount of money to apply to all the colleges you're considering. These costs include:
Taking SAT and ACT exams

Visiting college campuses

Paying application fees
According to a study by U.S. News, the average university application fee is approximately $44, which is not excessive in case you're applying to one college. Usually, that's not the case as the average American student applies to seven to ten colleges.
When multiple application fees add up, it's not a surprise that so many students try to lower the costs by requesting fee waivers.
A college can waive your fee if you are eligible for an automatic fee waiver or meet specific requirements.
How Much Is the University of Wisconsin Application Fee?
University of Wisconsin in Madison has a $60 application fee. The fee is non-refundable, and you can pay it either electronically or by check or money order. The university states that electronic payment is preferred.
Do I Qualify for an Automatic Fee Waiver at the University of Wisconsin in Madison?
If you took the SAT exam using a fee waiver, the College Board grants you an automatic fee waiver accepted by the University of Wisconsin. The same is applicable if you got a fee waiver for the ACT exam.
The University of Wisconsin in Madison Application Fee Waiver—Eligibility Criteria
If you are dealing with financial difficulties that can make you a good candidate for a fee waiver, you should check the eligibility criteria. To file a fee waiver request, you have to meet at least one of the following requirements:
If you are not sure whether your family income falls under the Income Eligibility Guidelines, check the following table:
| | | |
| --- | --- | --- |
| Household Size | Annual Income | Monthly Income |
| One person | $16,237 | $1,354 |
| Two people | $21,983 | $1,832 |
| Three people | $27,729 | $2,311 |
| Four people | $33,475 | $2,790 |
Get the University of Wisconsin in Madison Application Fee Waiver With DoNotPay
To make sure you did everything in your power to obtain a fee waiver, use the easiest and most reliable method—DoNotPay. With our handy College Application Fee Waiver feature, you can request college application fee waivers for any university and college in America.
How Does the College Application Fee Waiver Feature Work?
DoNotPay uses the most comprehensive database of all universities in the U.S., enabling us to work with any college in the States.
Most students apply to many different colleges at the same time, making the researching process tiring and stressful. Our practical fee waiver tool cuts down the research time and enables you to request a fee waiver without hassle.
The types of college fee waivers we can request for you are:
Admission application fee waiver

Transfer admission fee waiver

Enrollment deposit fee waiver
What Can We Do for You?
We specialize in cutting down your involvement and hard work to a bare minimum by:
Filling out the fee waiver form on your behalf

Handling the entire mailing process

Asking your high school counselor for a signature on your form to improve the chances of getting a fee waiver

Sending the request to the university's admissions office
How To Obtain the University of Wisconsin Application Fee Waiver
After accessing DoNotPay from your , follow these step-by-step instructions:
Click on the

College Application Fee Waiver

feature

Select the type of college fee you would like to waive

Choose University of Wisconsin in Madison as the college you're applying to

Answer several questions about your financial situation

Notify us whether you want us to get you the counselor's signature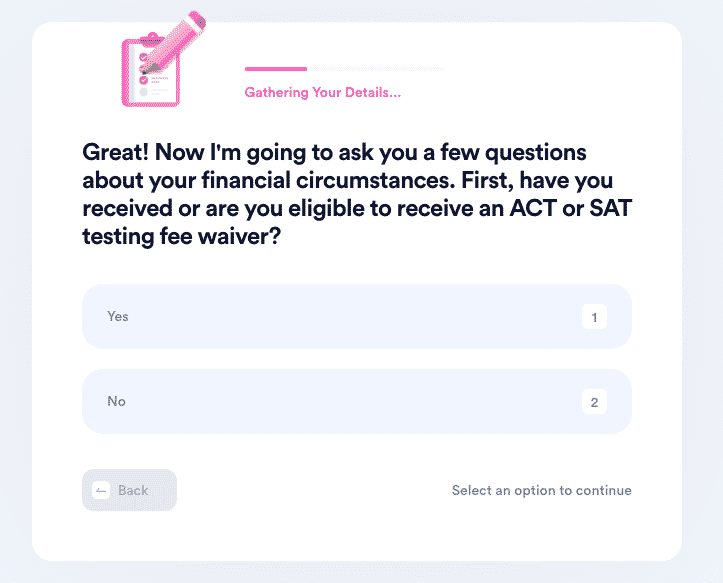 Once you complete the steps, we will manage your request quickly.
How To Request the University of Wisconsin Fee Waiver on Your Own
Aside from accepting automatic fee waivers, the University of Wisconsin offers to waive application fees for students needing financial aid. If you meet the eligibility criteria, you can request a fee waiver as a part of your application. Follow these steps to learn how to do that:
Download the fee waiver request form from the

university website

Enter your full name and date of birth

Add your current address

Insert your phone number and email address

State the reasons for getting a fee waiver

Provide a signature and add a date of application

Forward the form to your high school counselor to certify your information and financial hardship
You can file the fee waiver request when applying to UW Madison with the Common App.
Manage Your Day-to-Day Tasks Using DoNotPay's Handy Features
Our College Application Fee Waiver service enables you to avoid application fees for countless universities and colleges across the U.S.—from Fordham, Emory, University of Texas in Dallas, George Mason University to Harvard Law, Brown, Stanford, or Columbia University.
We can help you write a request letter with a fee waiver letter sample. Use our platform to obtain a BOG fee waiver when applying to any community college in California.
Access DoNotPay from any , and get assistance with:
Disputing infuriating traffic tickets

Fighting speeding tickets