Waive the George Mason University Application Fee Without Hassle
George Mason University (GMU) is a public research facility near Fairfax City in Virginia. The University offers a variety of graduate degrees and more than 100 programs at the undergraduate, master's, doctoral, and professional levels.
Like numerous other universities and colleges, George Mason University has a college application fee policy. Many people disapprove of that policy since there are other expenses included in the application process. GMU offers to waive application fees for qualified students, usually those experiencing financial hardship.
The fee waiver process can sometimes be demanding and time-consuming. If you are looking for a way to expedite the procedure, try DoNotPay's College Application Fee Waiver feature.
Everything You Should Know About the
George Mason Application Fee
According to a study by U.S. News, the average cost of college application fees is $44, with some universities requesting up to $105 for an application. To see how the GMU application fee ranks consult the following table:
| | |
| --- | --- |
| George Mason University Students | Application Fee |
| Undergraduate U.S. citizens and permanent residents | $70 |
| Undergraduate international students and students with non-immigrant status | $80 |
| Graduate students (regardless of the status) | $75 |
All application fees are nonrefundable, but you can request a fee waiver if you are eligible.
What Is a College Application Fee Waiver?
Having to pay one college application fee does not sound like a big expense. But why would anyone risk their chance for adequate higher education by applying to only one school? Considering that the average American student applies to seven to ten colleges, application fee expenses can increase immensely.
Most universities in the U.S. have a fee waiver policy, but to obtain a fee waiver, you have to either be automatically qualified or meet certain requirements.
Am I Eligible for Automatic College Application Fee Waiver?
You are automatically eligible for a college fee waiver if:
You are considered fee waiver eligible according to the district or state programs
Who Can Qualify for a College Application Fee Waiver?
If you are not automatically eligible, check out the following requirements for obtaining a fee waiver:
George Mason University Specific Fee Waiver Requirements
Some universities have specific eligibility criteria when it comes to acquiring fee waivers. Take a look at the following list showing who can qualify for getting an application fee waiver at GMU:
How To Obtain a
GMU Application Fee
Waiver on Your Own
If you qualify for the George Mason University fee waiver, you can request it by:
Confirming with the GMU admissions office that you are eligible for a fee waiver

Collecting the mandatory documentation, based on your fee waiver qualifications

Submitting the request along with the documentation during the orientation registration
Contact the University's Office of Admissions for more information via:
How To Acquire a College Fee Waiver Using DoNotPay
DoNotPay has a convenient feature that helps students with financial difficulties get adequate aid in the form of college fee waivers.
What Type of Fees Can You Get Waived?
You can use this practical feature to get three types of fee waivers:
Transfer student

Enrollment deposit

New student application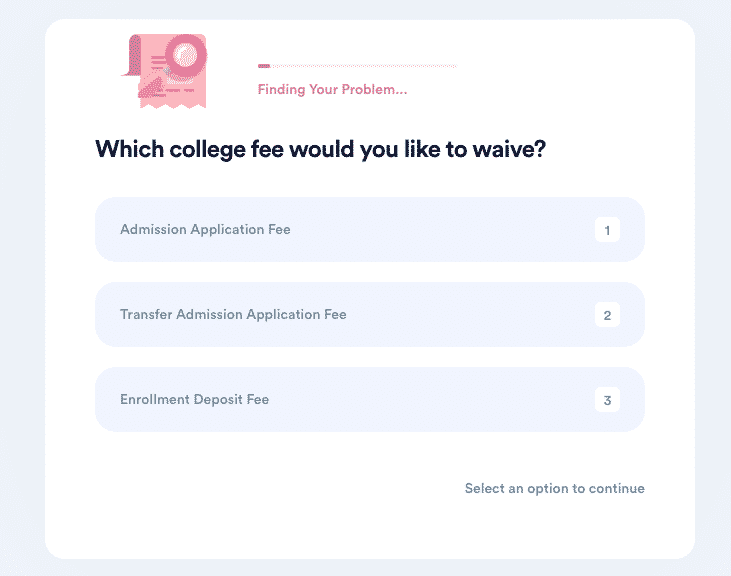 How To Manage This?
By using an extensive database of all the universities in the U.S., we enable you to request a fee waiver for most colleges in the States. With our fee-waiving tool, you can request fee waivers for as many colleges as you like without doing the research, collecting information about each university separately, and gathering documentation.
What Can DoNotPay Do?
We take satisfaction in helping you avoid any tedious work. When it comes to waiving fees, we make that happen by:
Completing the form on your behalf

Handling the mailing process

Obtaining your high school counselor's signature, in case you need it

Filing the fee waiver request directly to the university's admissions office
How To Use DoNotPay for Obtaining a College Fee Waiver?
The process of requesting fee waivers can be demanding and stressful. To make it simpler and less time-consuming, DoNotPay created the College Application Fee Waiver feature.
To reduce the costs of applying to colleges, you should do the following:
Access your DoNotPay account from any

Select the

College Application Fee Waiver

feature

Choose the type of fee you want to be waived

Find the college you are applying to and select it

Answer a few questions regarding your financial situation

Inform us if you need the counselor's signature
We will notify you once the university's admissions office reviews your fee waiver request.
Fight Bureaucracy With DoNotPay
Don't let the application fees intimidate you. With DoNotPay, you can request fee waivers for colleges anywhere in the U.S.
Use our help to obtain fee waivers for Harvard Law, Brown, Columbia, Duke, Virginia Tech, or Emory University. Learn how to get fee waivers for graduate school tests and graduate school applications, or find out how to request a fee waiver with Common App.
Access DoNotPay from any , and get assistance with:
Disputing infuriating traffic tickets

Fighting speeding tickets