United Breast Cancer Foundation Robocalls
Every year in the United States, more than 40,000 women die from breast cancer. This disease is not a joke, and there are many charities dedicated to raising funds for fighting it. Donating whatever you can to such a cause seems like a no-brainer. In reality, it's not all so straightforward. 
One of the charities that ask for your money to allegedly help women fighting this mean illness is the United Breast Cancer Foundation. It would all be fine and humane if only this organization didn't have some stains on its name. Not only do they use scammy robocalls to ask for donations, but they also score low on reputable charity review websites, like Charity Navigator and Give.org.  
What Is a United Breast Cancer Foundation Robocall?
In the last several years, many Americans have reported the scam calls made in the name of this charity. The UBCF callers are often relentless, trying to reach you multiple times throughout the day, at inappropriate hours, and under different caller IDs. Some people indicate speaking with a live representative, while others claim that they had to deal with a robocall. One thing remains the same—the UBCF always asks for your money. 
The incoming caller ID sometimes says United Breast Cancer, sometimes it's a random number, but at times, it is a number you already have in your contacts list, which makes it even more deceptive.
What happens if you answer a United Breast Cancer Foundation robocall? When you pick up, the voice starts with a question "Is that (your name)?" just press on right away to create familiarity and grab your attention. The most common things it says are: 
"Contacting you is harder than keeping my grandson out of the candy dish!"
"I finally got you on the phone! You are worse than my mother in law!"
"Well, finally, you picked up the phone! You're tougher to reach than the President. Ha, ha!"
The scripted spiel goes on and on with variations. If you try to ask a question, it will be brushed off by "I can't answer any personal questions" or "I don't have time for questions" or ignored completely (which is typical for robocall scams). At some point, they will ask you to support this important cause by making a donation with your credit card over the phone. It's reported that some robocallers claim you already donated, but they need you to confirm your credit card details due to some issues. Even if nothing else triggers a red flag by that point, this should! 
Spam or Scam—That Is the Question
Asking you to donate with your credit card over the phone is shady enough. It would be best if you never did that even when the charity is legitimate. There are other, safer ways to give money to a worthy cause. Some people reported on Yelp that they asked to be sent a pledge card via mail, but the caller either ignored this request or the question led to a disconnect. Others said that soon after they donated, their credit cards were compromised.
It's not conclusive whether United Breast Cancer Foundation robocalls are coming from the actual charity or from scammers impersonating its representatives. The fact is that, even without the fishy unsolicited calls, this charity has low scores on the official websites that review charitable organizations. It seems that most of the money they get is pushed towards program expenses, instead of helping those in need. Their transparency scores are not that great either.
Whatever the case, you should know the difference between spam calls and telephone scams and how you can fight back against robocalls of any sort.
Are United Breast Cancer Foundation Calls Just Spam or a Scam?
The main difference between these two categories is that scam calls always have the goal to steal and cheat. While spam calls are no doubt annoying, they are usually used to convey some information, which can even be useful or to sell a product, as telemarketers do. Scam calls will always try to get hold of your confidential information, especially your credit card details, and abuse it. Both spam and scam calls can come from a live person or a bot, but the latter is becoming more and more popular.
It seems that the United Breast Cancer Foundation uses both means of communication, but, as technology improves, they lean towards robocalls. It is difficult to discern how to qualify the UBCF's calls since they walk the fine line between being a scam and being spam. There were reports of credit card abuse, and the low reputation of this charity tells us to proceed with caution even if the UBCF's calls are just annoying spam.
Other Robocall Scams to Be Careful About
The United Breast Cancer Foundation and other fishy or fake charities try to appeal to your humanity. The topic of their scripted calls is a serious one, and it's easy to fall for it.
Other common robocall scams target your insecurities about financial matters, impersonating debt collectors or IRS representatives. They may also state that you have some outstanding charges because you haven't completed jury duty. Most of them use spoofing, which means they call you under the pretense of being a government organization or even your friends and family, just to make sure you will pick up.
Besides charity scams, the ones provided in the table below are the most common robocall scams that plague the nation but have in mind that the list doesn't stop there. If you want to learn more about how to fight them, check out this FCC guide to dealing with robocalls. 
Most Common Robocall Scams

How to Recognize Them

Imposter Scams

The message will impersonate someone you know or trust in general—from friends, family members, and banks to government agencies like the IRS. This kind of robocalls will most likely use spoofing. (Check out our article about the

top health robocalls and scams

.)

Travel Scams

The message starts with a free or low-cost vacation notification. Soon after that, it asks for your credit card details in order for you to accept the free trip. (Check out our article about the

Resort Reward Center robocalls

.)

Loan Scams

The robocall offers loans or credit cards for a small up-front fee, focusing on people with bad credit scores. (Check out our article about

student loan robocalls

.) This hoax also works on people who are struggling with

paying their bills

or

lowering their bills

.

Free Trials

They promise a free product or a service but then ask for your credit card, which ends up being charged monthly. 
Are United Breast Cancer Foundation Robocalls Illegal?
Charity calls are allowed in general, but they have to comply with some rules. They should call only the members of the charity or past donors. Besides that, no organization or business can call you unless they meet the following criteria:
Calls are not allowed before 8 a.m. and after 9 p.m.

Your written consent is a must

Calls are not allowed if your number is on the national Do Not Call list

Calls cannot be placed under false numbers

Calls must always contain the option to unsubscribe from being contacted in this manner
It is evident that even without instances of credit card misuse, the United Breast Cancer Foundation robocalls should not be allowed. Not only do they call everyone and at all times, but they also spoof their numbers. This alone can be the grounds on which you can start legal action.
Are Any Robocalls Legal Then?
Yes, some of them are. Robocalls are not illegal by definition. They are just pre-recorded messages that play when you pick up. The content of these messages and their intention is a matter of concern. While some have a goal to extort your private information, others can be useful, and they are allowed. Here are the most common legal robocalls:
| | |
| --- | --- |
| Robocall Type | Description |
| Political robocalls | These are pre-recorded messages that you might receive, for example, during the elections from both the Republican and Democratic parties or other political organizations. |
| Debt collection robocalls | These refer to actual debts you have, and they are supposed to be informational only. |
| Health care provider robocalls | The goal of these calls is usually to remind you about prescription refills or some other health-related information. |
| Informational robocalls | These include everything else that falls into categories like announcements and reminders but strictly exclude any sales attempts. |
How to Stop the Robocalls From the United Breast Cancer Foundation on Your Smartphone?

The United Breast Cancer Foundation robocalls might be dangerous or just a nuisance, but one thing is certain—you don't want these annoying robocalls in your life. Whether they come from this questionable charity or another organization, there are several things you can do to stop robocalls or minimize them.
Blocking numbers can be an effective strategy if you keep getting those calls from the same number or multiple numbers you can recognize. Smartphones today offer an easy way out if you're getting too many undesirable calls of any sort, including robocalls. 
Android Devices 
Android phones give you an option to block a specific number or to block all numbers that are not saved in your contacts list. Here is how to go about it on most Android phones:
Open the Phone app

Press Recents and find the number you wish to block

Press the letter "i" which can be found in a circle next to the selected number

Tap Block option and repeat as prompted
In case you want to block all unfamiliar numbers, here's what to do:
Open the Phone app 

Locate three dots and tap on them to open a drop-down menu

Choose Settings from the list

Tap on Block Numbers

Switch the Block Unknown Callers option to green
iOS Devices
iPhones have similar options, and in just a couple of moments, you can protect your smartphone from being disturbed by unsolicited calls. For stopping a specific number from reaching you, try doing this: 
After opening the Phone app, go to Recents

Find the number you want to block 

Locate the small blue "i" in a circle (it is to the right of the phone number)

Tap on it, and the new menu opens automatically

Choose Block This Caller

Confirm the pop-up message by choosing Block Contact
For making all unknown calls go to your voicemail, make sure to do this:
Find the Settings app and choose the option Phone

Scroll down and turn on the option Silence Unknown Callers
Robocall Blocking Apps
Manual blocking on your smartphone works great, but remember that scammers can spoof a familiar number. Most robocalls, especially the most dangerous ones, keep changing the numbers they dial from. To fight malicious robocalls that use these techniques, you will need more than just the number blocking options that come with your smartphone. Many developers work on this issue, creating robocall blockers in cooperation with big carriers. Here are some of the available options on the market and what they might cost you: 
| | | | | |
| --- | --- | --- | --- | --- |
| Name | Trial Period | Price | Supports Android | Supports iOS |
| Hiya | 7 days | $2.99 per month / $14.99 per year | Yes | Yes |
| | 14 days | $1.99 per month / $19.99 per year | Yes | Yes |
| RoboKiller | 7 days | $2.99 per month / $24.99 per year | Yes | Yes |
| | Free basic service | $3.99 per month for Plus service | Yes | Yes |
How to Stop the United Breast Cancer Foundation Calls on My Landline?
This will depend on the kind of landline you use. There are two most common landline types, and they are almost evenly distributed across American households. The more modern landline technology is called Voice over Internet Protocol or VoIP, but a large number of Americans still use the old fashioned copper wire technology. 
If your house is equipped with a VoIP line, you have more chances to protect it from unsolicited calls. Besides services for cell phones, many carriers offer options for landlines too. There are also third-party applications for landlines that can help with this issue, and one of the most popular is Nomorobo. Your best bet is to contact your VoIP provider and learn more about the options they provide and their prices. 
Copper wire landline users are not as lucky. In this case, there are not as many options that can help you with unsolicited calls, live or robocalls, besides hardware that is purchased separately. These devices use a preloaded list of numbers to avoid, but in the age of a robocall pandemic, this is like a drop of water in the ocean. 
Can I Report the United Breast Cancer Foundation Robocalls to the FTC?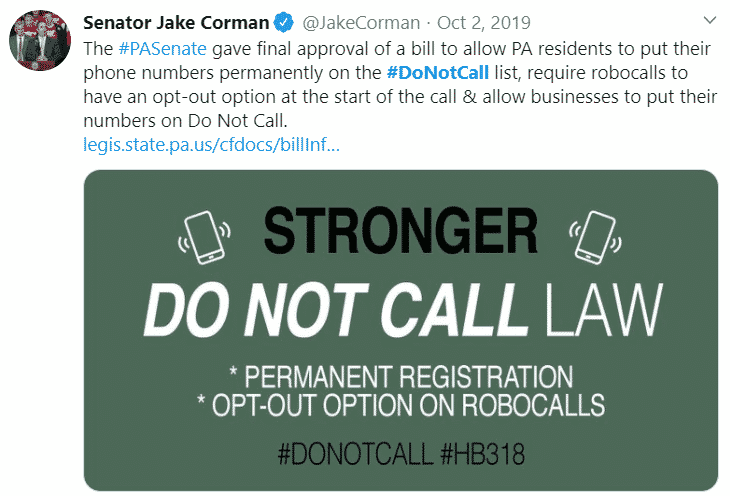 Yes, you can. You would even be well-advised to do so. The Federal Trade Commission (FTC) employs various tools and solutions to fight unsolicited calls and scams over the phone. The most efficient options you can find on their website are: 
You should first check if your number is already on the Do Not Call list. If it isn't, take a couple of minutes to register it, and in theory, you should see a decrease in unsolicited calls right away. Registering your number is not a foolproof solution, though—scammers cannot be stopped just by regulations, and there are other exceptions to FTC's Do Not Call list. The registration on theDo Not Call list doesn't expire, and you have to remove your number from it to start receiving unsolicited calls again.
Another useful option is to report a number that these charity robocalls come from. Reporting robocalls to the FTC can help your carrier and law enforcement so that fewer people get exposed to scams. 
Can DoNotPay Help You With the United Breast Cancer Foundation Robocalls? 

The main mission of DoNotPay and its revolutionary feature Robo Revenge is to help you deal with the robocall plague. While nothing can stop all the unsolicited calls from reaching you, we can help you get your robocall revenge and even the score. If the call originates in the U.S. and breaks the law by trying to extort payments or other confidential information, we can help you file a robocall lawsuit and get up to $3,000 in court settlements. The process is quite straightforward:
Open DoNotPay in your

web browser

Access Robo Revenge when you receive a suspicious call from the United Breast Cancer Foundation asking for your credit card information

Create

a virtual credit card

through our Robo Revenge feature

Give the details from the virtual credit card to the potential scammer

Rely on our app to get the robocaller's information when they try to make a transaction and let us help you write a dispute letter to initiate the lawsuit
You don't have to worry—our virtual credit card is completely free, and it's not linked to your bank account. Note that this procedure will work only on domestic robocalls. At this point, it is not possible to acquire location information on overseas scammers. 
What Else Do You Get with DoNotPay?

Robo Revenge is just one of the awesome features we offer. So far, we have helped a great deal of users to overcome costly and time-consuming obstacles that arise in their daily life. Using DoNotPay is convenient and easy—just open DoNotPay in your web browser. 
Have you ever subscribed to a service's free trial you forgot about after a few days? Many Americans have, which is why DoNotPay has a free trial feature that will help you avoid getting charged once the trial is over.
If you want us to scan all your active memberships and help you not pay for the ones you don't use, connect your email address or credit card to DoNotPay. Our cancel feature will ensure that you don't waste your money on subscriptions you don't even remember exist.
If a merchant charges you once the free trial is over, though, you can use our robot lawyer to request a refund and skip the phone queue when doing so.
In case a company refuses to grant you a refund, you can also use our app to sue them in small claims court.
Our Robot Lawyer Gets Rid of All Admin Tasks
What makes DoNotPay so unique is that it helps you get back what is rightfully yours in many different ways. You can appeal parking tickets, find unclaimed money, demand a refund for canceled or delayed flights, get help with bills you cannot pay, or get your college application fees waived with the help of our platform.
If you're sick and tired of annoying robocalls, spam emails, copyright violations, text message spam, or stalkers and harassers, DoNotPay can assist you in getting rid of them once and for all.