Beware of Top Health robocalls and other health robocall scams
According to Insurance Fraud, about 49% of adult Americans are highly concerned about the security of their healthcare data. Are you among these people? Considering the rapid spread of robocall scams, it comes as no surprise that more and more people are worried about the security of their sensitive info. The data provided by PR Newswire show that there were close to 50 million robocalls in 2018.
Robocalls are annoying, but the real problem begins when fraudsters trying to steal your money or your identity are behind them. That's when you need to do something to fight against these scammers and protect yourself from another unpleasant experience in the future.
Luckily, DoNotPay is here to help you do that. But before we move on to tell you more about how we can do that, let us explain what a robocall is, for a start, and mention some of the most common healthcare robocalls you should beware of.
What are robocalls, and when are they used?

Automated calls initiated by a computer program and made to deliver a pre-recorded message are called robocalls. In most cases, robocalls are trying to sell you something, but they can also be made part of a political campaign or for public-service announcements. Some companies also use robocalls for appointment reminders, as this is a much faster way to remind a great number of people in a short time.
With the development of technology, it has become much easier to make robocalls and obtain phone numbers to contact as many people as possible. As a result, many fraudsters have come up with the idea of using robocalls to scam people and take their money or get them to reveal their personal information to commit identity theft.
How to differentiate legal from illegal robocalls
If you want to be fully protected from robocall scams, you first need to know how to differentiate legal from illegal robocalls. That's right—just because they are annoying, it doesn't mean that all robocalls are illegal and can be forbidden. As a matter of fact, in some cases, you are the one to allow them by giving a company your written consent saying that you accept to be called. So, when is the time to take action against scam robocalls? Here are the main differences between the two categories to help you get a clear picture:
| | |
| --- | --- |
| Legal robocalls | Illegal robocalls |
| If you give a company your written consent allowing them to make robocalls as part of their telemarketing campaign, you have no right to complain about these—they are legal because you allowed them to contact you | If you receive a robocall trying to sell you something, and it's coming from an unknown company you have nothing to do with, you can be sure that this is an illegal call |
| Similarly to the previous case, if you give a service provider your phone number willingly, they can make robocalls when they need to contact you about anything regarding your subscription | When a robocall is asking you to reveal your personal information, it's a rather clear sign that you're dealing with a scam trying to commit identity theft |
| Charities asking for donations are entitled to making robocalls as a way to reach as many people as possible | When you're asked to expose your credit card information, do it only if a company you know and trust is behind the call. Otherwise, it's a trap |
| Robocalls made as part of a political campaign are always legal | Robocalls offering an all-expense-paid trip are just a trap for you to reveal your sensitive info |
| If someone conducting a government-approved study is making a robocall, that's legal | Calls that only look like they're coming from a reliable institution, such as the government |
| Debt collection agencies are allowed to make robocalls, and you are obliged to take them, as neglecting collectors' calls can only cause trouble | Robocalls made by fake debt collectors who tell you to pay a certain amount to the given bank account instead of transferring the money directly to your utility provider |
| Robocalls delivering purely informational messages about canceled flights, appointments, and similar | Robocalls informing you that you've won money or any other prize out of nowhere are always a trap |
Top Health robocalls have become an issue for people all around the country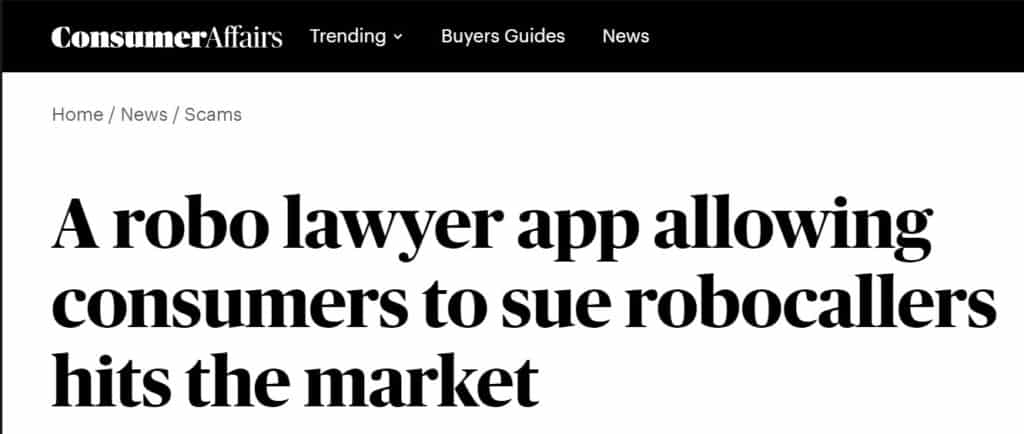 Have you recently received a robocall offering cheap health insurance under the name Top Health? You're not the only one! Many people have recently complained about being spammed by these robocalls. These scammers use a different number every time they contact you, so blocking doesn't quite work here. It is also challenging to track them. At least it might seem challenging, but it can be manageable when you use DoNotPay's Robo Revenge option.
Their messages usually start with the following: "This is Top Health. For a limited time, we can offer low-cost health insurance in your area…" The very fact that they called some people three, four, or even more times in just an hour is good enough proof that this is a scam. Some people reported up to 20 calls a day, several days in a row. Should something similar happen to you, make sure you report the robocall to the FTC.
Whitestone Health robocalls have become more common
Whitestone Healthcare is a legitimate company recruiting healthcare staff based in Tennessee. However, there has been a rising number of robocalls coming from Texas, Michigan, Alabama, and Tennessee under the name Whitestone Health. If you receive this call, you should know that Whitestone Health has nothing to do with the real medical staffing recruitment company—it is a scam. These are some of the many numbers that these scammers might call you from:
760-292-9596
774-221-4654
Be careful with other health insurance robocalls
These two examples are not the only ones—there are many other robocalls offering a cheap health insurance plan that have been spreading, especially during the COVID-19 pandemic. According to Los Angeles Times, in 2018, Nomoboro, a call-blocking service, reported having stopped over 850,000 healthcare robocalls in just one month. These robocall scams have only increased since then, so you should always be on alert and not reveal your healthcare or any other data that easily.
These scammers usually use names that make you think that a real health insurance company is on the other end, but always remember that this is just a trap.
Another thing to keep in mind is that health robocall scammers are particularly active during open enrollment. This is the time when most Americans start looking for health insurance plans to enroll or change the existing ones. Scammers know this, so they take advantage of this period to reach as many people as possible and trick them into accepting their "insurance plans" to gain access to their payment information.
These fraudsters may impersonate some of the following legit health insurance providers:
Other scam robocalls to be on the lookout for
In addition to health-related robocall scams, there are many other common examples of how fraudsters can manipulate numbers and contact you to steal your sensitive data.
| | |
| --- | --- |
| Common robocall scams | What to know about them |
| Investment fraud | When you hear that something is guaranteed, your first instinct is to believe whatever that is. So, when someone calls you and guarantees that you will get a huge amount of money if you invest in a certain project, for instance, your first thought is likely to be "Why not invest a smaller amount to gain a much bigger one?" This is exactly what scammers who use this method to trick people hope to achieve. To make their story even more believable, they make sure the documents involved look real, so they put official-looking seals and logos to fool you. |
| Fake robocalls from banks | If you receive a robocall allegedly coming from a bank, they may tell you that your credit or card information has been stolen, or that there has been an unusual activity spotted on your bank account. When you hear such news, you don't have much time to think about anything, let alone question whether this is really your bank or not. These scammers are counting on this—you are confused and scared, so you believe their claims without much thought and give them all the information they ask for. |
| Prize scams | People like to win. They also like getting prizes. Combine these two, and you get the recipe for a perfect scam—you call someone and tell them that they are the lucky winner of a big prize. Whether it's money, trips to exotic places, precious jewelry, or something else that they are offering, never believe that you've won anything just like that, out of nowhere. They are only trying to trick you into giving them your personal information. |
Are robocalls out of control?

Considering the rising number of robocalls and scam robocalls all around the country, many people have started feeling like robocalling is unstoppable. According to NBC News, the Federal Trade Commission (FTC) receives hundreds of thousands of complaints about robocall scams a month.
In this sense, it feels like robocalls are out of control, but there are things you can do to stop robocalls and even get revenge on robocalls if you get scammed. If they managed to take you some money, why would you leave it at that when you can sue robocall scammers for up to $3,000?
You can block unwanted calls on both your mobile and landline, but remember that this is not necessarily an effective method to stop robocalls. If a scammer spoofs a new number every time they contact you (which is common when it comes to heath robocall scams), you can't possibly predict the next number they're going to use. Thus, you can't block it. That's why, in these cases, the best thing to do to stop robocalls is to report them.
Here's how to report spam robocalls
When you start receiving so many robocalls that this disturbance becomes a real problem, it's time to do something about it. The situation can become even more alarming if it turns out that scammers trying to steal your money or commit identity theft are behind the call. You shouldn't wait for something unpleasant to happen to act on it.
As soon as you become inundated with robocalls, you can and should report robocalls to put an end to this misery as soon as possible. The first thing to do is to put your phone number on the National Do Not Call List. To be completely sure that you did this right, you need to learn how to check if a number is on the Do Not Call list. This is also useful to know in case you continue to receive calls even after you've registered. To answer the question of why the robocalls keep happening, you should rule out the possibility that it's your mistake. Here's how to check whether the registration went well:
Dial 1-888-382-1222
Dial 1-866-290-4236 to call via TeleTypewriter
If it turns out that you did put your number on the list, but you are still being harassed by robocall scammers, it's time to report them to the Federal Trade Commission. In case they managed to wrong you, our app is here to help you get revenge, and here's how.
DoNotPay can help you get revenge on robocall scammers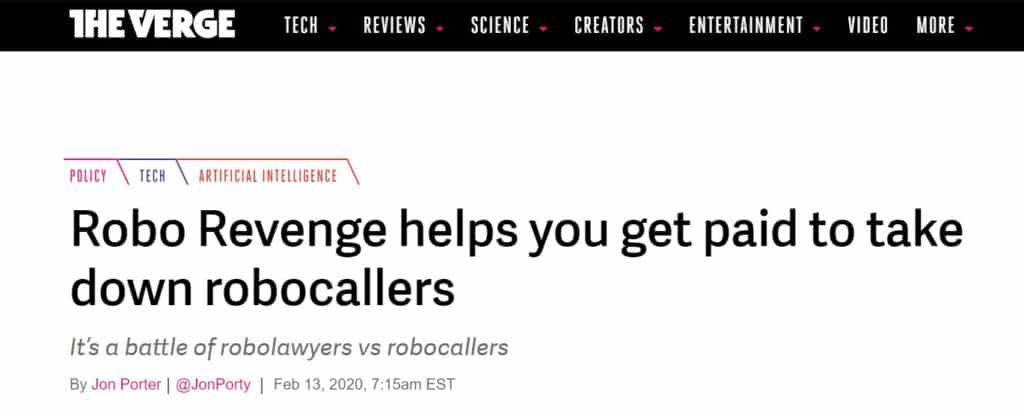 Just because a robocall fraudster managed to fool you, there's no need to panic—you can use DoNotPay to get revenge on robocall scammers. DoNotPay offers the Robo Revenge option to help everyone who's been wronged by robocallers get justice. You don't have to go through some trouble to get this done, either—the entire process is rather simple. These are the steps:
Access your DoNotPay account via the
Select Robo Revenge
Put your number on the Do Not Call list
When you receive a virtual credit card number, give it to the robocaller next time they ask for your credit card info
What's the method behind Robo Revenge
Robo Revenge works on a rather simple and efficient principle. Here's what you need to know to understand how this option enables you to sue robocallers:
DoNotPay's virtual credit card is not connected to your real credit card, so your sensitive real card information is fully protected
By giving the virtual credit card number instead of the real one, you protect your data, but allow DoNotPay to access your scammer's information. When a scammer tries to take the money off your account, DoNotPay gets the needed information to figure out who the people behind the robocall are
We give you these pieces of information so that you can use them when filing a claim against the scammers
If you want, DoNotPay can send a demand letter for compensation on your behalf
What to do to prevent robocalls
We're sure you're so thrilled to learn that there are ways to stop robocalls, but wouldn't it be better to avoid dealing with them in the first place? Here's some good news—there are precautionary measures that you can take to prevent robocalls in the future. Take a look at some of the essential things that that you can and should do:
Make sure your number is on the National Do Not Call List
Be careful whom you give your phone number and your personal information
If you receive a call from an unknown company or a suspicious caller, don't expose your credit card information. Revealing your payment information to the wrong caller can cause you a rather severe credit card issue, so you need to be extra careful when someone asks for your card number.
Never accept money, exclusive trips, or prizes of any other form that are offered out of nowhere
Start using an unlisted phone number that scammers cannot get
What else can DoNotPay help you with?
You can count on DoNotPay to give you a hand with a wide range of problematic situations. In addition to helping you deal with persistent robocalls, our app can also help you manage subscriptions and memberships, negotiate bills when you're in a tight spot, and cope with many other everyday issues. Here are the things DoNotPay will be happy to do for you:
Fight unfair speeding tickets
Dispute traffic tickets