The Easiest Way of Finding Unclaimed Money in Any State
Almost 60 billion dollars in the U.S. are considered unclaimed. If you think this info has nothing to do with you, think again because some of it may actually be yours—you only need to look! DoNotPay has all the details you need regarding unclaimed assets and a straightforward way for you to find and claim them!
What Is Unclaimed Money and What Do You Need To Know About It?
Unclaimed money can be any asset abandoned or forgotten by its rightful owner.
Those funds usually remain within companies or institutions for a while. If those companies cannot find the owner of the assets, they have to turn over the funds to the government. This is the point at which money becomes unclaimed.
The State Treasurer of the specific state is the institution in charge of keeping the asset safe until a rightful owner shows up. It is necessary to know that those funds do not start belonging to the government—they are only being safeguarded.
How Does
Unclaimed Money Go Missing
in the First Place?
Money can go missing easier than expected. People do not lose money intentionally, of course, so how does it happen? There are several reasons why funds disappear. Here are some examples:
People not getting a utility deposit back

Account holders dying

without having heirs

Individuals not being aware of a health insurance check and never claiming it

Former employees not claiming a final paycheck

Bank patrons not knowing about an account in their name

Refunds not being processed the right way

People moving without updating their addresses or informing anyone
What Types of
Lost Money
Exist?
Not everything falls into the category of unclaimed money. Here is a brief overview of what is and isn't considered as unclaimed assets:
| | |
| --- | --- |
| Money in the Form Of | Is It Considered Unclaimed? |
| Bonds and stocks | Yes |
| Uncashed payroll checks | Yes |
| Insurance money | Yes |
| Cars and boats | No |
| Real estate | No |
| Court deposits | Yes |
| Dormant saving accounts | Yes |
| Land | No |
| Utility deposits | Yes |
| Oil and gas royalties | Yes |
Is There an Easier Way to Find and Recover Unclaimed Money?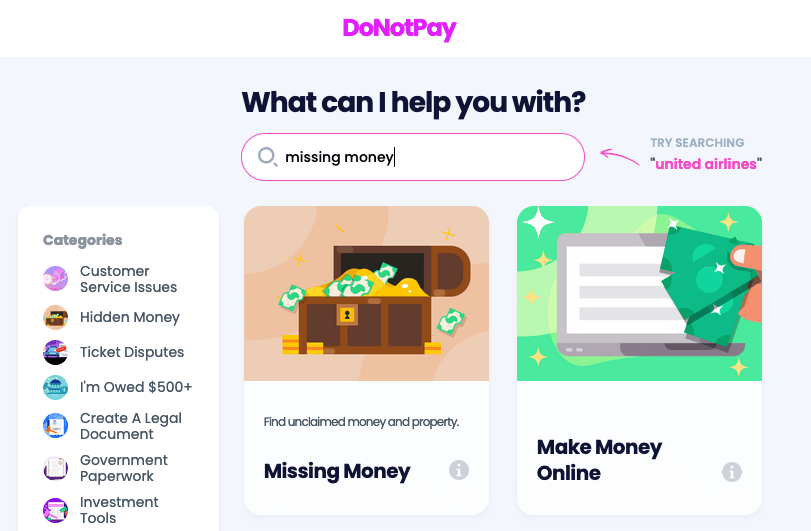 If you want to check your luck and see if any of the unclaimed funds are yours, use DoNotPay and find out. We've made the entire process straightforward and have a comprehensive database of unclaimed funds, both federal and state-wise.
To claim what is rightfully yours, you only need to follow these simple instructions:
Access DoNotPay from your

Scroll down and click on the

Missing Money

feature

Enter your personal information in the provided fields
You can boost your chances of finding a match by adding your middle name or previous addresses.
We can help you find unclaimed funds under your name in any state! Check out how to locate and claim your funds in
How To Find Unclaimed Money
on Your Own
If you decide to look for unclaimed money on your own, you'll need to search for assets for the state you are interested in separately. You can usually find this information on the State Treasurer's website of the specific state.
The process involves leaving your personal info such as your full name, address, and Social Security number. There might be additional methods depending on the state.
This is why DoNotPay is a more efficient choice. You have everything in one place, and the process is the same regardless of the state you live in. Even if you lived across the country, you could still search for and claim lost assets from our platform.
If
Finding Unclaimed Money Is Free,
Why Don't People Claim It?
Every tenth American has a right to claim some kind of unclaimed money. So what's stopping them from doing so? The simple reason for people not claiming abandoned assets is that they do not know they have any.
Even if someone does think about looking for abandoned assets, they may decide not to go through with it because the process is too complicated and time-consuming. This can be a valid reason, but only if you decide to search for unclaimed money on your own. DoNotPay provides the easiest way of getting through the otherwise complicated process. When you open our app in a , you'll be a few clicks away from earning some cash the easy way!
Can You Prevent Money From Becoming Unclaimed Property?
It is nice to be among the people who get to claim some abandoned funds, but wouldn't you prefer not losing them in the first place? Check out some tips on how to prevent money from going missing:
Watching and managing your bank accounts, insurance policies, and utility deposits

Keeping in contact with various financial institutions yearly

Withdrawing assets from your accounts annually

Responding to emails you get from banks

Cashing your checks regularly

Informing institutions of potential address changes

Entrusting someone with the location of your assets and important documentation
Don't Let Companies Take Your Hard-Earned Money!

People love to subscribe to all sorts of services—especially if there are free trials involved. The problem is that most of them forget that they signed up for anything in the first place. Companies are aware of this, which is why they auto-renew memberships as soon as the free trials expire.
Don't let them get away with it—use DoNotPay to sign up for free trials and cancel subscriptions right before they renew. If you want to save even more money, use our platform to learn how to handle high bills, parking tickets, college application fees, canceled or delayed flights, or faulty services you should get refunded for.
Use DoNotPay To Stop Illegal Activities and Earn off Scammers!
Our AI-powered platform can assist you in dealing with all sorts of scammers. If you got any of the following, the world's first robot lawyer will help you seek justice:
Do you want to protect yourself and your loved ones from stalking and harassment as well? Use DoNotPay to learn how! If the situation with a stalker escalates, our app is going to help you take them to small claims court by preparing all the paperwork and your court statement.
Don't stop there—check out how you can bypass phone number verification, claim any type of warranty, or pass any government test with flying colors!