Get a Scoop on TCL TV Warranty
TCL is an American TV brand name that has been on the market for more than 40 years. In 2019, it sold more than 32 million TVs globally.
When you purchase a TCL TV, you get a manufacturer warranty. Learn more about what the warranty entails and how to claim it.
What Does TCL Manufacturer Warranty Cover?
TCL Roku TVs are protected by a limited warranty that lasts for a year. In case you use your TCL TV for commercial purposes, the warranty lasts for six months.
Here is what TCL TV warranty covers:
Covers
Doesn't Cover

Defects in materials

Malfunctions caused by poor workmanship

Customer instruction

Installation

Signal reception problems that are not caused by your unit

TVs bought or serviced outside the U.S.A.

Damages resulting from:

Poor installation

Misuse, abuse, or neglect

Normal wear and tear

Modification

Earthquake or lighting

Accidents
To be able to get the service repair covered, you have to buy the TCL TV from an authorized dealer and keep the receipt. If you experience any issues with your TCL TV that's under warranty, TCL might:
Cover the costs of repair at an authorized TCL service center

Replace your TV with one of the same or similar quality
How To Claim TCL TV Warranty on Your Own
You can submit a TCL TV warranty claim in the following ways:
| | |
| --- | --- |
| Can You Claim Your Warranty Via | Yes/No |
| DoNotPay | Yes |
| Phone | Yes |
| Email | Yes |
| Letter | No |
| In Person | No |
How To File a TCL TV Warranty Claim Over the Phone
In case you notice any damage to your TCL TV, you can call the company's customer service at 1-877-300-8837 and ask for a repair. Before you call, make sure that you have and know the following:
Original purchase receipt

Date of purchase

Place of purchase

The TV's serial number—find it on the back of your TV
The customer service agent should first try to solve your issue over the phone. If the problem can't be solved, TCL will service your TV.
How To Claim Your TCL TV Warranty via Email
In case you can't reach out to TCL's representatives over the phone, you can send them an email to claim your warranty. Here is how to do it:
Go to the

TCL Contact

page

Click on

Email Us

Provide your name and contact information

Enter your TV's serial number

Explain what issue you are experiencing

Ask for a repair

Add photos if needed

Tap

Submit Your Question
The company states that its representatives should contact you within 48 hours after you submit your question, but it might take longer than that.
If you want to save your time, use DoNotPay to submit your TCL TV warranty claim.
DoNotPay—The Most Convenient Way To File a TCL TV Warranty Claim
DoNotPay is an expert in submitting different kinds of warranty claims, such as car, home, or purchased items warranties.
If you purchased your TCL TV in the last year and already have issues with it, don't hesitate to claim your warranty! With our easy-to-use app, you can file a warranty claim in a few clicks. Here is what you need to do:
Use any

to open DoNotPay

Choose the

Claim Warranty

feature

Select

Warranty on a Purchased Item

Give us a few details about your TCL TV

Click on

Submit
That's all you need to do—we'll take it from here! Our app will generate a strong claim letter on your behalf and send it to TCL. The company will contact you directly to tell you more about your claim.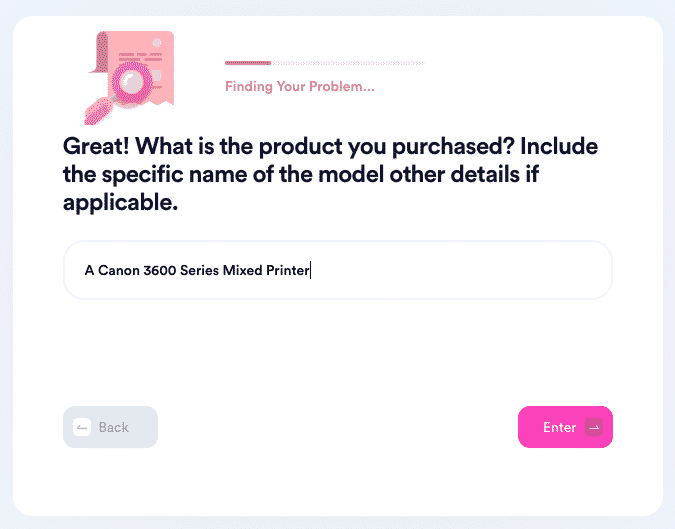 Need more help regarding warranty issues? If you decide to protect your home appliances and electronics with an extended home warranty, read our home warranty reviews to learn about the top home warranties in America.
Our app also offers you info about extended warranties for used cars and can help you solve the issue of dealers refusing to cancel your extended warranty.
Was Your TCL TV Warranty Claim Rejected? Appeal With DoNotPay!
In case TCL does not accept your warranty claim, you can use DoNotPay to file an appeal. You need to give us a few details, and we'll write a strong appeal letter on your behalf. We'll make your chances of winning the case higher by relying on the implied U.S. warranty laws.
To file an appeal, follow these instructions:
Access DoNotPay from any

Select the

Claim Warranty

option

Click on the

Appeal a Denied Warranty Claim

option

Answer a few questions about your original TCL TV warranty claim

Tap

Submit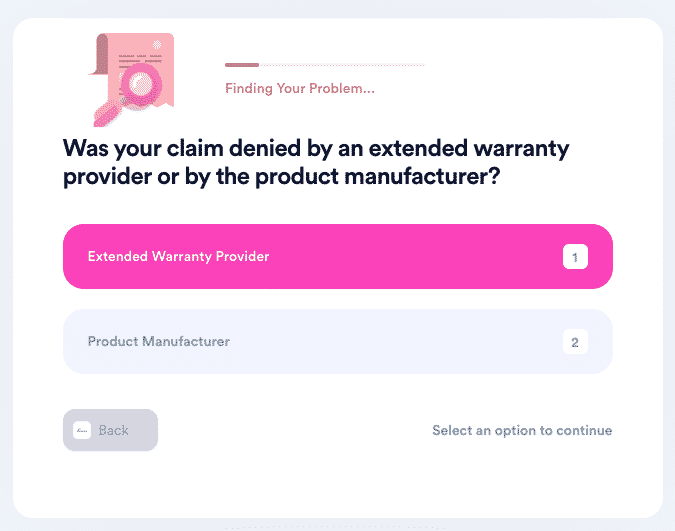 After you complete these steps, we'll do the rest. You can expect TCL to contact you directly with the results of your case soon after we send the appeal letter.
DoNotPay Helps You Scam Scammers
DoNotPay helps you stay safe from scammers and fraudsters!
We have developed a Virtual Credit Card product that helps you sign up for free trials without revealing your real banking information to any suspicious company. We've joined our most popular feature with a Burner Phone functionality that allows you to verify online accounts with a temporary phone number.
That way, you'll be free to enjoy services while they're free of charge, eliminate the possibility of robocalls, robo texts, and spam emails from the shady companies, and forget about canceling the subscriptions altogether—our product does it for you!
DoNot Pay can even shield you from cyberstalking and online harassment and get you compensation for the crime you've suffered. We'll even help you take individuals or businesses to small claims court by drafting the relevant paperwork for you, accessing any public records that might bolster your case, and supplying you with a court script that you can read to the judge on the day of the hearing.
DoNotPay Is Helping You Out Left and Right
Not only can DoNotPay handle bureaucratic nuisances on your behalf, but we can make your daily life easier too!
No more waiting in endless phone queues to make a warranty claim for a faulty product or wasting the day away in mile-long DMV lines—our app will do the hard work for you! We'll call the reps of any company—even major airlines—and schedule appointments on your behalf in a matter of minutes!