Get a Top-Notch Seattle Notary Service
You have to consider many factors before choosing a Seattle notary service, including the price, practicality, and time-effectiveness. We can give you helpful information regarding Seattle notary services and show you how to get any document notarized without hassle!
When Should I Get a Notary Service?
Notaries are in charge of validating the signatures on legal documents. By determining the signers' identities, willingness to sign, and state of awareness, notaries vouch that no fraud is taking place.
Legal documents that deal with sensitive matters or involve large transactions— such as wills, deeds, affidavits, transfers of sale, and powers of attorney—typically require a notary's signature.
Most contracts don't require notarization, but you can have them notarized to get extra security. Having a notary's signature on any document can make a difference in case any legal disputes arise.
You can also visit a notary if you need them to perform any of the following services:
Administer an oath or affirmation

Take an acknowledgment

Protest a note or bill of exchange

Take a statutory declaration

Provide notice of foreign drafts
How Can a
Notary
in
Seattle
Notarize My Documents?
You have several available options for getting a document notarized in Seattle. Take a look at what each method entails in the table below:
Notarization Method in Seattle
Details

Traditional method

You must find a local notary, schedule an appointment, and visit him or her at the agreed time.

Make sure to bring an ID and follow the notary's instructions carefully because any mistake can cause you to repeat the process

This method involves hiring a notary to visit you. You can agree on a time and place convenient for you and have your document notarized on the spot

You can schedule an appointment with a notary online and e-sign the document in virtual surroundings. During the appointment, the notary will:

Ask you a series of knowledge-based authentication questions

Confirm your credentials on camera

Witness the signing

Check the document for blank spaces

Attach the electronic seal and the digital certificate containing their signature and send them
Why Is Online Notary Service the Best Option in Seattle?
While all notarization methods in Seattle are valid, some are more practical than others.
If you opt for a traditional method, you should prepare for a lengthy process. You may have to wait for days to get an appointment with the notary and adjust your schedule to their limited business hours.
Mobile notaries will come to you, but they will also charge you for travel expenses on top of the notarization fee.
Washington is one of the 28 states that has allowed permanent online notarization. You can take advantage of the many perks of remote online notarization, including:
Saving time on visiting the notary personally

Getting an encrypted digital signature

Finishing the process in record time, without leaving the house

Being able to schedule an appointment

24/7
How Much Can a
Notary
in
Seattle, WA,
Charge for Notarization?
The state of Washington has established prices for most notarial acts. You can check out the fees in the table below:
| | |
| --- | --- |
| Notarial Act in Washington | Fee |
| Acknowledgments | $10 |
| Jurats | $10 |
| Verbal Oaths/Affirmations | $10 |
| Remote Online Notarization (RON) | $25 |
Washington doesn't have set mobile notaries' travel fees. The only requirement is that the client agrees to the price of the mobile notary's service in advance.
Get Your Document Notarized Online With DoNotPay
The most reliable option for remote online notarization is DoNotPay! We can help you get your documents notarized by scheduling an appointment with the online notary. All you have to do is:
in a web browser

Find the

Notarize Any Document

feature

Upload your document

Enter your email address in the required field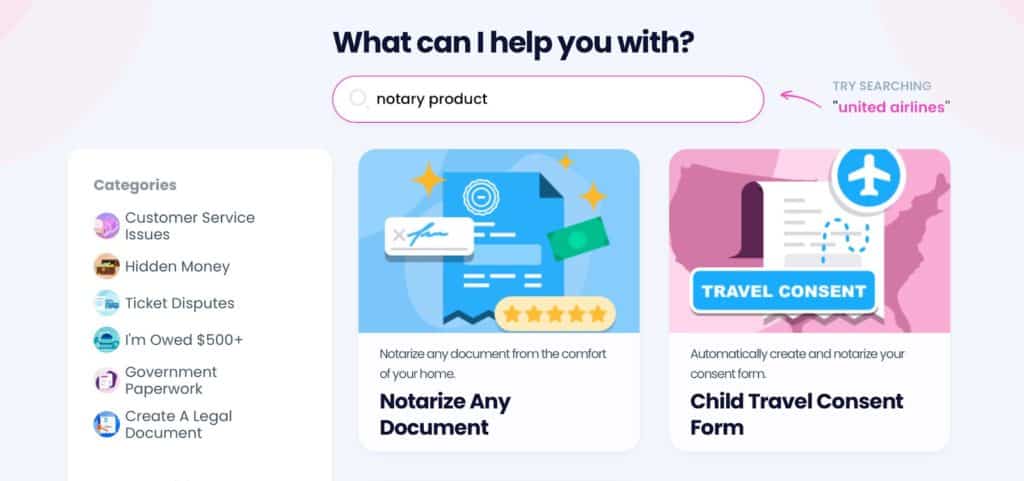 We will send you a link via email. You should click on the link to confirm your appointment with the notary. The online notary will witness the signing during a video call and notarize your document on the spot with an electronic signature, stamp, and seal.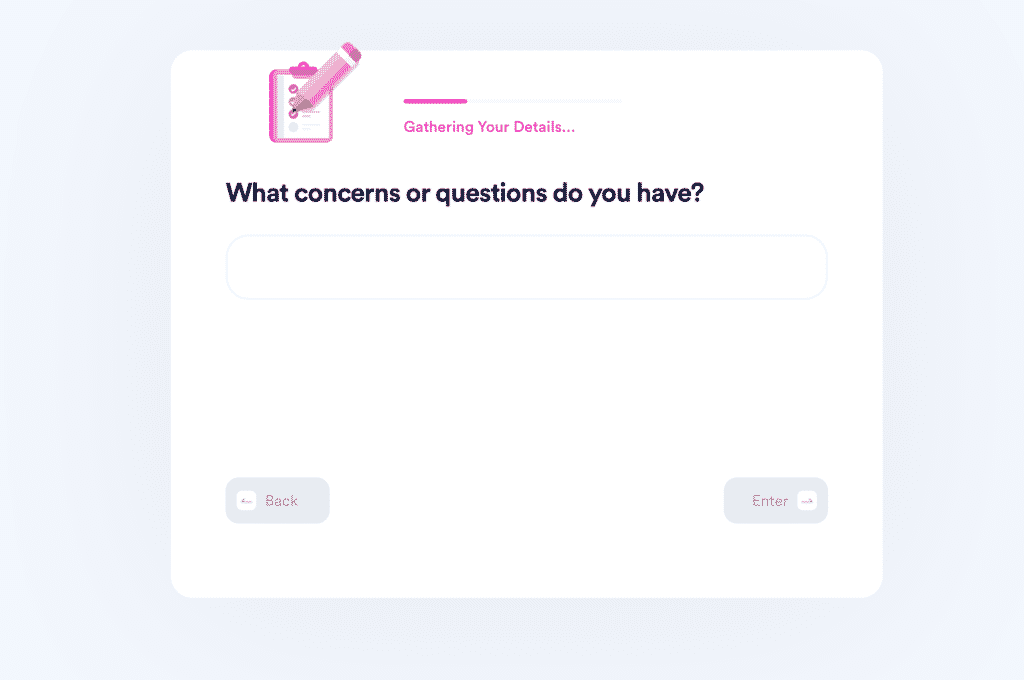 DoNotPay Can Also Help You Create and Fax Legal Documents!
We can do so much more than help you get legal documents notarized! By subscribing to our app, you will enjoy the perks of multiple features at the same price. DoNotPay enables you to generate, get notarized, and fax legal documents from the same platform!
Creating legal documents with DoNotPay is simple. All you have to do is:
Navigate to our

Standardized Legal Documents

feature

Choose the document you wish to create

Answer questions to help us personalize the document
Take a look at the contracts and agreements you can create with our help:
Quitclaim deed

General business contract

Promissory note

General affidavit

Non-disclosure agreement

Non-compete agreement

Estoppel certificate

Intent to purchase real estate

Residential

lease agreement

Bill of sale

LLC operating agreement

Independent contractor agreement

Prenuptial agreement

Parenting plan (child custody agreement)
DoNotPay Leads the Way Against Spammers
Browsing the internet has never been more popular than today, but you must not forget to keep your private and financial information safe. You know you can cancel any streaming service or magazine subscription easily, but that won't stop them from using your personal details for marketing purposes.
DoNotPay has a solution for that!
Is a company pestering you with incessant robocalls, spam emails and text messages? Use our Virtual Credit Card to catch them in the act and claim compensation for your troubles.
To prevent that from happening ever again, use our card to sign up for free trials—not only will you not pay a dime for the service, but you will be automatically unsubscribed as soon as the trials are up!
If you want to avoid revealing your personal phone number, we'll generate a temporary burner phone for you so the company won't have any way to reach you.
Already Been Scammed? DoNotPay Knows the Way!
If you've already made the mistake and divulged your personal info to the wrong party or experienced any other kind of crime or injustice, you don't have to sit tight and suffer the consequences. DoNotPay can assist you in taking anyone to small claims court!
We'll help you gather evidence—correspondence proving stalking or harassment took place, customer service call recordings, denied chargeback and refund claims, online fax transcripts, or proof of copyright violation. Then, we'll fill out the relevant legal documents for you and draft a court script that you can use in your hearing.