Learn How To Obtain a Rutgers Application Fee Waiver
Rutgers, The State University of New Jersey (RU) is one of the largest universities in the U.S. with almost 70,000 students. It was also one of the oldest institutions of this type, founded before the American War of Independence, and it was first known as Queen's College.
Rutgers is a public university, so the tuition and college fees won't cost you as much as for some other schools in its vicinity (we're looking at you, Princeton).
Be that as it may, if you can get a chance to lower your expenses, you should do it. DoNotPay can help you right from the start with your college journey and application fees!
What Is the Way To Deal With College Application Fees?
If you come from a low-income family and can't afford to pay an application fee for the university, you can request fee waivers. These waivers are especially important and useful for students who apply to five or more schools at once. An average student who wants to boost their chances of enrollment will end up with a several hundred dollar expense only for these fees.
If you got an ACT or SAT fee waiver in the past, you should be able to get college fee waivers automatically. These specifics differ from school to school, so always make sure to check.
If you haven't received these fee waivers, you will need to make new requests and will have a few options to do so. If you want to skip possible complications, you should use DoNotPay!
DoNotPay Is the Right Way To Request the Rutgers Application Fee Waiver
DoNotPay makes the process of applying for a fee waiver quick and easy. Our app is connected to a plethora of schools in the U.S., so you can get through the application process with low expenses. If you wish to ask for a fee waiver from Rutgers University, perform these simple steps:
Access DoNotPay from your

Open the

College Application Fee Waiver

feature

Choose the type of fee you would like to waive

Choose

Rutgers University

as the school you want to apply to and provide some answers about your economic situation

Point out if you need a school counselor's signature
DoNotPay will automatically fill out the application form and mail it directly to the university's financial aid office if you don't require a counselor's signature. If you do need it, we will send it to them first.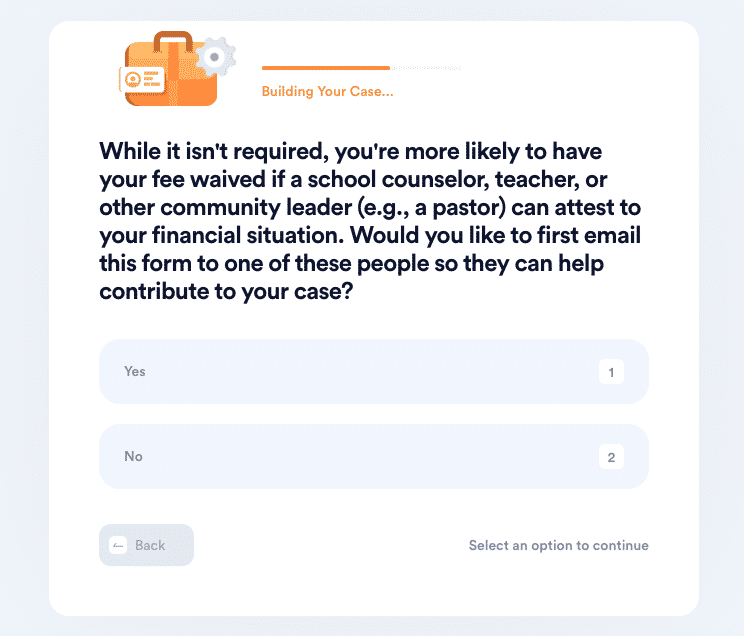 You can count on DoNotPay to help you request different kinds of fee waivers. Pick between any of these options, and we will gladly help you keep your money in your pocket:
Transfer Student Fee Waiver

New Student Application Fee Waiver

Enrollment Deposit Fee Waiver
If you fall into the above-mentioned categories, don't think twice before using our app to make those fees disappear!
How Much Money Do You Need for the Application Fee for Rutgers
You need to send money for the application fee or a fee waiver to Rutgers if you want your application to even be considered. Students who are not eligible for a fee waiver will have to pay $70 for an application fee that is not refundable.
Here are the application fee prices and acceptance rates for some other universities in the U.S. you might find interesting:
We provided you with a mix of popular private and public universities, so you can see the difference in prices. The good news is, none of those prices will matter if you choose to use DoNotPay to waive these fees! We work with both types of schools and will gladly help you save some money!
Who Is Eligible for a Rutgers Fee Waiver?
Like any other school, Rutgers University has a predetermined set of requirements that allow certain students to request application fee waivers. You may ask for your fee to be waived if you are:
A Military veteran

Serving in the U.S. Military

A Military Dependent who wants to apply for educational benefits under the GI Bill

A participant of the National School Lunch Program

Experiencing financial hardships

A recipient of an

ACT

,

EOF

,

NACAC

, or

College Board

fee waiver
How To Request a Rutgers University Application Fee Waiver on Your Own
All schools have their specific ways of requesting fee waivers, and most of them do it through the Common App. This app has only 900 universities in its database and is not well-equipped compared to DoNotPay. Rutgers University does not even offer it as a way of submitting your application.
You can request an application fee waiver from this school in three ways:
Via your Rutgers status screen

Fax

Mail
How To Request a Fee Waiver From Rutgers via the Rutgers Status Screen
If you decide to request a fee waiver via the Rutgers status screen, you will have to follow these steps:
Ask your high school counselor to complete a fee waiver form

Upload the waiver after submitting your application via your

Rutgers status screen

Find the

Submit Your Requested Items Here

link on your status screen

Submit

the form
How To Request a Fee Waiver From Rutgers via Fax
After your school counselor completes the fee waiver form, you can send it to Rutgers via fax to 732-445-8088.
How To Request a Fee Waiver From Rutgers via Mail
Your school counselor will have to complete the fee waiver form, and you can mail it to Rutgers University to Undergraduate Admissions Operations Center, Rutgers, The State University of New Jersey, 65 Davidson Road, Room 202, Piscataway, New Jersey 08854-8097.
Make sure that your full name and Rutgers Identification Number (RUID) can be seen clearly in the letter.
DoNotPay Can Handle Numerous Administrative Tasks for You
DoNotPay can help you with various bureaucratic tasks if you live in New Jersey. Perhaps you are looking for a proper treatment for some disease or condition in interventional studies? We have the scoop on New Jersey clinical trials.
Maybe you want to dispute annoying parking tickets with ease? We have you covered.
If you are on a tight budget and can't find a way to manage your electric bills, you can also count on our assistance.
We can even help you get rid of your subscription to The Star-Ledger in a few clicks.
The world's first robot lawyer can make your life easier in many other ways and numerous other fields. If you want to check out our rich offer, access DoNotPay from your , and we will help you:
Fight speeding tickets

Dispute traffic tickets