Beware of Chronic Pain Services Robocalls
Did you know that, according to Business Wire, there were as many as 54.6 billion robocalls in the U.S. in 2019? The development of technology has made it possible for almost everyone who wants to make a robocall to achieve their goal, which is not good news for people on the other end. People all around the country complain about different forms of robocalls that disrupt their life, so if you have had a similar experience, you are not alone.
Robocalls offering some kind of chronic pain relief and other healthcare automated calls have become a rather severe problem, especially for those people who really are in pain. Whatever your situation may be, you probably want to get rid of these unsolicited calls as soon as possible. Luckily, DoNotPay is here to help you fight back against robocalls.
What Is a Robocall?
Robocalls are automated calls that are made by a computer program called autodialer. They are made to deliver a pre-recorded message, which may differ depending on who's making the call and for what purpose. Here are some of the most common uses of automated calls:
Telemarketing

Political campaign

Charities asking for donations

Public-service announcements

Appointment reminders
Robocalling can come in handy when a company needs to contact as many people as possible in a short time. All they need to do is record their message, buy a long list of phone numbers, and then launch robocalling software, which can contact one million people in an hour.
The problem is that there has been an increasing number of fraudsters who take advantage of this technology to trick people into giving them money or sensitive info. Robocalling allows these fraudsters to scam more people than they would be able by any conventional method.
One of the common robocall scams are Chronic Pain Services robocalls, so let's see what to expect if you get one of these.
What to Expect and What to Do When You Receive Chronic Pain Services Robocalls?
When you receive Chronic Pain Services robocalls, you should expect scammers on the other end of the line. These people are only looking for a way to steal your personal information, so you need to be extra careful when you pick up your phone.
What is tricky about these automated calls is that the robocallers manipulate the numbers to make the number that appears on your caller ID look similar to local numbers. That way, people don't give it too much thought before they pick up the phone, as they assume that it's someone they know. Another problem with spoofed numbers is that this makes it more difficult to track the robocallers.
As the name itself suggests, Chronic Pain Services robocallers often contact you to ask you about any chronic pain you may be struggling with and then offer to solve this problem. You can expect them to claim that they have been cleared through Medicaid or Medicare, which, of course, is never true.
The best thing to do is not to pick up when you get Chronic Pain Services calls. Since this is not always possible because of the spoofed numbers, the next best thing you can do is hang up as soon as you realize that these robocallers are on the other end of the line.
Another similar form of robocall scams are those coming from the National Chronic Pain Association, so let's learn a bit more about them.
Don't Believe the National Chronic Pain Association Robocalls
The most important thing to remember is that there is no such company as the National Chronic Pain Association. If you're not sure whether you've received calls from this alleged company, or you want to learn more to make sure you avoid them, here's what to expect if someone from the National Chronic Pain Association contacts you:
They offer help with chronic pain

When you get a robocall from the National Chronic Pain Association, the callers will probably ask you about different health problems that you may have to offer you health insurance and help you cover your medical expenses.

The number of your caller ID is spoofed

The scammers behind this call often spoof the numbers to make the call look like it's coming from the local area, so people are more likely to pick up.

At least three calls a day

Most

people who complained about the National Chronic Pain Association robocalls

reported at least two–three calls a day, but you shouldn't be surprised if you get even more than that.

Their Do Not Call list does not work

If you listen to the entire message, you will hear that they offer to put you on their Do Not Call list if you don't want to receive their calls in the future, but you shouldn't rely on this. Even when you press the given number, they will continue to call you, perhaps even more frequently than before—interacting with scammers in any way makes them think that you are more likely to fall into their trap, so they'll keep trying.
This is the transcript of the message that you should expect to hear:
"Hi, this is Dan. I'm calling to let you know that we have been granted a limited health and Roman period for a few weeks, so you and your family can get a great insurance plan at the price you can afford, and we make it hassle-free to sign up. We have pre-approvals ready in your area, including Cigna, Blue Cross, United, and many more. Press #1 to get a hassle-free assessment or press #2 to be placed on our DO NOT CALL list. Thanks for your time, and be healthy and blessed."
What to Do If I Get Seven to Eight Robocalls on My Cell Phone a Day?
When you receive robocalls just two or three times a day, that's enough to disturb you and disrupt your day. If you get these annoying automated calls even more frequently, make sure you block the number that's disturbing you. There are various call-blocking apps that you can install on your cell phone to stop unsolicited calls. One of the top-recommended apps used is Nomorobo. Other highly ranked solutions include Hiya and RoboKiller.
If this doesn't work, you can put your phone number on the National Do Not Call list. Here's how you can do that.
Register Your Number on the National Do Not Call List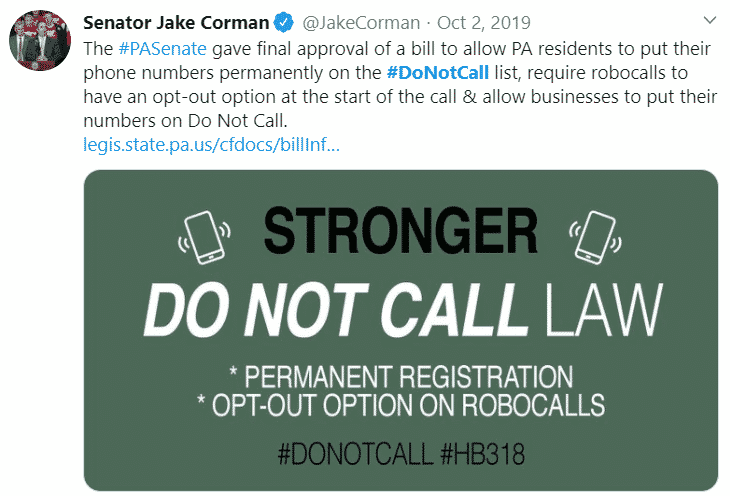 Receiving automated calls every once in a while may be tolerable, but if you begin to feel like you're being harassed by robocallers, it's time to put an end to them. The only question is, how?
According to the FCC's guide on dealing with robocalls, the first thing that you should consider doing is putting your phone number on the National Do Not Call List. The Do Not Call list was created with the aim of protecting people from unwanted calls, whether they are legal or illegal.
When you complete your registration, it is also advisable to check if your number is on the Do Not Call list. You can do this easily. Here are your options:
Dial 1-888-382-1222

Dial 1-866-290-4236 to call via TeleTypewriter
You've checked everything, you've made sure that the registration has been completed successfully, but you're still getting robocalls? If something like this happens, you might begin to wonder about the Do Not Call expiration date. If it comes to this, remember that there is no expiration date. When you put your number on the list, it will remain there for as long as you want. Do Not Call exemptions, though, are worth checking out, so don't forget to do that.
Report Chronic Pain Service Robocalls
When the Do Not Call list doesn't help you, it's time to think about a robocall lawsuit as a way of solving this issue. You can report robocalls to the Federal Trade Commission to try to stop them once and for all.
Don't forget that you can rely on DoNotPay for help when suing companies and individuals in small claims court. So, if you're worried about all the paperwork required in small claims court, it's time to relax—we are here to prepare everything you may need.
Can Robocalls Be Legal?
Just because Chronic Pain Services robocalls are illegal, it doesn't mean that every automated call that you get is. Some robocalls are legal, and they can even be useful for you—appointment reminders, for instance, can be of great help in today's hectic lifestyle. Others might even be impossible to block. To make sure you know how to differentiate between legal and illegal robocalls, check out the following:
| | |
| --- | --- |
| Legal Robocalls | Illegal Robocalls |
| Pharmacies can make robocalls to remind you to refill your subscription. | If robocallers want you to reveal your personal information, you should know that these calls are, in most cases, scams, so don't reveal anything without careful consideration. |
| Some companies might ask for your written consent before they contact you via a robocall. If they do so, and you give your consent, then their robocalls are legal. | If you receive a robocall trying to sell you something, you should know that these calls are illegal in most cases. |
| Robocalls that are made as part of a political campaign are legal. In some cases, you can't even block them. | If you receive a pre-recorded message telling you that you've won an exclusive trip or an enormous amount of money, you should know that there's something wrong with it. |
| People who carry out government-approved studies are allowed to contact potential participants via robocalls. | Some scammers know how to manipulate numbers to make the call look like it's coming from a reputable institution, in which case we are talking about illegal automated calls. |
| When charities contact you via robocalls to ask you for a donation, that's legal. Similarly to political campaigns, these robocalls usually can't be blocked. | When you're asked to reveal your financial information, be it your credit card number or your bank account, this is most likely an illegal robocall. |
| People who struggle with paying bills often have to deal with a debt collection agency, whose representatives are allowed to make robocalls about anything debt-related. | If you receive a message from a robocaller offering to lower your bills after you transfer the money into a given bank account, you can be sure that this is an illegal robocall. |
Let DoNotPay Help You Get Revenge

Even when you know everything about illegal calls and how to spot them, you might still get tricked. But even if it comes to that, don't worry—DoNotPay is here to help you get robocall revenge on these scammers.
Just because you were naive enough to believe what the fraudsters told you, so they managed to scam you, it doesn't mean that you should leave it at that. On the contrary—you should rely on our Robo Revenge option to get the justice you deserve. Here's what you need to do:
Log in to DoNotPay via the

Click on

Robo Revenge

section

Make sure your phone number is on the

Do Not Call list

When robocallers ask you to provide your credit card number, give them the virtual card details instead of the real ones

When the scammers try to take your money, we will gather all the information that you need to file a complaint against the scammers
The Secret Behind Our Robo Revenge Option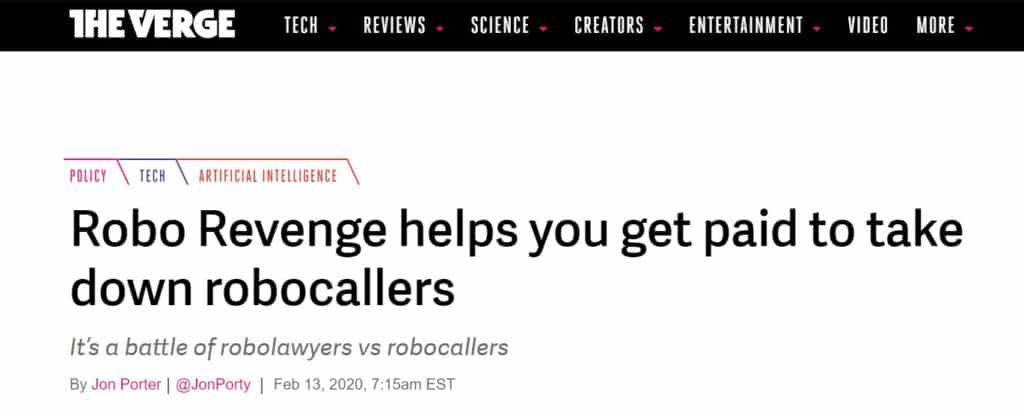 If you would like to learn more about the very process behind Robo Revenge, don't worry—it's not that difficult to understand. You just need to be familiar with a few essential phases to understand how this solution works and how it helps you. Here are the crucial points to remember:
When you get our

free virtual credit card

, you protect your real financial information, as the virtual card is never linked to your actual one, making it impossible for fraudsters to access your money

DoNotPay's virtual credit card is a set of generically chosen numbers, but it looks just like a real credit card. When you give the scammers your virtual card number, they will try to take your money, thinking that they have access to the actual card info.

By doing so, the fraudsters give us access to their information, based on which DoNotPay can reveal who the scammers are

We will give you all the details we find out about the fraudsters, so you can file a complaint against them

If you don't know how to write a

demand letter for compensation

, we've got you covered there, too—you can use DoNotPay to generate a demand letter and send it on your behalf
What Can Be Done to Prevent Robocalls?
When we help you stop robocalls and get revenge for everything the scammers did to you, it might be a good time to think about precautionary measures to take to prevent robocalls in the future. Some steps are less effective than others, depending on the fraudsters behind the unwanted calls. But these measures can still help you reduce the risk of facing annoying robocalls ever again:
Put your phone number on the

National Do Not Call List

When someone asks for your phone number, you need to be completely sure that this person or company is reliable, so never reveal your number that easily

Revealing your financial information can cause you severe

credit card issues

, so make sure you keep your credit card details protected and not reveal them if a robocaller asks you to

You may not feel like changing your phone number, but it will be worth it—think about buying an unlisted number to make it more difficult for robocallers to reach you
Let DoNotPay Help You in Other Situations
Robocalls are annoying and can be even problematic, but they are far from the only thing that can cause you problems on a daily basis. We are aware of this, so we've designed several other features to help you in other problematic situations. Whatever you're struggling with, just log in to your account via the and select the service you need. Here are some other things that you can use our app for:
Fighting unfair speeding tickets

Fighting your traffic tickets