What You Need to Know About the Quad Pay Virtual Card

Are you looking for one of the best ways to protect your information during online shopping? If so, you must choose a virtual credit for the job. The increasing security concerns especially with online purchases have made virtual cards popular. These cards are specially designed to change the way you shop.
, an American fintech company, offers virtual cards. You can use the card to make online payments or receive free trials. Sometimes using Quadpay virtual cards can put your security at risk. This is why you need to pick a safe and secure solution, DoNotPay. It is a safe, quick and highly effective way that will help you to avoid money wastage. Also known as a free trial card, you can use the card to securely access the free trials. Need more information? Keep reading!
What is a Quadpay Virtual Card?
Quadpay offers a feature to help users create a . As a safe payment method, users prefer utilizing it for one time purchases. This will help you to protect yourself and your assets from further troubles. However, if you wish to use the card, you have to submit your bank details. To set up the account, you need to submit details like
Your real name
Verifiable mobile number
Submit the details of your real credit card or debit card
As you can see, submitting your card's actual details makes you susceptible to data breach or worse, identity theft.
Are Quadpay Virtual Cards Free?
QuadPay charges very minimal fees. Below are the known charges for this card:
| | |
| --- | --- |
| Charge for Each Purchase | $4.00 |
| Charge for Per Installment | $1.00 |
| Late Fee | $5, $7 or $10 depending on your state of residence |
How Does Quadpay Virtual Card Work?
To start using the Quadpay virtual card, you need to sign up. Some of the eligibility conditions that you must meet while signing up process are:
Must live in the U.S.
Be at least 18 years
Have a valid and legal mobile number
Have a valid debit or credit card for making purchases
Simply submit your details and you can complete the signup process. Then, you can use the card to make online purchases.
Virtual credit cards are a great way to keep your actual credit card details safe and get the maximum benefits of the free trial.
Does the Quadpay Virtual Card Offer 100% Safety Guarantee?

Unfortunately, the is not 100% safe. If you're even using the card, your finances and privacy are at risk. The reason is that Quadpay links directly with your real credit card. During the signup process, you have to submit your real credit card details. This can harm your privacy when you deal with fraudsters merchants. Also, it can be quite hard to determine if your finances are safe and secure.
This is why it's good to choose a similar yet safest option for your needs. DoNotPay helps you to solve all your troubles by generating single-use card details.
What Is the DoNotPay Virtual Credit Card?
A DoNotPay  is basically a chip credit card. When you use the card, the store where you made the purchase will receive a single-use token that will also change in every use of the card. This means the store will not be able to make any additional charges on your card as the token is only valid on the first purchase you placed with them.
Here's How You Can Choose DoNotPay Virtual Credit Card
Virtual credit cards generate a single time credit card number. These numbers change every time and are valid for a single purchase. The main reason why people prefer virtual cards is that your personal info won't be misused. Even if you deal with fraud, you can relax and enjoy the free trials. If you wish to reap DoNotPay's benefits, you just need to follow a few steps.
Use any  to access the DoNotPay app
Go to the product list and choose the DoNotPay virtual credit card
Proceed to sign up for the services you're looking for
DoNotPay card will generate a single time use VCC number
Use the VCC number to sign up for the free trial
Once the free trial ends, the subscription will be canceled automatically. You don't have to bother about your privacy or finances. With DoNotPay, you can rest assured that all your personal assets are protected. However, the card won't work for real purchases made through it. But you can access the services that are free for a limited time.
Services for Which You Can Use DoNotPay Virtual Credit Card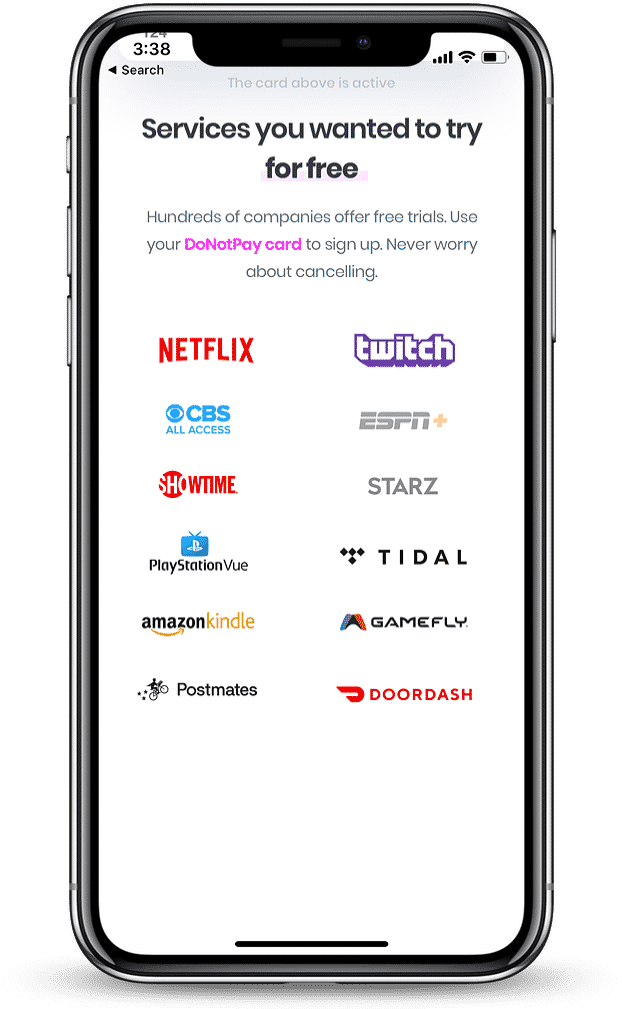 One of the main uses of  is getting free trials. Many people often subscribe to free trials using their real credit cards. But they miss to cancel your subscription and end up wasting their money. This is why you should prefer a DoNotPay card to access a free trial. Some of the platforms where you can use the DoNotPay card include:
ESPN Go
Doordash
Postmates
PlayStation Vue
Jira
Choose DoNotPay virtual credit card and enjoy the free trials you always wanted.
Other Tasks to Tackle Today
DoNotPay is a multifunctional app that can help you deal with many complex tasks. You can use our products to make your tedious chores easy. To know more about our services, be sure you sign up with the platform
Let lend you a helping hand in solving your numerous problems. Download the app today!