Avoid the Rice University Application Fee With DoNotPay
William Marsh Rice University is a private research university with eleven colleges and eight academic study schools. The university's campus is in Houston, TX, and this higher education institution gained popularity for its applied science programs.
Studying at Rice University is far from cheap. The yearly tuition fee alone is more than $50,000, and you will have to face additional expenses—food, books, accommodation, and various college fees.
The good news is that DoNotPay can help you reduce at least a portion of expected costs with our feature that handles college application fee waivers.
College Application Fee Waivers Explained
College fee waivers are a great way to save some extra cash since most students apply to several schools to increase their admission chances. A college application fee waiver is a formal request to eliminate standard application fees based on the student's financial need.
Application fees for most universities in the United States cost around $50, and top schools usually charge up to $100. Considering that most high school seniors apply to seven or eight colleges, application costs alone amount to several hundred dollars.
Before they get a place, prospective students have to pay for:
Trips to desired campuses

Transcripts and multiple copies of admission test scores
Applicants from low-income families hardly need another college-related expense to worry about.
How High Is the
Rice Application Fee
?
Rice University counts as one of the more expensive universities in the U.S. when it comes to application fees. If you wish to apply to a program at this prestigious school, you will have to pay $75, regardless of the college application outcome. Even if you don't end up with a place offer from Rice University, they won't refund your application fee.
Who Can Get the Rice Application Fee Waiver?
While some universities grant application fee waivers to international students, Rice University states that they are willing to waive this fee only for qualifying domestic applicants. Since fee waivers depend on the applicant's financial circumstances, you should know which requirements you need to meet to qualify for a Rice University application fee waiver.
The following list identifies some of the candidates eligible for application fee waivers:
Students who participate in the Federal Free or Reduced Price Lunch program

Applicants enrolled in the Upward Bound program or a similar aid project for students from low-income families

Candidates from families that receive public assistance

Students who are homeless, live in foster care, or reside in federally subsidized public housing

Orphans and wards of the state

Applicants from families whose income satisfies the Income Eligibility Guidelines determined by the

USDA Food and Nutrition Service
To make sure your family's income meets the requirements applicable in most states, you can check them out in the table below:
| | |
| --- | --- |
| Number of Household Members | Total Income per Year |
| One | $23,606 |
| Two | $31,894 |
| Three | $40,182 |
| Four | $48,470 |
| Five | $56,758 |
| Six | $65,046 |
How To Get the Rice University Fee Waiver by Yourself
Applying for a college application fee waiver on your own can be a tiresome process. Different universities ask for different procedures, and it can be difficult to track down all the applicable methods for the school you're hoping to get into.
The following table can help you identify available methods for getting a Rice University application fee waiver:
| | |
| --- | --- |
| Waiver Request Method | Does It Work? |
| DoNotPay | Yes |
| University's Website | No |
| Common App | Yes |
| Coalition App | Yes |
| Letter Request | No |
| School Visit | No |
| QuestBridge Program | Yes |
Applying for a Fee Waiver Using the Common App
The Common App fee waivers are a standard part of the application process for students who use this service to apply to their preferred universities. If you meet the financial requirements mentioned above, you can follow these steps to apply for the Rice University fee waiver using Common App:
Sign in to your

Common App account

Go to the

Common App

tab

Hit

Profile

Select the

Common App Fee Waiver

option

Answer the question about your eligibility for the fee waiver

Select all the indicators of economic need that apply to your case

Provide answers to additional questions, if applicable

Provide your signature to finish the process
Your counselor will have to confirm your answers unless you have already received an SAT or ACT fee waiver. Most universities use the honor system, which means they won't require proof other than your counselor's signature. To obtain it, you will need to provide adequate evidence of financial need depending on the indicators you selected during the process explained above.
Applying for a Fee Waiver Using the Coalition App
The process to get a college fee waiver through the Coalition App works similarly:
Open the

Coalition for College

website

Click on the

MyCoalition Login

button in the upper-right corner and sign in

Go to

MyCoalition Profile

and locate the

Fee Waiver

section

Select all applicable criteria

Choose the desired universities that grant fee waivers based on previously selected criteria
Your counselor will have to verify your eligibility before providing their signature and sending the request to Rice University.
Applying for a Fee Waiver Using the QuestBridge Program
Prospective Rice University students who participate in the QuestBridge program get the application fee waiver automatically for this school. The QuestBridge program targets high school seniors with outstanding academic performance despite their difficult financial background.
How To Use DoNotPay To Get Rid of the Rice University Application Fee
Getting a college application fee waiver with DoNotPay is easier and less time-consuming. Our platform streamlined the process to the maximum. You will be able to fill all required forms and mail your fee waiver request to the desired university in just a few steps:
Set up your DoNotPay account in a

Log in and select the

College Application Fee Waiver

option

Select the fee you wish to waive and your desired college

Answer a few questions about your finances

Specify whether you need a counselor's signature
Our AI-backed app will prepare the forms and send them to your counselor for verification or to the university's financial aid office directly.

DoNotPay is a great resource for waiving application fees if you're applying to several universities since we can help you eliminate:
New Student Application Fees

Transfer Student Fees

Enrollment Deposit Fees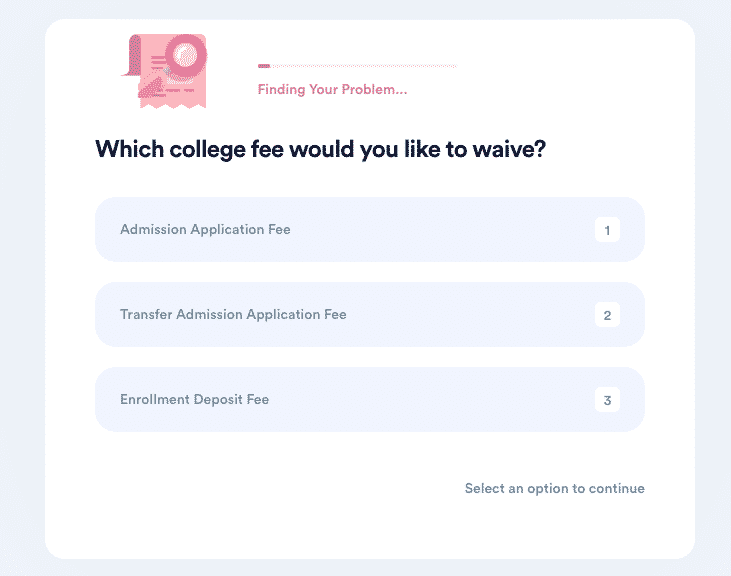 DoNotPay Can Make Other Troubles Go Away
If you wish to apply to other top-notch schools—such as Brown or Columbia—our app will be a great starting point for getting rid of those unnecessary application costs.
You don't have to use DoNotPay for college application fee waivers only. If you end up in a college in Texas, we will show you how to contest Houston parking tickets, protect yourself from harassment under Texas laws, or find the best clinical trials in the area for some extra cash.
Our app is great for students with tight budgets because DoNotPay can show you how to use free trials without the risk of getting charged, be it Netflix, Spotify, or Audible.
Sign up for DoNotPay in any , and learn how to:
Contest speeding tickets

Fight traffic tickets