A Notary in the Upper West Side—How To Gain the Upper Hand
Looking for a quick and efficient way to book a notary in the Upper West Side? Look no further because we can show you how to do it in under five minutes!
and forget about struggling with notarization ever again!
What Does a
Notary in the Upper West Side
Do?
Notaries are independent officials that the government appoints to prevent fraud and forgery by authenticating signatures on specific documents. The list below shows the acts notaries perform:
Verify the signer's identity

Witness the signing procedure

Take

acknowledgments

Administer oaths or affirmations for

affidavits

and other documents

Certify

copies

of documents
A notary in the Upper West Side, New York, will also check if you're aware of document contents and ensure you're not forced to sign them.
Notary in the Upper West Side
—Standard Notarization Process
The standard notarization process in New York requires you to visit a notary in person. It's tedious and outdated, but it gets the job done.
To get a better idea of how the standard notary service works, we'll break it down step by step:
Steps

Description

Locating a notary

You have to find a notary using various online registries like

123.notary.com

or by visiting places offering notary services, such as

banks

and

AAA

stores

Making an appointment

Call a notary or visit them to make your appointment. Pick a convenient time to avoid paying cancellation fees

Gathering the documents

Forgetting to bring any of the documents you want to get notarized can lead to rescheduling, so prepare them in advance

Bringing your ID

A notary has to verify your identity before notarizing your documents, so you must bring your ID, passport, or driver's license

Finalizing the process

You will pay the notary fees and proceed to sign the documents while the notary observes
Once the notary adds their stamp and signature, your documents will officially be notarized. If you find the standard notarization time-consuming, we are happy to present alternative and faster options!
How To Avoid Visiting a
Notary in the Upper West Side
in Person
To skip the visit to a notary's office, choose one of the following options:
Mobile notarization

—Booking a mobile notary helps you avoid traveling to a notary's office. Mobile notaries will meet you at your home, office, or any other location and

notarize your documents

on the spot, but they charge additional fees for that service

Online notarization

—Notarizing your documents online gives you the luxury to handle the process from your home because the meeting takes place on a video call. It's also super easy to find a remote notary, and it doesn't entail travel fees

Notary signing agents

—Choosing a notary signing agent is recommended when you need to get loan paperwork notarized since they are trained to handle such documents. Even though notary signing agents may have more relaxed schedules, you still have to meet them in person
Understand the Fees a
Notary in the Upper West Side
Charges
The NYS notary fees vary depending on the document you want to get notarized. Check out the table below for specific details about the notary fees in New York State:
| | |
| --- | --- |
| Document | Fee |
| Acknowledgments | $2 (additional $2 per witness) |
| Oaths & affirmations | $2 per document |
| Jurats | $2 per document |
| Protests | $0.75 |
| Proofs | $2 (additional $2 per witness) |
Mobile notary fees are not regulated by New York State law. This means that mobile notaries can charge any amount they want for travel and mileage fees.
DoNotPay Helps You Find a Remote Notary in Five Minutes!
DoNotPay helps you make an appointment with a remote notary in less than five minutes! You can book your meeting any time you like since we are at your disposal 24/7.
The process is super easy! All you need to do is and follow the simple steps listed below: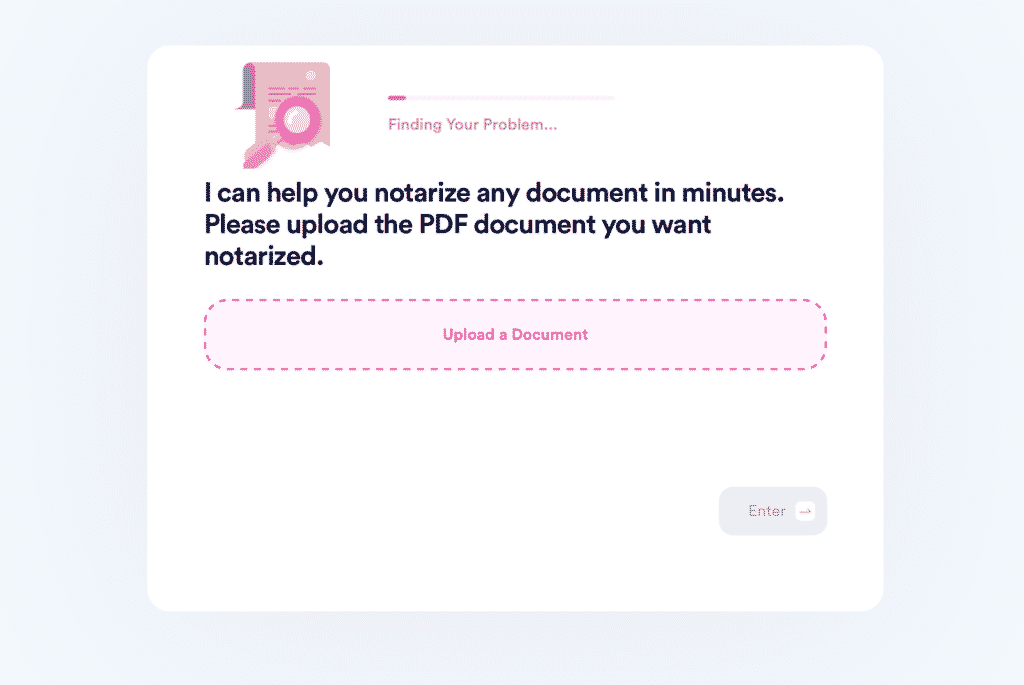 Choose the

Notarize Any Document

service

Attach the documents you want to get notarized

Type in your email address
Once you finish, DoNotPay sends you a direct link to a timetable with available dates, so you can book a meeting at a convenient time.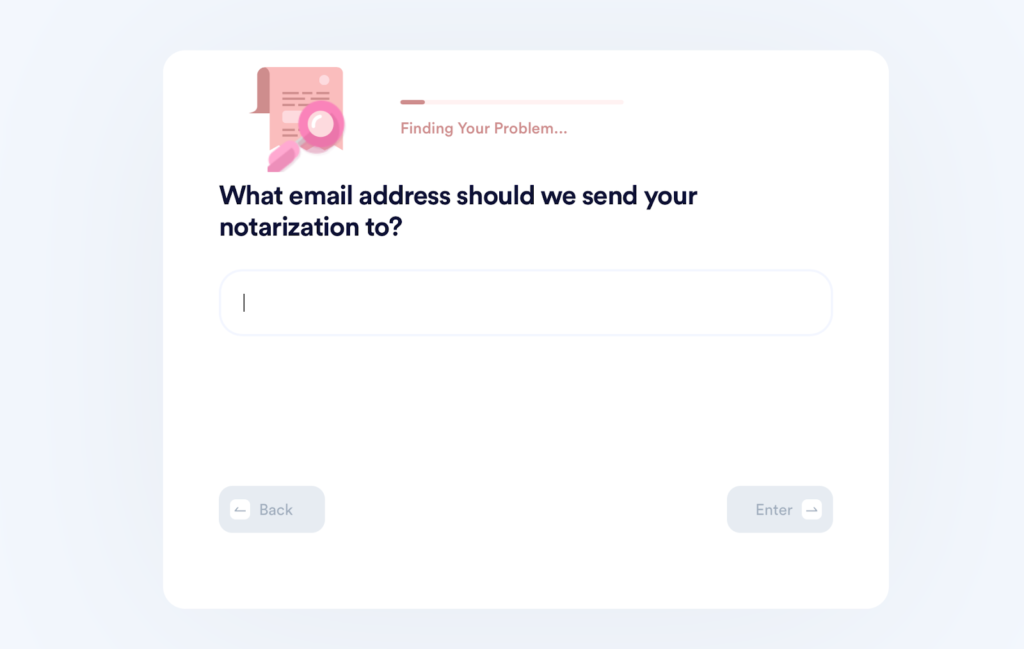 A remote notary will host a video meeting to witness the signing process, and both of you will add your digital signatures. The notary will provide a digital stamp as well.
If remote online notarization (RON) isn't allowed in your state, DoNotPay can still help! We will get a notary from another state that allows RON to notarize your documents easily.
DoNotPay Provides Additional Assistance!
DoNotPay integrated two products to make both drafting and getting documents notarized a smooth sailing experience! You can use our app to draw up numerous legal documents and book a notary afterward to have them notarized in a snap!
Our app generates the following agreements for you:
Residential Lease Agreement

Intent To Purchase Real Estate

Estoppel Certificate

Quitclaim Deed

General Affidavit

Promissory Note

Prenuptial Agreement

Parenting Plan (Child Custody)

Non-Disclosure Agreement

Independent Contractor Agreement

Bill of Sale

General Business Contract

Non-Compete Agreement

LLC Operating Rules Document
Say No to Spam and Unnecessary Paperwork
If your inbox, mailbox, or to-do list is overflowing, our app is exactly what you need! Check out ways to declutter your life:
You can have your cake and eat it too—DoNotPay makes it possible to cut down on unnecessary red tape and save you money—all in one full swing. We can help you overturn your parking tickets, apply for a college fee waiver, uncover missing money, submit a FOIA request, and much more.
Discover Numerous Fast and Easy Solutions
DoNotPay is all about helping you through a complicated task by coming up with simple solutions: