Find a Notary Public in Knoxville, TN, With Ease!
If you are looking for instructions on making an appointment with a notary public in Knoxville, TN, you're in the right place. We'll explain the entire process and provide additional info regarding different notary services in Tennessee.
We also offer you the quickest way to get any document notarized without having to visit a notary public in person! to learn all about remote online notarization and use our app to get documents notarized in no time!
What Does a
Notary Public in Knoxville, TN,
Do?
A notary public in Knoxville witnesses the signing of legal documents and verifies your signature. They can notarize a variety of documents, including wills, trusts, affidavits, and business contracts. Here's what you should do to reach a notary public in Knoxville:
Find a notary nearest to you

Schedule a meeting

Find out the details about

notary fees

they charge

Prepare your documents and your ID

Go to the meeting in person

Sign the documents in front of the notary
Going to a notary public is only one of the options you can choose to get a document notarized. If you want to learn about other notary services, we'll provide the info on online, mobile, and electronic notarization.
Notary in Knoxville, TN
—Different Notary Types
Aside from the standard in-person notarization, you can choose:
Online notary service

—You can have a document notarized from your home or office. A notary will witness the signing via a video meeting and put a digital signature on your document

Mobile notary service

—A notary will travel to a location you choose and sign your documents. You will have to pay additional charges, such as travel and mileage fees

Electronic notary service

—An electronic notary works similarly to a regular notary. The only difference is that the document is in an electronic format (such as a PDF or Word document) and that the notary provides a digital

signature
Out of the three notarization methods, the online notary service is the easiest and most convenient. It doesn't require spending a ton of money on travel expenses, and it can be done from the comfort of your couch.
How To Locate a
Notary in Knoxville, TN
We listed some of the popular websites and places you can visit to find a notary:
How Much Does a
Notary Public in Knoxville, TN
, Charge?
A notary fee isn't the same throughout the country. It differs depending on the laws and regulations set by different states.
While some states have a fixed notary fee, others have no set fee at all, which is the case in Tennessee. Having no set fee means that a notary is allowed to charge you any amount for their service. That can be quite inconvenient since you won't know in advance how much money you should set aside for notarization.
Remote online notarization is allowed in Tennessee, and the usual fee is $25.
DoNotPay Makes Getting Documents Notarized Online a Piece Of Cake!
Skip the unnecessary stress and have your documents notarized the easy way! DoNotPay presents you with the simple, three-step procedure to schedule a meeting with a remote notary in a few minutes! The best part is that you can use our service at any time you want! We are available 24/7, so if you ever need to schedule a meeting with a notary after working hours, we can accommodate it.
and take the following steps to get it done:
Choose the

Notarize Any Document

feature

Submit your documents for notarization

Type in your email address
We will send a link with the timetable quickly! Follow the link to make your appointment with a remote notary, and you're golden!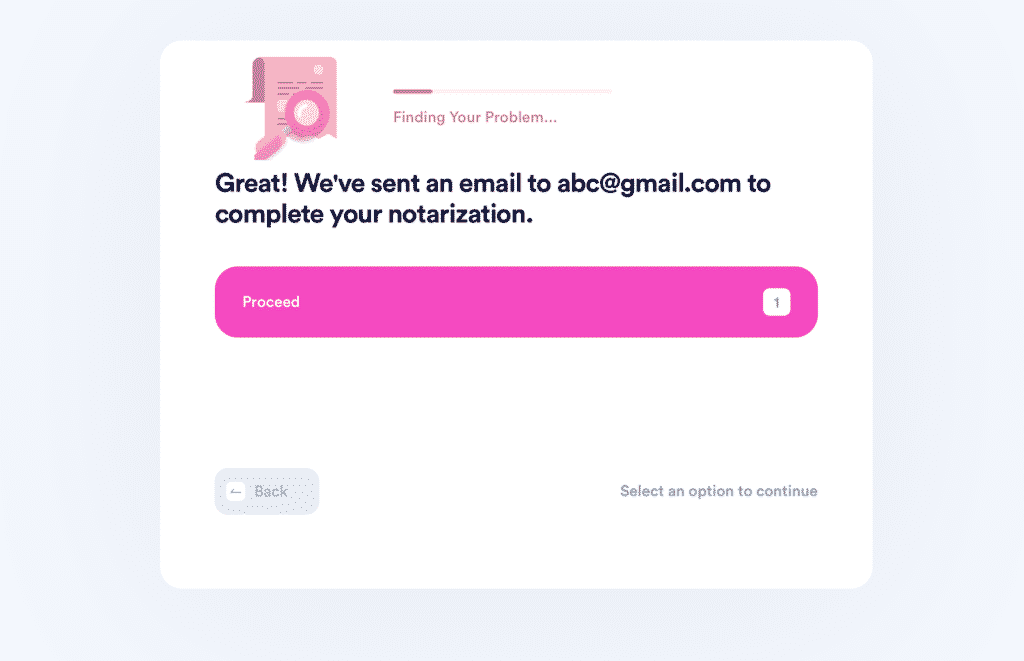 Don't worry if your state doesn't allow remote online notarization! We made sure that our service works in every U.S. state.
We will connect you to a notary from a different state, and you will be able to finish the process with them, and the documents will be valid.
DoNotPay Helps You Create Legal Documents Too!
Before getting a document notarized, you must draft it. It's not an easy endeavor, but DoNotPay has an elegant and affordable solution that you will find super convenient and easy to use! Why bother with drafting documents on your own when we can do it for you?
Here are the documents we can generate in your stead:
Prenuptial Agreement

Residential Lease Agreement

Independent Contractor Agreement

Non-Compete Agreement

General Affidavit

LLC Operating Rules Document

General Business Contract

Quitclaim Deed

Intent To Purchase Real Estate

Parenting Plan (Child Custody)

Bill of Sale

Non-Disclosure Agreement

Promissory Note

Estoppel Certificate
Say No to Spam and Unnecessary Paperwork
If your inbox, mailbox, or to-do list is overflowing, our app is exactly what you need! Check out ways to declutter your life:
You can have your cake and eat it too—DoNotPay makes it possible to cut down on unnecessary red tape and save you money—all in one full swing. We can help you overturn your parking tickets, apply for a college fee waiver, uncover missing money, submit a FOIA request, and much more.
Discover Numerous Fast and Easy Solutions
DoNotPay is all about helping you through a complicated task by coming up with simple solutions: