Have a Notary in Palm Desert in the Palm of Your Hand
Getting your documents notarized does not have to be a bore anymore. Why would you want to waste energy and time on activities automated apps can help you handle quickly?
If you would like information on a notary in Palm Desert, you are in the right place. Not only does DoNotPay provide valuable tips, but we also offer fast solutions to your administrative burdens.
Prepare for a Meeting With a Notary in Palm Desert
To get your will, trust, contract, affidavit, bill of sale, real estate deed, power of attorney, or any other legal document notarized, you must go through the following stages when meeting with a notary in Palm Desert:
Stages of the Notarization Process
Additional Information

Meet in person

Available notaries in Palm Desert or any other place in

California

require that you appear in person to complete the notarization. You can meet with a:

Mobile notary at a suitable venue

Regular notary in a notary's office

Online notary remotely

Provide the necessary documentation

You need to present all required documents to a notary public. If you need help with the preparation of these documents, you can use the assistance of:

A professional, e.g., an attorney

DoNotPay's

Standardized Legal Documents

product to get documents tailored to your specific needs

Prove the identity

Notaries have to confirm the identity of all signing parties. As you should provide a current photo ID document, you can use the following for this purpose:

An ID

Your passport

A driving license

Present understanding and willingness

Notaries need to check that you and any other signers:

Understand the contents of the document

Are signing it of your own free will and sound mind, i.e., that:

No one is forcing you

You are not under the influence of some substances

Pay the notary fees

The state of California sets

maximum fees

for

notary services

. As mobile notaries have additional travel costs, they charge special

mobile notary fees

, which can be higher than the ones of an in-office or online notary

Collect the notarized document

You will know the notarization process is complete when a notary in Palm Desert:

Creates the journal record

Issues the

acknowledgment

certificate

Places the notary

signature

and stamp
A Notary in Palm Desert—Pick a Type To Meet Your Needs
You do not have to use the first notary in Palm Desert you come across. To get a clearer picture of what your choices are, take a look at the following list of available notaries public:
How To Get to a Notary in Palm Desert
If you would like to schedule an appointment with a notary in Palm Desert, you might be able to find one in your neighborhood. To help you with your search, here is a list of some places you can contact or visit:
Surf the Net
As an online search is always practical, you could access some of the following websites to get information about a notary in Palm Desert:
Use an Instant Notary Provider
To connect with an online notary quickly, you can use our app.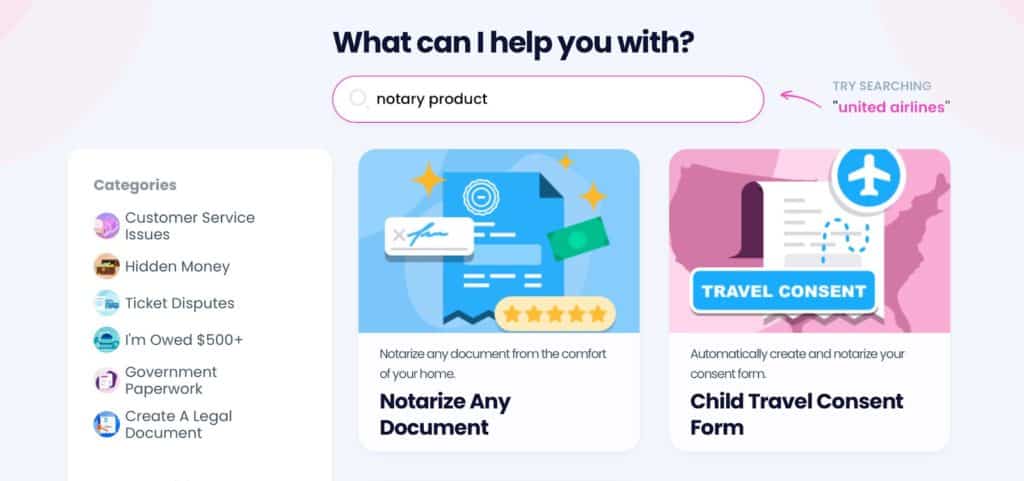 and pick a suitable time for your appointment with a notary in three clicks!
DoNotPay Provides Seamless Remote Online Notarization
When you opt for the services of a regular notary public, you will have to:
Get the contact information

Contact a notary in Palm Desert

Familiarize yourself with the:

Required documents

Necessary notary fees

Set up an appointment

Gather the necessary paperwork

Take an ID document with you

Visit the chosen notary's office
Since these steps are lengthy and tiresome, DoNotPay has come up with an automated notarization product that:
Helps you skip all the unnecessary steps

Allows all our users to get their documents notarized from the safety and comfort of their home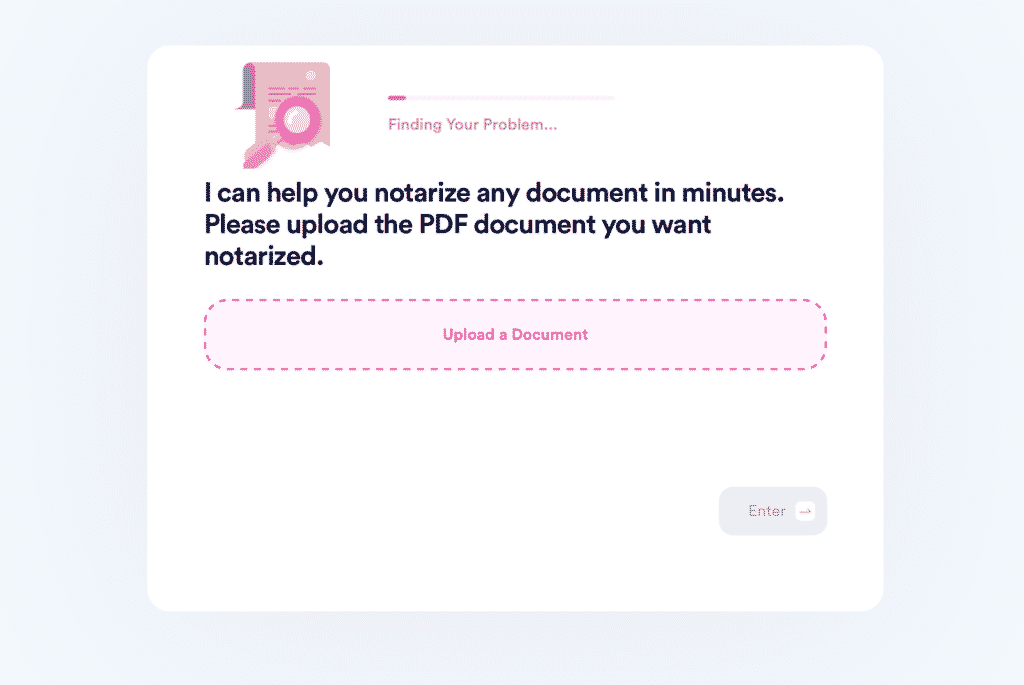 To stay cozy and protected, and connect with a notary in these three steps:
Select our

Notarize Any Document

product

Upload the document you would like to have notarized

Provide your email address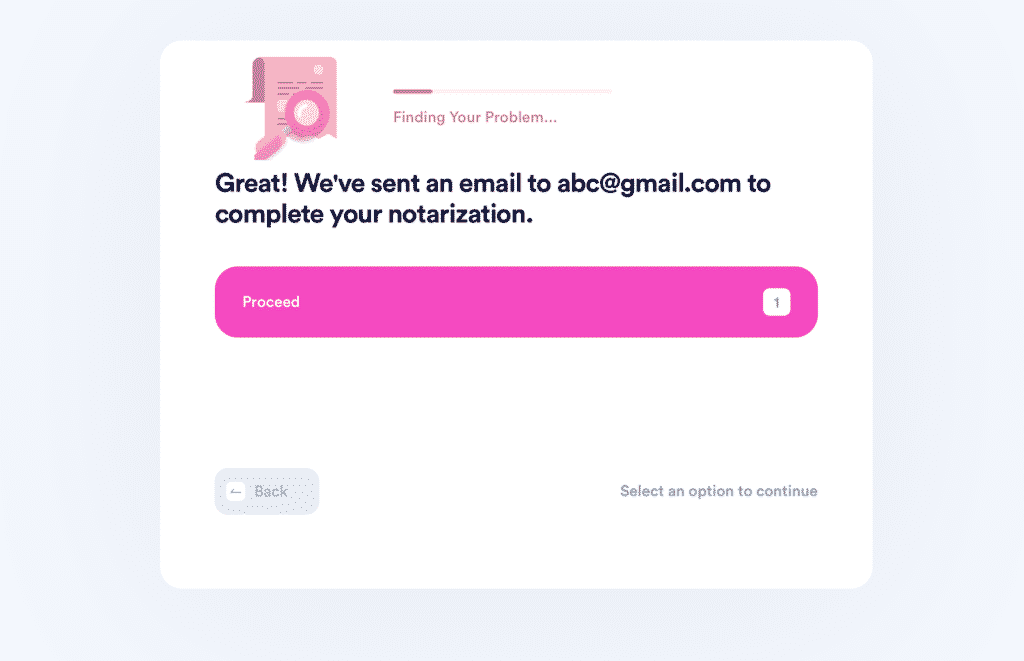 Open our email and click on the sent link to set up an appointment with an online notary who can notarize your documents 24/7.
DoNotPay Helps You Deal With Various Problems Worry-Free
DoNotPay has developed a wide variety of products you can use to manage numerous tasks.
Do you want to get a refund from a company? Are you wondering whether you can request compensation from airlines for poor Wi-Fi or canceled flights? Is hiring a lawyer to draw up legal documents too expensive for you? Sign up for DoNotPay and solve your issues in a matter of minutes!
Use our AI-powered app to get rid of robocalls, spam emails, and text messages.
Need help locating and canceling all your unused memberships? DoNotPay has a product for that too!
Prepare for your driving test using our Government Tests Prep feature and schedule a meeting with the DMV to take the test through the same app. We can even help you claim your car insurance or warranty and contest parking tickets in a flash!
Learn How To Protect Your Privacy With DoNotPay
Protecting your personal info online can be challenging but not impossible. The next time you come across a service that requires phone verification, make sure to use our Burner Phone product and have us generate a fake phone number you can use.
Our virtual credit card can help you sign up for free trials without having to disclose your name, email address, or credit card info.
Are you thinking about connecting with an inmate pen pal? Make sure to keep your real address a secret by relying on DoNotPay. Besides helping you send letters to inmates, we can also receive mail from the prison on your behalf, scan each letter, and send it to your email address.