How To Notarize Documents Without Going to a Notary in Monroe, LA
Drafting and signing legal documents is not the most fun way to spend your afternoon. Searching for a notary in Monroe, LA, and going to a notary office can take up your entire day.
Since remote online notarization is at your disposal 24/7, you don't have to schedule an in-person notary meeting.
Here, you'll find out how to notarize a document in Monroe, LA, without almost any effort on your part!
Notary Services in Monroe, Louisiana
When you need a notary's seal and signature, you'll first ask yourself where to find a notary near you.
In the table below, you have the addresses and contact information of some of the notary offices in Monroe, LA:
Notary Service

Address

Phone Number

The UPS Store Monroe

1800 Forsythe Ave

Ste 2

Monroe, LA 71201

(318) 600-4728

Bayou Notary

2021 Railroad Street Lutcher, LA, US 70071

(318) 614-8188

Rob's Notary Service

2009 Sherwood Ave, Monroe, LA 71201

(318) 381-0126

Cathy Ross Notary Public

247 S Grand St, Monroe, LA 71201

(318) 547-8574

Notary On Wheels Of Louisiana

111 Hudson Ln STE C, Monroe, LA 71201

(318) 397-1550
Public places that often employ notaries are:
Banks

and other financial institutions

AAA

branches

Law enforcement departments

Public libraries

Law offices

Real estate offices
In-Person Notarization Explained
The most common method of getting a notary signature on all your important documents includes:
Visiting a notary's office with the document you need notarized

Verifying your identity with a passport, a driver's license, or a government-issued ID

Signing the document in front of a notary

Waiting for a notary to seal and sign your document

Paying a fee
This is not the only method of getting your legal documents notarized. In-person notarization is outdated and impractical in comparison to other notarization options.
Since a lot of different documents require a notary's seal and signature these days, stopping by an office each time you need notary services is inconvenient.
These are just a few of the documents that necessitate notarization in most cases:
Business and transaction documents

Deeds

Consent forms

Powers of attorney

Loan contracts

Real estate sale and purchase agreements
Why Is Going to a Notary's Office Inconvenient?
For in-person notarization, you often have to bring a witness or two to the signing, so it may be difficult to find a slot when everyone can show up for.
You could also forget to bring a single piece of paper or your identification documents, or you could fail to make it to an already booked notary appointment. When that happens, you have to repeat the entire process.
The good news is that you no longer have to set up in-person meetings with a notary—and if you , we can help you schedule an appointment with an online notary in no time!
Are Mobile Notaries a Better Alternative?
Mobile notaries don't work in an office. Instead, they come to a location that you want to meet at to get your documents notarized, whether it's a café, your home, or your workplace.
You may think that hiring a mobile notary is a better option than scheduling an in-person meeting, but that's not entirely true. Aside from paying a fee for the notarial act you need, you will also need to cover the mobile notary's travel costs.
Switch to the Easy and Convenient Method—Online Notarization
Both signers and notaries are getting more and more used to the online notarization method for several good reasons.
Electronic notaries can perform all the notarial acts their customers need as long as they have a stable internet connection, a webcam, and a microphone.
When you schedule a meeting with an online notary, you enter the meeting room via a link and:
Send a notary your identification document in a digital form so that it can be scanned for authenticity

Answer several questions a notary asks to prove your identity

Display the document you need notarized on the screen so that a notary can see it

E-sign the document

Wait while the notary seals and signs your document electronically
Besides including additional identity verification steps, the process of remote notarization also requires that the notary records the meeting and keeps the video for a set number of years.
Not only is online notarization more convenient for both the notary and the signer, but it's also more secure than the in-person method.
Need a Notary in Monroe, LA? DoNotPay Will Get You One Fast!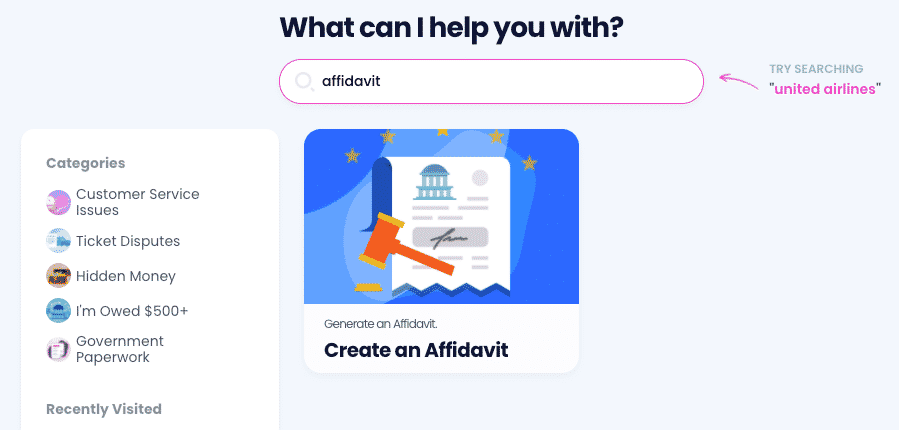 You no longer need to contact a dozen notary offices and wait by the phone to schedule an in-person meeting.
Our AI-powered app lets you book an appointment with an online notary fast and easily. Here's what you should do:
Locate the

Notarize Any Document

product

Upload your document

Enter your email address

Click on the link we send you to schedule a meeting
What Else Is Hot About DoNotPay?
DoNotPay does wonders in protecting your online privacy, but it can do so much more for you!
With our assistance, you can claim compensation for canceled or delayed flights, request refunds and chargebacks for unsatisfactory purchases, file warranty claims for defective products, and even overturn unjust parking tickets!
Our app can locate unclaimed funds that exist under your name, the best clinical trials for your needs, and public records that you couldn't identify on your own.
Outsmart Scammers With DoNotPay
Are you troubled every time you think about subscribing to a service because you fear your personal information will leak and your privacy will become invaded?
There's no need to fret anymore as DoNotPay has come up with a way to shield you from hackers, scammers, and identity thieves alike.
Check out how you can use DoNotPay and browse the internet care-free:
Open DoNotPay in your web browser

Locate our

Virtual Credit Card

generator

Use the made-up card number to sign up for any

free trial

Move forward to our

Burner Phone

product

Use the temporary phone number to verify any online account

Enjoy the trial without worrying about

canceling it

—the service will do it on its own
Signing up for services with DoNotPay's hacks frees you from ever falling victim to a serious crime, such as identity theft, and liberates you from the bothersome and never-ending spam calls, texts, and emails that you never explicitly agreed to receive.