Remote Notary in Beaumont, TX—Notarize Any Document Fast!
Finding a notary in Beaumont, TX, and getting your documents notarized doesn't have to be complicated and draining. Even though most people find the process overwhelming, they haven't tried our method, which saves time and money.
DoNotPay can help you create legal documents online and show you how to get them notarized as well. The best part about this is that the notarization process is done online in a matter of minutes!
The Issues With Traditional Notarization
Getting a document notarized in person anywhere in the U.S. can be demanding. It takes time, effort, and money. If you wish to get a document notarized the old-fashioned way, you'll need to find a qualified notary public and:
Schedule a meeting in person

Bring a valid ID

Take the document you need notarized to the notary or email it to them

Confirm that you are aware of the contents of the document you're signing and that you are signing it willingly

Pay the required

fee

for notarization
After all these steps, the notary public needs to do their part, which is to:
Sign the document

Use their official stamp

Provide a statement confirming the legality of the document
Why Should Notarization Matter to You?
A person with the power to notarize documents is a notary public, and they must be impartial and neutral. To help prevent fraud, they perform several tasks, including:
Witnessing a document signing

Confirming the signees' identities

Making sure the parties are aware of what they're signing

Ensuring there is no coercion of any sort during the signing
Even though the traditional notary service can be expensive and time-consuming, it is also necessary for all sorts of legal documents, including:
Court documents

Trusts

Financial statements

Employment contracts
Online Notarization in Beaumont, TX
Remote online notarization is legal in Beaumont, TX, since July 1st, 2018. Any verified notary public in Texas can apply to become an online notary. Once they're officially an online notary public, they can notarize documents remotely without the physical presence of the user of their services. The process is done online, which is especially convenient in pandemic times.
How To Find Notary Services in Beaumont, TX
Many businesses and institutions provide in-person notary services to their clients, for example:
Looking for physical or online notaries in Beaumont can take some time, and document notarization can be quite expensive. If you don't mind finding notaries manually, you can use some of these websites for starters:
Use DoNotPay for Quick Remote Document Notarization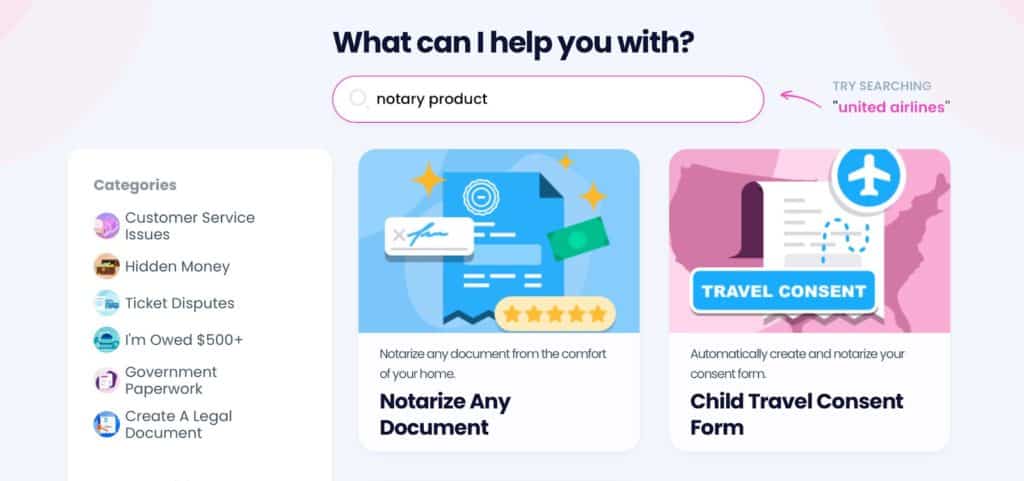 DoNotPay can help you find a notary online in a matter of minutes. Physically finding a notary in Beaumont, TX, waiting in lines, and paying a fortune is not necessary. Here is what you need to do if you wish to get any document notarized with DoNotPay:
Select the

Notarize Any Document

feature

Enter your email address and upload the document for notarization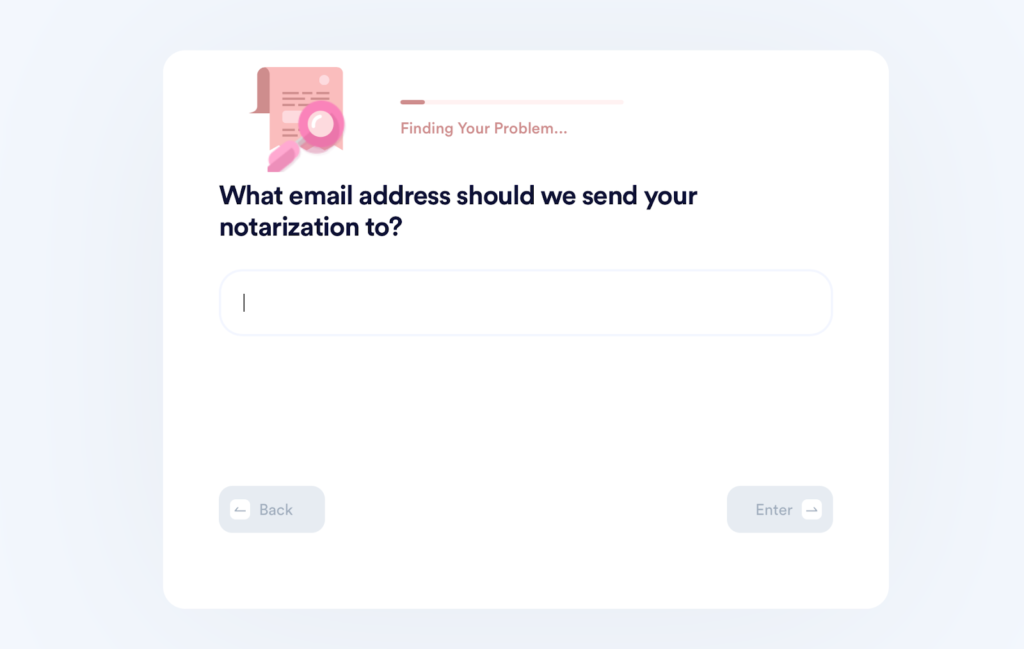 After these three steps, DoNotPay will schedule a meeting with an online notary. You can choose the time of the meeting and even stay in your pajamas!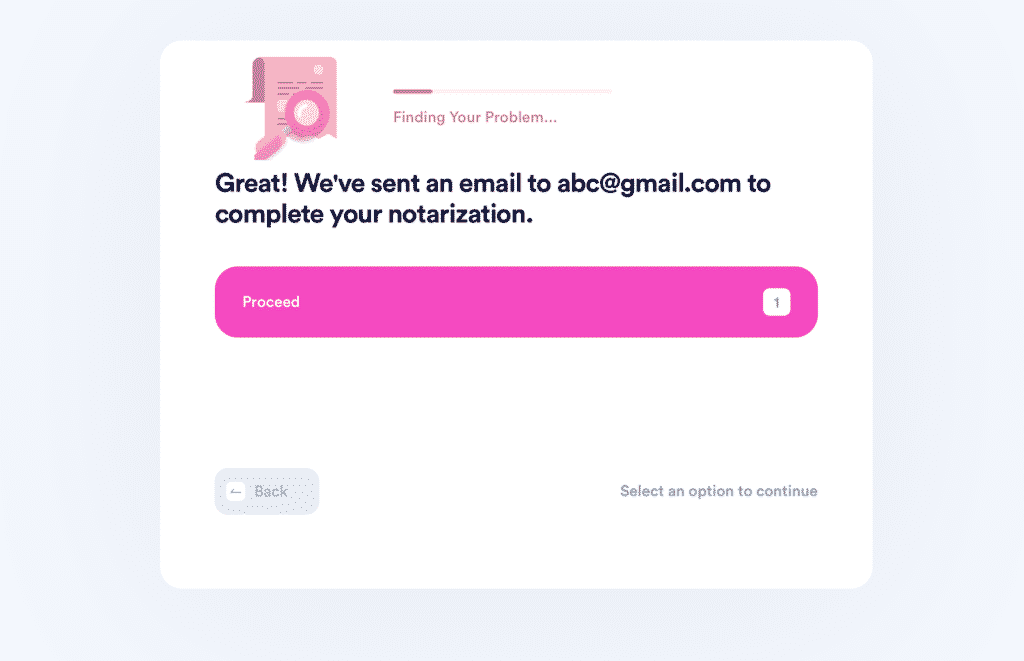 Create a Legal Doc and Have It Notarized With DoNotPay!
Getting documents notarized fast is not the only thing DoNotPay can help you with. We can also assist you with drawing up the legal documents that you need notarized! All you need to do is today, and our AI-driven app will help you create various documents in minutes.
If you require a document that is not in our portfolio yet, no need to worry. Our learning center has numerous templates and guides on all kinds of agreements and contracts, such as:
Document Category
Document Selection
Business Documents

Buyout agreement

Buyer-broker agreement

Fee agreement

Profit-sharing agreement

Other Type of Documents

Construction documents

Listing agreement

Reciprocal agreement

Trust agreement
How Much Does Document Notarization Cost in Beaumont, TX?
According to Texas law, notaries public cannot charge you more than the following for their services:
$6 for first acknowledgments

$6 for oaths and affirmations with a seal and a certificate

$1 for any other signatures

$0.50 per hundred words of a deposition
If a notary tries to charge you more than the mentioned fees, they can be fined, and they can even lose their notary license. If you hire a traveling or mobile notary, they can charge you extra according to the mileage. Mobile notary fees are not regulated by law.
Online notaries can charge up to $25 more on top of the regulated notary fees. The total amount can add up and range anywhere from $6 to $60.
Mobile Notary Service Explained
Mobile notaries are certified notaries public who travel to you and notarize your documents on the spot.
There are some downsides to using their service, though. They are often overbooked because many people appreciate the convenience of not leaving the house and still getting their documents notarized. A mobile notary also adds charges for their travel expenses, which increases the total notary fee you need to cover.
DoNotPay Can Help You Solve Pesky Issues Stress-Free
Dealing with everyday issues can become overwhelming, especially if they include bureaucracy. DoNotPay can help you handle numerous problems in a few minutes. With us, you can schedule your DMV appointments, get documents notarized remotely, and create various legal documents—including child travel consent statements—in a snap.
Do you need help paying your bills or disputing parking tickets? Once you register for DoNotPay, you'll be able to manage all of these and many more issues in no time.
What Else Can You Use Our App For?
Besides helping you handle tedious administrative hurdles, DoNotPay can do much more for you! You can use DoNotPay to:
With us, you can send online faxes or mail letters from the comfort of your home. Do you have friends or family members who are serving time? We can help you connect with inmates in a flash by enabling you to locate them and send them letters.