Receive a Notarized Affidavit of Residency Within Minutes
Preparing formal documents can be daunting in lots of cases, and getting them notarized is an added hassle.
If you need a notarized affidavit of residency, DoNotPay will help you out. We provide information on the document and offer an easy way to get it notarized.
What Is an Affidavit of Residency?
An affidavit of residency is a sworn statement used to prove a person's residency and address.
This document is not lengthy or complex, but the fact that it has to be notarized can prolong the whole process.
You can use a notarized affidavit of residency in different situations in which you must prove your residence.
When Do You Need a Notarized Affidavit of Residency?
You need a notarized affidavit of residency any time you must provide legal proof of where you live.
Presenting a utility bill, your ID, or your driving license may sometimes be enough to prove your residence. However, you will be required to provide a notarized affidavit of residency in plenty of situations, including the following:
Applying for public program funds

Qualifying for a Medicaid program within your state

Applying for child support after a divorce

Validating your residency for legal or business purposes

Applying for a driver's license upon moving to another state

Verifying residency for a university or college when applying for in-state tuition

Registering your child in public school:

For the first time

When you have moved to a new school district

After getting divorced—to verify the address of the custodial parent
An affidavit of residency—also known as a letter of residency—will come in handy when you have recently moved. To avoid frustration, you should print out a few copies and get a notary public to sign each of them.
A Notarized Letter of Residency Template
A letter of residency should contain specific information, and we will explain it in two parts—through:
Common terms

Common parts
Common Terms
Apart from naming it a letter of residency, sometimes, an affidavit of residency can also be called:
Residency affidavit

Affidavit of residence

Proof of residence affidavit

Proof of residency affidavit

Notarized residency letter

Notarized affidavit of residency

Proof of residency letter notarized
You shouldn't confuse an affidavit of residency with an affidavit of domicile as these two documents have different purposes.
In an affidavit or residency, you will come across the following terms:
Term

Explanation

Residence

This is the place where you have lived for a longer time. A residence can be a place that you own or rent, including a house, apartment, or condominium. It cannot be a hotel room or any other place you have been living for a short/temporary time

Landlord

This is the owner of the property you are renting. Depending on the use of an affidavit of residency, a landlord's signature might be required

Length of residency

This section of an affidavit states the length of time you have lived at the residence

Notary public

A notary public is a person who is authorized to perform

notary services

, i.e., to notarize your affidavit of residency
Common Parts
An affidavit of residency is a document that should include the following info:
Your full name

The address of your residence

How long you have been living at the provided address

The names of people who live with you at the same address, e.g., your family members, roommates, or a landlord

Birthdates and type of relationship you have with the people listed in the previous part

Signatures of all parties
An affidavit should be a simple document, but if you are not sure how to create one, consult a lawyer. As this option can be expensive, DoNotPay offers a cost-effective way to prepare numerous documents.
DoNotPay Helps You Create Documents Hassle-Free
We can help you prepare numerous legal documents without a headache. By subscribing, you will be able to use all our services, including our Standardized Legal Documents feature that is integrated with the Notarize Any Document one. It means you can create documents and then get them notarized in a few clicks without having to leave your home!
Take a look at some documents we can assist you with:
Estoppel certificate

LLC operating rules document

Quitclaim deed

Bill of sale

General affidavit

Non-compete agreement

Lease agreement

Intent to purchase real estate

Non-disclosure agreement

Business contract

Independent contractor agreement

Promissory note

Prenuptial agreement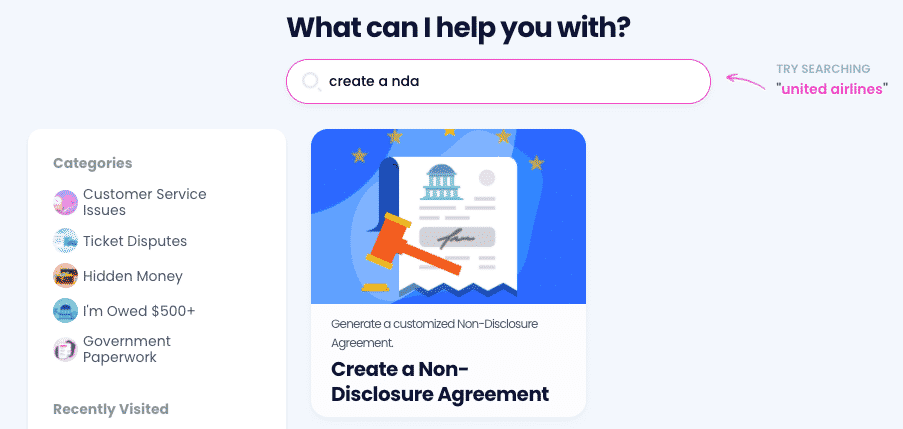 Here's how you can get ahold of some of these useful contracts and documents:
Enter the name of the document you would like us to prepare

Answer a few questions
Now you can download the document tailored to your needs.
Get a Notarized Affidavit of Residency From the Comfort of Your Home
Why would you want to waste time and money on traditional (face-to-face) notary services when you can finish everything in a matter of minutes with an online notary?
DoNotPay provides an efficient and economical solution to getting your documents notarized in Ohio, Texas, Arizona, Kentucky, California, New York, or any other U.S. state.
You prepare your legal documents, and we will help you have them notarized remotely from your cell phone, laptop, or desktop computer.
To get your affidavit of residency notarized in a few clicks, and:
Choose our

Notarize Any Document

feature

Enter your email address

Open the email we sent you

Click on the provided link
You can set up an online appointment with a notary public at the time that suits you. You don't have to drive to the notary's office—you'll finish everything via a live video call. The notary public will:
Witness you signing the document

Verify the authenticity of your signature with his or her notarial certificate
You can use DoNotPay to get various documents notarized, including trusts, wills, real estate deeds, and others.
Clear Out Your Daily Tasks Fast With DoNotPay
Are your parking tickets piling up, but the process of appealing them is way too complicated? Do you struggle to pay your bills but are not sure how to get an extension? Is it time to extend your driver's license, but reaching the DMV is a nightmare?
DoNotPay will turn all of these dreadful tasks into easy-to-do items you can check off your agenda quickly!
Get rid of spam emails, texts, and calls quickly using our AI-powered app!
Learn how to secure compensation from airlines, get your college fees waived, claim your lost funds, or reduce your property tax—all with a few clicks!
Subscription Issues? DoNotPay Can Help!
If you are looking to test out a service, think twice before disclosing your payment info. Companies will often ask you for your credit card details even when signing up for a free trial—they charge you once the trial expires.
Use our virtual credit card, and don't worry about unwanted charges!
Our credit card gets automatically approved for any free trial, but it rejects any real charges since there is no money on it.
DoNotPay will locate and cancel all your unwanted subscriptions without you having to deal with customer service reps.
We can also help you request refunds from companies or take them to small claims court if they refuse to cooperate.