The ABCs of the Newark Airport Lost and Found
If you have had the misfortune of losing personal belongings at Newark Airport, this guide to the Newark Airport Lost and Found policy will help you put things into perspective to retrieve your item quickly! Also, find out how you can file a lost item request letter in a matter of minutes using the DoNotPay app!
Understanding How the EWR Lost and Found Office Operates
Newark International Airport lets passengers who have lost their luggage or any item report their missing belongings in two ways:
In person at the airport's Lost and Found office
Via an online form on the airport's website
When submitting a lost item request via an online form, you are required to fill it out in a way that helps the Newark staff locate your lost item most efficiently.
The form consists of these mandatory fields:
Your email address and cell phone number
Airport terminal or airline you traveled with
Details about the place where you lost your item if you remember
A detailed description of the lost item
You should note that the Newark Lost and Found office is not in charge of finding and returning items left at TSA security checkpoints and onboard an aircraft.
Here is the breakdown of who to reach out to depending on where you lost your item:
| Where You Lost Your Item | Who's in Charge of Finding It |
| --- | --- |
| Airport terminals, curbside areas, airport shuttles, and parking lots | Newark Airport Lost and Found office |
| Airplane | Your airline |
| TSA security checkpoints | TSA (contact them at (908) 787-0667) |
| Rent-a-car, door-to-door shuttles between gates, or taxis | The companies that provide these services |
Let DoNotPay Take Care of the Lost Item Request for You!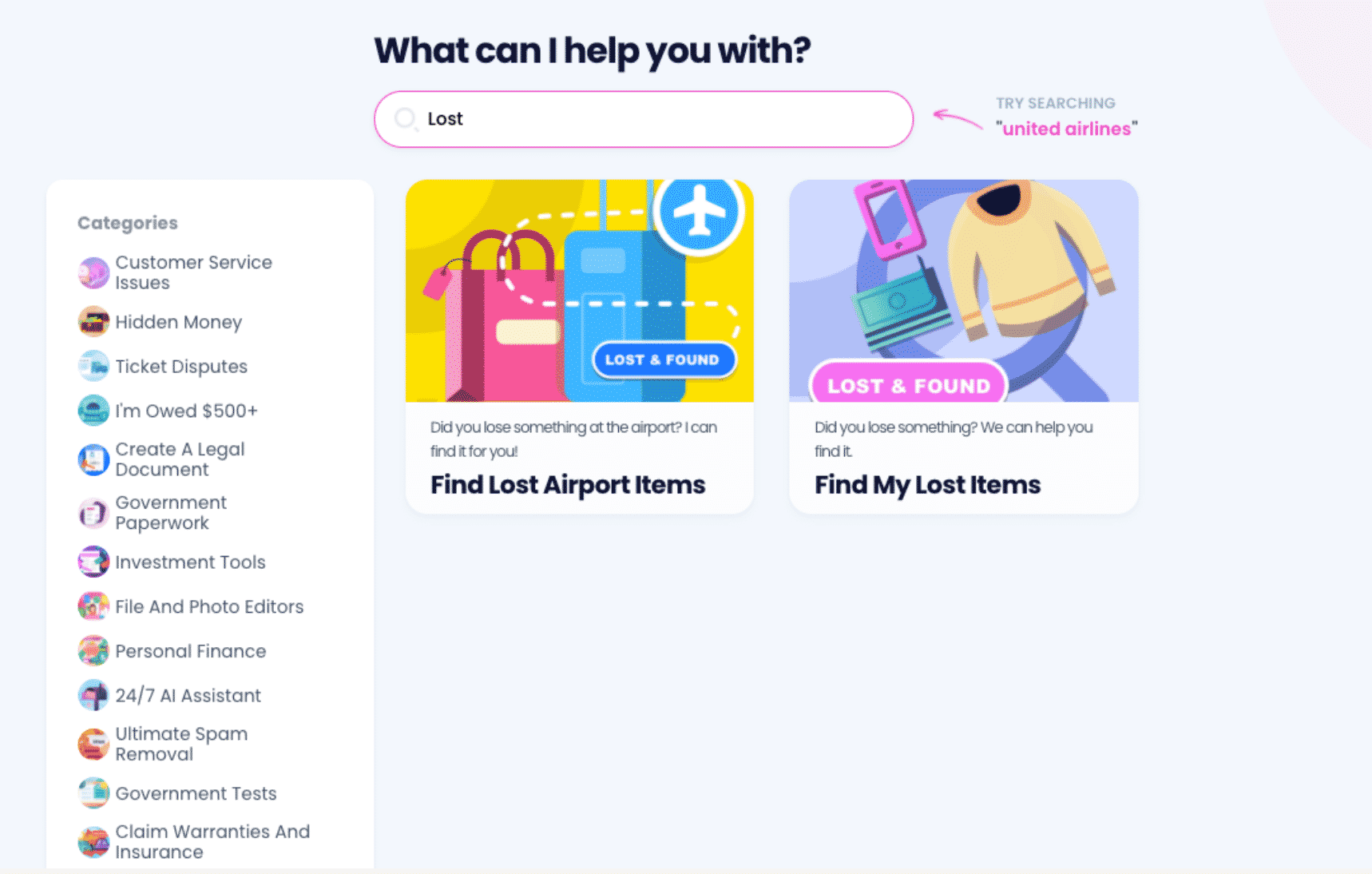 If you are not too keen on the idea of filling out drawn-out online forms—or don't have the time to do it—putting our app to good use is a fine alternative.
To make the most of DoNotPay, you should enter a few details regarding the item or items you lost at the airport so that we can draft and send a lost item request to Newark Airport.
Here's how it works:
Locate the Find Lost Airport Items feature
Provide detailed information about your lost possessions
Submit your request
And that's all you have to do! Our app will contact Newark Airport requesting that the employees in charge find your items. This way, you can skip going through multiple channels and describing your lost belongings numerous times. With DoNotPay, you can find various lost items, either at different airports or any other location. Some of the items you can locate with our help include:
In case your flight is delayed or canceled, you can count on our help as well! Our app can help you get your money back whether you were supposed to fly with American Airlines, Delta Air Line, or any other.
What You Can Do To Never Lose an Item at the Airport Again
To avoid any mishaps with your baggage or other items and keep your belongings from getting lost at any airport or airplane, consider following these safety tips next time you're taking a flight:
Keep all your valuables, such as money, jewelry, and credit cards, inside your inner jacket pocket or your carry-on
Keep important items like medicine, business papers, and electronic devices like laptops at your side at all times
Tag your luggage with your name, phone number, and email address
Use brightly colored luggage or attach any kind of distinguishable tag to your bags
Use a tracking device to know where your baggage is at all times
Get the Best Solutions for Everyday Tasks With Our App
DoNotPay has come up with multiple handy products whose purpose is to make your life simpler and more enjoyable! Don't hesitate to check out the features that will help you:
Complaints and Appeal Letters Have Never Been Easier To Draft With DoNotPay
Dissatisfied with a delivery? Use DoNotPay to file an item return request and get a refund from the merchant if the product didn't meet your expectations! We can also help you apply for a late delivery refund or help you claim your warranty or insurance if the product you purchased gets damaged or breaks down. Our multi-functional app also allows you to appeal potentially inaccurate property tax assessments, banned accounts, and seatbelt or parking tickets. If you subscribe to our platform, you will have a chance to file anonymous HR complaints and prevent discrimination at work more effectively.