File a New Construction Home Warranty Without a Headache
When you buy a home, you will mull over purchasing a home warranty with it to make sure your home systems and appliances are secure.
Choosing to build a house is a great opportunity to design and construct everything in a way that suits your taste and needs.
Once you start building a new home for you and your family, you should make sure your dream home is covered with a warranty during construction.
What Is a New Construction Home Warranty?
A new construction home or a home builder's warranty is a contract between the home builder and the homeowner. You, as the homeowner, are the beneficiary of this warranty that defines the builder's obligations connected to the quality of construction. This particular home warranty guarantees your newly built house will be free from defects.
Why Do You Need a New House Warranty?
Building a home can be a challenge as you need to ensure that everything goes according to plan and within the envisaged budget. One thing to be aware of is that even newly built homes can have problems.
You can never anticipate what is going to happen and whether your builder might use defective materials. What if your home does not settle in the right way? It might cause problems with the structure and systems. That is why you should make sure your home builder gives a warranty on their work.
What Does a Builder's Warranty Cover?
Builders mostly offer different coverage for various home components. Homebuilder warranties usually include:
A one-year warranty on labor and materials

A two-year warranty on heating, plumbing, electrical system, and air conditioning

A ten-year warranty on structural elements, including foundations and walls
As some builders might want to limit their responsibility, you need to make sure your newly built home has as much coverage as possible. You can negotiate the warranty before the works begin.
A common home builder's warranty covers used materials and items the builder constructed, such as:
Covered
Not covered

Dry basement

Carpentry

Concrete foundations and floors

Heating and cooling

Waterproofing

Columns

Masonry

Doors and windows

Electrical system

Garage doors

Glass

Beams

Landscaping

Footings

Insulation

Shingles

Plumbing

Roofing

Septic system

Thermal and moisture cover

Appliances

Code violations

Swimming pool or spa

Permit fees

Insect damage

House shrinkage or expansion

Defects caused by work done by the homeowner or somebody else when the builder's work finished

Dampness or condensation caused by inadequate ventilation maintenance

Joints/minor shrinkage

Normal paint fading
If you would like to get additional coverage that is not included in your home builder's warranty, you should consider getting a warranty that will include all major home systems and appliances. To choose the best plan for your home, check out our home warranty reviews and find the most reliable home warranty providers in the States.
The Federal Housing Authority (FHA) and the U.S. Department of Veterans Affairs (VA) require builders to obtain a third-party warranty to protect buyers of newly built homes with FHA or VA loans.
Can You Claim a New Home Construction Warranty via DoNotPay?
DoNotPay can help you file your new construction home warranty claim. You should start the procedure by taking these steps:
Open DoNotPay in a

Choose the

Claim Warranty

feature

Select

Home Warranty

Enter the warranty details and describe the issues you are having with your home

Click

Submit My Claim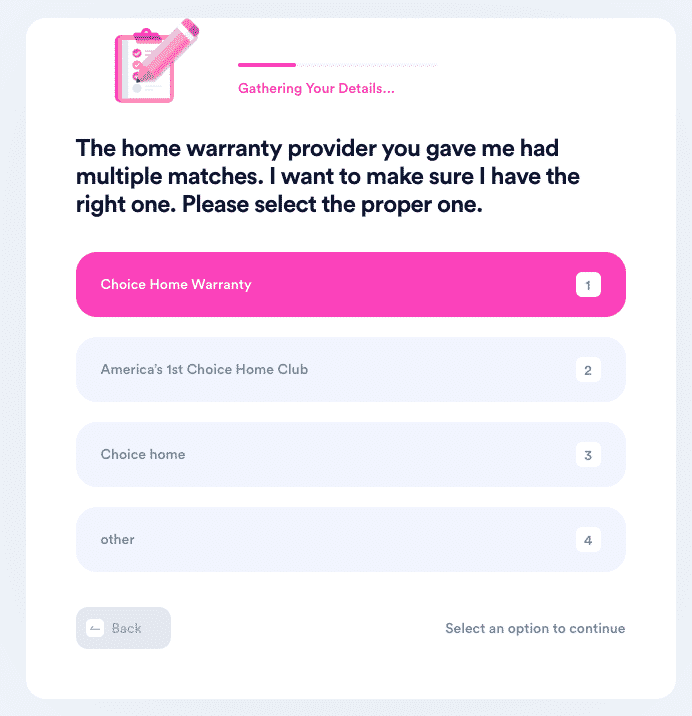 DoNotPay files your home builder's warranty claim quickly, and you should hear from the provider in no time. We will generate an argument according to implied warranty laws and make your case solid.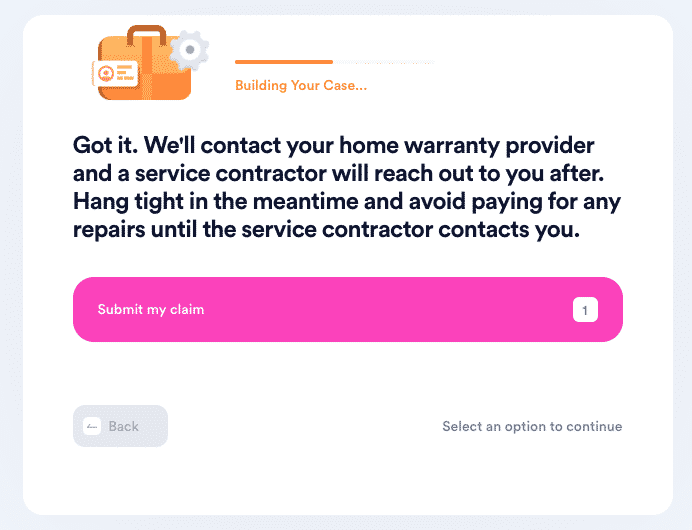 DoNotPay can help you claim warranties on your car, laptop, or any purchased item.
How To Submit a New Home Builders Warranty on Your Own?
Depending on the home warranty provider, you can file your claim in different ways. The first thing you should do is check the warranty to see if there are any instructions regarding the warranty claim procedure. If not, you might want to visit the website of the provider and find their contact information.
In most cases, you will be able to file a warranty by:
You may want to check out the details for 2-10 Home Buyers Warranty, one of the biggest companies offering new construction home warranties, or you can contact the Federal Trade Commission.
Here are the ways to file your new construction home warranty:
Can You Claim Your Warranty Via
Yes/No

DoNotPay

Yes

Phone

Most likely

Email

Company Website

Letter

Unlikely

In-Person
DoNotPay Can Help You if Your Builder's Warranty Gets Denied
DoNotPay can assist you even if your home builder's warranty gets rejected. You need to:
Open DoNotPay in your

Select the

Claim Warranty

feature

Choose

Appeal a Denied Warranty Claim

State that the warranty provider rejected the initial claim

Provide details about the company and your rejected warranty claim
Our app will file your appeal on the spot. Once your case is processed, your home warranty provider will reach out to you directly.
What Other Problems Can DoNotPay Fix for You?
DoNotPay assists with many warranty-related issues. With our help, you can cancel a contract with American Home Shield, claim your used car's extended warranty, or handle a dealer refusing to cancel your extended warranty.
Access DoNotPay from any and learn how to:
Dispute traffic tickets

Dispute speeding tickets