How Does the Movo Virtual Card Work?

There are currently a few dozen available options for virtual credit cards. These cards are not physical, you don't hold them in your hand or swipe them at the convenience store. Instead, the virtual credit card is two things. It's an account ,and a set of temporary credit card numbers.
The interesting thing about a VCC is that the card number doesn't stay the same. This protects you from any risks related to having payment information stored by shops and restaurants.
The is one of several possible options if you're looking for a virtual buffer between your online payments and your personal finances. Not sure if this is the right VCC for your needs?
DoNotPay is here to help. We will explain everything you need to know about Movo virtual cards. We can also set you up with virtual credit cards from DoNotPay, for those times you don't want to share your information.
What Is the Movo Virtual Prepaid Debit Card?
is a prepaid virtual debit card. Strictly speaking, it is not a VCC but a VDC because it pulls from a prepaid account instead of a line of credit. In every other way, however, Movo fits the product type of a virtual credit card.
The Movo virtual prepaid debit card is a virtual payment method associated with your Movo account. You can generate a different card number for the virtual card each time you make a payment and the funds never connect directly with your personal bank account. That said, there are a few details to clear up:
Movo Cash is no longer a Visa card, but instead a virtual Mastercard.
Movo is a mobile app that has functions of a bank account and of a credit card - but is neither.
Movo is not a credit card, but a "prepaid" debit card app.
| | | | | |
| --- | --- | --- | --- | --- |
| Movo Cards | On-Demand Mobile Banking | Cash Card | Send Payment Through Movo Pay | Ways to Deposit |
| Movo Apple | Yes | Yes | Yes | Unlimited |
| Movo Android | Yes | Yes | Yes | Unlimited |
Are Movo Virtual Cards Free?
Yes, the and other features like Movo Pay are free to sign up for and use. All you have to do is download the Movo app to get started.
From there, the only payments are into your own account for spending using the virtual card platform.
How Does the Movo VCC Work?
Download the App
Deposit Money Into the App
Spend the Money with a Virtual Credit Card
is easy to use and follows a straightforward system to protect the funds you use for digital and online payments. In fact, the app is even compatible with wave-pay so can be used in many real-world payment situations as well.
Download the Movo App
Movo is 100% a mobile app that offers features like a payment card. The virtual credit card is stored inside the app program and there's even a handy graphic that looks like a card on your screen when you use Movo. Everything you do with your Movo "card" is done with the app.
Deposit Money Into Your Movo Payment Account
Movo is not a virtual credit card because it works off a pre-paid account. This means you add funds to the account and then use those funds for payment. This is a great system because it acts as an airlock to your real finances. Even if your Movo account was put at risk, you'd only lose the amount of money stored in the app, not your entire bank account or any of your personal banking information. If used carefully, the pre-paid nature of Movo can help you control your spending and protect your personal finances.
Spend Your Movo Account With a Virtual Card
Here's where the cybersecurity aspect comes in. Unlike other debit programs, Movo offers a rotating card number so you never pay with the same card number twice - and Movo accounts are never associated with a specific card number so stored and stolen data can't be used against you. The virtual card protects both your Movo account and any linked accounts or banking you may have. When you're ready to spend, however, Movo makes it easy. You can virtual-pay (just like PayPal) or wave-pay the right card readers in the real world.
How to Get the Movo Prepaid Virtual Card?
Getting the Movo prepaid virtual debit card is easy to do. Simply download the Movo app, make an account, add some cash, and get going.
Download the Movo app
Create a new account
Transfer some money from your bank to your Movo account
Start paying for things with your Movo virtual card

The interesting thing about getting started with Movo is that there are many different options to deposit money, including a check scanner. You can arrange to receive direct deposits and paychecks to your Movo, but we wouldn't recommend it. Instead, the safest way to use Movo is only to deposit the money you want to spend in the short term. This way, the majority of your personal funds remain safely protected behind this airlock feature.
What Is the DoNotPay Free Trial Card?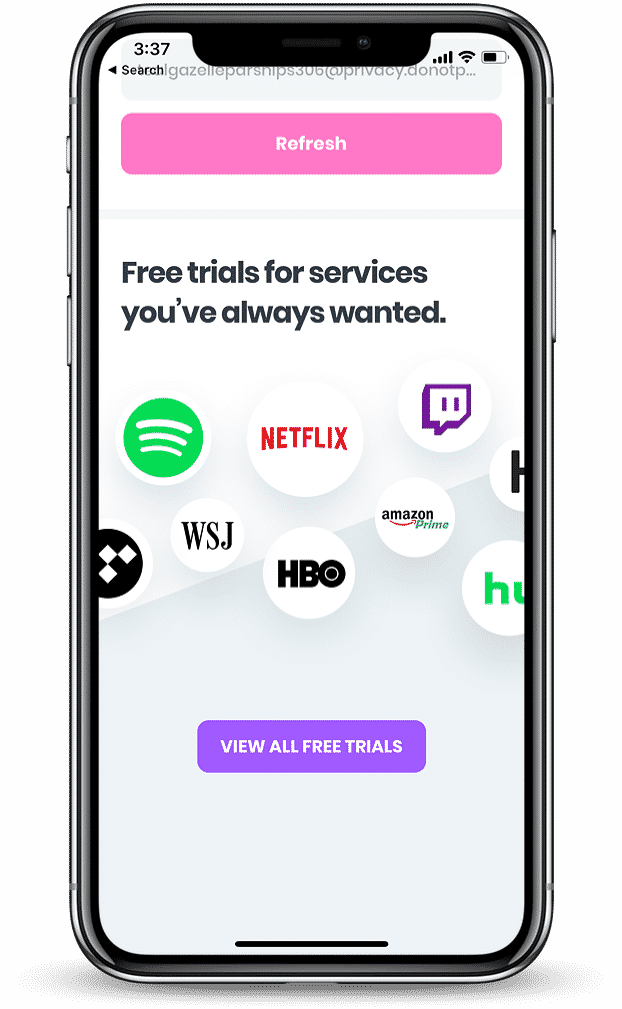 The DoNotPay free trial card is a special kind of virtual credit card. Unlike the and other VCCs, it doesn't connect to a line of credit, a bank account, or a private pre-paid account. In fact, the free trial card doesn't make any payments at all. That's what it's for! The DoNotPay VCCs are for canceling charges and protecting you from unwanted charges to your card after the fact.
Here's How It Works:
DoNotPay generates a new virtual card number on-demand.
These card numbers are randomly generated and recycled every time
Card numbers last a short period of time before becoming invalid
Each card number is accepted as a valid card by online platforms
You enter the card for a free trial or reservation instead of your personal payment card
You enjoy the free service with no worries about a follow-up charge
If the service tries to charge you, the charge bounces and you stay safe.
How to Get the DoNotPay Free Trial VCC
Log Into DoNotPay
Search for "Free Trial Card" or "Virtual Credit Card"
Select the Free Trial Card product
Enter the merchant you're not-shopping with
DoNotPay will generate a temporary "card" with the number and details on-screen for you to use.
Use the card to sign up for something free, then relax and enjoy.
Where Can I Use DoNotPay's Free Trial Card?
You can use your free trial virtual cards for any service that asks for your card - but doesn't charge it "right away". Free trials, reservations, and sketchy "card on file" situations are now easy to navigate. Just drop a free trial card number and don't worry about it.
ESPN Go
Doordash
Postmates
Jira
PlayStation Vue
What Else Can DoNotPay Do?
Every virtual card has its own special purpose and best situations to use it. The Movo card is like an airlock between your bank account and your virtual payments. The DoNotPay free trial card protects you from unwanted charges by serving as a payment-proof placeholder. But that's not all we can do. Here are a few more helpful tools and services. Try them out and check a few more items off your to-do list.