Where Should You Look for a Mobile Notary in Atlanta?
Many Atlanta citizens dread visiting local notaries since the process takes up a lot of time. That's why they often go for a more convenient but also much pricier method—hiring a mobile notary.
The question is—should you pay for a mobile notary in Atlanta, or is there an even more practical and less expensive way to get your documents notarized?
DoNotPay will break down the mobile notary service in Atlanta and present an alternative that is bound to save your time, money, and nerves!
Which Services Can a Mobile Notary Perform?
Mobile notaries travel from location to location and notarize documents on request. Unlike regular notaries public who work from their offices, mobile notaries will meet you anywhere—including your home, office, or a nearby parking lot. They have flexible business hours, which means that they are typically available every day of the week.
Mobile notaries may perform any notarial act that a particular statutory law allows.
In Atlanta, a mobile notary can:
Witness

affidavits

Take verifications

Administer oaths and affirmations

Take

acknowledgments

Make certified

copies

of documents

Witness or attest signatures of deeds and other written instruments
To notarize your document properly, a mobile notary will:
Ask for your ID to confirm your identity

Check if you are of sound mind and not under the influence of drugs or alcohol

Make sure you are aware of what you are signing

Confirm that you are not being coerced into signing the agreement

Witness the signing

Notarize the document with a

signature

, stamp, and seal
Where Can I Find a Mobile Notary in Atlanta?
You can use several online databases to locate a mobile notary in Atlanta. Many of them display customer reviews that can help you pick a reliable notary.
The most popular notary search websites and guidelines on how to use them are presented in the table below:
Platforms
Details

Yelp

The website displays the most highly-rated mobile notaries in the area. By tapping on

Request a Quote,

you can access various information, including:

Contact

Details about the owner

Information on the documents the mobile notary can notarize

Business hours

123notary.com

You can narrow down your search to include

24-hour

notaries, Spanish-speaking notaries, etc. Scroll down to see the results and click on the mobile notary's name to access contact and other information

American Association of Notaries

You will access mobile notaries' contact information if you:

Enter the city, state, and ZIP code

Agree to the terms of service

Check the box for mobile notaries

Snapdocs

The website allows you to search by specific criteria. Scroll down and click on the mobile notary's name to access contact information
How Much Do Mobile Notaries in Atlanta Charge?
Georgia has established a $2 fee for standard notarial acts, including taking acknowledgments, administering oaths and affirmations, and protesting notes.
If you decide to hire a mobile notary, you have to pay for their travel expenses. Many states limit the mobile notaries' travel fees, but Georgia isn't one of them. Traveling notaries in Georgia can charge any amount for travel expenses as long as they inform the client of the price beforehand.
Can I Get My Documents Notarized Online in Atlanta?
Yes, you can! The State of Georgia has issued an executive order permitting remote online notarization due to the COVID-19 outbreak. Aside from ensuring your safety during the pandemic, online notarization has other perks as well.
While mobile notaries have many advantages, their traveling fees alone are enough to make you reconsider hiring them. With online notaries, you will get a much better deal.
Remote online notarization (RON) has revolutionized the way notary services are performed. Online notaries notarize documents via state-approved online platforms. That means that you don't have to leave the comfort of your home and that you'll finish the whole process on a video call.
Most online notaries are available 24/7, which makes scheduling an appointment much faster than via any other method. Since you don't have to pay for a notary's travel expenses, you will save your time, money, and nerves.
DoNotPay can provide assistance by connecting you with an online notary! and get your document notarized in double-quick time!
Get Documents Notarized Online With DoNotPay
DoNotPay has come up with a simple, convenient, and budget-friendly way to handle notarization. With our Notarize Any Document product, you won't have to look for an online notary platform. We will do all the heavy lifting for you, provided you perform a few simple steps: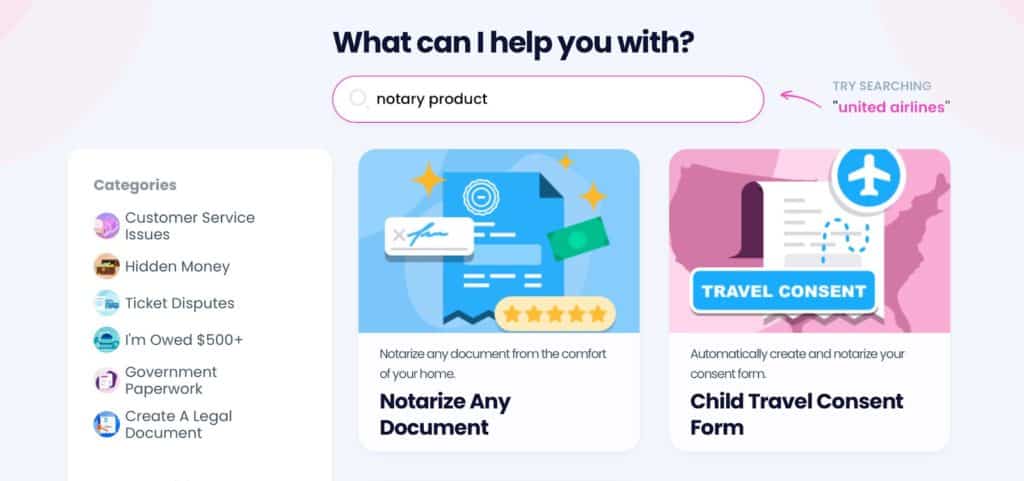 Find the

Notarize Any Document

product

Upload the document that you want to get notarized

Enter your email address
After completing the necessary steps, you will receive a link via email. Follow that link to schedule an appointment with one of our online notaries. During the meeting, you will e-sign the document and get it notarized with an electronic signature, stamp, and seal.
Another benefit of using DoNotPay is that you can access our integrated products for the same monthly subscription fee. Apart from getting your documents notarized, you can also create and fax them from the same platform!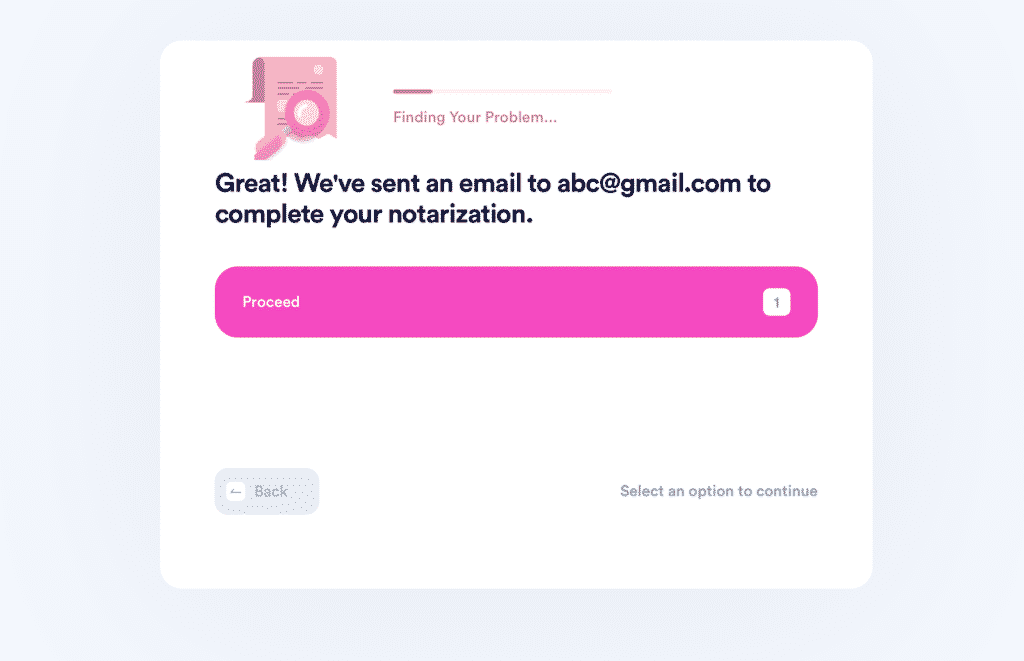 Rely on DoNotPay To Solve Your Administrative Issues
Getting your documents notarized, drawing up legal paperwork, appealing parking tickets, and similar activities usually require a lot of effort. DoNotPay offers various useful products that can help you deal with administrative problems quickly and save a lot of time. We can assist you with:
Protect Your Consumer Rights With DoNotPay
Companies complicate cancellation and refund processes intentionally, hoping that consumers wouldn't want to spend hours trying to solve the issue they're having. DoNotPay knows how important consumer rights are, and that's why we created numerous products that can help you:
Many people forget to cancel their free trials on time and end up paying for the services they don't even use. To prevent that, DoNotPay has developed a nifty virtual credit card that will allow you to enjoy free trials risk-free. Our virtual credit card will also help you avoid spam email notifications by generating a random email address that you can use when signing up for a free trial.