How to Get the Metro PCS Virtual Card?

Metro PCS is a Personal Communications Service that merged with T-Mobile in 2012. They offer a wide range of phone, internet, and virtual product packages. One of these virtual products is the , or the Metro prepaid MasterCard program. This VCC is a promotional event that is only available to select users who receive the offer as an SMS text message.
If you want the Metro PCS virtual card but have not received the SMS message, you may not be eligible to participate in the program. MetroPCS virtual cards are limited and operation of them is primarily controlled by Metro, not the user. Fortunately, there are other useful VCC programs for you to choose from including the DoNotPay free trial card.
What Is a Metro PCS Virtual Credit Card?
The is a prepaid MasterCard that does not exist in physical form. As a virtual card, it is accessed through a website or app and the generated card number(s) is used to make online purchases.
The Metro PCS virtual card is available through any vendor that accepts MasterCard and virtual payments. It cannot be used in a physical shopping situation where a card swipe or scan is required. You may be able to use the Metro PCS virtual card in real-world purchases if the vendor accepts app payments.
The Metro PCS is not a traditional VCC as it is prepaid and therefore functions more like a debit card than a line of credit. Users cannot replenish their own card balance, this is an action limited to the program administrator.
How Does the Metro PCS VCC Work?
The Metro PCS VCC is not the most functional or flexible card on the market.
The card can only be loaded once with a lump-sum amount between $5 and $1,000.
The virtual card will not work with any vendor located outside the US and its District of Columbia
You cannot exceed the balance of the card temporarily
Apart from these limitations, the Metro PCS virtual card works like any other virtual card. You can enter the given number to make purchases and connect through the app.
How to Get the Metro PCS Virtual Card?
The only way to get a Metro PCS virtual card is through the SMS promotion. If you do not receive promotional texts from Metro PCS, you might not ever see the offer. The offer is also limited to a few people each year.
If you do get the text message:
Follow the link in your SMS text message
Complete the form on the Metro landing page
Use the receiving phone as your primary mobile phone number
Submit your first and only deposit to the card
Begin using the Metro PCS VCC
What Is the DoNotPay Free Trial Card?

While the may be hard to get ahold of, the DoNotPay free trial card couldn't be more accessible. There are many virtual cards available on the market, and each one is unique. Some of them connect to bank accounts, some have lines of credit, and some are pre-paid. Some VCCs have great, intuitive apps and some of the apps are clunky. Here at DoNotPay, we like to keep it simple.
The DNP Free Trial Card connects to no account at all–it is a card designed not to make payments. Have you ever been asked for your card "just in case" in a way that felt sketchy? Don't like the looming threat of a paid subscription after every free trial? We feel the same way, which is why we designed the Free Trial Card. The DoNotPay VCC is a randomly-generated card number that verifies as a real card in online forms. However, it doesn't process payments. So if a service tries to charge you after-the-fact, you are completely protected.
The DNP Free Trial Card:
Protects your financial information from being stored and stolen
Prevents fees and follow-up charges
Cancels free trial subscriptions for you
Acts as a placeholder when a placeholder card is needed
How to Get the DoNotPay Free Trial Card
Log Into DoNotPay
Search for "virtual card" and select the Free Trial Card product
Enter the name of the merchant you are buying from
Generate a fresh, temporary card number to enter instead of your personal data
Enjoy free stuff without worry about being charged later.
Here are the prices for Metro PCS virtual card transactions:
Transaction Type
Frequency and/or Dollar Limits
Load from Program Manager
Card is Non Reloadable $5.00 up to $1,000.00
Virtual Account Purchases

(Signature)

No limit to the number of times per day

$1,000.00 per transaction, up to $1,000.00 per day

Virtual Account Purchases

(PIN)

No limit to the number of times per day

$1,000.00 per transaction, up to $1,000.00 per day
Where Can I Use DoNotPay's Free Trial Card?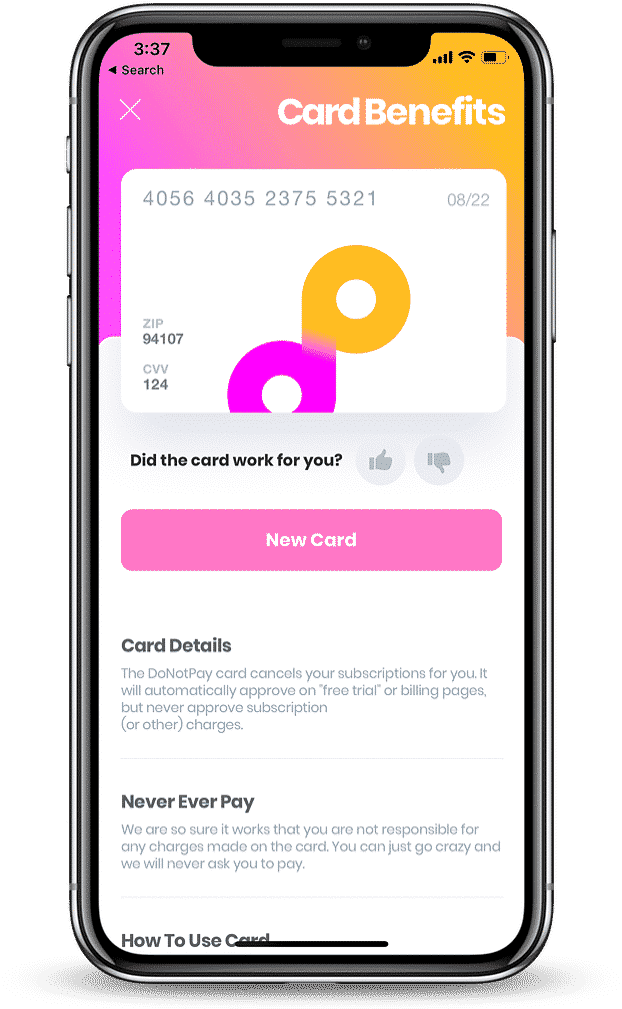 You can use the DoNotPay free trial card anywhere free trials exist. Really, the DoNotPay Virtual Credit Card is handy for any service that wants to "hold onto" your card without charging you. Whether this is a routine procedure or feels sketchy, the free trial card protects you from charges and protects your cards from data theft every time you generate a new number. It's also instant approval!
Difference Between a Credit Card and a DoNotPay Virtual Credit Card
Here are the disadvantages of using your own credit card for free trials:
Connects to your finances
Charges can be made
Reveals your personal information
You can find it in physical form
Your personal card information is exposed
Possible to lose money if something goes wrong
Card information is stored on websites and can be stolen
Here are the advantages of using the DoNotPay Free Trial Card:
Has no impact on your finances
Charges cannot be made
Does not store personal information
You can only use it online
Your real card information is never used
Never lose money, no charges are processed
Stored card data is completely useless
You can forget to cancel with no consequences
What Else Can DoNotPay Do?
DoNotPay can do more than generate virtual credit cards. This is just one of our many useful automated tools and services. Check out a few more to complete your plans, check off your to-do list, and find opportunities to save money along the way.