Understanding the McKay Scholarship in Florida
Do you have a disabled child who is not satisfied with the current public school? The McKay Scholarship for Students with Disabilities Program offers funds to help you transfer your kid to another public or private school.
DoNotPay's guide will help you understand all about the McKay Scholarship. The Florida Department of Education helps students and their parents cover education-related expenses worry-free!
Besides the McKay Scholarship, you can —be it for high school seniors or college and graduate school students—your kid is eligible for in a few minutes with DoNotPay.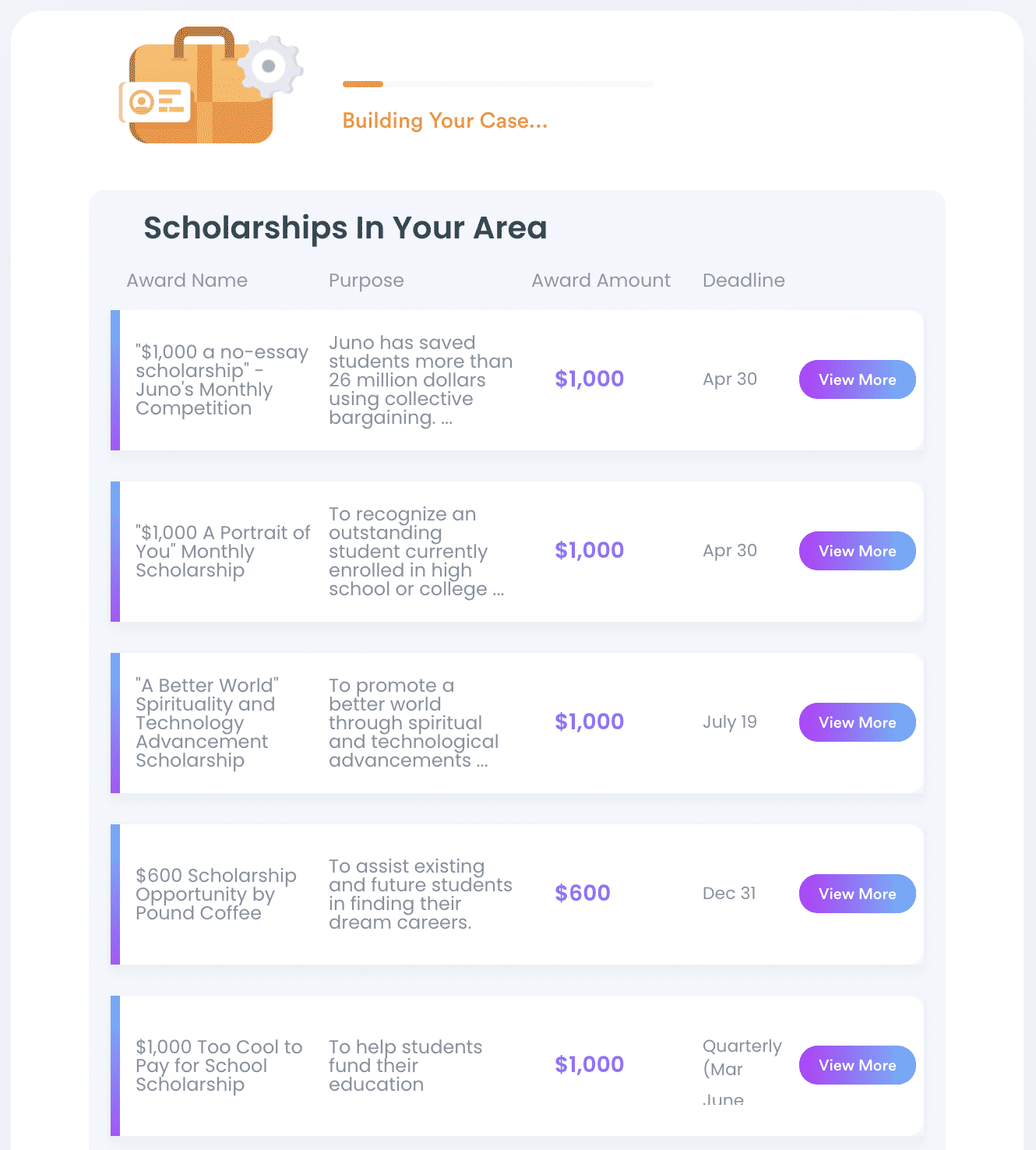 What's the McKay Scholarship Program?
The McKay Scholarship program provides financial aid to parents of eligible disabled students to help them cover the costs of transfer to participating private or public schools of their choice.
The McKay Scholarship doesn't impose income requirements—any K-12 student who meets the eligibility criteria can apply.
Eligibility Requirements for the McKay Scholarship
Parents of the students who have any of the following disabilities can apply for the McKay Scholarship:
Intellectual and learning disabilities
Emotional or behavioral disability
Traumatic brain injury
Developmental delays
Speech, visual, language, and hearing impairments
To qualify for the McKay Scholarship, you must apply before withdrawing the child from the current public school. Your child should also have an Individual Education Plan (IEP) or a 504 accommodation plan and meet at least one of the requirements below:
Enrolled and reported for funding in a Florida public school for at least one year prior to applying for the scholarship, with the exception of foster children or dependents of in-service military personnel who moved to the state on duty
Attended Florida School for the Deaf and the Blind and reported for funding in the previous October and February student membership surveys in kindergarten through grade 12
Enrolled in Specialized Instructional Services (SIS) during the previous school year and has a current IEP or 504 accommodation plan produced by the local school board in line with State Board Rule
Accepted to an approved private school
Reported to have received Specialized Instructional Services by the Office of Early learning
You also need to apply for the scholarship at least 60 days before the first McKay scholarship payment.
How To Apply for the McKay Scholarship
To apply for the McKay Scholarship Program, follow these steps:
Visit the Florida School Choice website
Tap the McKay Scholarship link
Scroll down and click on the Parents button
Select Apply for a McKay Scholarship
Follow the on-screen instructions to submit your application
If you are a foster parent, you can apply using the Foster Intent Waiver Request Form instead.
After completing these steps, you should receive a confirmation number that you can use to check the status of your application.
If you experience problems, you can call the Office of Independent Education at 1-800-447-1636.
The McKay administrator can take up to 30 days to determine the student's eligibility. Once your application is approved, here's what you should do:
If you choose the McKay Scholarship public school option, get in touch with your school district for further instructions
If you opt for a private school, select and contact one from the Mckay Scholarship school list
McKay Scholarship Application Deadlines
The McKay scholarship has two deadlines:
Intent filing deadline—the date by which you need to apply for the scholarship
Enrollment deadline—the date by which you must enroll your child in a McKay participating school
Although you can apply at any time, the dates when you file your application and get the child enrolled determine the amount of funding your kid can get, as presented below:
| Application Date | Enrollment Date | Maximum Scholarship Amount the Student Can Recieve |
| --- | --- | --- |
| July 3 | August 2 | 100% |
| September 2 | October 2 | 75% |
| December 3 | January 2 | 50% |
| January 31 | March 2 | 25% |
Can You Lose Eligibility for a McKay Scholarship?
A student can lose eligibility for the program if their accommodation plan expires while attending a public school and if they:
Re-enroll in a public school without the parents sending an advance notice to the district
Graduate from high school
Reach 22 years of age
A student is not eligible if they are:
Taking part in a private tutoring program in accordance with s. 1002.43
Enrolled in the Florida School for the Deaf and the Blind
A beneficiary of a Florida Tax Credit Scholarship
Enrolled in a home education program
Attending a state-funded virtual school, correspondence school, or distance learning program, with more than two courses per year
Apply for Other Scholarship Programs
Applying for multiple scholarships can increase your chances of winning one.
Many scholarship programs help disabled kids achieve their education goals, including:
Gardiner Scholarship—for disabled children (from three-year-olds to up to 12th grade)
Fred J. Epstein Youth Achievement Award—$1,000 prize awarded to high school students under the age of 19 who have learning disabilities
Optimize My Firm Scholarship for Students with Disabilities—a one-time $500 scholarship for high school seniors with physical disabilities
Anne Ford Scholarships—$10,000 award for high school seniors with learning disabilities
Keep in mind that programs (especially those for high school seniors) may require submission of the following paperwork:
Find More Scholarships and Apply for Them in a Few Minutes Using DoNotPay
Finding scholarships can be an exhausting task, especially if you don't know where to begin your search. With DoNotPay, you can get a list of all the scholarships and grants you qualify for within a minute, regardless of the student category. Our app can help you concentrate your search on scholarships for veterans, international students, women, and similar.
All you need to do is:
Find the Apply for Scholarships feature
Answer a few questions about your:

Education level
Academic interest
You can also automate your applications for no-essay-scholarships with a few clicks.
Do you have more questions regarding scholarships? You can rely on DoNotPay for other helpful guides on various scholarship-related matters, such as: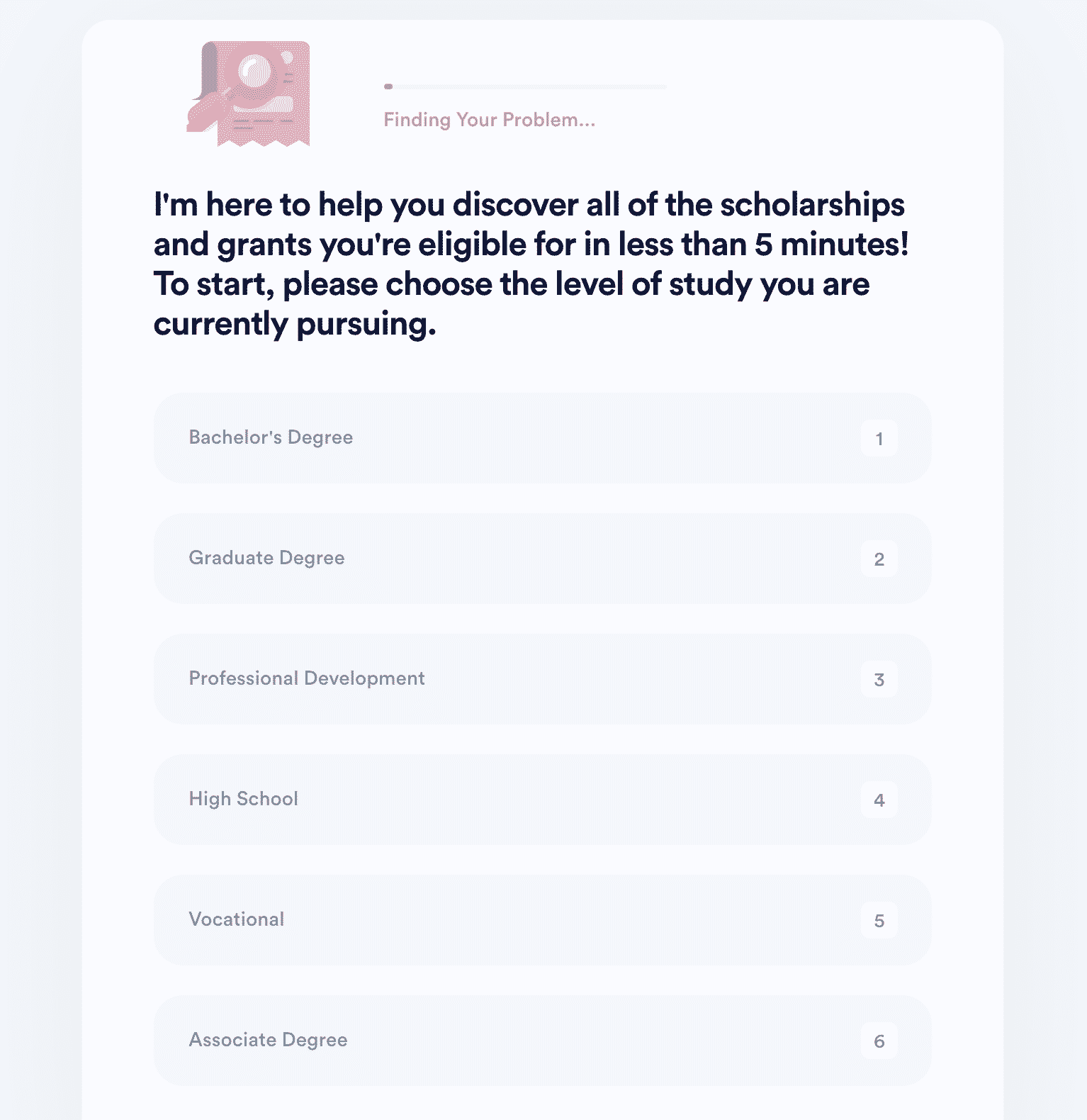 Explore DoNotPay's Product Range
Are you looking for additional assistance from our app? We're happy to inform you that DoNotPay provides you with a number of useful tools that you can use to complete mundane tasks in the blink of an eye! Sign up for our app and let us help you get:
DoNotPay Resolves Your Financial Issues in a Few Taps
You don't have to struggle to figure out how to resolve financial problems yourself when you have our app at your disposal. In only a few clicks, you'll be able to discover any unclaimed money under your name, submit insurance and warranty claims, or request compensation for delayed flights.
But that is not all! Lowering your utility bills, appealing parking tickets, or canceling memberships and subscriptions is also something you can do in no time and with minimum effort if you use DoNotPay! Work smarter, not harder!