Lufthansa—Lost Luggage Claimed Easily With DoNotPay's Help
There's nothing worse than spending hours on a plane and arriving at your destination just to realize that you're missing your phone, wallet, or, even worse, that there's no sign of your luggage. Our article will provide solutions to your Lufthansa lost luggage problem and show you how to track it down easily.
What To Do if You Lose Luggage After Flying With Lufthansa
If all the luggage has been delivered at the baggage reclaim and there still isn't a sign of yours, you can:
Visit the Lufthansa Delayed Baggage webpage
Get in touch with Lufthansa customer service
Visit the Lufthansa Delayed Baggage Webpage
To use the Lufthansa Delayed Baggage service, you must first obtain a written confirmation and a reference number by reporting the incident at the Lufthansa baggage tracing desk at the airport. Once you obtain them, you need to:
Go to Lufthansa's Delayed Baggage webpage
Click on the Create a Report window
Enter your surname and ticket number (the 13-digit number found on your boarding pass)
Describe your luggage in detail (the more details you provide, the higher the odds of your item being found)
In case your luggage is retrieved, it will be delivered to your preferred address as soon as possible. If it's not found within five days, Lufthansa will contact you via phone so you can make a list of items that are in your lost baggage. The company will then use the list to conduct a search for the contents of your luggage.
Get in Touch With Lufthansa Customer Service
If you don't want to fill out online forms, you can contact Lufthansa customer service by dialing 516-296-9650. Once the Lufthansa representative picks up, you need to tell them your:
First and last name
Daytime telephone number
E-mail address
Flight number and dates of travel
Booking code
After providing the representative with the necessary information, you need to describe your luggage.
DoNotPay Helps You Report Your Missing Luggage Without Breaking a Sweat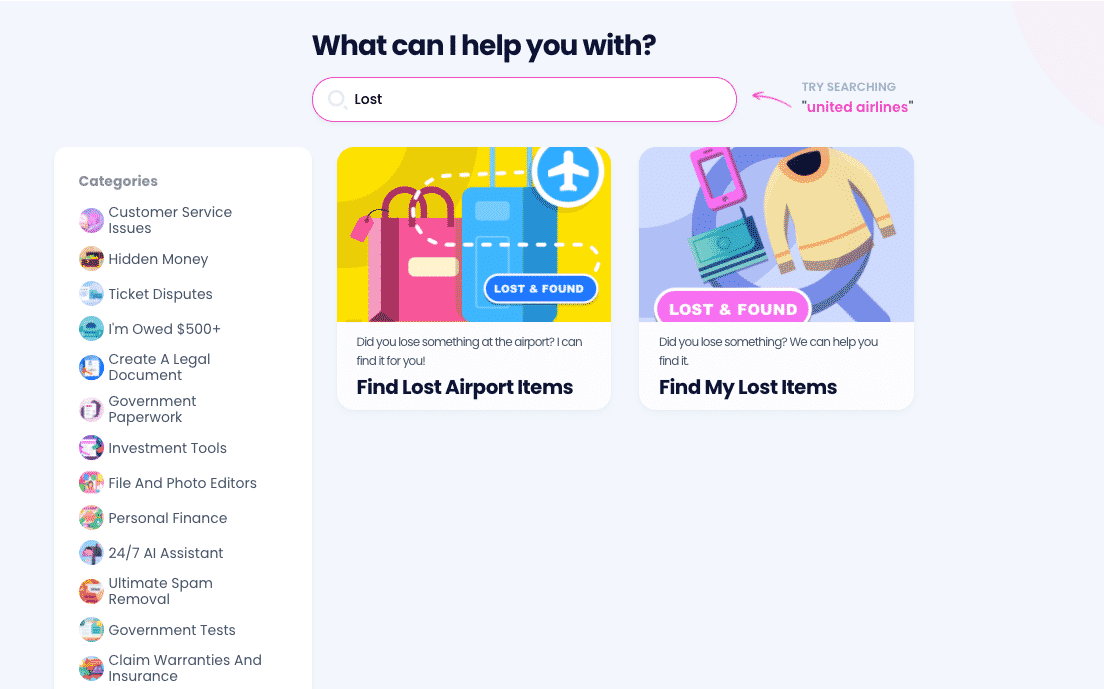 Reporting lost luggage on time is crucial if you want to retrieve it. Most baggage that's missing is found during the first couple of days, but airlines don't hold onto luggage forever. If you don't want to waste precious time on filling out forms and talking to customer service representatives, use DoNotPay! Our AI-powered app will contact Lufthansa in your stead, and all you have to do is:
Locate our Find Lost Airport Items tool
Answer our chatbot's questions, such as:

Where did you lose or leave your items?
Which airport did you leave your items at?
Which items did you lose?

Click on Submit
We'll process your request instantly and reach out to Lufthansa for you. In case your luggage turns up, you'll be informed right away.
Not only can DoNotPay help you find luggage and other items you lose in airports, but we can also help you get compensated for any canceled, delayed, or late flights.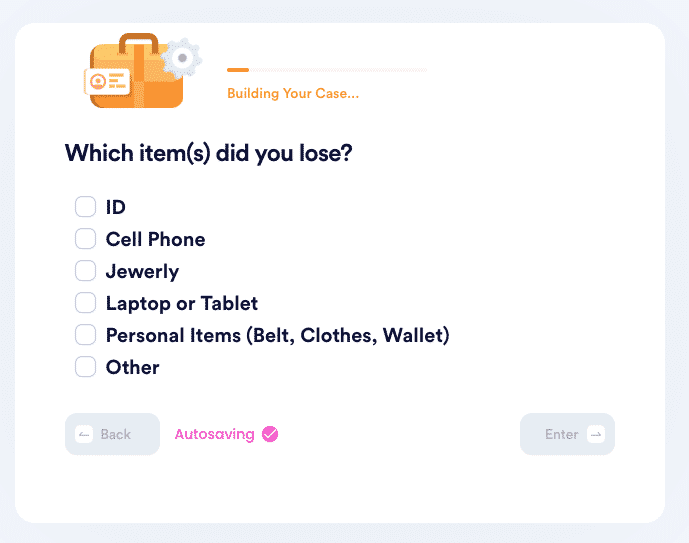 Don't Lose Your Luggage Again! Here's What You Can Do
If you want to lower the chances of losing luggage in the future, check out the table below for some useful tips:
Tips
Explanation
Purchase a brightly colored suitcase
Buy a suitcase in a flashy color, such as yellow or pink, as it will stand out in the crowd and be easy to spot. You can also attach a bright bandana or a luggage strap
Attach a luggage tag to your bags
Get a luggage tag and write your name and contact information on it
Purchase a tracking device
Tracking devices can help you locate your luggage in no time in case you lose it again. All you have to do is connect the tag to your smartphone, and you're all set. You can choose from various manufacturers, such as:

LugLoc
Trakdot
PocketFinder
How Can DoNotPay Tackle Tricky Tasks for You?
Using DoNotPay is like having a magic wand that helps you with the assignments you are too busy or bored to do. Here are some procedures we can simplify for you:
Keeping in Touch Is Simple With Our App
Are you having trouble communicating with your loved ones in jail? Our app features a tool that enables you to send letters to inmates from any device! We can help you get in touch with a notary public who can notarize your legal documents virtually or reach out to embassies and consulates or government reps. Reaching customer care centers also gets much simpler with DoNotPay by your side as you can skip phone queues the easy way.
We can help you avoid unwanted communication by stopping persistent robocalls and text or email spam. All you need to do is sign up for our services!