Contact the DC Metro Lost and Found Department Immediately
Losing an item in transport can be tricky since there are a lot of people who can take it easily. What if you have lost your wallet, home or car keys, phone, or any other object you need for your everyday activities?
This article presents the best ways to get in touch with the DC Metro Lost and Found Department to alert them about your lost item once you realize it's missing.
Register for DoNotPay to find a missing object without delay. We know the best way to get in touch with Metro, MTA, or any other company.
What Missing Items Can You Locate Through the DC Metro Lost and Found Department?
The DC Metro—Washington Metropolitan Area Transit Authority (WMATA)—Lost and Found office can help you find a missing item if it belongs to one of the following groups:
Electronic Devices
Personal Items

GPS
DVD
Pager
Beeper
Camera
Headset
Projector
Tablet PC
Computer
Cell phone
MP3 player
eBook reader

ID
Cash
Wallet
License
Passport
Debit and credit cards
How To Report a Missing Object to the WMATA Lost and Found Department
If you've lost an item in Metrorail and Metrobus systems, you need to file a report with the WMATA Lost and Found Department.
Here's how you can do that:
In person
Online
By phone
With DoNotPay
Visit a Metro DC Lost and Found Office
You can head to the DC Metro Lost and Found office to pick up your lost item in person at 6505 Belcrest Rd Hyattsville.
Keep in mind that you can visit the office only during business hours, i.e., Monday–Friday, 9 a.m.–5 p.m., and must:
Provide identification
Wear a face mask
Follow social distancing guidelines
The last two requirements are in effect during the COVID-19 pandemic.
Report a Missing Object to DC Metro Lost and Found Staff Online
You can report lost items to WMATA by completing an online form. To do that, take the following steps:
Access the Lost and Found online form
Select the type of your lost item from the drop-down menu
Choose the sub-group it belongs to
Indicate the color of your lost item
Enter the amount of cash you had in the lost object (if applicable)
Provide the description of the missing object
Select the service you used—Metrobus, Metrorail, Parking, etc.
Choose the location and route
Provide the:

Bus number
Destination
City, state, and date of the incident

Upload a photo or video of the lost item
Provide the contact data, including your:

First and last name
Email address
Physical address
Contact phone (optional)

Hit Submit Your Report
Upon filing the report, you should get a confirmation email with your case number. If you've forgotten to add certain details about your lost item in the report, you can reply to the email you receive and include the additional specifics there.
Talk to WMATA Lost and Found Personnel
If you prefer speaking to a representative, you can get in touch with a Metro DC Lost and Found staff by phone:
At 202-962-1195
From Monday–Friday, 9 a.m.–5 p.m.
Keep in mind that you:
Should arm yourself with patience since you'll probably need to wait for a while until a staff member answers your call
Cannot report your lost item by phone outside the above-listed business hours and during weekends and holidays
DoNotPay Can Report Your Lost Items in Your Stead
You don't have to dial a phone number over and over again, wait on hold, or waste your energy and time trying to get a representative to answer your call or respond to your email.
DoNotPay knows the best way to reach the Lost and Found department of TriMet, Budget, Disneyland, Carnival Cruise Line, or any other enterprise and organization.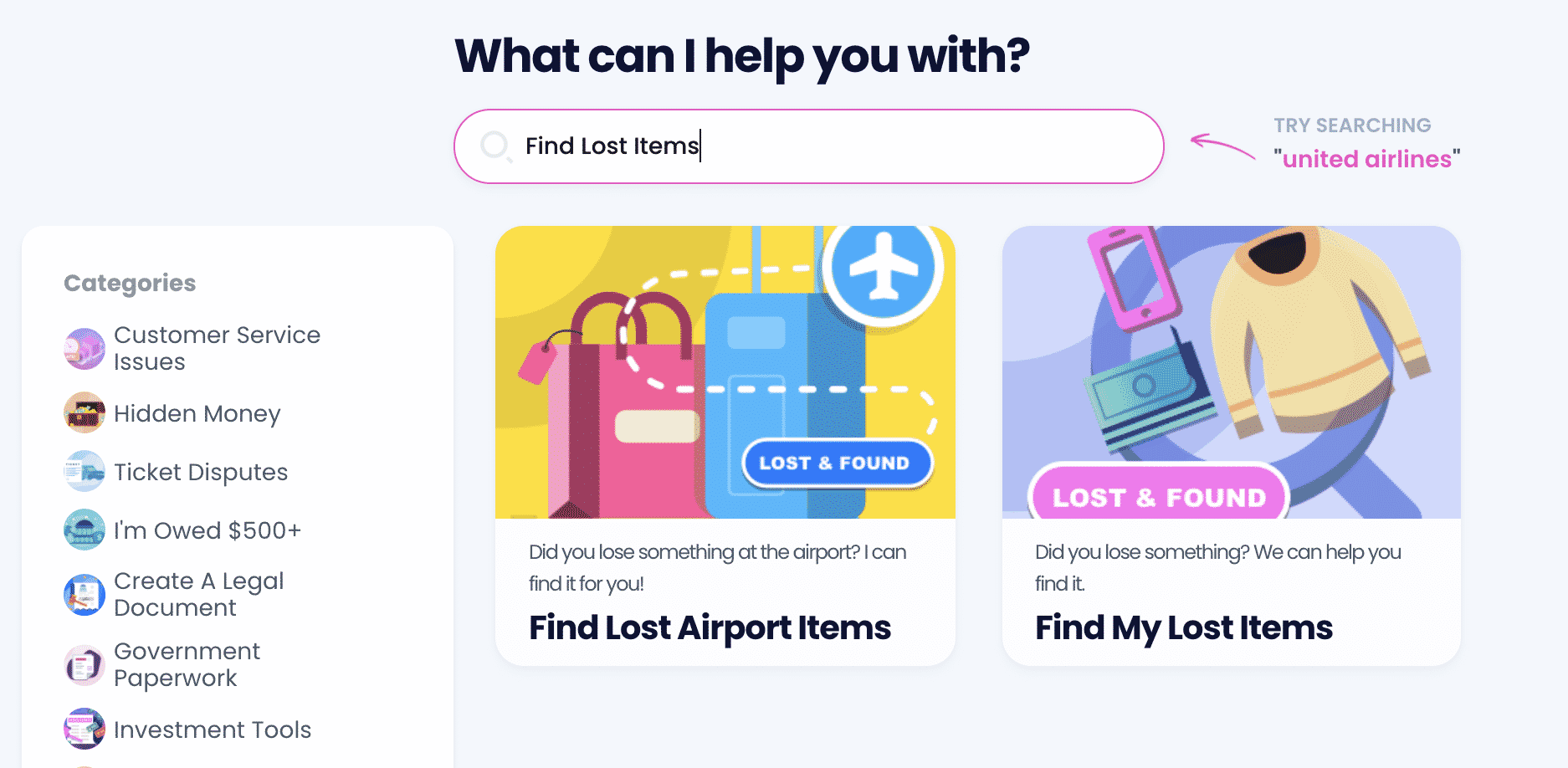 We can report your missing keys, AirPods, Apple Watch, a phone you left in Uber or Lyft, or any other lost items in a matter of minutes!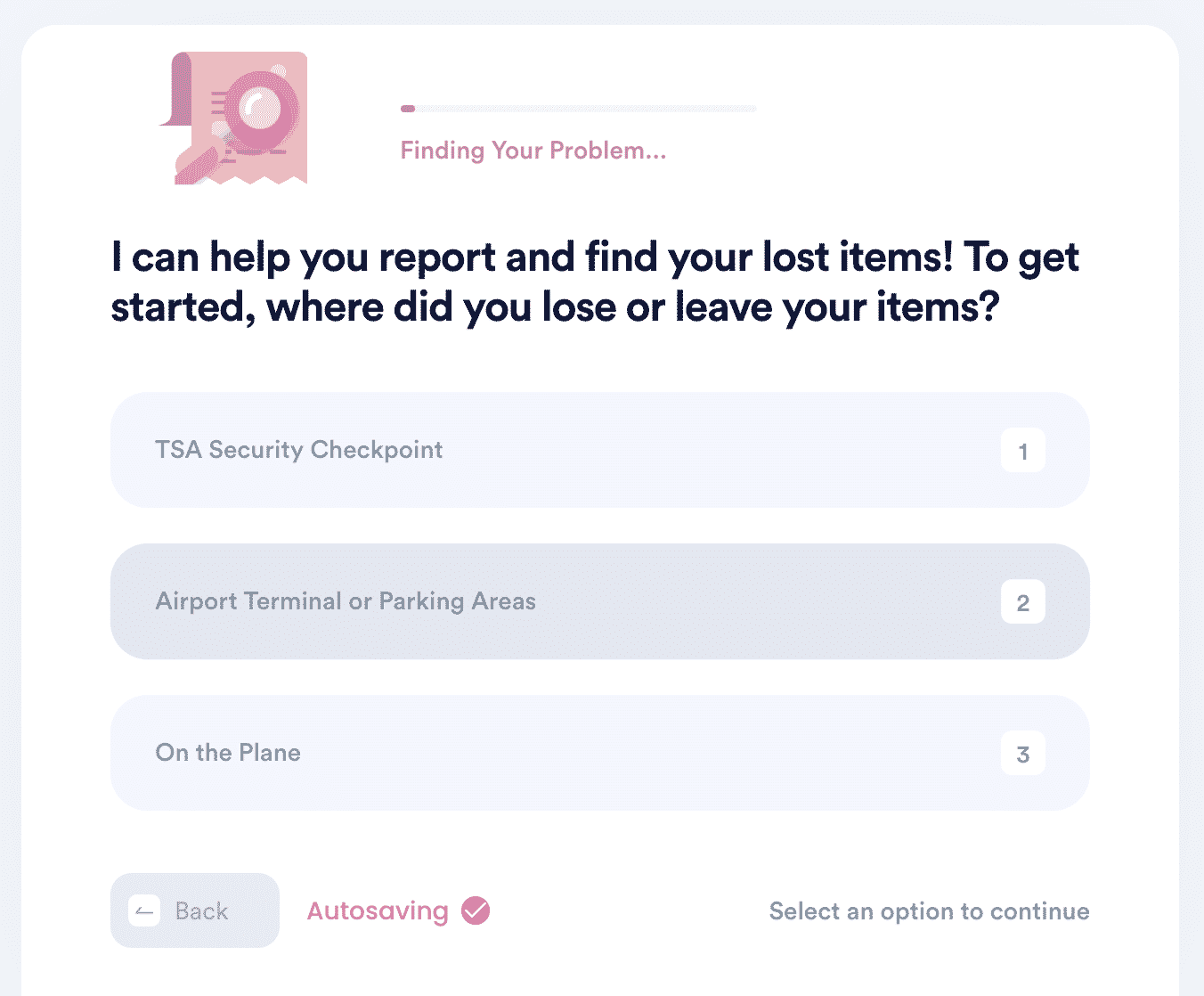 Subscribe to DoNotPay and take these steps:
Open the Find My Lost Items feature
Tell us where you last saw the missing object
Enter the description of the item and upload its picture (if you have one)
Provide the date and time you last had the object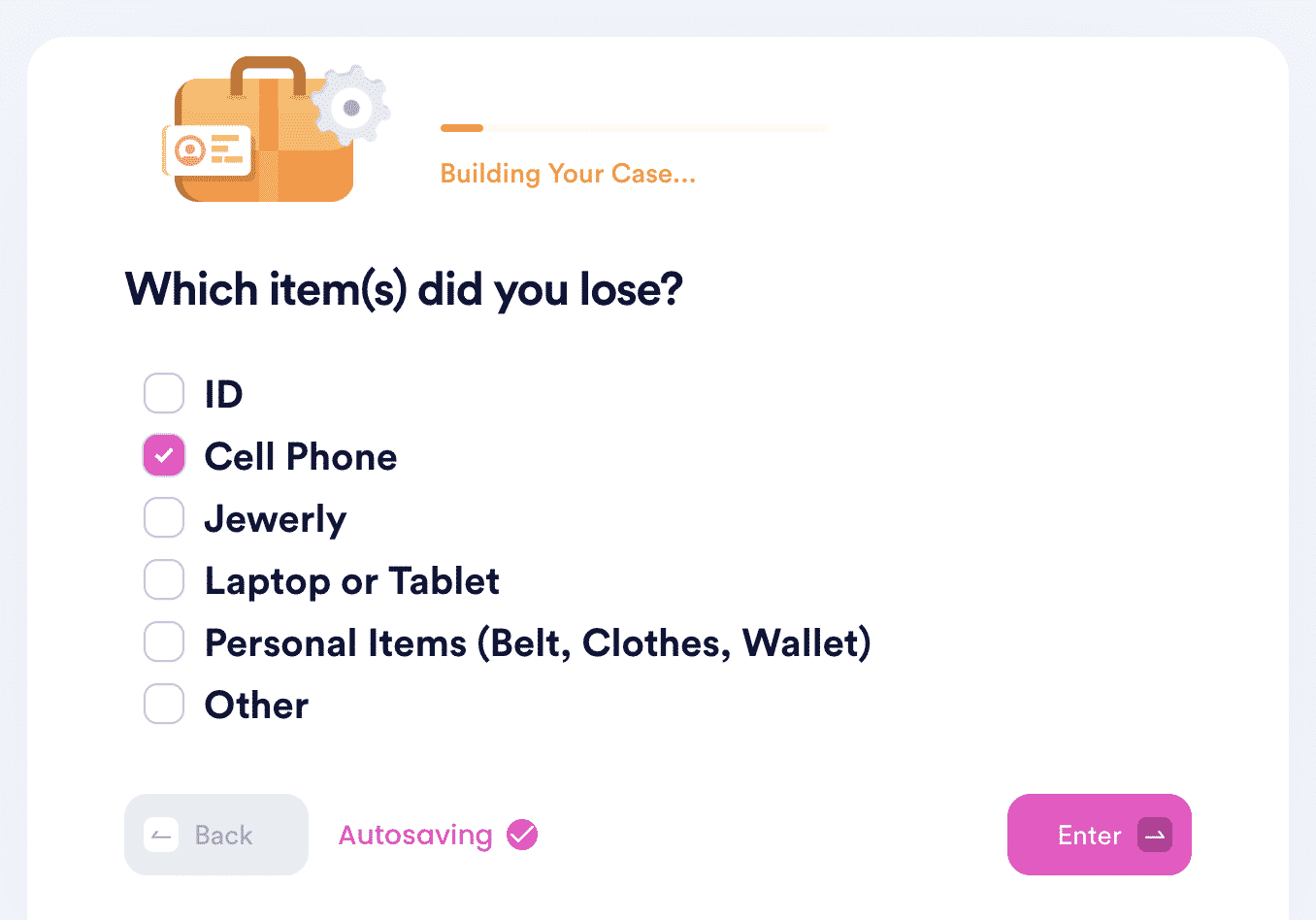 As soon as you enter the basic information, our AI-powered app gets hold of the company in question on your behalf. If your lost item is found, we'll inform you how you can get it back.
You've Alerted the DC Metro Lost and Found Staff—What's Next?
Check out the following table to find out what actions a DC Metro Lost and Found representative will take to find your lost item:
What Happens After You Report a Missing Item
What Happens if Your Lost Item Is Found
A DC Metro Lost and Found representative will:

Provide you with the case number that you need to use in all future communication
Search the Found Items system
Get in touch with you if they find a match

If your lost item is found:

It'll take a few days for it to reach the WMATA Lost and Found Department
You can choose to pick up the found item in person or have it delivered to you
The cost of mailing will be at your expense if you select to have the missing object sent to you
Deal With Administrative Issues With Ease
Drafting contracts and agreements, getting your documents notarized, disputing parking tickets, and creating passport photos will become a breeze once you sign up for DoNotPay.
We can also help you:
DoNotPay Helps You Protect Your Consumer Rights
Don't let companies take advantage of you! With our help, you'll be able to cancel any subscription or membership and request a refund.
As a consumer, you may be overwhelmed with endless steps and piles of paperwork you need to go through to get what you're owed. This is where DoNotPay comes in—let us be your assistant and fast-track the following:
Have you forgotten about a free trial you signed up for? Avoid being charged by using our app! With DoNotPay's virtual credit card, you'll get unsubscribed automatically without the company taking any money from you.
Are you getting spammed via email or text? Get rid of spam for good with our nifty app!