Understand How the Kmart Return Policy Works and Get Your Money Back
If you went to Kmart, bought a dining table, chairs, or any other item on impulse, then came home and realized you do not like the product you purchased—don't fret. DoNotPay is here to show you how you can return bought items quickly and hassle-free.
Kmart Store Return Policy—What You Need To Know
To qualify for a return, you must fulfill certain requirements, such as:
You must return the item within 28 days of the initial purchase
The item in question must be unused and undamaged
The packaging must be undamaged
You need to provide a receipt with the product
The following items are non-returnable:
Gift cards
Makeup
Fragrances
Face masks
Products bought on clearance
Seasonal products
Loungerie
If you've decided to return your item to Kmart, you can do it in one of two ways:
In store
Via mail
In-Store Returns
Prior to returning an item, you must contact the Marketplace Seller. You can reach out to customer service online, via email, or over the phone. Once the store has accepted your request, you need to bring the item directly to the store. The product in question must be returned:
In as-new condition
In the original packaging and with all accompanying accessories
With the order invoice/receipt
Mail Returns
If you wish to return an item via mail, you must start the process online. Here are the steps you should follow:
Visit the official Kmart website
Login to your account
Go to the order section
Select the product you want to return
The store will initiate the return process for the product in question. To send the item back, you need to:
Pack the product carefully and include all the documents it came with
Place the shipping label that the store provided on the package
Mail the package either to the store you bought the item at or to the one closest to you
In some cases, the store will send a courier to pick the item up.
Once you mail your item, you need to wait until the store receives your parcel and determines whether it meets all the criteria for the return. If it does, they will issue a refund or approve an exchange.
Kmart Refund Policy
The money will appear in your bank account within 5–7 days of Kmart issuing a refund. The store will keep you updated on the process on a regular basis. You might have to wait longer to get the money, depending on your bank.
Kmart Exchange Policy
If you are not happy with a certain item and you don't want to request a refund but get the same item in a different size, color, or shape instead, you can exchange it. For the store to accept your item, you must not:
Miss the return deadline
Nullify warranty for home appliances
Wash clothes or change them in any way
Remove tags from the product
Lose the documents that came with the item (like the warranty leaflet)
Return a Kmart Item With DoNotPay's Help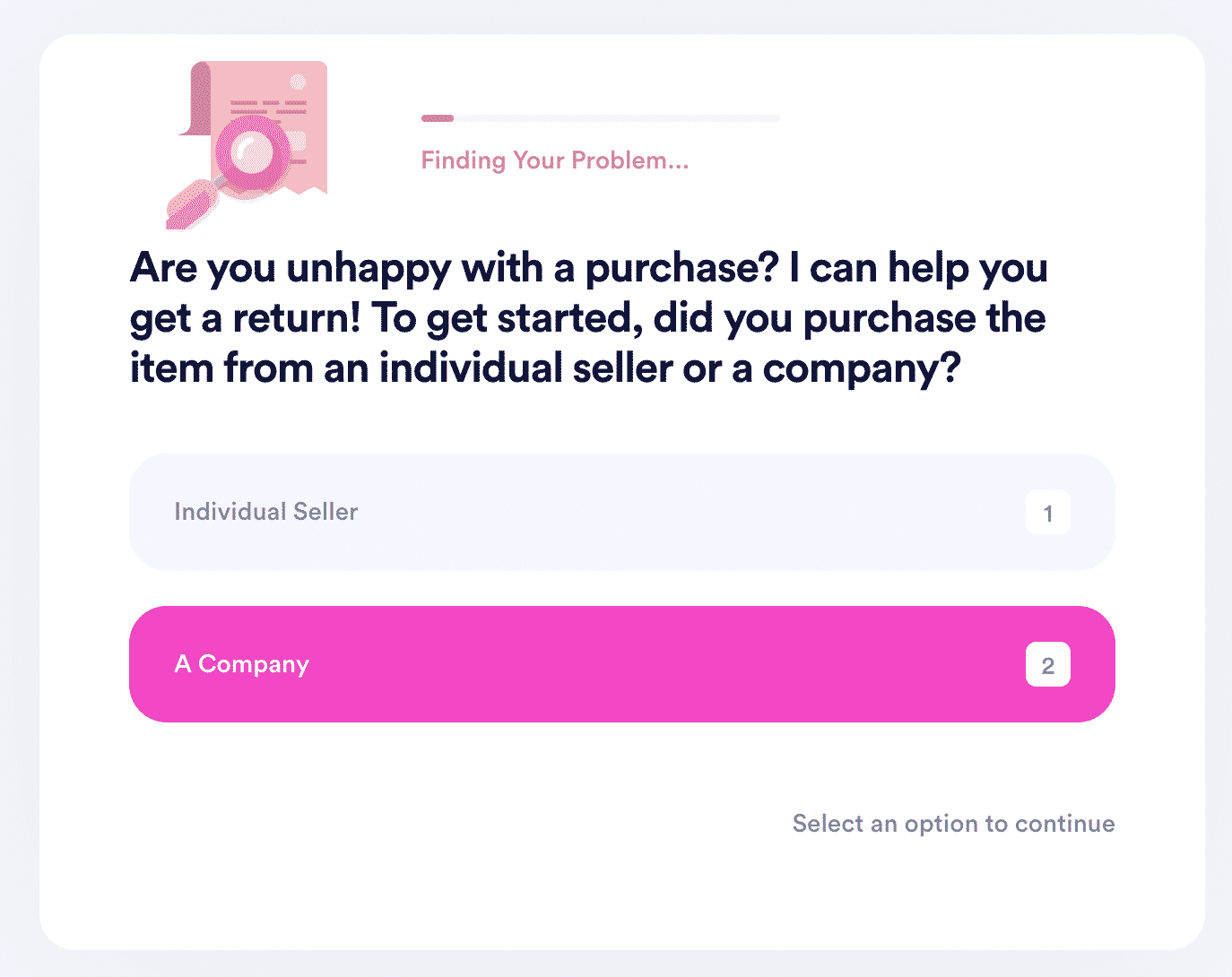 Kmart's return process can be overcomplicated and tiring, but DoNotPay can help. With our easy-to-use Return My Purchase tool, you can initiate the return in a matter of minutes.
We'll write and send a personalized request letter to Kmart, letting them know you're unhappy with your purchase. To expedite the process, we will also set a response deadline.
All you have to do to start a return is:
Sign up for DoNotPay
Go to the Return My Purchase product page
Answer a few questions and, if necessary, upload pictures.
Submit the request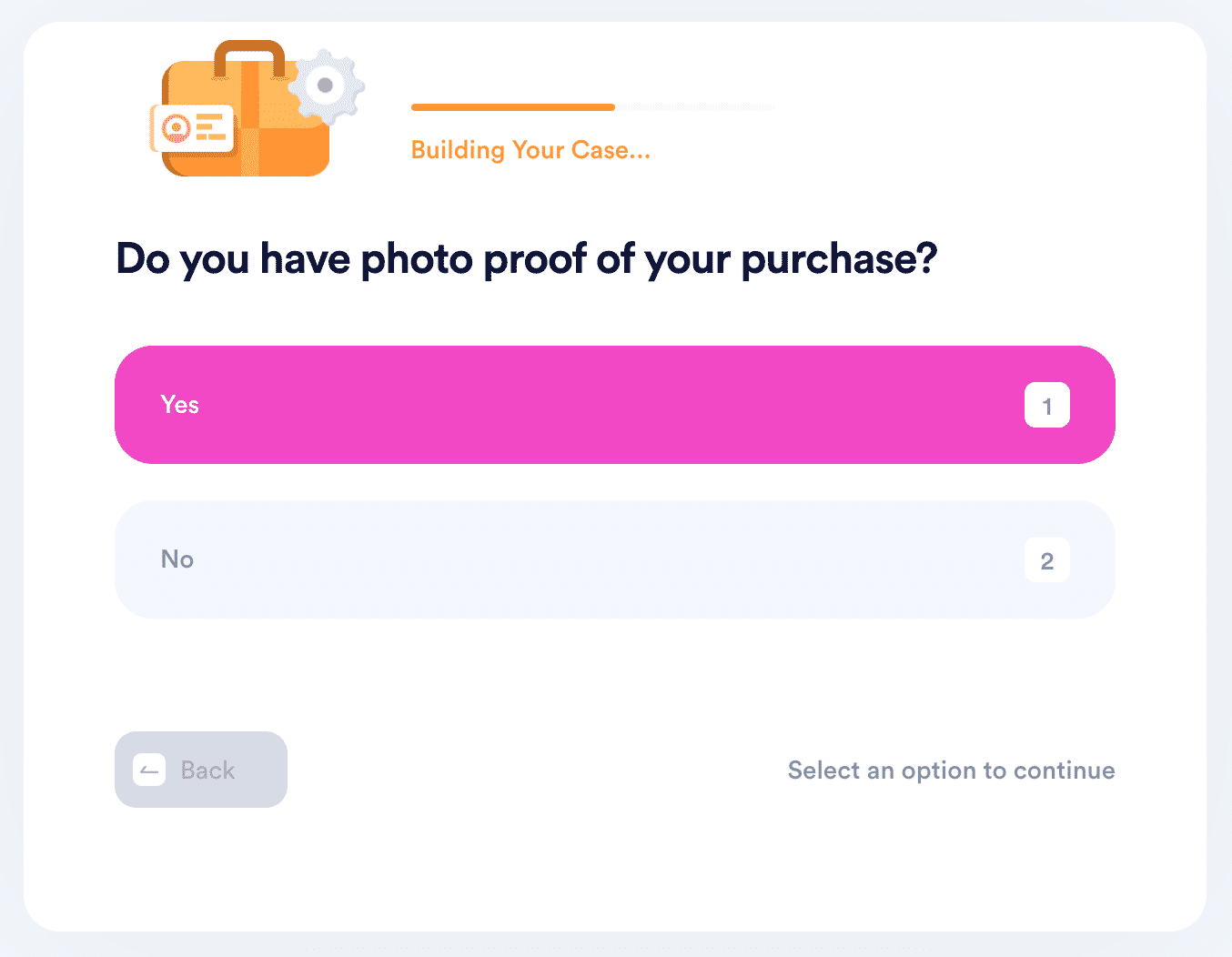 Take a look at some of our helpful guides if you wish to speed up the return process with any other company:
Say No to Bad Purchases—DoNotPay Will Help You Get Back What's Rightfully Yours
Have you finally returned that damaged item thanks to DoNotPay's nifty product? Our app's capabilities don't stop there—we can assist you in doing so much more!
Do you believe you have some missing money? Use the world's first robot lawyer before the government claims your assets! Are you feeling lucky and want to enter sweepstakes without purchasing anything? DoNotPay will sign you up for them automatically! Looking for ways to save on property taxes or utility bills? We'll show you the way. Don't want to get charged for free trials that auto-renew into paid subscriptions? We'll help you cancel them on time.
No matter the issue you're facing, DoNotPay is here to resolve it in a split second.
Need Help With Anything Else? Your Robot Lawyer Will Provide!
Aside from sending return request letters to a myriad of companies in your stead, we can also help you get refunds from airlines, earn off robocalls, appeal parking tickets, protect your intellectual property, claim insurance and warranty, and so much more!
Are you dealing with rude neighbors or mean coworkers that discriminate against you? DoNotPay will help you fight for your rights!