Iberia—Lost Luggage Found Effortlessly With DoNotPay
You had a long and exhausting flight and finally arrived at your destination just to realize that your luggage is missing? This can be a frustrating experience, especially if you start panicking because you're not sure what to do. That's why we created this article to explain how you can track and report your lost baggage.
DoNotPay will help you solve your Iberia lost luggage problem as effortlessly as possible. We will also present you with a tool that you can use to file a lost luggage report with Iberia in a few clicks!
What To Do if My Luggage Never Arrived?
Your luggage should be delivered to you within 24 hours of your landing. If the lost bags don't arrive in the following 74 hours, you can reach out to Iberia in the following ways:
| Method | Yes/No |
| --- | --- |
| Filling out an online form | Yes |
| Dialing the customer support | Yes |
| Sending an email | No |
| Using DoNotPay | Yes |
How To File an Online Form for Lost Luggage After Flying With Iberia
To reach out to Iberia customer support regarding your lost luggage, you need to file a form on their official website. The form has to contain:
Claim type
Booking code
Ticket number
Once you submit the form, you will receive a reference number that you can use to check the status of your missing luggage later on at the bottom of the same page.
Dial Iberia Customer Support To Report Your Lost Luggage
If you don't want to waste time filling out online forms to find your lost luggage, you can dial 1-800-772-4642 and reach Iberia customer service that works 24 hours (Monday to Sunday). Once a customer support representative picks up, you need to:
Explain the situation
Describe your luggage
Provide details about your flight:

Flight number
Airline name
Date of the flight

Leave your contact information
Use DoNotPay To Find Your Lost Luggage Easily
Don't feel like talking to customer service representatives and completing unnecessarily long forms? DoNotPay can contact the airline in your stead and help you locate your luggage. Our AI-powered app is simple to use, and it requires you to spend only a few minutes when reporting your lost luggage.
Use DoNotPay and Find Lost Luggage With No Hassle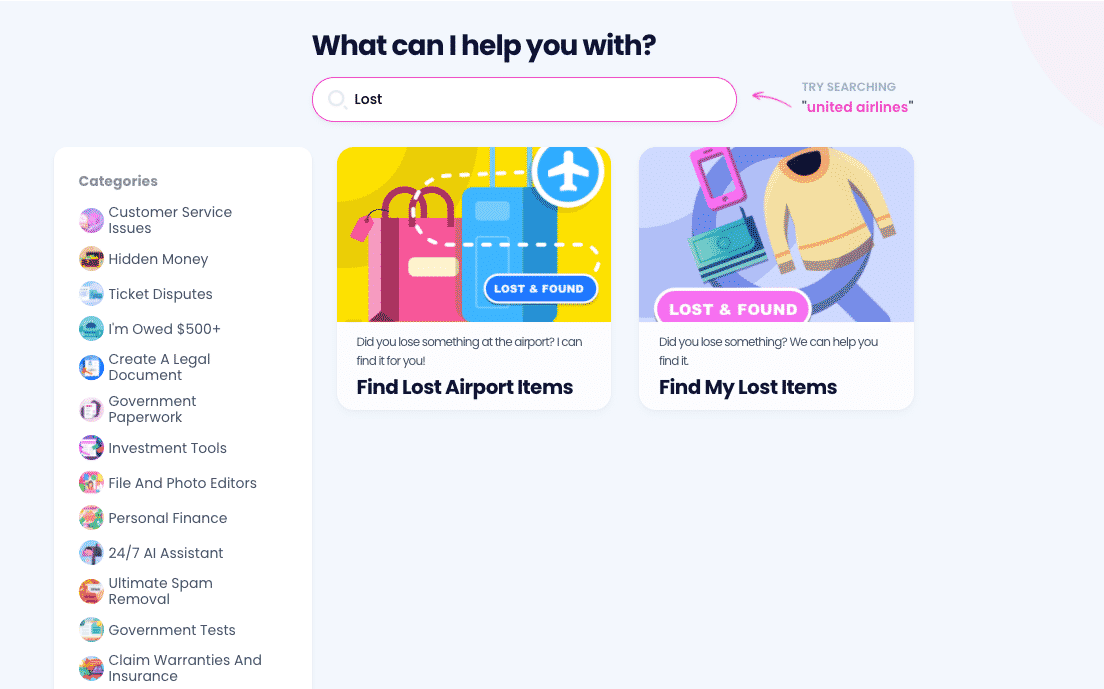 Using DoNotPay to find your missing luggage or any other lost item (including your phone, wallet, or car keys) is a much faster and easier solution than contacting the airline on your own. We'll help you report your lost luggage in a few clicks. To use our AI-powered app, all you have to do is:
Locate our Find Lost Airport Items tool
Enter the necessary information, such as:

Airport name
Date of the incident
Description of the lost luggage

Hit Submit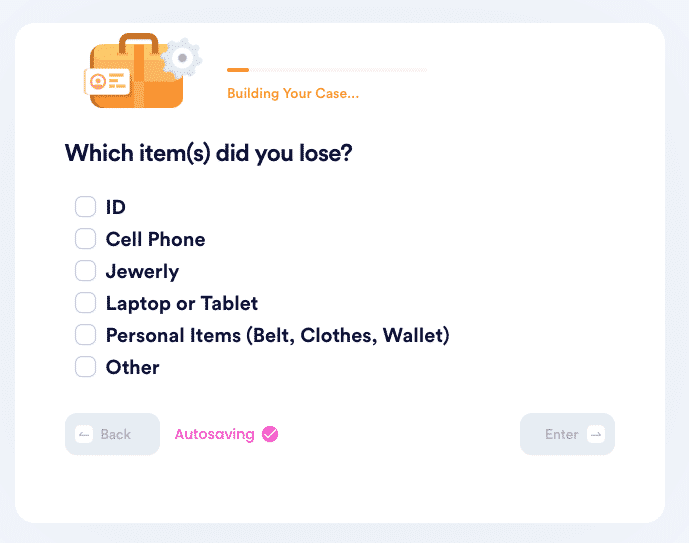 Once we process your request, we'll contact the airline for you instantly. DoNotPay can not only help you find something you lost, but we can also help you get a refund or compensation for canceled or delayed flights.
Frequently Asked Questions About Lost Luggage
To help you out, DoNotPay has answered some of the most frequently asked questions about lost luggage, such as:
F.A.Q.
Answer
How much compensation does Iberia offer for lost or damaged luggage?
In case your luggage is lost or damaged, Iberia can refund you either by giving you gift vouchers from Amazon or by replacing your bag
How often do airlines lose luggage?
Airlines in the United States usually lose two out of a thousand bags
What happens to lost luggage?
Lost luggage is usually kept around the terminal where it was found during the first week and then it's transported to a central warehouse. The bags are either:

Donated to charity
Sold after 60 days
Expect More Help From DoNotPay
Do you want to know what else DoNotPay can do for you? Have a look at the following lists and discover some of our most prominent services:
| Type | Particular Services |
| --- | --- |
| Getting more cash or saving the existing funds | |
| Fighting various issues | |
| Other helpful services | |
Let Our App Fight Grabby Merchants in Your Name
Have you received a damaged item? DoNotPay helps you file a return request and get a replacement for the faulty product. We can reach out to companies and demand refunds or chargebacks in your stead or request late delivery refunds. This way, you avoid paying for the goods that didn't meet your expectations and standards.
Our app can also send refund requests to airlines and help you get compensated for postponed or canceled flights. You won't need to contact the particular company yourself—DoNotPay does the grunt work and lets you enjoy the results!