A Quick and Easy Guide on How To Return Spectrum Equipment
Are you dissatisfied with your internet or cable provider and want out of the deal? If you plan on canceling your subscription, make sure to read this step-by-step guide on how to return Spectrum equipment. Without the proper know-how, the company may charge you additional fees for any item you don't return on time!
You don't have to bang your head over the Spectrum return policy. If you , we will take the trouble out of returning any product!
The Ins and Outs of Returning Spectrum Equipment
Spectrum offers dissatisfied customers the opportunity to get a refund within 30 days of purchase. Depending on the equipment you want to return, Spectrum has different deadlines:
14 days for Apple devices and accessories
30 days for other equipment
Items in the latter category include:
Modems
Routers
Spectrum receivers
Auxiliary devices
Equipment that you aren't required to return includes cables and remotes.
How To Return Spectrum Equipment—The Process Explained
If you want to return Spectrum equipment, you can do it in one of two ways:
Return it in person
Bring the equipment to your nearest UPS store or FedEx or USPS Office location
Returning the Spectrum Equipment in Person
You can drop off the equipment you want to return at any Spectrum store near you. Make sure to visit during business hours, and a Spectrum service agent will handle your request.
Returning Your Equipment via Mail
If you want to ship your equipment with UPS, follow these guidelines:
Go to the Spectrum website and find their UPS Store Locator tool
Visit a UPS store near you
Bring your equipment along with the original receipt
If there's no UPS store in your vicinity, you can always return your equipment via USPS or FedEx:
Pack your equipment in a cardboard shipping box
Make sure to attach a return label
Seal the box and drop it off at any FedEx Office location or USPS store
Keep in mind that a return label is required for this method. If you've lost it, Spectrum may complicate the procedure and reject the return.
If you're returning your equipment via FedEx, make sure not to use the FedEx drop box. The company will not be held accountable for any damage during transport.
This table summarizes the ways in which you can and can't return your equipment:
| Method | Yes/No |
| --- | --- |
| DoNotPay | Yes |
| In-Person | Yes |
| Mail | Yes |
| Email | No |
| Phone call | No |
How To Return Spectrum Equipment During COVID-19
Do you want to know if Spectrum has established any special return policy during the pandemic? Know that the store offers customers who are in quarantine or self-isolation an extended 60-day period for returning equipment. You'll need a doctor's clearance to drop off your items at a UPS or Spectrum store.
Return Your Unwanted Items the Easy Way With DoNotPay
We know how ungenerous and unreliable stores can be when it comes to returning products. The good news is—you don't have to strain yourself dealing with their return policies!
If you sign up for DoNotPay, we will use the information you provide to create a personalized return letter and send it to the company in question. The letter will also include a return deadline for the company, making sure your request gets processed promptly. We will also provide you with a shipping label, allowing you to return the items free of cost!
Here's what to do:
Pick the Return My Purchase option
Specify why you're returning the equipment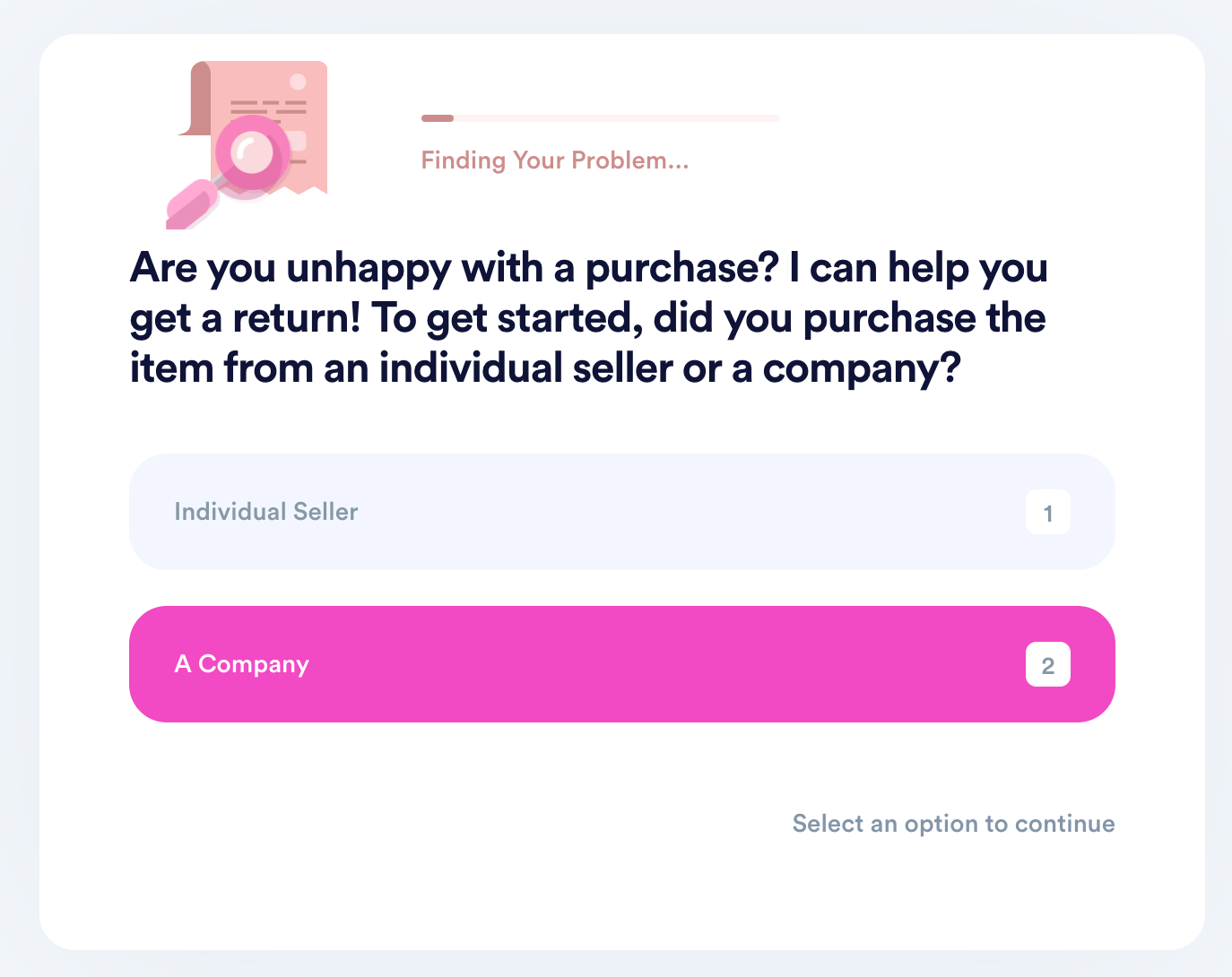 If you want to return any other unwanted items, here is a table of some of the other companies DoNotPay can also help you with:
No More Faulty Items—DoNotPay Can Send Them Back, Get You a Refund, and Resolve Any Other Issue
DoNotPay is an expert at requesting refunds from various companies and airlines! Once you return your poor-quality purchase successfully, check out how our app can:
Tired of Companies Treating You Unjustly?
With our AI-powered robot lawyer app by your side, you no longer have to tolerate corporate attitudes.
Have you ever signed up for a free trial only for it to turn into a paid subscription automatically? No more—DoNotPay will cancel it on time once you get your hands on our virtual credit card! Is the company you're dealing with refusing to give you a refund for their unjust action? We'll take it to small claims court.
If you need a standardized legal document but don't want to pay hefty lawyer fees, we'll create one for you in a flash. Then, you can get it notarized remotely and send it to the court with the help of our online fax tool.