Find Out How To Bypass Google Phone Verification
Google accounts are becoming so much more than email addresses. They are a necessary part of the online presence. Having a Google account is like having an ID online. You can sign up for many other services and platforms using solely your Google account. The question is, how much of the information from your account ends up on the connected apps and services.
This is a real problem, especially given that some platforms have owned up to experiencing some security mishaps that led to the exposure of users' data, including their phone numbers.
To avoid this, many users try to verify their Google accounts without using their actual phone numbers but by buying burner phones or obtaining fake numbers from one of the apps that specialize in that.
Options are countless, but DoNotPay has the perfect one—a temporary phone number!
Why Does Google Require a Phone Number for Verification?
The reason behind this is protecting your and other users' privacy. It may seem contradictory, but Google needs your phone number to make sure that the account is used by a real person, making the misuse of the service much more difficult. Here is what Google needs your phone number for:
Verifying you're human

—When signing up for a Google account, you will enter some of your personal information, such as name, birthday, and gender. All of that should prove you are human, but it is not enough for Google. That is why it sends a verification code to your phone. When Google asks you for a phone number, the main reason is to confirm that you are not a robot

Managing spam accounts

—There is ongoing speculation on how many accounts Google allows per number. When you hit a maximum number of accounts, Google will send you a message informing you about it. The service finds this useful for managing spam accounts

Preventing hacking

—Google performs a risk analysis whenever you sign in to your account. If it suspects anything unusual, it asks security questions that you answered upon signing up. You can also opt for two-step verification. This is a method designed to prevent unsolicited login by sending a verification code to the owner of the account whenever it spots some unusual activity, such as signing in from a new device, different location, or an unknown IP address

Recovering accounts

—When you create an account, Google asks you to select a method of recovery. The safest one is your phone number. This way, if someone hacks into your account and changes the password, Google will send a reset code to your phone number, and you will be able to regain control of your account
How To Get Past Google Phone Verification
It is no longer possible to create a Google account without a valid phone number. If you are reluctant to enter your actual details, you can find yourself searching for alternatives.
Find some of the options for bypassing Google phone number verification in the table below:
Method
Features

Free to use

Requires your phone number

DoNotPay

Cost-effective

Time-effective

Does not require your phone number or other personal information

Fake Phone Number Apps

Can be high-priced

Numerous options

Google may have blocked some of the apps

Burner Phone

Costly solution

Protects your identity and information

Finding Fake Phone Numbers Online

Unreliable

Easy access

Cost-free
Bypass Google Phone Verification
With Google Voice
As it turns out, Google has a solution to the problem of its own creation. Google Voice is a feature that provides users with a single temporary phone number connected with all the devices the user owns. It allows you to send and receive text messages, personalize voicemail, or forward calls to any device.
You can use it to pass the Google phone number verification process, but it is quite the chicken-or-the-egg type of situation since you cannot use Google Voice without the Google account. Still, you can use it to create additional accounts.
Google Voice is a convenient feature, but if you are looking to protect your information, it is useless, as it requires your phone number and is linked to your Google account and other services.
How To Get Around Google Phone Verification
With DoNotPay

DoNotPay has found a way to help you enjoy any service or social media platform and still keep your information private! We created the Burner Phone feature allowing you to create multiple temporary phone numbers in an easy, cost-effective way.
Access DoNotPay from any , and get your temporary phone number in no time following these steps:
Choose the

Burner Phone

feature from the main page

Select

Google

as the company you need a temporary number for

Hit the

Create a Temporary Phone Number

button
DoNotPay will generate a unique phone number for you. After you use it to pass the Google phone number verification step, DoNotPay will display the text with the verification code. The best thing is you can use it to create multiple temporary phone numbers, and it is all included in our monthly subscription!
Note that the number will be deactivated after 10 minutes, and the verification code will consequently be deleted.
Use Our Virtual Credit Card To Access Any Free Trial Without the Risk of Potential Charges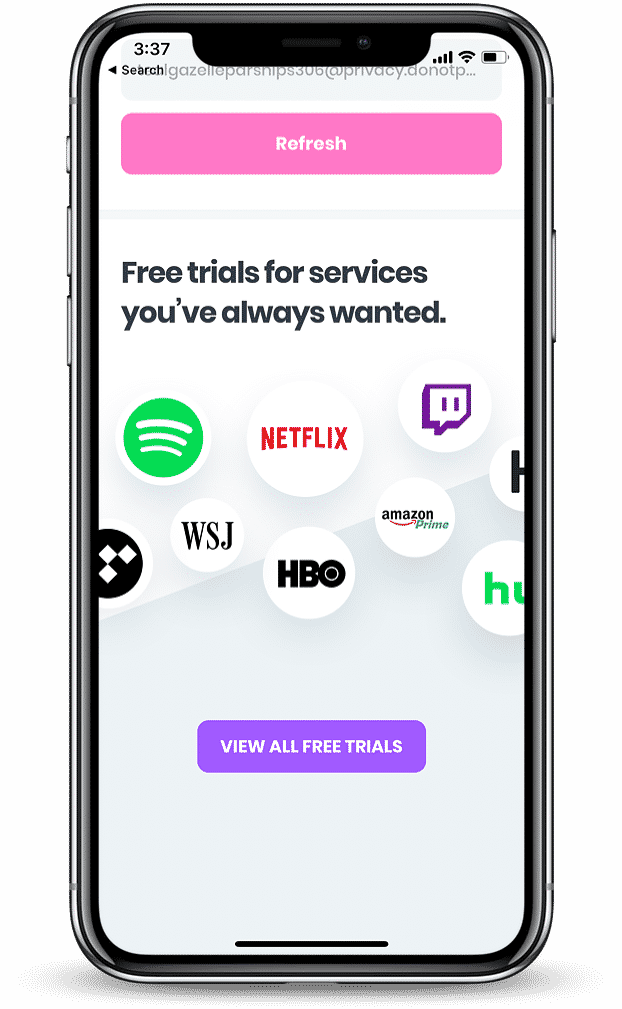 Have you ever signed up for a free trial, forgot about it, and missed the notification email because it ended up in the spam folder? If this rings a bell, you should know that you are not alone.
Plenty of users of HBO, Hulu, Amazon Prime, Spotify, and related services, deal with the issue of getting charged after the free trial ends or being stuck with another month of unwanted service.
DoNotPay wants to change that! We offer a virtual credit card you can use to enjoy any free trial without the risk of having to pay after it ends.
The procedure is straightforward:
DoNotPay generates a unique credit card number and expiry date

The service tries to charge you after the free trial ends but fails since there are no funds on the card

They unsubscribe you immediately
You can create as many virtual credit cards as you want, for any free trial you want. This card is not connected to any bank, so there are absolutely no risks involved.
Get DoNotPay To Deal With Your Tedious Day-To-Day Tasks

Stats show that more than 80% of the American population feels unsafe about their online privacy and safety. We can help you protect your data by showing you how to bypass phone number verification on Facebook, Instagram, Snapchat, Tinder, or Grindr. We can explain how to use Google's temporary phone number to verify your Google account without your actual phone number.
Didn't find what you were looking for? Open DoNotPay in any and let us help you with:
Disputing traffic tickets

Fighting speeding tickets