The Ins and Outs of Honda Lifetime Warranty
Honda Motor Company, or Honda, is a famous car manufacturer from Japan. Vehicles from this company are a popular choice among drivers, but what about the protection that can keep your car safe? We can tell you more about Honda lifetime warranty and how to use DoNotPay to claim it easily.
What You Need To Know About Honda Powertrain Lifetime Warranty
Honda's Lifetime Powertrain Warranty is the protection your vehicle gets once you purchase it, and it lasts for as long as you own the car.
You can get this warranty from Honda's dealerships. Eligible vehicles are all new and used Asian imports and domestics that are not older than ten years and with less than 100,000 miles covered.
You can use the Honda Lifetime Warranty at any licensed repair shop in Canada or the United States. You should know that Lifetime Honda Warranty is not transferable. It can only be used by the owner as long as they have the car.
What Is Covered by the Honda Lifetime Warranty?
Even though it lasts as long as you have the car, Honda Lifetime Warranty covers only certain parts of your vehicle. Take a look at the table below to see what is covered and what isn't:
Covered
Not Covered

Cylinder head and block, including all internal parts

Water pump

Supports

Oil pan

Timing chain and cover

Flywheel

Valve covers

Supercharger housing and all internal parts

Oil pump

Axle shaft

Engine mounts

Bearings

Seals

Gaskets

Fuel pump

Final drive housing and all internal parts

Propeller shaft

Engine control computer

U-joints

Drive shaft

Engine tune-ups

Brake pads/linings

Tires

Replacement of filters

Lubrication

Cleaning

Replacement of fluid

Polishing

Replacement of wiper blades

Clutch linings

Replacement of spark plugs and fuses
How To Claim a Honda Limited Powertrain Warranty on Your Own
You will have to bring your vehicle to a Honda dealership and claim your warranty this way. Proceed as follows:
Find the nearest Honda dealership

Take your car there

Explain what the problem with your car is

Provide the technician with your purchase and warranty info

Follow any further instructions
File Honda Lifetime Warranty Claim With DoNotPay in a Few Clicks
Choose DoNotPay to file a warranty claim without trouble or stress. You'll save time and your nerves all in one. If you want to get Honda Lifetime Warranty, open our app in a and follow these instructions:
Find and open the

Claim Warranty

feature

Select the

Car Warranty

option

Enter your vehicle's warranty provider or its Make and Model

Provide details about the problems your car is having

Select

Submit
We will submit a claim on your behalf if you have an extended warranty. If not, DoNotPay will schedule an appointment with the local car dealership for you.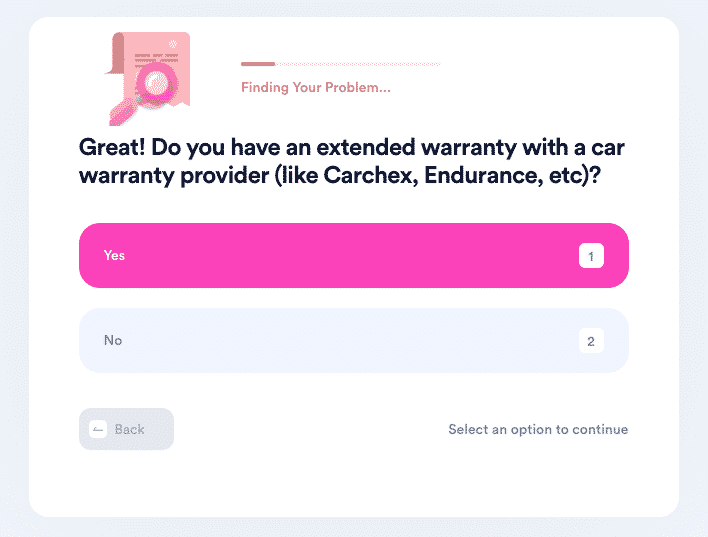 DoNotPay can help you claim three types of warranties:
We can help you if you don't know what to do with a dealer who won't cancel your extended warranty. Your virtual assistant also has all the info on home warranty reviews and the best options you can find in America.
Appeal Rejected Warranty Claims With DoNotPay
Even if a company finds a reason to reject your warranty claim, you shouldn't get discouraged. This is a normal situation, and you can file an appeal with DoNotPay to boost your chances of being granted your vehicle's protection. You will only need to follow these simple instructions:
Navigate to the

Claim Warranty

feature

Choose the

Appeal a Denied Warranty Claim

option

Inform us if you're appealing against an extended warranty dealer or a product manufacturer

Give us all the info about your original warranty claim
DoNotPay will handle sending the appeal letter to the company you want to get a warranty from.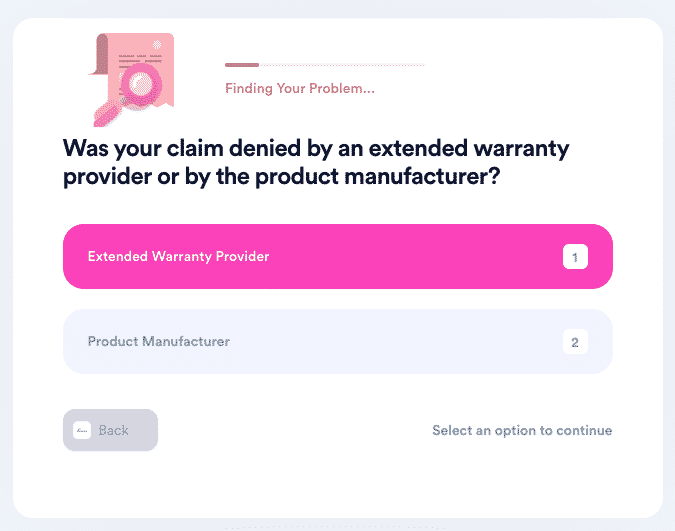 Tackle Tedious Everyday Tasks With DoNotPay Easily
DoNotPay can offer you assistance with claiming car warranties from other car manufacturers, such as KIA, Audi, Tesla, Toyota, Mazda, or Nissan.
The world's first robot lawyer can help you simplify a plethora of other annoying tasks. Open our app in your , and we will help you with:
Fighting speeding tickets

Disputing traffic tickets