Discover the Best Entry Method for the Good Housekeeping Sweepstakes
Good Housekeeping (GH) is a magazine and website featuring articles about health, food and recipes, style and beauty, home ideas, product reviews, and more. The magazine also organizes numerous sweepstakes throughout the year for the whole family to enjoy.
Find out what Good Housekeeping sweepstakes you can enter and how. If you don't want to jump through hoops, and join any sweepstake in a flash.
The
Good Housekeeping Magazine Sweepstakes
The Sweepstake section on the GH website is home to all kinds of prizes, including cash giveaways and gift cards, trips, jewelry, and beauty items. Here are some of the popular sweepstakes GH has initiated:
Sweepstake
Prize

JTV Jewelry

$5,000 in cash

45-minute virtual style session with a Good Housekeeping style editor

Curated jewelry collection of 15 items

One-year print subscription to

Woman's Day

, Country Living, and Good Housekeeping

A Trip to Star Wars: Galaxy's Edge at Disney Parks

$200 Disney gift card (restrictions apply)

Ground transportation to and from the Orlando International Airport on Disney's Magical Express service

Round-trip coach airfare to Orlando, Florida, for four people

Three-day/three-night stay at a Walt Disney World Resort hotel

Three-day Walt Disney World Theme Park tickets

A Seven-Night Alaskan Cruise

Seven-night Alaskan Disney cruise line vacation aboard the Disney Wonder

Four round-trip coach airfares

Accommodation for four people

All meals onboard the Disney Wonder
The GH Sweepstake Rules
Good Housekeeping posts the rules on the Sweepstake page, but you can also view them when you select a particular sweepstake. Every game has a specific set of rules, but the most common are:
Entrants must be at least 13, 18, or 21 years old

Only U.S. residents and sometimes Canadians can participate

One daily entry per person or email is allowed

No payment or purchase is required for participation

The winner is chosen randomly

Prize winners are responsible for any expenses or taxes not included in the prize
How To Enter the Good Housekeeping Giveaways
Much like the rules of a sweepstake in question, the entry methods vary. To participate, you may be asked to:
Fill out an online entry form

Subscribe to Good Housekeeping if you haven't already

Sign up for a free trial

Text a code to receive an entry-form link
Regardless of the sweepstake, you always need to provide your contact info, most importantly, your email address. This way, the company can contact you, inform you of the victory, and send you promotional emails.
DoNotPay Can Get You Into Any Sweepstake in a Flash
Entering a sweepstake doesn't have to be complicated. Even when companies make the entry process difficult or try to hide the free and easy option, there is something you can do—.
With the best AI-driven assistant, you'll be able to take part in any sweepstake by following these steps:
Select our

Free Raffle Ticket

product

Submit your name, address, and email address

Type in the sweepstake you want to enter or choose one from our list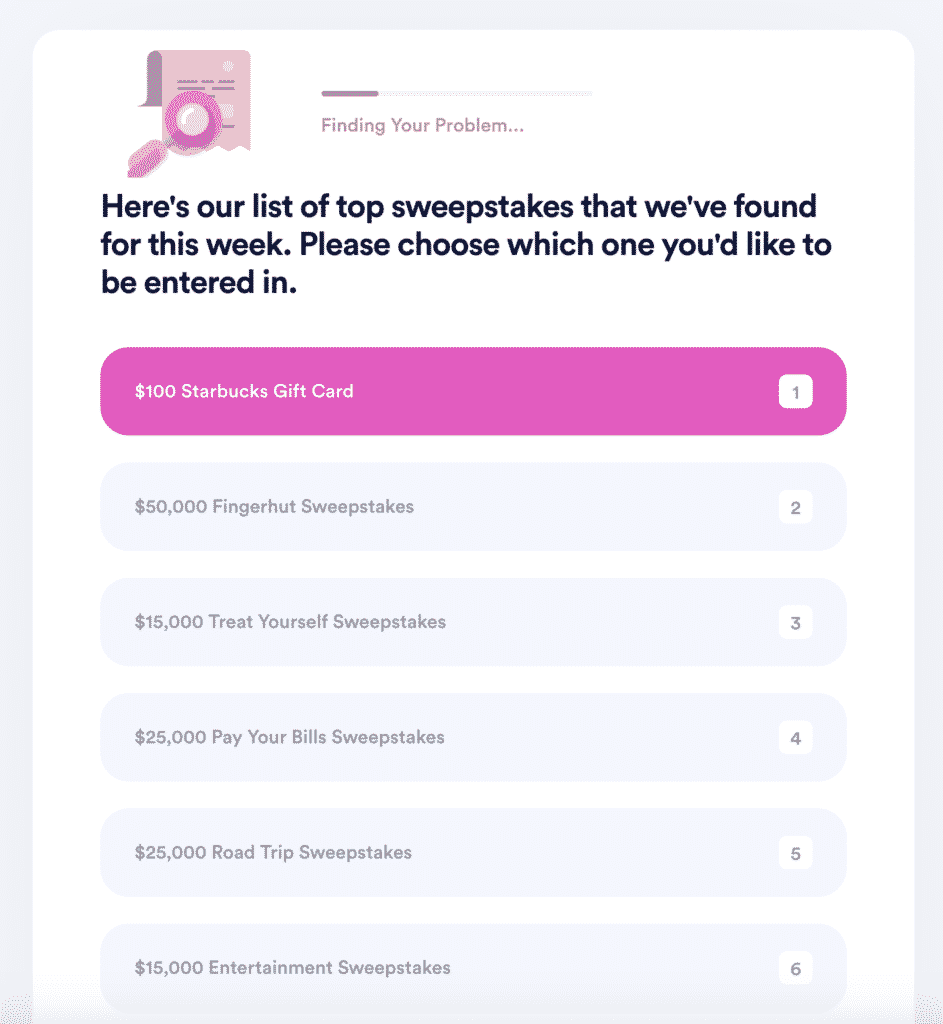 You only need to provide personal info once. After that, entering a sweepstake will take several clicks—even fewer if you pick a game from our weekly updated list.
Visit our learning center to learn more about online, car, or instant win sweepstakes and raffle tickets. You can also get a glimpse of other sweepstake organizers and discover awesome prizes you may win with our help:
Receiving Sweepstake Spam? DoNotPay Can Help!
If you enter sweepstakes often, your inbox is most likely flooded with spam emails. You may have created a special account so that you don't have to deal with spam, but there's a better way. As a DoNotPay user, you get to solve numerous issues with our assistance, not only get into sweepstakes.
To get rid of email spam, you should forward that pesky email to spam@donotpay.com, and you'll never see it again.
Tips and Tricks Every Sweepstake Participant Should Know
You should follow these tips while you play to avoid unpleasantries and stay safe:
Enter a sweepstake multiple times to boost your chances, as long as it's allowed

Double-check the eligibility factors because you may win and find out you can't claim the prize

Find the sweepstakes that aren't available all across the U.S. so that your odds are greater

Look for less popular sweepstakes or those with fewer participants to increase your chances

Don't make a payment or purchase an item because this won't affect the outcome

Factor in the taxes and other expenses you need to pay if you win

Check how the winners are notified to avoid falling prey to scammers
Why Leave It All to Luck?
Winning a sweepstake prize can be a life-changing event, but why rely on pure luck to improve your financial situation? DoNotPay encourages you to be proactive and find and save money whenever you can. Did you know that there can be thousands of dollars in unclaimed money under your name? We help you detect and claim it in no time.
What about all those unused memberships you keep and never use? We can cancel any subscription effortlessly, and you can save or spend that money on something worthwhile. With DoNotPay's free trial card, you can avoid getting stuck with unwanted services in the first place.
In case you want to participate in something that can change the world for the better and earn a handsome sum along the way, check out our list of available clinical trials because they can be a lucrative endeavor.
You Want To Know More About the Hidden Money?
DoNotPay cuts unnecessary expenses like a pro. We can help you get a refund from any unresponsive company with lousy customer care, compensation for tickets from arrogant airline carriers, or an application fee waiver from overpriced universities all over the States.
Why stop there? Let's overturn those nasty parking tickets, claim warranties and insurance, and stop wasting hard-earned money by filling the pockets of greedy corporations. If you had a bad break and went through a violent crime, we jump in to obtain the victim compensation you deserve.