An Easy-Breezy Way To Enter the
Popular Mechanics Sweepstakes
Like many magazines of the Hearst family, Popular Mechanics organizes challenges and sweepstakes. We'll show you what games and prizes you can expect and how they work.
If you are eager to try your luck, DoNotPay helps you join the Popular Mechanics sweepstakes and any other game as soon as you sign up for our service.
What Games Does Popular Mechanics Offer?
You can find different games on the Popular Mechanics website, but the magazine mostly sticks to sweepstakes and contests or challenges. Here's how to make a distinction:
Popular Mechanics Challenges
Popular Mechanics Sweepstakes

You need to complete a task (e.g., send a photo) to join the game

Judges choose the winners based on specific criteria

You must submit an entry with your contact info (via mail or

online

) as per the instructions

The organizer chooses the winners at random
The Rules for Participating in the
Popular Mechanics Magazine Sweepstakes
To be a sweepstake participant, you need to meet the criteria outlined in the game. Popular Mechanics posts new sweepstakes along with the official rules on the Sweepstakes page. Some of the most common regulations or requirements are as follows:
Winner selection

—The magazine chooses the winner randomly unless it's a contest based on merit

Winner notification

—The company contacts the winner by mail, phone, or email, typically one month after the sweepstake end date. In case the winner doesn't respond, another one will be chosen

Prize value

—The prize is given out as is. If there are any discrepancies between the approximate and the actual retail value of the award, the company won't grant more funds or change the item

Eligibility

—The games are typically open to all U.S. residents who are at least 18 years of age. The citizens of Canada, excluding Quebec, can often participate as well
Do Prize Winners Pay Any Taxes?
Yes, they do. If you're lucky enough to win a Popular Mechanics or any other sweepstake, you need to cover all the expenses that aren't stated or included in the prize. These include taxes, according to state and federal regulations.
In case the actual retail value exceeds $600, the winner needs to fill out the W9 form and provide the organizer with their Social Security number. An IRS form 1099 also needs to be issued for the actual prize value.
Popular Games and Sweepstakes by Popular Mechanics
Popular Mechanics doesn't offer giveaways often, so don't be surprised if there aren't any posts on the Sweepstakes page at the moment. Check out a few games Popular Mechanics has set up to know what the magazine usually has in store for you—items, cash, and trips:
Games
Requirements
Prizes

Toyota Inventionaries Sweepstakes

Online entry

Skully AR-1 motorcycle helmet (ARV: $1,499)

Outdoor Getaway Sweepstakes

Online entry

$10,000

Universal Orlando Resort Summer Sweepstakes

Online entry

$3,677.32 4-day/3-night trip for four to Orlando, FL:

Four 3-day/3-park tickets for admission to Universal Studios, Universal's Islands of Adventure, and Universal's Volcano Bay Water Theme Parks

Tickets to the Blue Man Group performance

Popular Mechanics Home Workshop Challenge

Participants have to construct something following the project guidelines:

Your item(s) must be made out of a single 4 x 8 sheet of plywood

The plywood can be any type, and you can cut it as many times as you want

You can use any fastener—glue, screws, nails, bolts, clips, hinges, and brackets

You may augment your project with wheels, handles, metal tubing, or hardware, but no other lumber is allowed

You need to send a photo of your project by mail or email

DeWalt DWMT73801 108-piece mechanics socket set (ARV: $99.99)

Ready Player One Sweepstakes

Online entry

70" 4K Smart HDTV

4K Blu-ray player

Set of high-quality surround sound speakers

Entertainment console

Ready Player One digital download

Ultimate Man Cave Sweepstakes

Online entry

$100,000
In case Popular Mechanics has no available games at the moment, you can give other Hearst-owned magazines a go:
How Can I Enter the Popular Mechanics Sweepstakes?
You can get into the Popular Mechanics sweepstakes by mail, email, or online, depending on the rules. If a game requires an online entry, you should visit the Sweeps page and follow the prompts once you select the sweepstake you like. Otherwise, you need to send your entry to the email or physical address stated in the rules.
One entrant can usually join a sweepstake only once. If you join one game multiple times, the extra entries won't count, but you also may be disqualified altogether. This is why it's essential to check the entry rules.
DoNotPay—Your Ticket to Any Sweepstake
You can save a lot of time and energy if you use our app to enter the Popular Mechanics or any other giveaway or sweepstake. Forget about going through multiple channels and searching for games on your own—let DoNotPay take care of it.
Here's what to do once you create a DoNotPay account:
Type in

Free Raffle Ticket

in the search field

Provide your contact details

Choose a giveaway from our list or enter one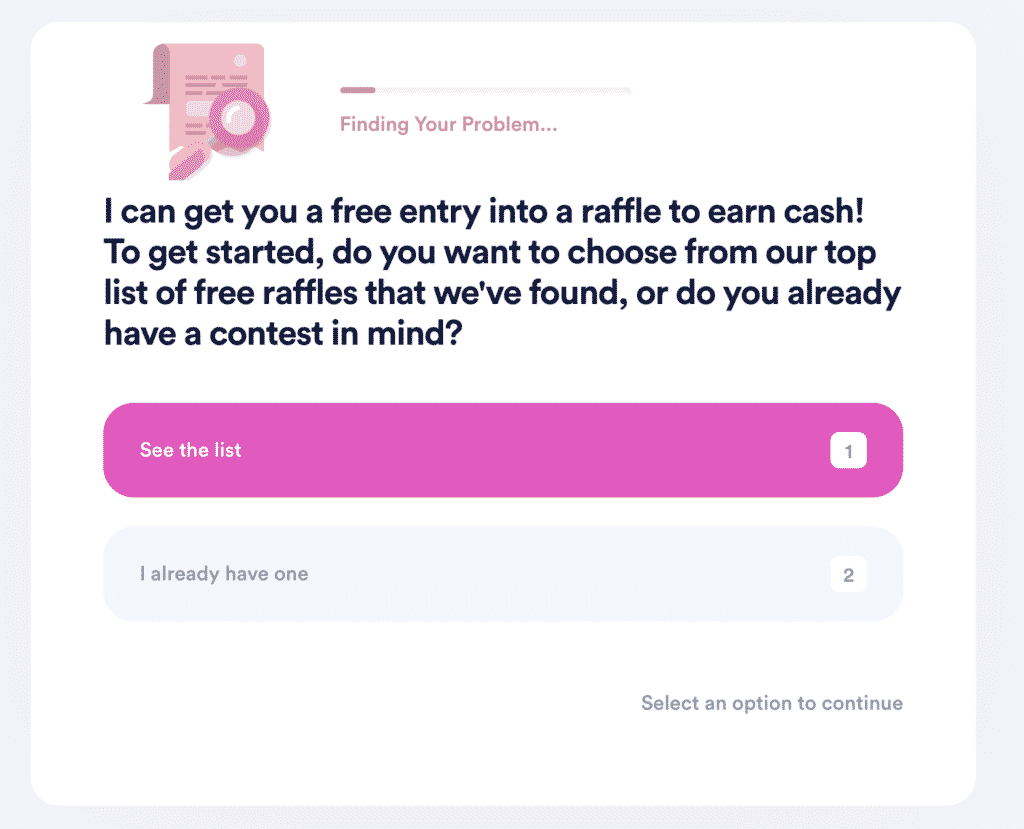 Feel free to type in any raffle you can think of, be it a car, PC, sneaker, or an instant win sweepstake. If you can't find an interesting game yourself, rely on our list to offer you new games every week.
Why Leave It All to Luck?
Winning a sweepstake prize can be a life-changing event, but why rely on pure luck to improve your financial situation? DoNotPay encourages you to be proactive and find and save money whenever you can. Did you know that there can be thousands of dollars in unclaimed money under your name? We help you detect and claim it in no time.
What about all those unused memberships you keep and never use? We can cancel any subscription effortlessly, and you can save or spend that money on something worthwhile. With DoNotPay's free trial card, you can avoid getting stuck with unwanted services in the first place.
In case you want to participate in something that can change the world for the better and earn a handsome sum along the way, check out our list of available clinical trials because they can be a lucrative endeavor.
You Want To Know More About the Hidden Money?
DoNotPay cuts unnecessary expenses like a pro. We can help you get a refund from any unresponsive company with lousy customer care, compensation for tickets from arrogant airline carriers, or an application fee waiver from overpriced universities all over the States.
Why stop there? Let's overturn those nasty parking tickets, claim warranties and insurance, and stop wasting hard-earned money by filling the pockets of greedy corporations. If you had a bad break and went through a violent crime, we jump in to obtain the victim compensation you deserve.