Entering
Woman's Day Sweepstakes
Made Easy
Woman's Day is a magazine available in print and as a versatile website. Besides offering tips and ideas regarding food, health, fitness, lifestyle, and relationships, the company also organizes numerous sweepstakes.
This article will explain how Woman's Day sweepstakes work and show you the most convenient way to enter these and any other raffles or similar games.
Types of
Woman's Day Magazine Sweepstakes
Woman's Day sweepstake prizes are typically items—not cash or cars—such as the following:
Sweepstake

Prize

Home Depot Sweepstake

Cedar potting bench

Macy's Sweepstake

Martha Stewart collection bar cart

Martha Stewart collection blush drinkware set

Parks Project Sweepstake

Glacier National Park candle

Bzees Sweepstake

Pair of Nuance sneakers

Klean Kanteen Sweepstake

Coffee Lovers family kit:

Insulated wide 20 oz mug

Insulated wide 16 oz mug

Bottle brush set

Insulated 20 oz tumbler

Insulated 16 oz tumbler

Wide loop cap

Insulated 8 oz tumbler
Woman's Day Giveaway
Rules
Once Woman's Day posts a game on its sweepstake page, you'll also be able to see the entry rules and other info every participant and potential winner should know. Sometimes, specific sweepstake rules for the month in question will be available, as was the case in March and May of 2020.
Here's an overview of common sweepstake regulations:
Rule

Details

No purchase necessary

A purchase or payment of any kind is not required for participation. Even when a purchase is advertised, a no-purchase entry should always be available

Eligibility

Sweepstake participants must be:

Legal residents of the United States, the District of Columbia, or Canada (except Quebec)

Of legal age in their state or province

Employees of the sponsor, its affiliates and subsidiaries, prize suppliers, participating advertising and promotion agencies, independent judging organizations, and their immediate family members are not allowed to participate

Entry

In most cases, only one entry per person per day is permitted. Multiple entries are disqualified

Winner selection

Woman's Day randomly draws winners from eligible entries. Winners are selected on or soon after the sweepstake end date

Winner notification

Winners are usually notified within one month of the end date. Woman's Day or a sponsor reaches out to the winners via email, phone, or postal mail depending on the sweepstake in question
How To Enter
Woman's Day Giveaways
by Yourself
Woman's Day organizes online sweepstakes. To participate, you need to follow these steps:
Visit the Woman's Day sweepstake page

Select the sweepstake you'd like to enter

Follow the prompts to fill in your online entry
Depending on the sweepstake, you may be asked to submit a photo, vote, or answer a question before you provide your contact information with the entry form. If you sign up for DoNotPay, you'll be able to sidestep any additional request—our app will get you in a sweepstake in a flash.
Take a Shortcut—Use DoNotPay To Enter Any Sweepstake
For a hassle-free sweepstake entry, DoNotPay is the way to go. No need to search for new sweepstakes on your own or look for ways to skip an ad or a questionnaire.
Once you create a DoNotPay account, all you have to do to enter a sweepstake is the following:
Navigate to the

Free Raffle Ticket

product

Provide your name, address, and email address

Type in the sweepstake you want to enter or choose one from our list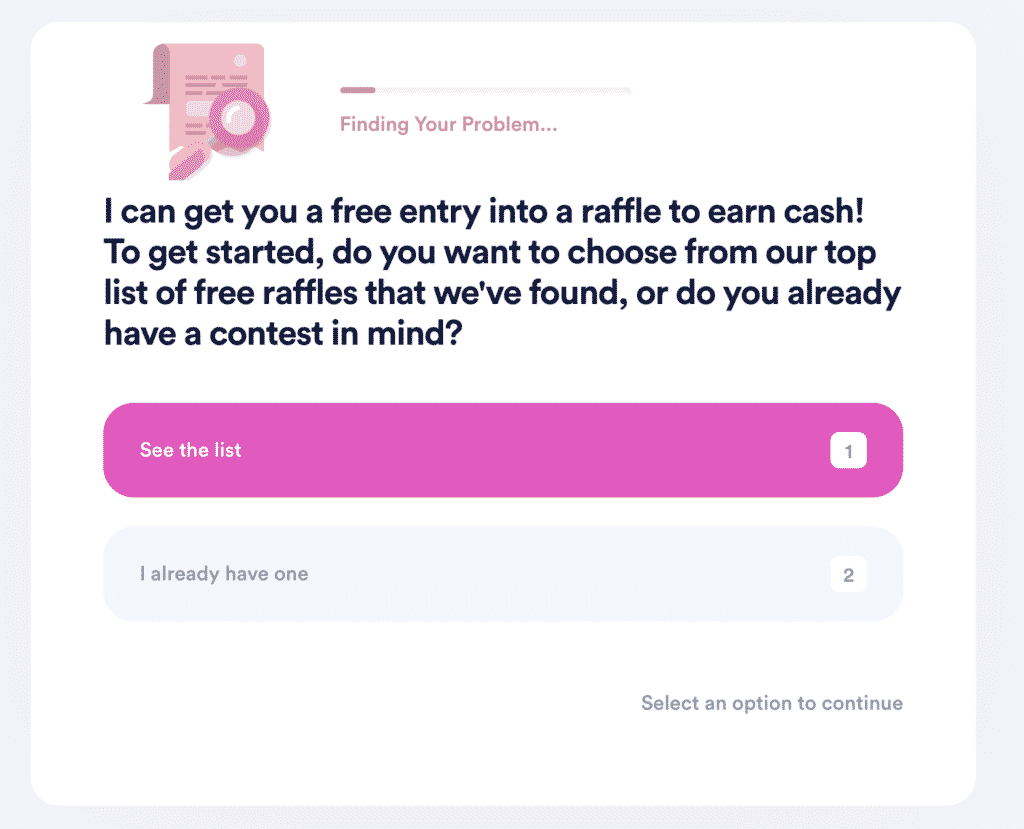 You can write down any sweepstake that comes to mind, and we'll check whether our app can sign you up. If you don't know which game you want to take part in or you want to find the best ones, check our sweepstake list. We update it weekly so that you never run out of potential new prizes to win.
Do I Need To Pay Taxes if I Win Woman's Day Sweepstake Prizes?
Sweepstake prize winners are responsible for covering taxes—federal, state, or local. In case the actual retail value of a prize exceeds $600, the winner needs to complete the IRS W9 form and provide the sponsor with their Social Security number for tax purposes. For the actual value of a prize, the winner will receive the IRS Form 1099.
Pro Tips for Sweepstake Entrants
Taking part in a sweepstake isn't all fun and games. You need to follow the rules and protect yourself and your privacy.
Here are a few guidelines to keep in mind:
Boost your chances of winning by entering sweepstakes often, especially

instant win sweepstakes

that typically allow multiple entries

Research the sweepstake you wish to enter and check the rules to see whether you're eligible

Look for less popular sweepstakes or those with fewer participants to increase your chances

Don't disclose any sensitive information, such as your credit card details, as there are many sweepstake scams

Take additional expenses into consideration. If you win at

travel sweepstakes

, for example, you may need to cover some of the costs

Consider the taxes, especially for car and real estate prizes

Don't purchase an item or make a payment to enter a sweepstake because you're legally not required to, and it won't affect the results of the game

Use a designated email account only for sweepstakes since most organizers will send you promotional emails. You can also rely on DoNotPay to

get rid of spam emails

in your stead
Your Odds Are Better With DoNotPay
Luck is elusive, but DoNotPay is not. We offer effective solutions to various money-related problems. Do you need a bill-payment extension? Maybe you can't figure out how to claim warranties and insurance policies? Is an airline playing dead while owing you compensation for a canceled flight?
We are the champions of customer advocacy because we can tackle all those issues and more. Our AI-powered technology fights unfair parking tickets, cancels subscriptions, and deals with refunds from money-grabbing businesses with poor customer service.
Create Your Lucky Break!
Once you have saved some money, it's time to earn an extra dollar. DoNotPay has a few suggestions:
If you were a victim of a violent crime and ended up paying for the treatment on top of the trauma, we will help you get the compensation, so you can focus on getting better. 
Sometimes, dealing with paperwork alone can cause the tidal wave. DoNotPay can take over drafting legal documents and assist in getting them notarized.