Need a New Computer? Try Your Luck With a
PC Giveaway
Giveaways or sweepstakes are a great way to win free items, including PCs. We'll give you an insight into PC giveaways along with tips and guidelines on how to enter them. This article will also show you why signing up for DoNotPay is the best option for joining a PC giveaway or any other similar game.
A Breakdown of
PC Giveaways
A PC giveaway is similar to a raffle. Eligible individuals join the game, and the giveaway organizer chooses the winner randomly.
Most giveaways require you to provide the following info:
Name

Phone number

Email address

Physical address
This way, the company can contact you if you win, but most importantly, it can send you promotional mail or emails.
Who Can Enter a
Computer Giveaway
?
The company that organizes a computer giveaway sets the rules regarding eligible participants. Typically, an entrant has to:
Be at least 18 or 21 years old

Hold a U.S. citizenship (Canadian residents can sometimes also participate)

Enter a particular giveaway only once per day or email
How To Enter a PC Giveaway
The entry method depends on the giveaway you want to take part in. Most are online-entry sweepstakes.
Usually, there's a giveaway section on the organizer's website where you select the giveaway you like and follow the prompts to submit your entry.
Besides requesting your personal details upon entry, the organizer may ask you to vote, play a game, complete a questionnaire, or send a code. You may also be prompted to make a purchase or payment, but this cannot be a mandatory requirement according to U.S. law.
The endless entry steps without a skip button can make you give up participating altogether. This is where DoNotPay comes in—our app gets you in any giveaway in under two minutes.
DoNotPay Makes It Easy To Sign Up for PC Giveaways
When you create a DoNotPay account, all you'll need to do to enter a PC or another giveaway is click a few times. Here's how it works:
Select our

Free Raffle Ticket

product

Submit your name, address, and email address

Type in a giveaway or pick one from DoNotPay's list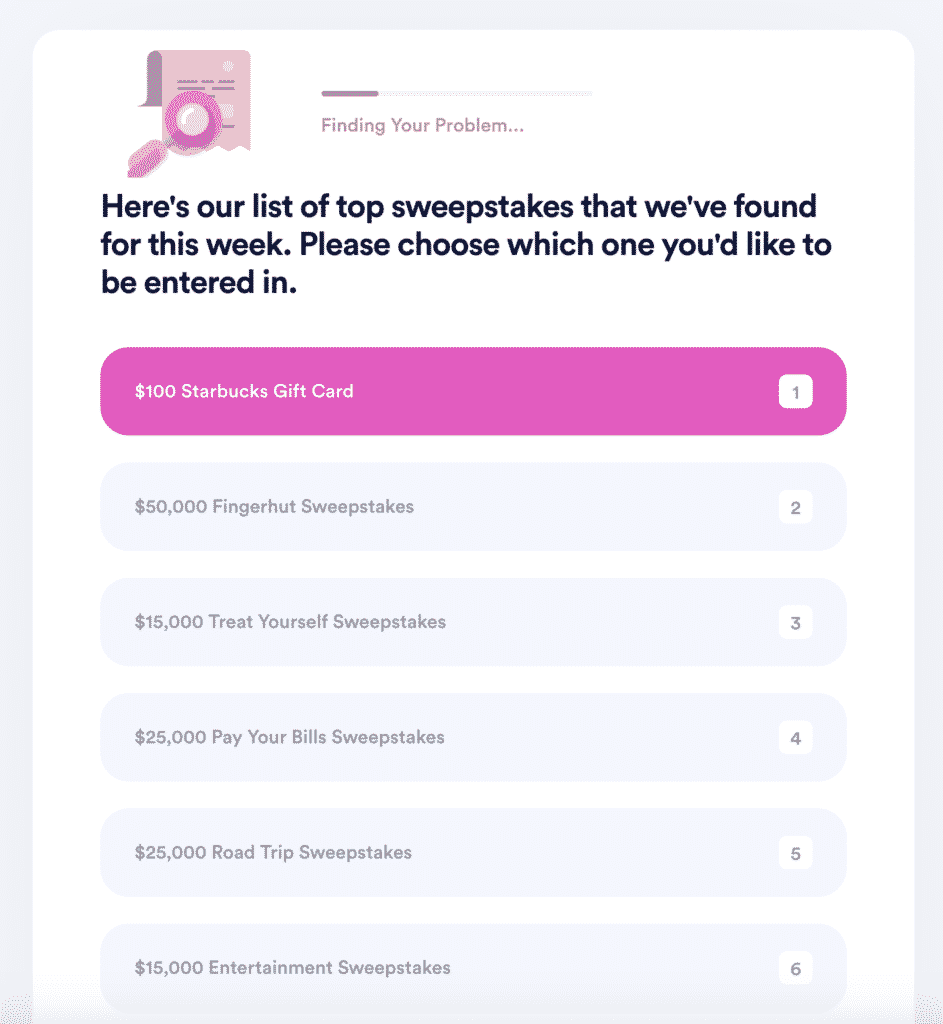 Once we get your info, you won't have to submit it for future entries, which cuts the process even shorter. Another perk of using our app is the weekly updated list of available sweepstakes. If you don't have a specific giveaway in mind or you don't want to search for sweepstakes yourself, our list is your go-to!
Check out our learning center to discover different kinds of giveaway prizes you may want to win:
| | |
| --- | --- |
| Sweepstake Types | Sweepstake Organizers |
| | |
Popular
Computer Giveaways
We listed a few popular PC giveaways you may be able to enter in the table below:
Sweepstake
Prize

Origin PC Genesis Giveaway

A Wolfenstein: Youngblood-inspired ORIGIN PC GENESIS gaming desktop powered by dual liquid-cooled NVIDIA GeForce RTX 2080 Ti graphics cards and a liquid-cooled Intel Core i9-9900K processor

Esports Fight Club's Giveaway

3 x XRIG X1-v3 Gaming PC

20 x Razer Viper (Wireless)

FaZe Clan's Custom Build PC Sweepstakes

Build 1—Digital Storm Lynx:

Intel Core i7-10700K

ASUS Z490-P

16GB DDR4

1x SSD M.2 500GB

1x HDD (2TB Seagate/Toshiba)

GeForce RTX 3070

Windows 10

Build 2—Custom built and signed by FaZe Temperrr and FaZe Coldzera:

Intel Core i9-9900K

ASUS ROG Maximus XI Hero

32GB DDR4 RGB memory

1X SSD M.2 1TB

Liquid CPU cooler

GeForce RTX 2080 Super

Windows 10

Arena GL's Omen Gaming Setup Giveaway

OMEN 880 desktop

Monitor (25 inches)

600 mouse

1100 keyboard

800 headset
Want To Enter Numerous Sweepstakes? Follow Our Tips!
Whether you plan to enter one or numerous sweepstakes, the following tips will be helpful:
Check the game rules and requirements (e.g., eligibility factors)

Enter a particular giveaway as many times as it's allowed to boost your chances of winning

Choose the games organized by well-known companies to avoid scams

Go for sweepstakes that offer multiple prizes or have fewer participants to improve your odds

Take additional expenses and taxes into consideration when deciding on a prize you want

Don't buy an item or a ticket to enter a sweepstake—it won't affect the results
Is Your Inbox Overflowing With Giveaway Spam? Turn to DoNotPay!
When you enter giveaways, you almost always need to provide your email address. You may have inadvertently agreed to receive emails from the organizer, or you can't unsubscribe and get rid of them.
DoNotPay has a solution—our Spam Collector feature. All you have to do is forward the unwanted email to spam@donotpay.com, and the sender won't be able to bug you again.
Why Leave It All to Luck?
Winning a sweepstake prize can be a life-changing event, but why rely on pure luck to improve your financial situation? DoNotPay encourages you to be proactive and find and save money whenever you can. Did you know that there can be thousands of dollars in unclaimed money under your name? We help you detect and claim it in no time.
What about all those unused memberships you keep and never use? We can cancel any subscription effortlessly, and you can save or spend that money on something worthwhile. With DoNotPay's free trial card, you can avoid getting stuck with unwanted services in the first place.
In case you want to participate in something that can change the world for the better and earn a handsome sum along the way, check out our list of available clinical trials because they can be a lucrative endeavor.
You Want To Know More About the Hidden Money?
DoNotPay cuts unnecessary expenses like a pro. We can help you get a refund from any unresponsive company with lousy customer care, compensation for tickets from arrogant airline carriers, or an application fee waiver from overpriced universities all over the States.
Why stop there? Let's overturn those nasty parking tickets, claim warranties and insurance, and stop wasting hard-earned money by filling the pockets of greedy corporations. If you had a bad break and went through a violent crime, we jump in to obtain the victim compensation you deserve.