Instant Win Sweepstakes
—What They Are and How To Enter
Sweepstakes are contests similar to raffles where winners are drawn randomly, and they win a prize—cash, a car, or a trip. This article will show you how instant win sweepstakes work and how to sign up for them the easiest way.
Instant Sweepstakes
Explained
Instant sweepstakes are organized as regular sweepstakes, but the prize is usually of much lower value. For example, a sweepstake prize may be $10,000, while the instant win prize is usually $5 to $500.
You typically enter online by providing your name, email and physical address, and sometimes a phone number via the company's website. Unlike sweepstakes that may last for weeks or months until they reveal the winner, instant win sweepstakes, as their name suggests, announce winners instantly. Usually, a window pops up telling you either "better luck next time" or "you're the winner." If you're lucky enough to win, you should also receive an email or text message within a few minutes.
Many companies organize both the regular and the instant win sweepstakes to keep the customers entertained and to attract new ones.
How Is the
Sweepstakes Instant Winner
Chosen?
Much like other sweepstakes, the winner is chosen randomly. Usually, the organizer picks a time when they will give out a prize, and the person who enters at that time wins.
In addition to asking you for your contact info, some instant win sweepstakes include a game that seems to affect whether you'll win (e.g., flip a coin or pick a card), but that's rarely the case. You may also choose to skip the game and still enter the contest and have a chance at winning a prize.
Are There Any Prerequisites To Enter
Instant Win Giveaways
?
For instant win and other types of sweepstakes, no purchase or payment is a necessary prerequisite as per U.S. law. Many companies may organize sweepstakes and ask the customers to buy an item to enter, but even if you don't buy anything, you should be allowed to participate in the contest.
While eligibility factors differ, to enter an instant sweepstake, you usually need to:
Be a U.S. citizen (sometimes, people from certain states cannot participate)

Be at least 18 or 21

Provide an email address
Sometimes, you also need to hold a membership or subscription to the company organizing the game, and you may be allowed to enter only once per day or even once per person/email.
DoNotPay—A Fast and Easy Way To Enter Numerous
Sweepstake Game
s
You may find many instant win and other sweepstakes online, but instead of providing your contact info countless times and wondering whether a certain game is a scam, you can rely on DoNotPay!
Once you sign up for a DoNotPay account, you can enter numerous sweepstakes! Here's how it works:
Navigate to our

Free Raffle Ticket

product

Type in your name, address, and email address

Write down the sweepstake of your choice or pick one from our list
You only have to provide your info once. Each time after that, you'll only need to confirm your details and let us do the rest.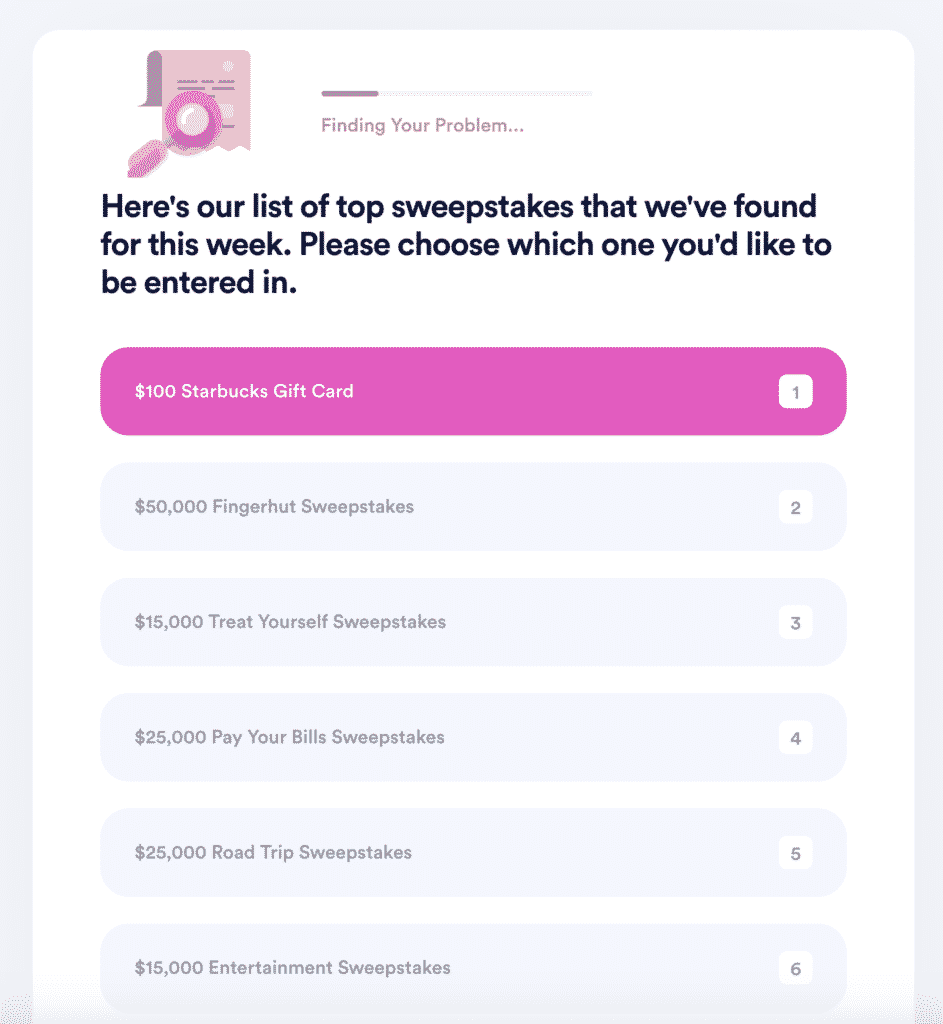 If you have a raffle, sweepstake, or an instant win sweepstake in mind, feel free to type out the name, and if the entry is online or mail-based, we may be able to help! Every week, our AI-driven app updates the lengthy list of sweepstakes you can enter, so feel free to check it out for new contests you may win.
Our learning center is a great knowledge base if you want to know more about sweepstakes and similar games, such as:
Tips for Playing
Instant Win Sweepstakes
and
Giveaways
If you want to participate in sweepstakes and similar contests and increase your chances of winning, follow these tips:
Tips

Details

Check the requirements

If you know all the requirements to enter and win, you won't waste your time entering if you don't meet the criteria

Enter sweepstakes often

For regular sweepstakes, you may set aside the time when you want to enter multiple contests

When it comes to instant win sweepstakes, it's best to enter often since the winner is typically chosen at a certain time

Look for sweepstakes that are not super popular

This means there are fewer entries and higher chances of you winning

Consider the taxes

Calculate the taxes that will be deducted from the prize if you win and the taxes you'd have to pay if you won a house from

HGTV

, for example
Sweepstake Emails Flooding Your Inbox? Get Rid of Them Using DoNotPay
As one of the main purposes of sweepstakes is to get your contact info—particularly your email address for marketing purposes—spam emails are inevitable. Luckily, if you create a DoNotPay account, we can save you from email spam and email scammers with ease. All you have to do is send your next unwanted email to spam@donotpay.com, and our Spam Collector will free you from this sender for good.
With DoNotPay, It's More Than Luck
Waiting to win on a game of chance can turn into a lifetime of failed expectations. DoNotPay offers more viable solutions. We can find unclaimed money under your name anywhere in the U.S. or help you enroll in a safe clinical trial that pays really well.
All victims of ever-increasing violent crimes must get compensation, and DoNotPay rolls in to assist in this sensitive matter. Speaking of tricky topics, we can teach you how to lower your property tax or get that pricey college application fee waived.
Why Stop There?
You can save a lot of money by canceling various unwanted subscriptions. The fees are small, but they tend to pile up, so resort to DoNotPay to get rid of them easily. You can try out any service with our free trial card because we keep you safe from automated renewals.
What about parking tickets? How much do you spend on them? The good news is, we know how to fight those greedy city officials and keep that money in your pocket. It's the same with the almighty corporations. DoNotPay simplifies refunds and chargebacks, compensation for airline tickets, and warranty or insurance claim procedures.