Elle Sweepstakes
101
Buying raffle tickets is a thing of the past. Entering sweepstakes is free, and more and more companies—such as Elle magazine—are organizing them, so you're bound to find awesome prizes.
This article will answer any questions you may have about Elle sweepstakes and show you the smoothest way of joining them.
What Prizes Can I Win by Entering
Elle Magazine Sweepstakes?
Elle gives out various sweepstake prizes—cash, trips, beauty items, and more. Check out what some of its popular prizes include:
Sweepstake

Prize

Pond's Sweepstake

A deluxe sample of Pond's Rejuveness anti-wrinkle cream

The New Face of American Beauty

The winner and a guest get flown to Los Angeles for Elle's Women in Hollywood event

Two-night and three-day accommodation

Round-trip coach plane tickets for the winner and their guest

Transportation to and from the airport in Los Angeles to the hotel

Real-Life Romance Sweepstake

Romantic round-trip weekend to Los Angeles for the winner and a guest

Three-day and two-night accommodation

Round-trip coach air transportation

Round-trip ground transportation

$500 check for a romantic dinner
Elle Sweepstake Rules Explained
Sweepstake rules vary depending on the particular game. You can find the official rules on Elle's website as a separate post or with the other info regarding a sweepstake you select. Here's what you can expect:
Rule

Details

Winner selection

Elle chooses the winners in a random drawing. In case a winner doesn't want to or isn't able to accept the prize, Elle will choose another eligible entrant

Entries

Typically, only one entry per person is allowed

Eligibility

Entrants usually need to be:

Legal U.S. residents and sometimes Canadian (Quebec residents are not eligible, and similar restrictions may apply in other territories and states)

18 years old or older

Employees of Elle, its parent or affiliate companies, subsidiaries, advertising and promotion agencies, independent judging organizations, prize suppliers, and their family members cannot participate

Taxes

Sweepstake winners have to cover all expenses not included in the prize, which also refers to any income or other local, state, or federal taxes

Winner notification

Elle usually notifies the winners within one month of the last day of the sweepstake in question. The winners are contacted via email, mail, phone, or social media
How To Get Into Elle Sweepstakes by Yourself
You can view sweepstakes on Elle's Sweepstake page, or if you're a subscriber, you can find them by following these steps:
Visit Elle's

homepage

Click on the triple bar in the upper right corner

Tap on

Win
Once you select a sweepstake, check its entry rules to know what you need to do. Usually, you should fill out an online entry form, but sometimes, you are also asked to do the following:
Follow a specific Instagram account

Upload a photo on Instagram

Mail a letter with your contact info
Skip the Hassle—Join Sweepstakes Fast With DoNotPay
While purchasing or paying to enter a sweepstake is not a requirement for entries, most companies include other prerequisites, such as posting a photo on Instagram. You may find it hard to bypass certain entry steps, but not to worry—our app can help!
If you create a DoNotPay account, all you need to do to enter a sweepstake is:
Type in

Free Raffle Ticket

in the search field

Submit your name, address, and email address

Write down the sweepstake you wish to enter or pick one from our list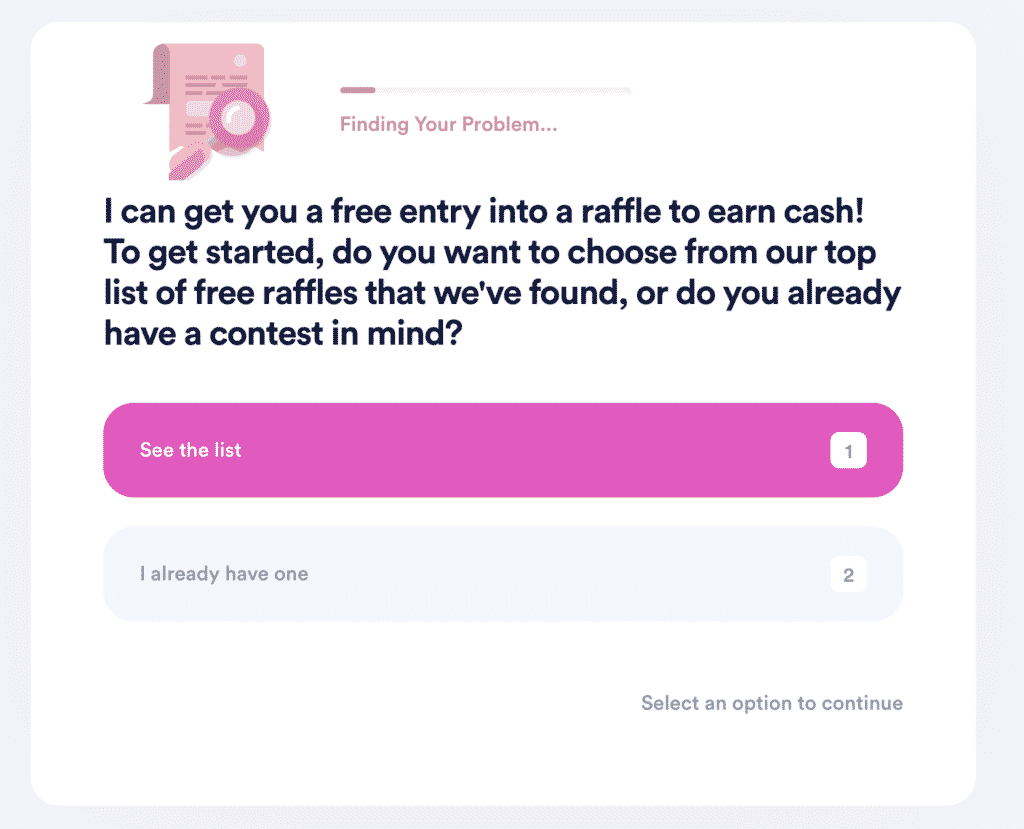 Once you provide your contact details, you won't need to do it again for other sweepstake entries. Aside from the easy entry process, DoNotPay provides a list of numerous giveaways, which we update every week. You can also check out our articles on car, PC, instant win, and other types of sweepstakes in our learning center.
As sweepstake organizers' main goal is to get your email address, you will most likely receive a ton of email spam. Luckily, once you sign up for our service, you can count on DoNotPay to stop spam emails for good.
Are There Any
Elle Decor Sweepstakes?
Elle Decor also offers sweepstakes. You can view them on its Giveaways page or the Win page available to subscribers. Here are some of the prizes you can expect:
Global Views & Elle Decor:

Marble fret cocktail table

Handcrafted silver meteor bowl from Global Views

Williams Sonoma & Elle Decor:

$5,000 credit for a shopping spree at the Williams Sonoma Home shop

Phaidon Home book collection—a curated selection for gardeners, interior designers, and art lovers

Modernism Week Elle Decor Sweepstake for one winner and a guest:

Admission for two people to the preview reception of the Modernism Show

Double-decker bus tour tickets

Signature Home Tour tickets

Three-night stay at the Avalon Palm Springs, CA

Opening night cocktail reception at Elle Decor Oasis

Brunch for two at the Elle Decor Oasis

Viyet & Elle Decor

$2,500 credit for a shopping spree at Viyet
With DoNotPay, It's More Than Luck
Waiting to win on a game of chance can turn into a lifetime of failed expectations. DoNotPay offers more viable solutions. We can find unclaimed money under your name anywhere in the U.S. or help you enroll in a safe clinical trial that pays really well.
All victims of ever-increasing violent crimes must get compensation, and DoNotPay rolls in to assist in this sensitive matter. Speaking of tricky topics, we can teach you how to lower your property tax or get that pricey college application fee waived.
Why Stop There?
You can save a lot of money by canceling various unwanted subscriptions. The fees are small, but they tend to pile up, so resort to DoNotPay to get rid of them easily. You can try out any service with our free trial card because we keep you safe from automated renewals.
What about parking tickets? How much do you spend on them? The good news is, we know how to fight those greedy city officials and keep that money in your pocket. It's the same with the almighty corporations. DoNotPay simplifies refunds and chargebacks, compensation for airline tickets, and warranty or insurance claim procedures.