Get the Scoop on
Sweepstakes
and Scoop a Prize
Getting some extra cash or free items sounds too good to be true, but there are legitimate sweepstakes that make it become a reality. We'll break down sweepstakes, introduce you to different types, and provide tips and hacks for entering and increasing your chances of winning.
Create a DoNotPay account now, and we'll sign you up for a sweepstake of your choice!
What Is a
Sweepstake
?
Sweepstakes are similar to lotteries. They are contests based on luck that you enter to win a prize. Many companies use sweepstakes as a way to promote themselves, attract new customers, and reward the existing ones.
The most common types of sweepstakes and similar games are the following:
Gift cards

Scholarship sweepstakes

Supply sweepstakes (e.g., a monthly supply of Starbucks coffees)
U.S. Regulations Regarding Sweepstakes
In the U.S., sweepstakes are luck-based promotions that don't require people to pay to enter. While most companies organize sweepstakes that come with some strings attached—such as purchasing an item—they have to abide by the law and allow people to enter for free and pick a random winner.
The sweepstake laws differ across the U.S., but generally, sweepstake organizers must:
Declare the entries' opening and closing dates

Reveal how and when they'll pick a winner

State when the winner will receive their prize

Contact every winner if there are more

Ensure the prizes are received accordingly
Who Can
Enter Sweepstakes
?
The entrant requirements vary depending on the sweepstake in question. Even though you are not required to pay to enter, you need to meet some criteria. You have to be:
A U.S. citizen

A participant of legal age, usually at least 21

A member or a user of the organizer's company or platform

A participant entering the sweepstake no more than once
For some sweepstakes, anyone can participate, but they may not be eligible to win. For example, even if a sweepstake competition doesn't require your ID to prove you're an American citizen right away, if you win and you don't meet the criteria, you will have to give up the prize.
Looking for Legit
Sweepstakes To Enter
? DoNotPay Fast-Tracks Your Application!
Companies can be sneaky and count on the customers not to read the fine print or know that they can enter a sweepstake for free. Even when it's made known that entries are free, they might make the entire process convoluted. For example, you may need to mail your application.
Our app is here to sweep the way for you to enter any mail-in or online-entry sweepstake. Once you create a DoNotPay account, follow these steps and enter a sweepstake of your choice:
Select the

Free Raffle Ticket

product

Provide your name, address, and email address

Type in the sweepstake you want to enter or choose one from our list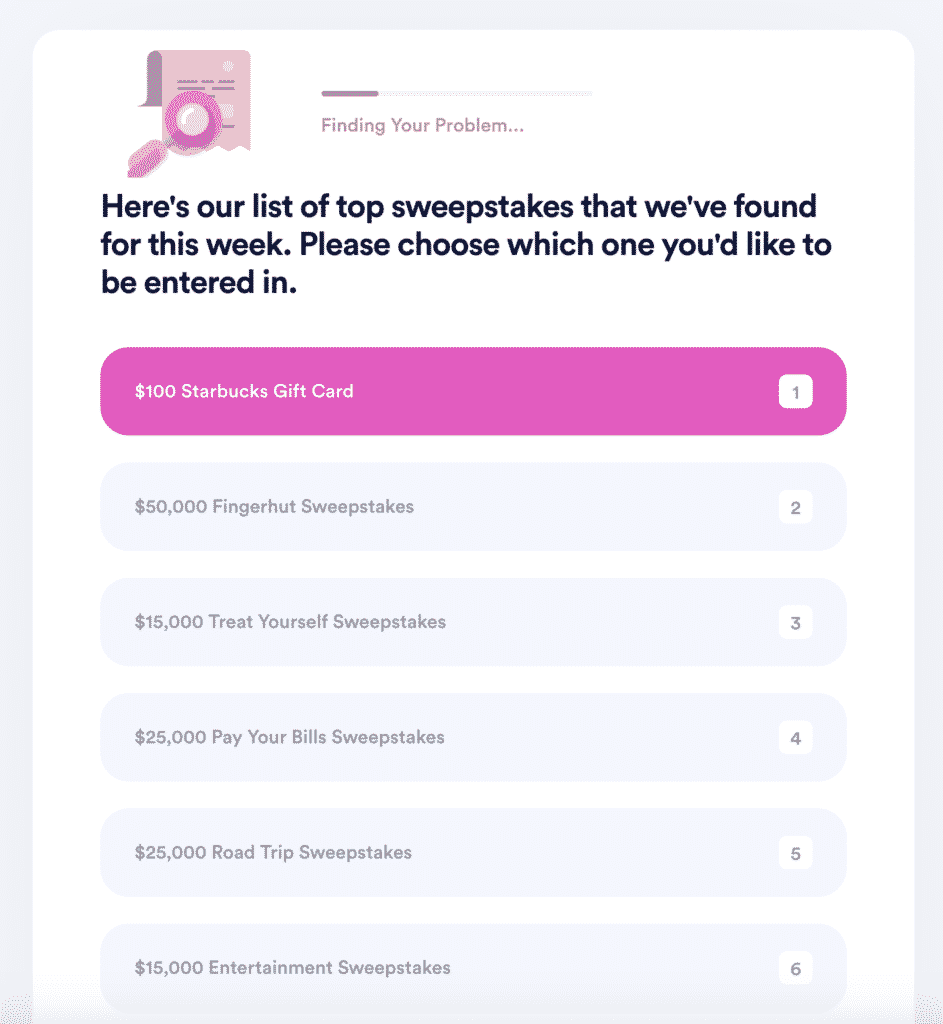 We'll handle the rest—cutting through the red tape and signing you up automatically.
Our comprehensive list of available sweepstakes gets updated weekly so that you always have brand new ones you can enter.
Tips To Increase Your Chances of Winning
Sweepstake Contests and Giveaways
Even when entering a sweepstake is super easy, there are details to consider so that you know you're getting a fair shot. Follow these tips:
Research the sweepstake you want to enter:

Check whether you meet all the eligibility factors

Find out how often you can enter (e.g., some organizations offer daily entries, while others only allow you to enter once)

Make sure you really want the prize because you may win and end up with something you won't use or be able to keep

Enter the sweepstakes and other contests often

Find sweepstakes that get fewer entries to boost your chances—e.g., local and regional contests

Watch out for scams—don't reveal your credit card info or reply to suspicious emails

Take taxes into consideration—e.g., the cash prize will not be as high as the advertised one because taxes must be deducted
Why Leave It All to Luck?
Winning a sweepstake prize can be a life-changing event, but why rely on pure luck to improve your financial situation? DoNotPay encourages you to be proactive and find and save money whenever you can. Did you know that there can be thousands of dollars in unclaimed money under your name? We help you detect and claim it in no time.
What about all those unused memberships you keep and never use? We can cancel any subscription effortlessly, and you can save or spend that money on something worthwhile. With DoNotPay's free trial card, you can avoid getting stuck with unwanted services in the first place.
In case you want to participate in something that can change the world for the better and earn a handsome sum along the way, check out our list of available clinical trials because they can be a lucrative endeavor.
Do You Want To Know More About the Hidden Money?
DoNotPay cuts unnecessary expenses like a pro. We can help you get a refund from any unresponsive company with lousy customer care, compensation for tickets from arrogant airline carriers, or an application fee waiver from overpriced universities all over the States.
Why stop there? Let's overturn those nasty parking tickets, claim warranties and insurance, and stop wasting hard-earned money by filling the pockets of greedy corporations. If you had a bad break and went through a violent crime, we jump in to obtain the victim compensation you deserve.