Discover a Way To Enter
Sneaker Raffles
That Will Sweep You Off Your Feet
The days of buying raffle tickets are long gone. Today's raffles are online free giveaways or sweepstakes offering everything from cash and trips to cars and different items, including sneakers.
You can skip digging through your favorite shops' websites to find great sneaker raffles. When you sign up for DoNotPay, you'll be able to enter these and numerous other games in several clicks.
How Do
Shoe Raffles
Work?
Shoe raffles operate as sweepstakes. They are games of chance and not contests. Eligible persons join them, and the organizer chooses a winner in a random drawing.
Some shoe raffles may include particular prerequisites, such as:
Voting

Entering a code

Filling out a questionnaire

Watching a video

Making a payment

Purchasing an item
While it may be nearly impossible to skip some requirements, you don't have to pay to enter a legitimate sweepstake. Every organizer must allow a free entry method. Regardless of the option you choose, it shouldn't affect the raffle results.
Though it rarely happens, instant win sweepstakes may also offer shoes as prizes among their typically low-value items.
Who Can Participate in a
Raffle for Shoes
?
The eligibility factors vary depending on the shoe raffle organizer. Typically, entry is open to:
All U.S. residents (sometimes, a raffle may also be available in Canada)

Persons aged 18 or older (19 or 21 in some states)
Employees and family members of the organizer are usually not allowed to participate.
Examples of
Sneaker Raffle
Prizes
Check out a few shoe or sneaker sweepstakes in the table below to know what to expect:
Game
Prize

Brisk Under the Cap Game Promotion

Pair of exclusive custom sneakers

Bucket hat

Pocket t-shirt

Bomber jacket

Pair of joggers

The Hershey Company Team Reese's In Pack Game

Ten pairs of Team Reese's custom branded sneakers (valued at $110)

Team Reese's pullovers

Hershey's Chocolate World mini basketballs

Team Reese's Bella+Canvas Tees

Team Reese's skateboards

BodyArmor Edge 7-ELEVEN Sneaker Sweepstakes

$15,000 cash

$5,000 custom pair of BodyArmor sneakers designed by the Shoe Surgeon

One-year supply of BodyArmor sports drinks valued at $860

MTN Dew Kick It on the Court Sweepstakes

Chance to help design sneakers that Myles Turner will wear during an NBA game

Signed Miles Turner jersey worth $300

Myles Turner autographed sneakers custom-designed by Sierato

Chips Kicks Sneaker Sweepstakes

Chips Ahoy inspired pair of sneakers designed by The Shoe Surgeon

Scholarship to attend The Shoe Surgeon Shoe School, including:

Six-day/five-night trip for two to Los Angeles, CA, including roundtrip coach class air travel

Hotel accommodations

Gift bag

Four days at the Shoe Surgeon Shoe School

Nécessaire Everyday Eco-Friendly Essentials Giveaway

Nécessaire the Body Collection

Boyish pair of jeans

Two Que bottles

Whimsy & Row $100 gift card

Cariuma OCA low white canvas sneakers
Use DoNotPay To Enter Sneaker Raffles and Snatch New Kicks
Once you create a DoNotPay account, you can sign up for a sneaker or any other sweepstake using only one app.
Here's how it works:
Navigate to our

Free Raffle Ticket

product

Give us your name, email address, and physical address

Type in the sweepstake you'd like to enter or choose one from our list
You only need to provide us with your details once. Next time you log in to your account, you can tell us what sweepstake you want to get into. The other option is to browse our comprehensive list of currently available giveaways and similar games. Every week, we add new games, so make sure to check it often.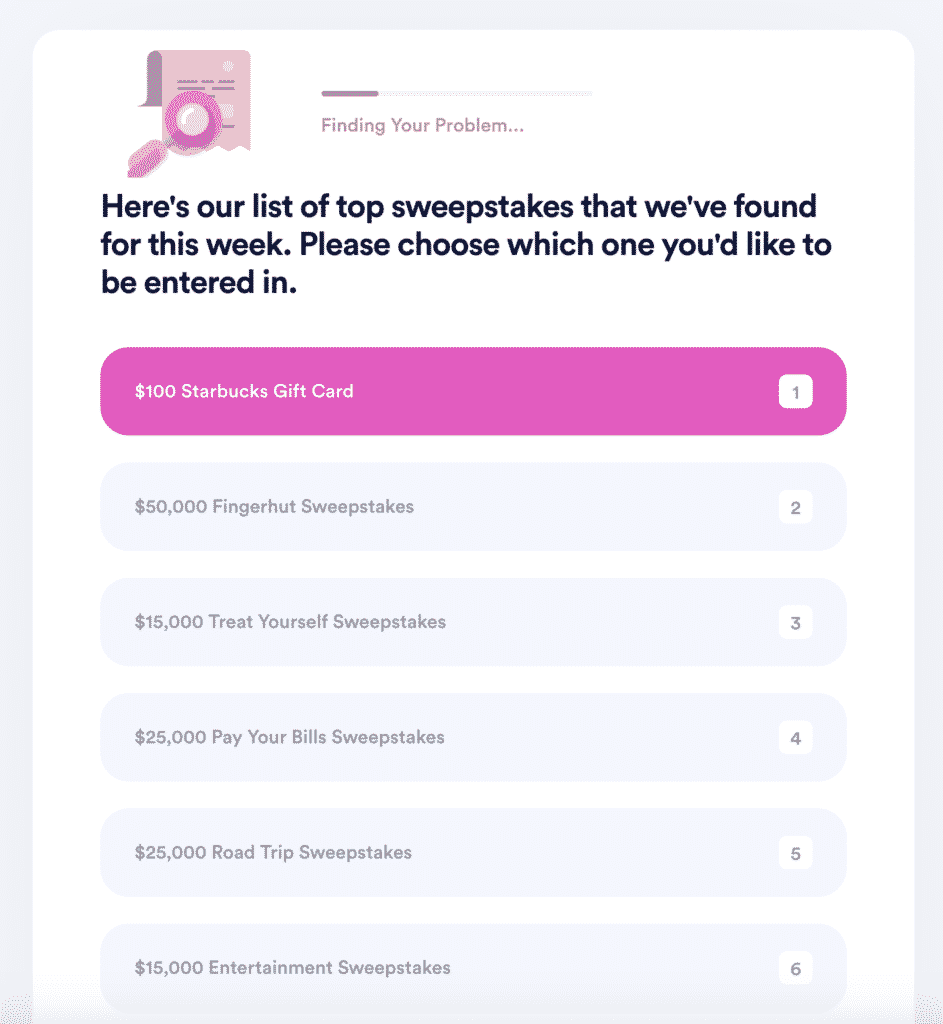 If you get into the sweepstake frenzy, you'll submit your email address to many companies. They can then contact you and send you newsletters or promotional emails even after the game ends. Luckily, DoNotPay can help you declutter your inbox. All you need to do is to forward a received spam email to spam@donotpay.com.
What You Should Know When Entering Any Sweepstake
As a sweepstake entrant, you want to have fun but also to win. Here are some tips to keep in mind when you play:
Read the official rules of a giveaway to know whether you qualify to enter and win

Check the end date, especially for mail-in entries, because your letter needs to arrive on time

Enter a sweepstake multiple times if it's allowed

Check the winner notification policy so that you submit your current contact details

Find similar giveaways and join all of them to increase your chances of getting what you want

Consult a tax professional, especially for high-value prizes, as the winners are responsible for covering most taxes

Don't reveal your credit card info or make a payment to avoid falling for sweepstake scams

Find games that show the number of entrants so that you know your odds

Go for less popular sweepstakes because your chances of winning get better
Why Leave It All to Luck?
Winning a sweepstake prize can be a life-changing event, but why rely on pure luck to improve your financial situation? DoNotPay encourages you to be proactive and find and save money whenever you can. Did you know that there can be thousands of dollars in unclaimed money under your name? We help you detect and claim it in no time.
What about all those unused memberships you keep and never use? We can cancel any subscription effortlessly, and you can save or spend that money on something worthwhile. With DoNotPay's free trial card, you can avoid getting stuck with unwanted services in the first place.
In case you want to participate in something that can change the world for the better and earn a handsome sum along the way, check out our list of available clinical trials because they can be a lucrative endeavor.
You Want To Know More About the Hidden Money?
DoNotPay cuts unnecessary expenses like a pro. We can help you get a refund from any unresponsive company with lousy customer care, compensation for tickets from arrogant airline carriers, or an application fee waiver from overpriced universities all over the States.
Why stop there? Let's overturn those nasty parking tickets, claim warranties and insurance, and stop wasting hard-earned money by filling the pockets of greedy corporations. If you had a bad break and went through a violent crime, we jump in to obtain the victim compensation you deserve.