Car Sweepstakes
101—What You Need To Know About Them
There's no such thing as a free lunch, but free sweepstakes do exist—and we mean car sweepstakes in particular. Before you drive yourself into a frenzy entering raffles and sweepstakes, follow our guide to better understand how these games work. We'll also show you how to enter the car and other sweepstakes with zero effort—by signing up for DoNotPay.
Sweepstakes Explained
To understand vehicle sweepstakes, you should know how sweepstakes work in general since the rules are the same. This game is a random drawing, and according to the law, it should allow participants to enter without a purchase. Even when purchasing an item to enter is advertised, an alternative method of entry has to be available. As sweepstakes are games of chance, the winner should be chosen randomly. Whether someone purchased an item or not shouldn't affect the results.
Understanding
Vehicle Sweepstakes
Vehicle sweepstakes offer RVs, boats, kayaks, bicycles, and motorcycles, but cars are the most popular prizes. To enter a car or any vehicle sweepstake, you typically need to provide your:
Full name

Email address

Phone number

Physical address
Sometimes, you also have to answer a few questions or create an account if you're not a member already.
Car sweepstakes can be a one-time thing or recurring, but they have a clear start and end date when you can enter, as opposed to instant win sweepstakes. Once the entry period ends, the organizer will inform the winner via mail, phone, or email.
Requirements To
Win a Car Sweepstake
While all participants should be given a chance to enter and win a car sweepstake for free, there are some requirements.
The eligibility factors a participant must meet vary, but the most common ones are the following:
Being at least 18 or 21 years of age

Having a valid driver's license

Holding a U.S. citizenship (sometimes, a sweepstake is also available in Canada, and other times, it isn't offered in all U.S. states)
The entry frequency that is allowed also differs depending on the sweepstake in question. Usually, you can only enter once. The one-time entry is per person or per email. You may also be able to try your luck once a week or even once a day. Some sweepstakes allow you to refer a friend and gain more entries.
All the sweepstake rules should be displayed on the website of the organizer so that you know whether you can take part in the game.
Use DoNotPay for a Chance To Enter
New Car Sweepstakes
Every Week
You can dig for car sweepstakes on the internet or use one app and enter numerous sweepstakes the easy way. If you choose the latter, DoNotPay is the way to go! Once you create an account, follow these instructions for easy-breezy sweepstake entries:
Enter

Free Raffle Ticket

in the search field

Provide your name, address, and email address

Type in the car sweepstake you have in mind, or choose one from our list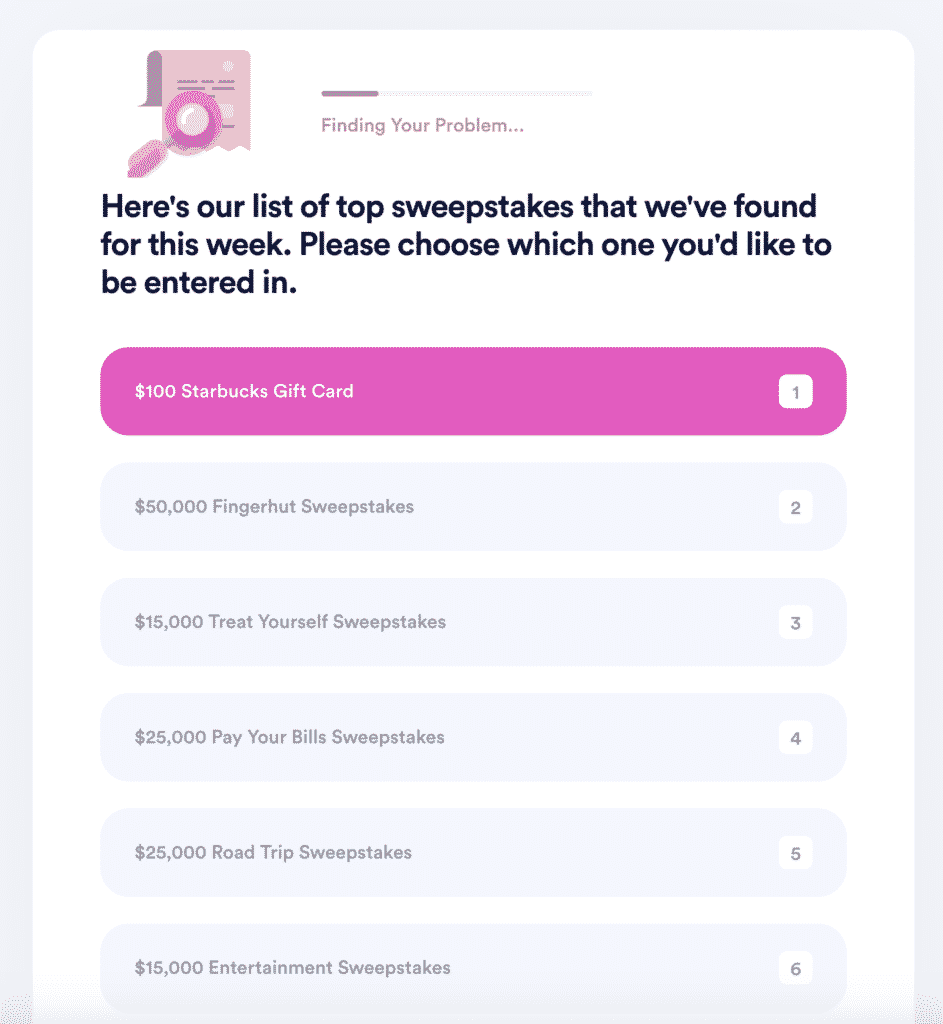 Our app updates the sweepstake list each week. You can browse it and enter various types—car, house, travel, and more.
Another benefit of using DoNotPay to participate in sweepstakes is that you only have to provide your personal details once. Every time you want to sign up for a prize game after that, all you have to do is click a few times.
Is a
Free Car Giveaway
Truly Free? Tips for Handling Taxes
If stars align and you win a free car, what you should take into consideration are taxes. With cash giveaways, the taxes are deducted from the advertised prize, but with car giveaways, you need to spend your own money to cover the taxes. The taxes on the car may set you back a hefty amount, and not many people have that kind of cash lying around.
To put this in perspective, if you win a car worth $30,000, you can expect to pay up about $10,000 in taxes.
Before you enter car sweepstakes or give up on your new car because you can't afford the taxes, check out these tips:
Tips

Brief Explanation

Take time to come up with a solution

You don't have to pay taxes as soon as you win the car. Usually, you won't get the car in months and sometimes even a year

Once you are the official owner, you may also have time on your hands before you have to pay the federal taxes that year

Ask a tax professional for advice

Consult with an accountant or another tax professional who can take your financial situation into consideration and help you plan out your tax payments

Research and calculate the car's fair market value (FMV)

Sweepstake organizers usually state the car's approximate retail value, but the actual FMV may be lower. As taxes are paid based on FMV, this is the value you should research

Sell your old car

If you win a new car, you can sell your old car and use that money to cover the taxes

Sell the car you've won

In case you don't have an old car to sell or you can't afford to pay taxes, you may opt for selling the prize car
Your Odds Are Better With DoNotPay
Luck is elusive, but DoNotPay is not. We offer effective solutions to various money-related problems. Do you need a bill-payment extension? Maybe you can't figure out how to claim warranties and insurance policies? Is an airline playing dead while owing you compensation for a canceled flight?
We are the champions of customer advocacy because we can tackle all those issues and more. Our AI-powered technology fights unfair parking tickets, cancels subscriptions, and deals with refunds from money-grabbing businesses with poor customer service.
Create Your Lucky Break!
Once you have saved some money, it's time to earn an extra dollar. DoNotPay has a few suggestions:
If you were a victim of a violent crime and ended up paying for the treatment on top of the trauma, we will help you get the compensation, so you can focus on getting better. 
Sometimes, dealing with paperwork alone can cause the tidal wave. DoNotPay can take over drafting legal documents and assist in getting them notarized.