Are Raffle Tickets Your Ticket to Awesome Prizes?
To enter a raffle, you need to buy raffle tickets. In the U.S., not every raffle is legal, and you may not be required to pay to enter. We'll break down what you need to know about raffles and show you how to take part in these types of games for free.
A Raffle Ticket
vs. a Sweepstake
When raffles are like lotteries, they may not be legal in all U.S. states. A lottery contains the following elements:
Luck—the winner is chosen randomly

Prize—it has a monetary value

Consideration—you have to pay to participate
The government can organize these types of raffles, with some exceptions. Fundraisers, charities, or raffles with small prize amounts are usually allowed.
As raffles are a great way for companies to promote themselves and gain new customers, they organize them as sweepstakes—the element of consideration is not required. This means that you can enter a sweepstake for free.
Aside from allowing free entry to participants, organizers must:
Choose the entries' opening and closing dates

State when and how the winner will be announced

Contact the winner

Give the prize to the winner
What Free Raffles Can I Enter?
Free raffles or sweepstakes come in different forms, depending on the prize they offer. You may encounter:
Gift cards

Supply sweepstakes

Scholarship sweepstakes
There are also instant win sweepstakes for numerous prizes.
Some companies and websites that often organize sweepstakes are HGTV, Fingerhut, Travel Channel, Woman's World, and Martha Stewart.
Who Can Take Part in Sweepstakes?
Sweepstakes usually have one or two criteria you need to meet to be a participant. The most common ones are:
Being a U.S. citizen

Living in a certain U.S. state

Being 18, 21, or older

Being a user or member

Participating only once per day/week/email/person/sweepstake
Use DoNotPay's Free
Raffle Ticket
Product To Enter Numerous Sweepstakes
No need to look for free raffles and giveaways on your own when you have our AI-driven app as your assistant. and start entering any sweepstake with a mail-in or online entry.
Check out how easy it is:
Navigate to our

Free Raffle Ticket

product

Type in your name, email address, and physical address

Write the sweepstake you'd like to enter or pick one from the list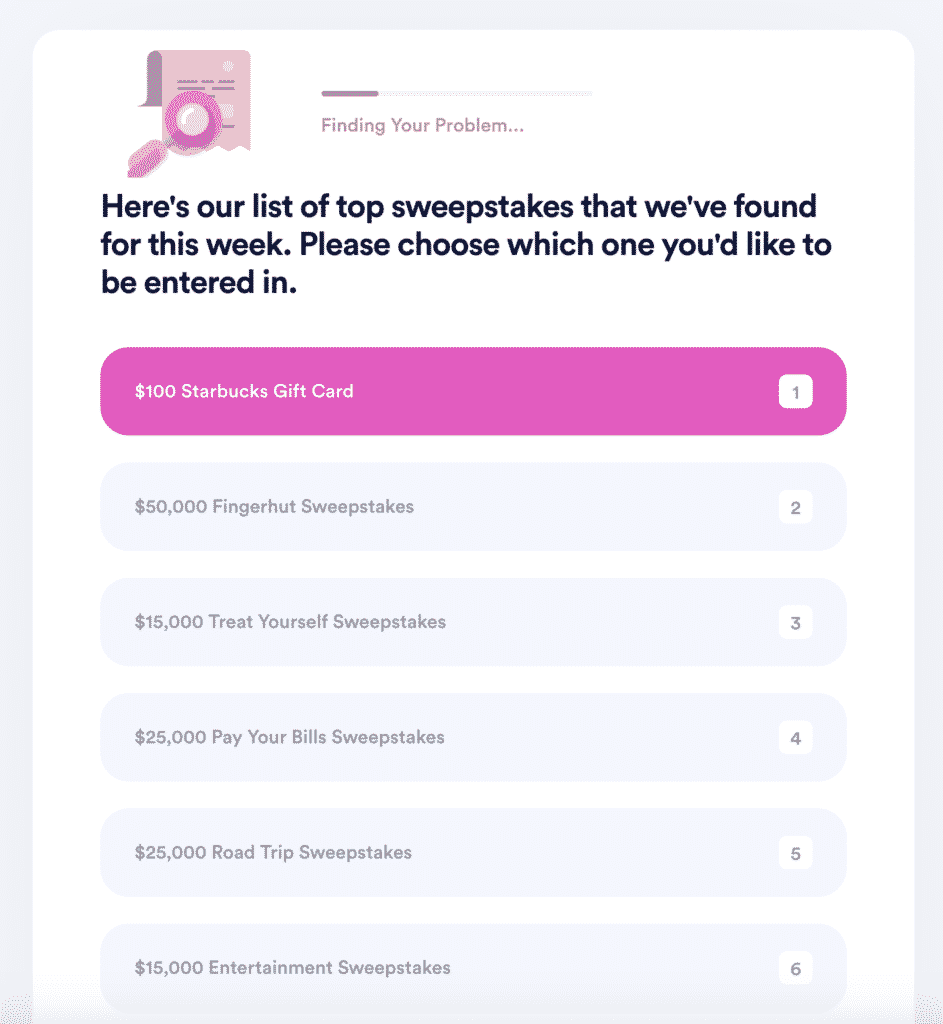 Once you choose a sweepstake, we'll sign you up for it automatically. Feel free to check in often because our app updates the list of sweepstakes every week.
Tips for Sweepstake Participants
When you enter a sweepstake, you want to stay safe and boost your chances. To do so, follow these tips:
| | |
| --- | --- |
| Guidelines | Brief Explanation |
| Check the requirements and eligibility factors | Make sure you meet all the criteria necessary to be able to claim your prize |
| Find local or regional sweepstakes | These sweepstakes have fewer entries, which means you have a better shot at winning than when you participate in state-wide raffles |
| Enter sweepstakes often | The more you play, the better your chances |
| Factor in the taxes | Sweepstake prizes are taxable. If you win a cash prize, you'll have to deduct a certain amount to be able to cover the taxes. With car sweepstakes, it's trickier because you have to pay out of your own pocket |
Getting Sweepstake Spam? Use DoNotPay To Get Rid of It!
The majority of sweepstake organizers will ask for your email for a chance to enter, whether it's explicit or it's by asking you to become a member. For some sweepstakes, you will be given an option to agree to receive promotional emails from the companies. Even when you can sidestep this confirmation, the company in question still gets your email address, and they can flood your inbox.
What you can do to fight back is use our Spam Collector to eliminate spam emails. When you , you can use it to enter sweepstakes, get rid of spam, and enjoy the rest of our products.
Your Odds Are Better With DoNotPay
Luck is elusive, but DoNotPay is not. We offer effective solutions to various money-related problems. Do you need a bill-payment extension? Maybe you can't figure out how to claim warranties and insurance policies? Is an airline playing dead while owing you compensation for a canceled flight?
We are the champions of customer advocacy because we can tackle all those issues and more. Our AI-powered technology fights unfair parking tickets, cancels subscriptions, and deals with refunds from money-grabbing businesses with poor customer service.
Create Your Lucky Break!
Once you have saved some money, it's time to earn an extra dollar. DoNotPay has a few suggestions:
If you were a victim of a violent crime and ended up paying for the treatment on top of the trauma, we will help you get the compensation, so you can focus on getting better.
Sometimes, dealing with paperwork alone can cause the tidal wave. DoNotPay can take over drafting legal documents and assist in getting them notarized.